Select Shape
Before we can properly analyze acrylic vs polycarbonate, their benefits and drawbacks.
First, we must understand the manufacturing of both, like, what materials they are made of, what they are mostly used for, how they may be similar, and how they differentiate?
Plexiglass is often also referred to as acrylic. It is a glass-like substance that was created by scientists in the early 20th century. According to experts, it is a petroleum-based thermoplastic, to be exact.
This kind of material is often used as it is shatter-resistant, durable, and transparent. It is also cost-effective, due to its light feel and ease in installation in comparison to the other type of glass sheets.
It is often used for windows, specifically home glass window panes, greenhouse panels, signs boards, aquariums and terrariums, bathroom enclosures, lights, furniture, and screens.
Like Plexiglass, Lexan is also not glass. It was made in the mid-20th century and is a polycarbonate resin thermoplastic.
It is more than two hundred times more resistant than glass and is often used for modern sunglasses, bulletproof "glass", DVDs, CDs, Blue-ray discs, reusable drinking bottles, and computer and phone cases.
Because it also impacts resistance, other common uses include safety glasses, racecar windows and windshields, and sports helmets.
Plexiglass VS Lexan Glass


Plexiglass
Available in all sizes!
It is often used for windows, specifically home glass window panes, greenhouse panels, signs boards and screens.

Buy Now

Lexan Glass
Available in all sizes!
Lexan can also withstand boiling temperatures. For that reasonit is used for kitchenware and electronic appliances.

Buy Now

Comparison of Acrylic vs Polycarbonate
Now that you know what both acrylic vs polycarbonate are made of and when they are often used for, let's compare the two. While they are often considered to be similar in materials and applications, they can be used for different things and have different benefits.
Yes, both are great alternatives to using glass. However, when compared, plexiglass has 92% light transmission in comparison to Lexan's 88%. This may be in part to its shinier material and translucency.
Plexiglass is also more resistant to scratches. It has better UV light resistance and does not get yellow. Lexan, however, can get yellow over time and is more prone to damages.
During manufacturing, Lexan has more durability. While Plexiglass has the ability to bend when heat is applied, Lexan can be formed in cold temperatures or bend without heating. This can be a benefit in some cases, but it is also a drawback. For this reason, it is more prone to dents and scratches.
Lexan can also withstand boiling temperatures. It is often, for that reason, why the material is used for kitchenware and electronic appliances.
Polycarbonate is a durable material that can easily block harmful UV rays, hence polycarbonate roofing is the best and most strengthened. So, acrylic is the second most preferred clear glazing material that is typically used for bus shelters and conservatories due to its longevity. Both of these materials are excellent alternatives to glass in any case.
Another benefit of using Lexan is its durability during drilling. It can be drilled without cracking, while Plexiglass can easily crack during drilling.
Lexan, however, is more resistant to chemical reactions. The drawback here is that it is not often resistant to abrasive cleaners; something Plexiglass is more resistant to.
Another benefit of using Plexiglass is its resistance to gasoline. This is a great benefit because it may indicate a lower risk of catching fire. When it comes to cost, Plexiglass is usually cheaper than other materials, including Lexan. One of the reasons is because it is lighter in weight.

Which one is better: Plexiglass vs Lexan?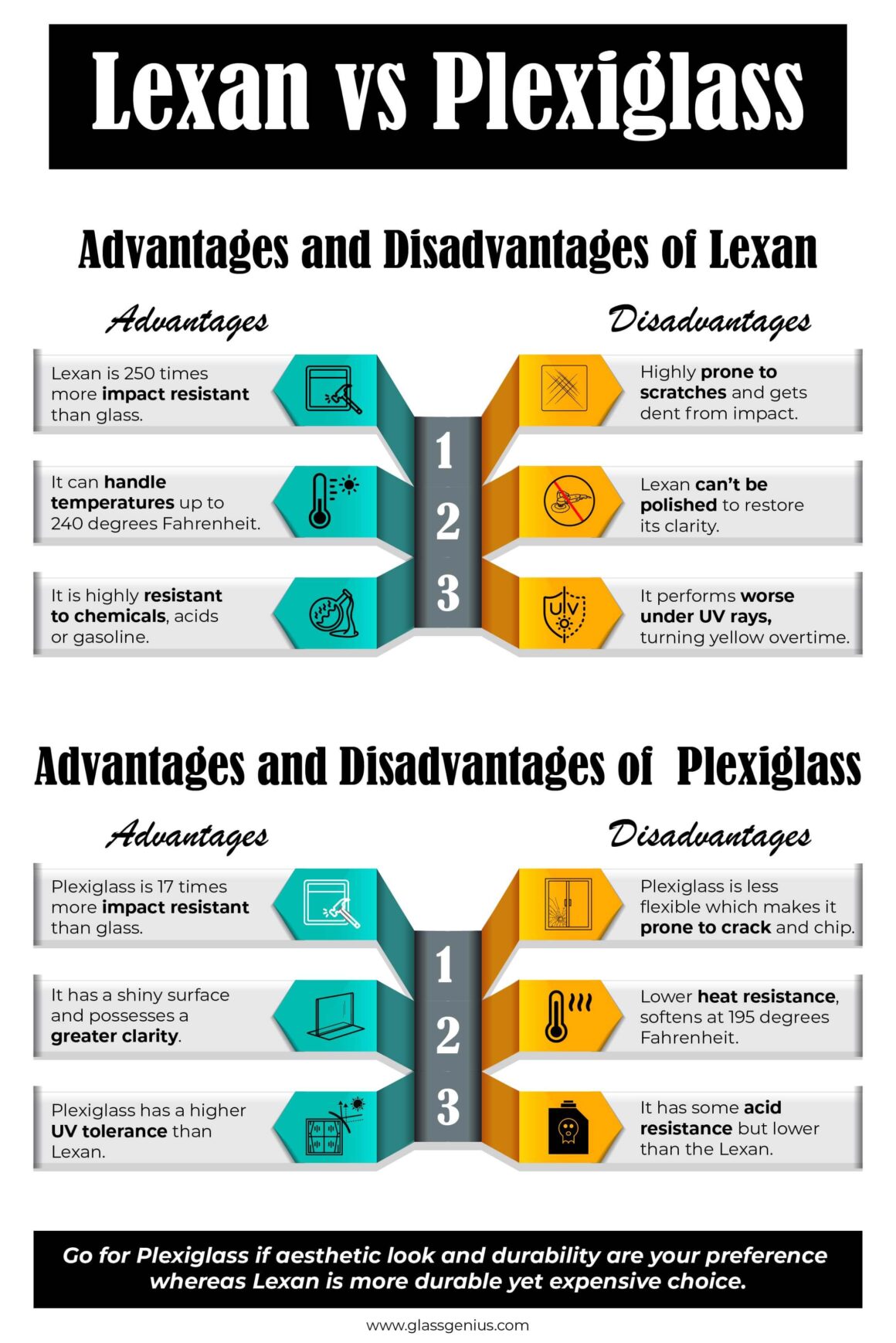 So, the question is; which of the two matters is better? Well, that would depend on what your needs are and what your preferences are.
If you're looking for a sturdier component, a Polycarbonate sheet has more strength when compared to Plexiglas. In comparison to glass, while Plexiglass is 17 times more resistant, Lexan is 250 times more resistant. Pretty impressive, right? But that isn't the only resistant component you want to pay attention to.
As we've previously mentioned, Plexiglass has greater resistance to scratches and UV lighting.
If you need a material that can last in varying temperatures, Lexan may be more to your liking. It has more heat resistance and it's working temperature is 275F while Plexiglass glass is 180F.
And if you're looking for a more modern look and better aesthetics, Plexiglass is perhaps the preferred material than Lexan. It comes in a variety of colors where Lexan is limited.
If you prefer something that is cost-efficient, as we've discussed, Plexiglass is a better option.
It simply comes down to what your preferences are and what you're looking to do with the material. Each material may be better under different circumstances. So, the main point to think about is the reason why you need the material (i.e. application or uses).
Where to buy top-quality glass products, like Plexiglass and Lexan, at the lowest rate?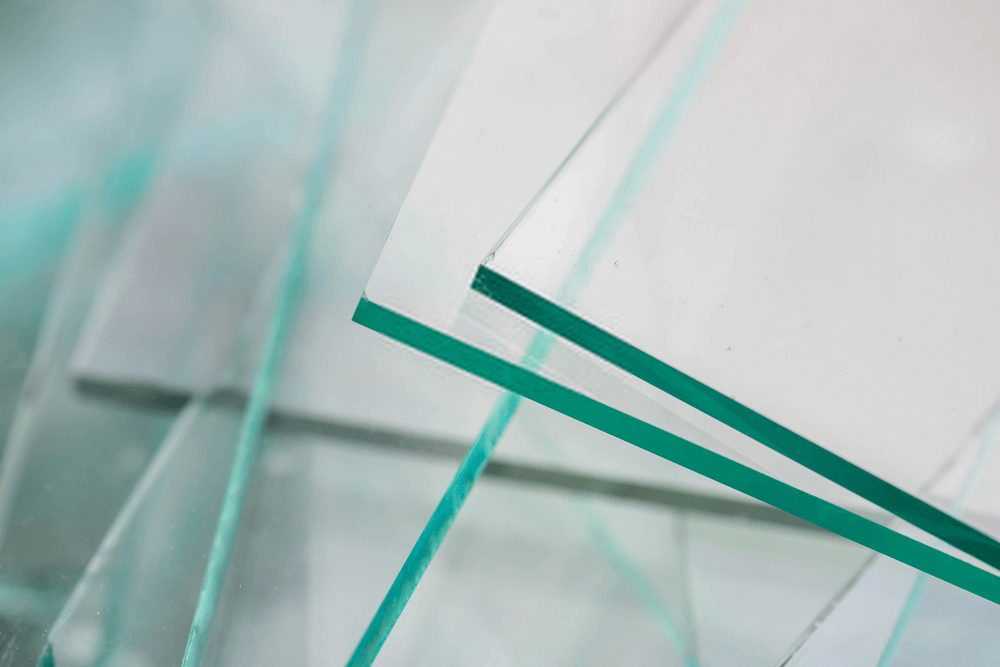 So where should you go to get any of the material? Thankfully, Glass Genius is the perfect online marketplace where you can get both Plexiglass and Lexan at economical prices. You can meet top sellers and suppliers for both materials.
Simply contact the sellers individually from the best sellers list and negotiate your rates to get the lowest prices for high-quality materials and products.