Do you know that in a typical eight-hour shift, an office worker moves his work chair more than 300 times? Just imagine how many times it would be in a month or a year. That's why the floor beneath the office chair starts showing scuffs and streaks after some time. Unless you have taken proper preventive measures. A chair mat is a practical office accessory used to save the floor from chair wheel marks. They are an ergonomic product that minimizes the pressure marks on the floor by preventing the chair wheels from coming in direct contact with the floor. A glass chair mat for carpet protects your rugs and flooring against damage from chair casters. There is a lot more to office chair mats, let's explore.
Things To Consider While Purchasing An Office Chair Mat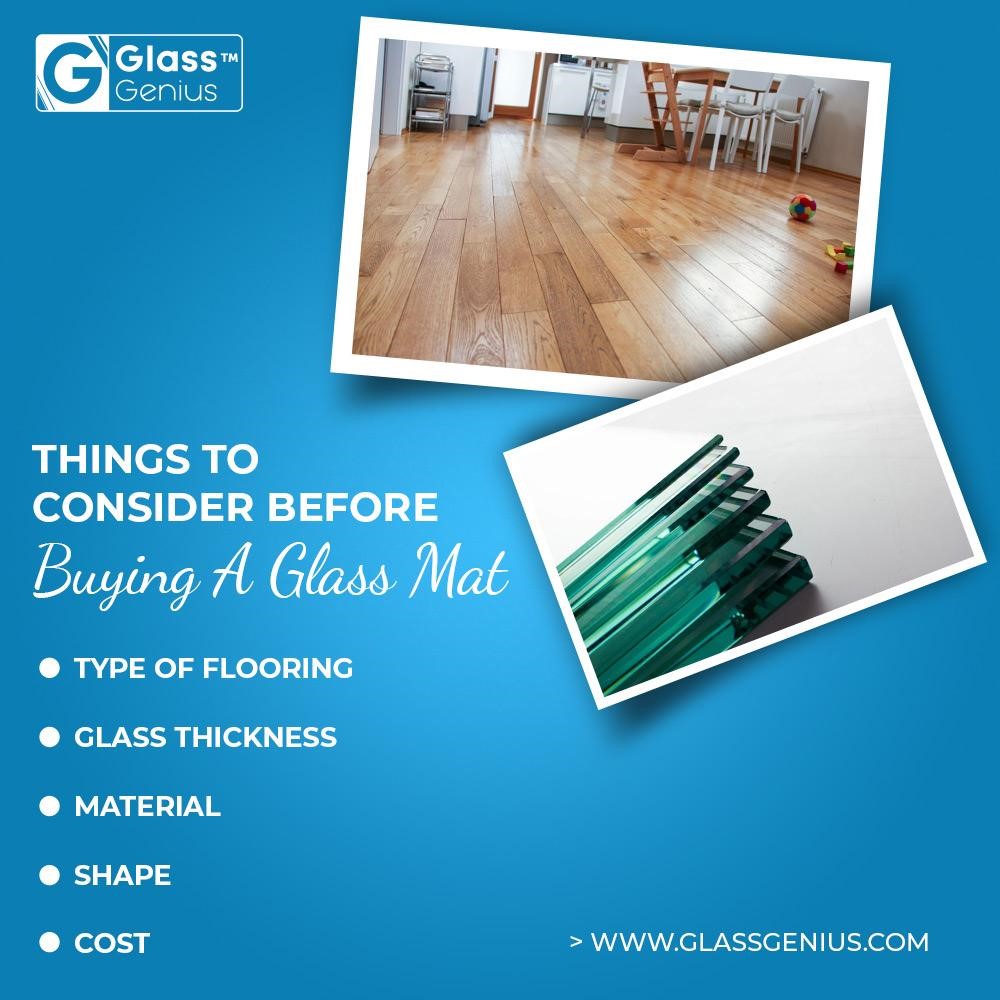 Office chair mats are available in a wide variety of designs, sizes, and style options. Due to the wide spectrum of options, you can choose the chair mat that best suits your office specifications. Here are some parameters that may help you find the right office mat for your workplace. 
1. Type Of Flooring
The flooring type is the most important factor in determining the ideal office chair mat. Along with mat material, the right thickness of the ideal mat also depends on the type of flooring.
Glass or polycarbonate mats work great for both hardwood and carpeted floors. However, the glass chair mat for carpet is typically cleated to avoid slipping. Smooth bottom chair mats are perfect for hardwood flooring. 
2. Thickness
The type of flooring defines the right chair mat thickness. Relatively thin mats are usually used for low-pile carpets, high pile carpets support thicker glass mats while hardwood floor requires a chair mat of moderate thickness. 
3. Material 
Chair mats come in a variety of material compositions. From bamboo to polycarbonate, and tempered glass plastic, there are a number of options available in the market.
Vinyl mats are typically thin, light, and affordable. Therefore, they are an excellent choice for carpeted home office use. Polycarbonate is a stronger and more durable alternative and it is perfect for high-profile use. Glass mats are an all-rounder while bamboo chair mats work only for hardwood floors and some selective carpets. Considering your requirements, you can choose any mat material.
4. Shape 
Just like structural material, office mats are available in different shapes to suit different office aesthetics. You can choose square, rectangular, round, tabbed, and even custom-shaped chair mats.
5. Cost 
The cost value is an important defining factor for your purchase. Usually, glass mats are pricier while bamboo chair mats are cheaper. The cost is also directly related to the durability of the material. 
Best Chair Mat Options For Your Workplace
Your workspace needs to be welcoming to create a proper environment for working. It would definitely affect your comfort and efficiency if you have to think every time before moving your chair across the office. Here are some of the best chair mat options to adorn your office. 
Glass Chair Mat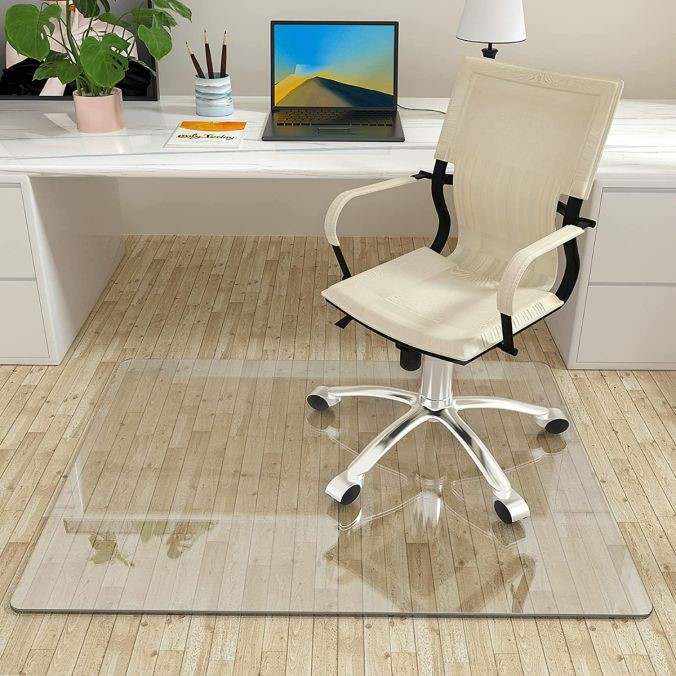 The glass chair mat for carpet or hardwood floor is the absolute best choice for any office interior. They are available in different thicknesses to work for different types of floorings. Glass office mats are highly transparent, strong, and durable. Due to their clear aesthetics, they add a unique posh vibe to the space. They are designed to endure up to 1000 lbs weight. So glass mats are a safe, upscale, and contemporary choice.
Bamboo Chair Mat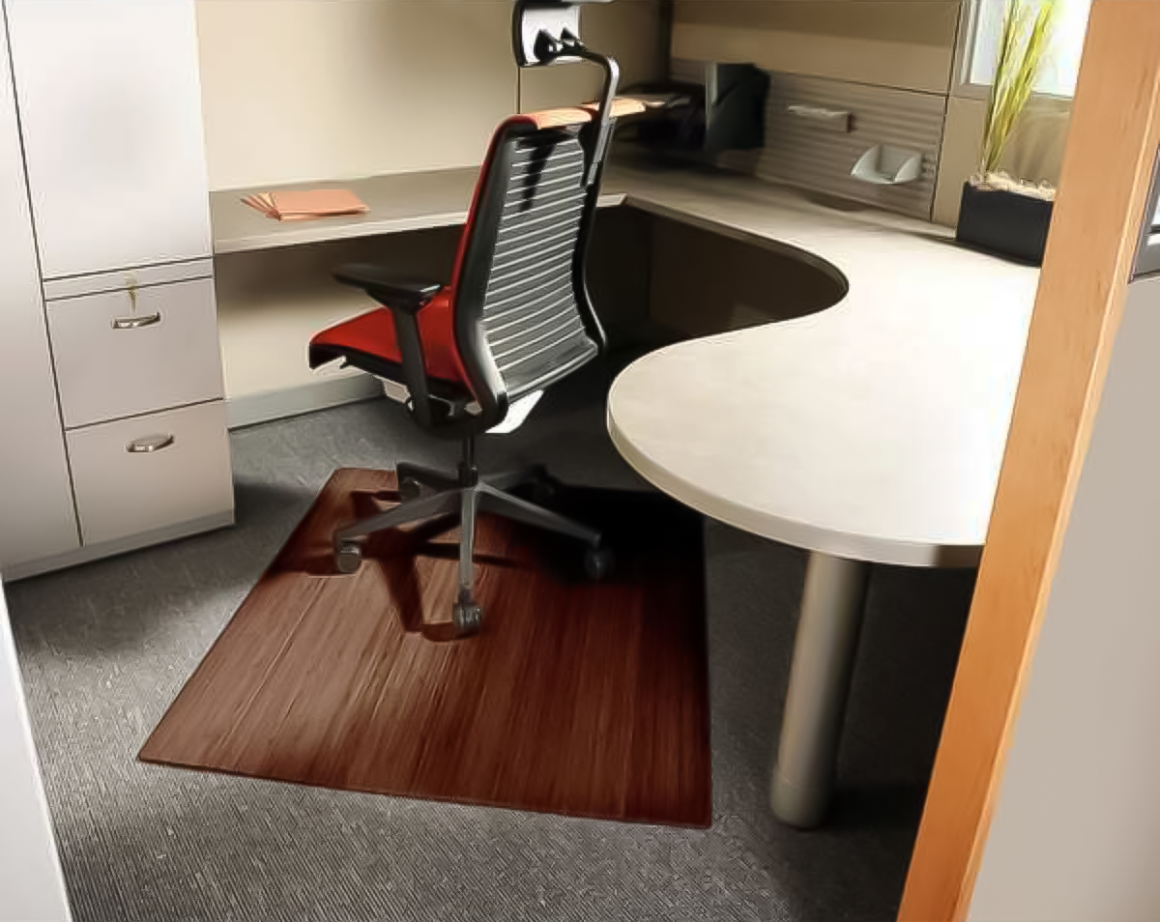 As the name suggests, bamboo chair mats have bamboo as their main structural element. They are renewable and environmentally friendly. Bamboo mats offer a smooth space to roll the office chair. They are affordable and work best for hardwood floors and some selective carpets.
Vinyl Chair Mat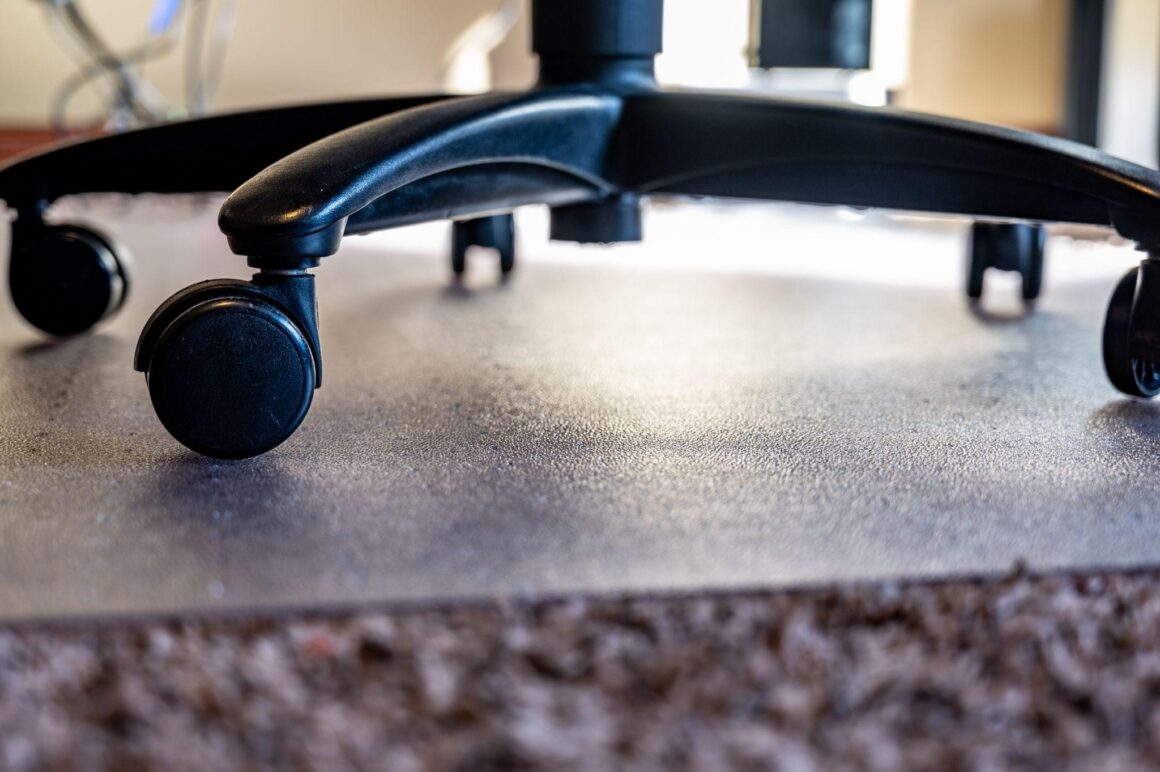 Vinyl mats are the most budget-friendly chair mats. However, the lower cost comes with a compromise of durability. You need to replace these chair mats every few years because they are not as durable as bamboo or glass mats. Vinyl chair mats are only suitable for carpeted floors. They are prone to scratches and discoloration. But vinyl mats could be a great option if you intend to change the mats after some time.
Bamboo Vs Vinyl Vs Glass Chair Mat – A Comparison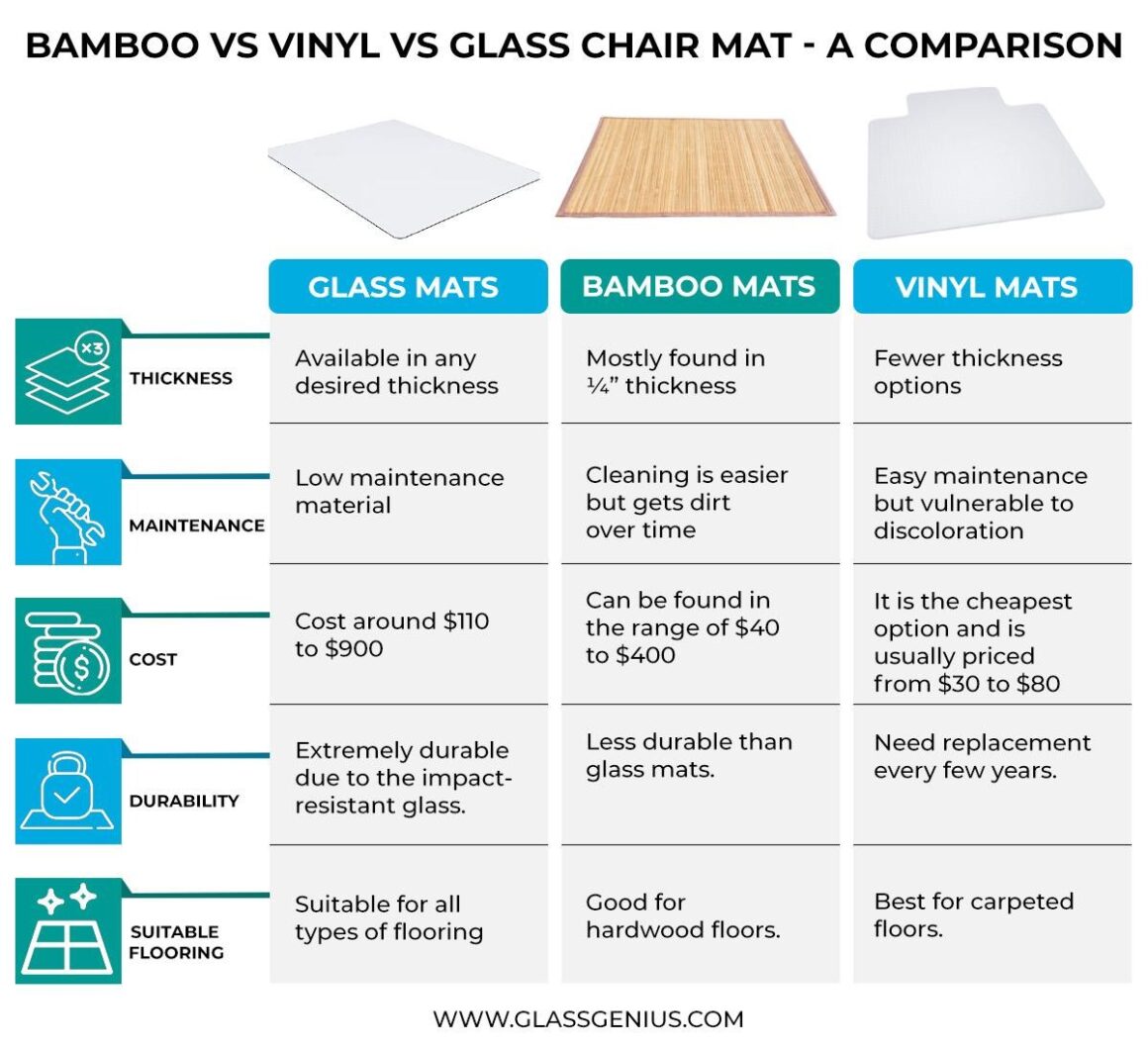 Here is a brief into the major differences between glass, bamboo, and vinyl chair mats
1. Thickness
You can find glass mats in a number of thickness options. With the plethora of available options, if you still want the glass mats of your desired thickness, you can just go for the custom glass mat option. Different mat dimensions are suitable for different types of floors. So you can easily find an appropriate glass mat for almost any floor type.
Bamboo chair mats are typically available in ¼" thickness.
Vinyl office mats are usually thinner. The thickness options are also limited.
2. Maintenance 
Glass mats are low-maintenance. You can easily wipe off the dust and stains using a clean piece of cloth and soap water.
Bamboo mats are not transparent, so dirt and dust are not as visible on them as it is on glass mats. Cleaning the bamboo mats is also simple.
Vinyl mats are transparent so they need regular maintenance to shine in all their glory. However, they are vulnerable to discoloration and become yellowish after a certain period of time.
3. Cost
Glass mats take the lead in the cost comparison. They are pricier than both bamboo and vinyl mats. However, glass mats are a one-time investment because they last longer. Based on the size and other specifications, glass mats cost around $110 to $900.
As bamboo mats are made from organic components, it is relatively pricey. You can get a bamboo mat for around $40 to $400.
Vinyl chair mats are cheaper than glass mats. You can get them for around $30 to $80 based on the size.
4. Durability
There is no comparison to the durability of glass mats. They are made of strong and impact-resistant toughened glass. You only need to buy glass mats once and they will serve for a long time to come. They won't scratch or break easily. So if you want to invest in a durable item, galas mats are the right pick.
The material of bamboo mats is not that solid. So they usually work great for 3-5 years.
Vinyl mats need replacement in 1 to 4 years. They are prone to scratches and usually show a yellowish pale tine after some time.
5. Best For Floor Type
Glass mats work great for hardwood, carted, and every other type of flooring. They keep the floor safe and add aesthetic value to the space.
Bamboo mats are good for hardwood floors and certain specified carpets. They are prone to dents. Bamboo mats may also scratch the floor beneath them.
Vinyl mats are best for carpeted floors. They are quite thin for a hardwood floor.
Which One To Choose?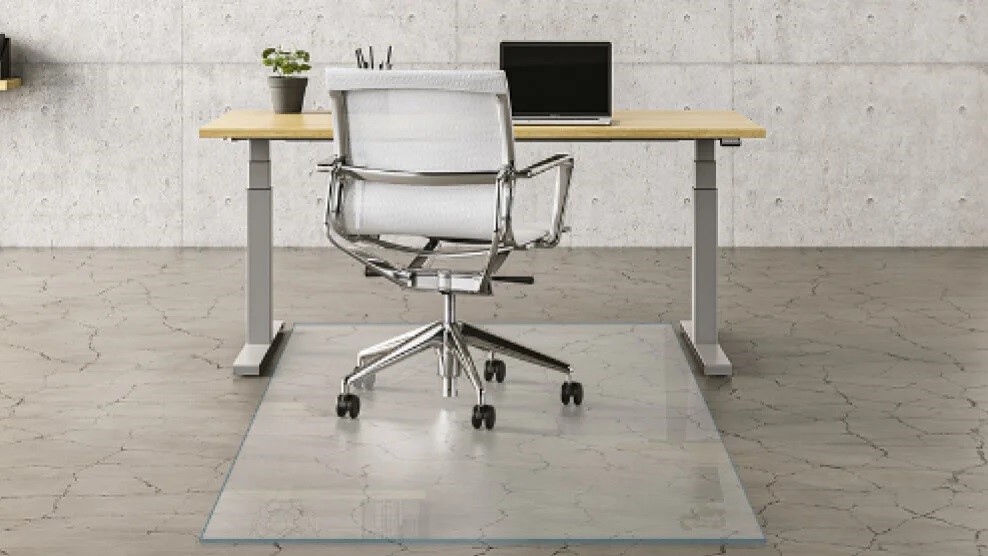 From just being an accessory to an absolute need, the utility of chair mats has evolved a lot. The practical benefits of chair mats have made them an important element of the workspace interior.
Considering all the features and uses, glass chair mats lead the way. They show better aesthetic and practical performance than bamboo and vinyl chair mats. However, vinyl and bamboo chair mats can be deemed perfect for carpeted and hardwood floors respectively. In order to evaluate which chair mat is ideal for you, consider your requirements, and space specifics, and choose the chair mat accordingly.