Our bedrooms deserve to be designed in a way that radiates brilliance and comfort, as bedrooms are the ultimate comfort zones for everyone. Mirrors are an important part of every home improvement project. Bedroom mirror ideas are not just a design feature. In fact, they reflect the ultimate design supremacy. However, it is to be noted that you can boost the design value of mirrors by placing them strategically. In this article, we will shed light on the right placement of mirrors in the bedrooms. We will also analyze the impact and role of mirrors in elevating interior design.
Bedroom Mirror Ideas
The bedroom is the highlight of the home. You can set up a perfect relaxing spot in your home by putting some thought into the mirror placement. The right mirror positioning can do wonders to the bedroom interior. So make sure to put some extra effort into the hanging mirror.
Here are some bedroom mirror ideas for hanging mirrors
The ONE – The Mighty!
Floor mirrors for bedrooms are a great design marvel. They are the ultimate space-saves for your limited bedroom space. Floor mirrors do wonders in enhancing the bedroom interior. You can ditch the vanity or dressing table by choosing floor mirrors for bedrooms. They double as a decor item as well as a functional addition to the bedroom. You can either hang the full length mirror on the wall or place them against the wall. Add some glass shelves and racks along the mirror wall to specify some space for your everyday essentials.
Look Up for Magic!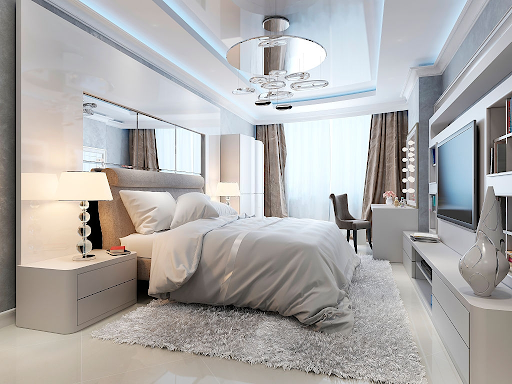 Bedroom ceiling mirror is a relatively novel idea for enhancing your bedroom interior. But it's definitely here to stay!
The bedroom ceiling mirror adds a vibe extravaganza to the interior. It doesn't necessarily have to hold some practical value. bedroom ceiling mirrors are mostly there for decoration purposes but they could definitely deliver some functional benefits. The reflective ceiling adds an ultra-luxe and futuristic feel to the space. So if you have a soaring creative spirit, go for bedroom ceiling mirrors and make a statement!
Wardrobe Wonder!
Bedroom wall mirror are the main bedroom accessory. No room interior is complete without mirrors. However, there are different ways of integrating the excellence of shiny surfaces in the bedrooms. Mirror bedroom furniture is one such way of optimizing the space and functionality. Choosing all-out bedroom mirror closet doors is a great way of creating an illusion of wider and brighter interior space. It also saves you some effective vanity furniture space. You can create an ultra-modern interior space by choosing bedroom mirror closet doors.
The EPIC-center!
There are some things that are super-conventional but don't lose their aesthetic value. The mirror over bed is one such thing.
Installing a statement mirror over bed creates a wow factor in the bedroom. It acts as the perfect decor item for the bedroom. A simple mirror over bed will do the job but decorative mirrors for bedrooms are a superior pick. You can skip all other accessories by going for decorative mirrors for bedroom.
Vanity Overdose!
Who doesn't like a bit of an overdose of pretty little lights in the bedroom?
Strings of fairy lights and lighted cotton balls are usually used to create a dreamy bedroom interior. Give your happy place a practical boost by integrating a bedroom vanity mirror with lights. The vanity mirror will not only add to the overall fantasy feel of the bedroom interior but it will also make your everyday getting-ready sessions easy. The bedroom vanity mirror with lights provides clear reflection for easy makeup application and convenient nighttime skincare routines. It also adds a high-end vanity vibe to the bedroom interior. So go for a bedroom vanity mirror with lights for an effortless chic bedroom!
Gild the Lily!


Mirrors are the perfect accessory for uplifting the aesthetic value of the bedroom. You can pick the most unique of places for mirror placement in the bedroom. Go for a mirror side table bedroom, choose mirror bedroom furniture, and simply create a mirror gallery on the bedroom wall. Select a wall or a portion of the wall and add multiple decorative mirrors for bedroom to it. The mirrors can be of different sizes. The essence lies in the arrangement. Decorative mirrors for bedrooms will add a unique spark of uptown aesthetics to the room.
Where Should be placed a Mirror in Bedroom?
Mirror placement is an art. You can either boost the aesthetics with strategic mirror placement or crush the charm with the wrong mirror placement.
Luckily, there are some rules that guide you about the right mirror placement.
According to the interior design experts, the best place to install a mirror in the bedroom is "away from the bed and not facing a window". This position is declared best for balancing the energy in the bedroom space.
Mirrors reflect light. So keeping the mirror and light away from the bed is thought to promote peaceful and sound sleep. Moreover, it is the best position to maximize the functional value of the mirrors.
There are other suitable places in the bedroom as well where you can install the mirror. The right place may vary for each bedroom. For instance, it would be better to install a mirror opposite the window in a smaller and darker room.
Similarly, you can choose to add mirrors in multiple places in a large room. It's all up to your preferences.
However, the best placement for a bedroom mirror is away from the bed and not facing the window!
How Many Mirrors Should Be in a Bedroom?
Design experts recommend installing mirrors on two walls of a room at maximum.
You can go for full-length mirrors or choose to create an aesthetic cluster of small ones. It all boils down to your aesthetic sense and preferences. Sometimes a single statement mirror does the job.
However, hanging a mirror on every wall of the room is never a good idea (unless you want to create an infinity mirror room *pun intended*). The mirror on every wall doesn't make the room bigger. In fact, it would make you feel uncomfortable. So go for strategic placement instead of choosing an all-out mirror layout.
Wrapping It Up!
Mirror is a true marvel of design. It adds class and elevated style to any space. Use the brilliance of wall mirrors in your bedrooms and add a creative twist to your choices and set up a perfectly mesmerizing bedroom interior. Glass Genius is here with its wide spectrum of mirror collections to help you uplift your bedroom mirror ideas.
Whether you want a mirror side table bedroom, vanity mirror, or a custom-cut mirror, Glass Genius is at your service. Browse through the available collection and seal your deal with any glass business and the rest is on us.