4
Select Glass Type & Thickness
There are a lot of details to consider while designing the bathroom. Shower doors seem like a small feature to stress over, but the right shower doors can change the overall look of your bathroom. It also increase the property value.
We'll discuss some of the best shower doors for bathtubs in this blog. Read through to identify the right shower door for your bathroom.
___________________________________________________

Common Types of Bathtub Doors
There are a variety of different bathtub door types that you can select to install in your home. Each style has its own unique properties to suit a range of aesthetic styles while still offering practical value. The four main types of bathtub doors are:
Fixed
Sliding
Swinging
Gridded
When deciding which type of bathtub door to choose for your home, be sure to consider the available space in your bathroom and the price point you are willing to spend on your new shower doors. After determining which type of shower door you want to install, the next important steps are to pick the type of glass material to install and a right manufacturer to purchase from.
Features of a Fixed Bathtub Door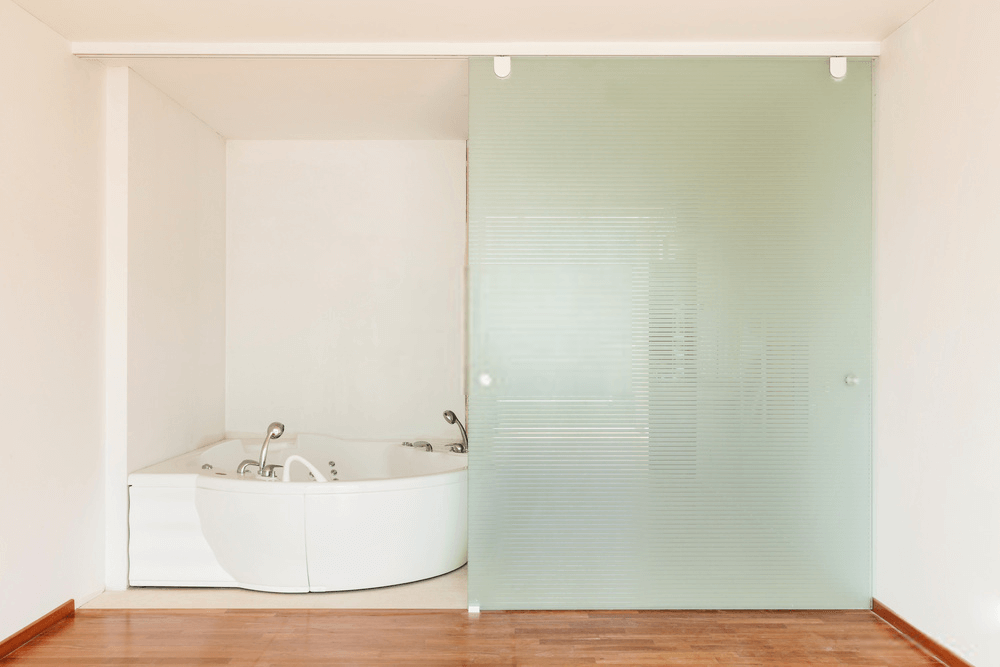 A fixed shower door is made from a panel of glass that does not move. It separates your shower or tub from the rest of your bathroom and helps ensure that no water sprays out of your shower. A fixed bathtub door is very traditional in design, as well as highly functional.
Advantages
Simple and Minimalist: The simplicity of a fixed bathtub door can make a strong statement and elevate your interior design.
Good for Small Spaces: Because a fixed door does not need to swing open or shut, it is perfect for small, crowded floor plans.
Easy To Clean: Maintenance is simple for fixed doors. Only a squeegee and cleaning solution is required.
Cost-Effective: Installation is simple and less expensive than other bathtub door options. It's great for homeowners on a budget.
Disadvantages
Cannot Move: Unlike a sliding or swinging bathtub door, a fixed bathtub door cannot move.
Does Not Completely Close: Some portions of the bathtub will still be exposed during use.
Average Price: The average price of a fixed bathtub door depends upon the amount of area that the door covers. Generally, a fixed bathtub door is a cost-effective bathtub door option. They can cost anywhere between $300 and $900 to install.
Features of a Sliding Bathtub Door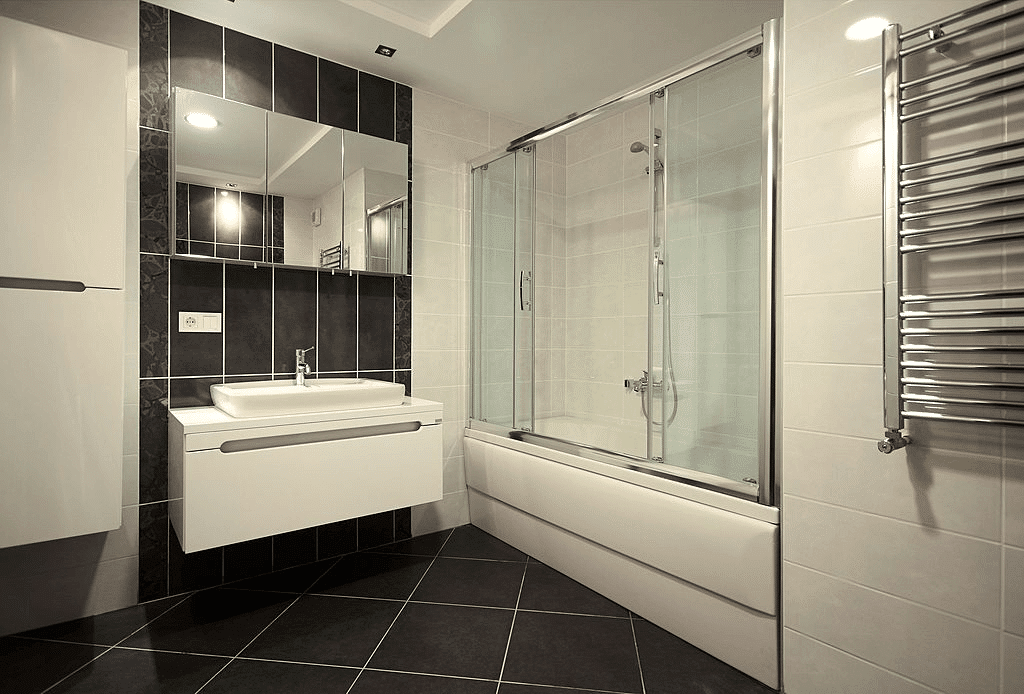 Similar to a fixed bathtub door, a sliding bathtub door can help save the interior space in a crowded bathroom area. Tracks along the top and bottom of the door frame help keep the door secured. Sliding doors can open up the feel of a room and make your bathtub area feel large and welcoming. The door can easily slide behind a fixed panel in order to easily access the room.
Advantages of installing sliding bathtub door
Accessible: Designs can be flipped so that both left-handed and right-handed people can comfortably use them.
Good for Small Spaces: As the door stays within the frame, it does not require additional space to open. This creates a more open floor plan for your bathroom.
Design Potential: A sliding side panel can help to create a corner space to use in your shower or tub.
Disadvantages of installing sliding bathtub door
Rollers May Require Replacement: Due to heavy usage of the rollers when opening and closing the door, replacement may be necessary. This can be time consuming and costly.
Larger Width of Glass: Most sliding bathtub doors are 1000mm wide or more, which can limit your choice of glass shower door material
Average Price: While project size and material can affect the total price of the project, a typical sliding bathtub door can cost anywhere from $400 to $1000.
Features of a Swinging Bathtub Door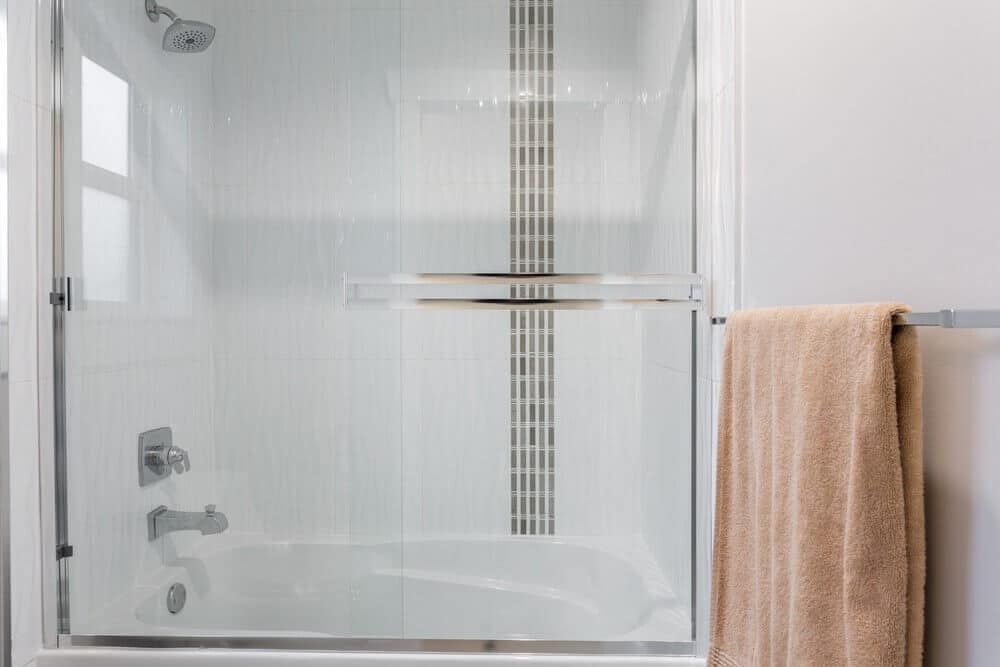 A swinging bathtub door uses pivots attached to a fixed portion to allow the door to open and shut. It requires space but can look extraordinarily beautiful in your bathroom. It also allows for easy access in and out of the shower area.
Advantages
Large Opening: The pivots make entry easy for anyone to use, including the elderly.
Simple to Clean: Compared to a sliding door, cleaning a swinging door is easy.
Beautiful Designs: Swinging doors look beautiful and can improve the atmosphere of your bathroom.
Disadvantages
Water Leaks: The small space between the hinges may let water leak out.
Requires Space: A swinging door requires space to open and shut which does not suit smaller bathrooms.
Average Price: A swing shower door generally consists of a fixed portion of the glass and a pivoting glass door portion. The size of a bathtub or shower area can affect the total cost of installation. In most cases, installing a swing bathtub door can cost between $350 and $900.
Features of a Gridded Bathtub Door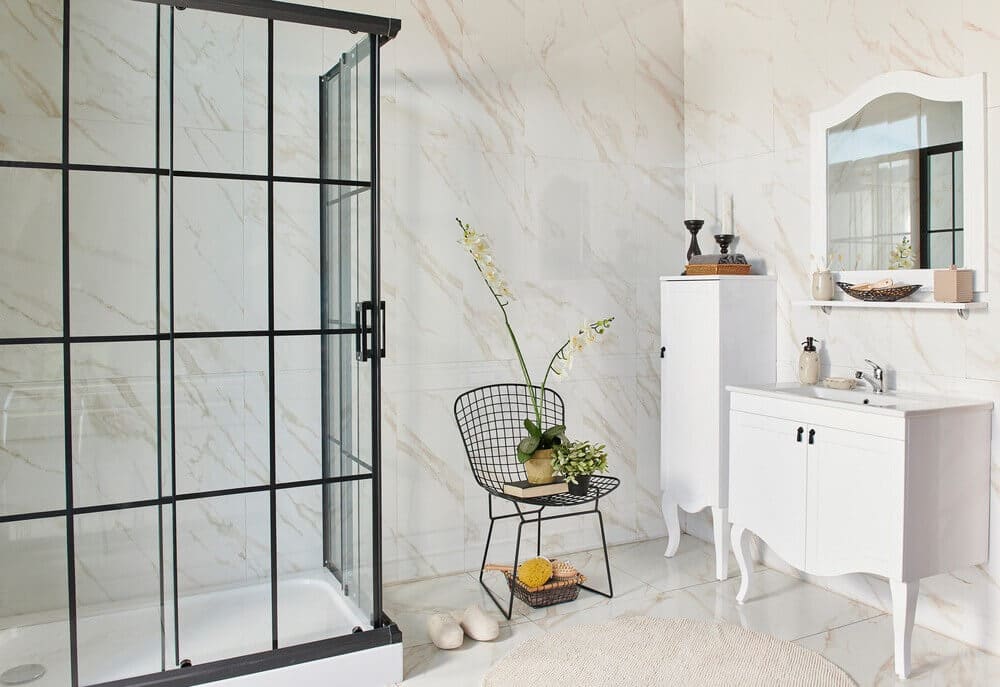 Gridded bathtub doors offer rustic elegance and a chic design to your property's bathroom. Instead of having a plain panel of glass, grids are laid across the door. This style combines style with simplicity.
Advantages
Easy Maintenance: As the grid is laid over one panel of glass, cleaning is simple.
Elegant Appearance: The grid design easily elevates the standard fixed glass panel design into something elegant.
Increased Property Value: Adding grids to your shower door can completely change the atmosphere in your bathroom and improve your home's property value.
Disadvantages
Takes Up Space: Some gridded bathtubs door pivot and take up available space in your bathroom.
Modern Style: Some bathroom spaces will need to be updated in order to match the modern, trendy appearance of gridded doors.
Average Price: The average price of a fixed bathtub door depends upon the amount of area that the door covers. Generally, a fixed bathtub door is a cost-effective bathtub door option. They can cost anywhere between $300 and $900 to install.
Answers to most frequently asked questions about shower doors screen
Let's Sum up the Topic:
Selecting the perfect type of shower door for your bathtub is hard but rewarding work. Carefully consider the layout of your bathroom, your potential budget, and the overall interior design of your home in order to determine the most suitable shower door type for your property. Regardless of style, be sure to purchase your new bathtub doors from a trustworthy company. Glass Genius offers customers unbeatable rates on glass products due to the competitive online marketplace that matches customers with individual vendors.
Find your perfect glass shower door, today!