When it comes to kitchen upgrades, the same expensive remodeling strategies are often tossed around without much thought. These typically require buying new appliances, sometimes new countertops, tables, or entirely new cabinets at times. Many homeowners fail to realize knowing far easier and less expensive ways to upgrade their kitchen to the next level. Adding new cabinet glass, that is!
Cabinet glass is often overlooked but it is the prime feature of elegant kitchens. Glass cabinet doors come in different styles to give the best possible look to your kitchen. If you are up for a classy kitchen remodel, upgrading the cabinet glass is probably a great idea. Here are the top six cabinet glass styles you should consider in 2021.

Why You Should Prefer Installing Glass in Kitchen
Like any other fixture, cabinet glass is occasionally updated to look beautiful, and functional. It offers the best style for your interior design. As trends evolve over time, so must your design choices to keep up. Cabinet glass styles that were most popular in the past do not necessarily look best in a modern 2021 kitchen. Rather than pursue larger, broad-scale kitchen upgrades that can break the bank, turn to a manageable kitchen upgrade that is affordable and can have a lasting impact.
1. Textured Patterned Glass for Unique Style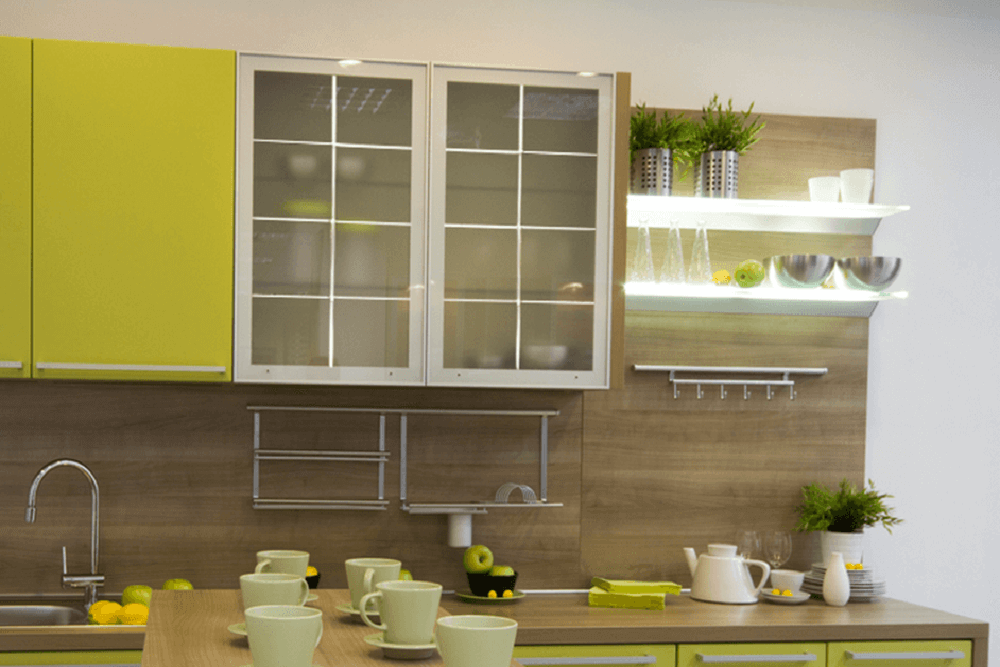 Textured glass, which is also often referred to as patterned glass, offers an unbeatable ability for adding a unique style to a kitchen upgrade. Cabinets come in a large variety of shapes, sizes, colors, and designs. Textured patterned glass is the same way. Depending on the style of your kitchen cabinets and the amount of privacy you are looking for in your cabinet glass, textured patterned glass may be the best choice for you. Customize the pattern style, the clarity or opacity, and even the color tint to get it exactly right.
2. Leaded Glass to Add Color to Your Kitchen Upgrade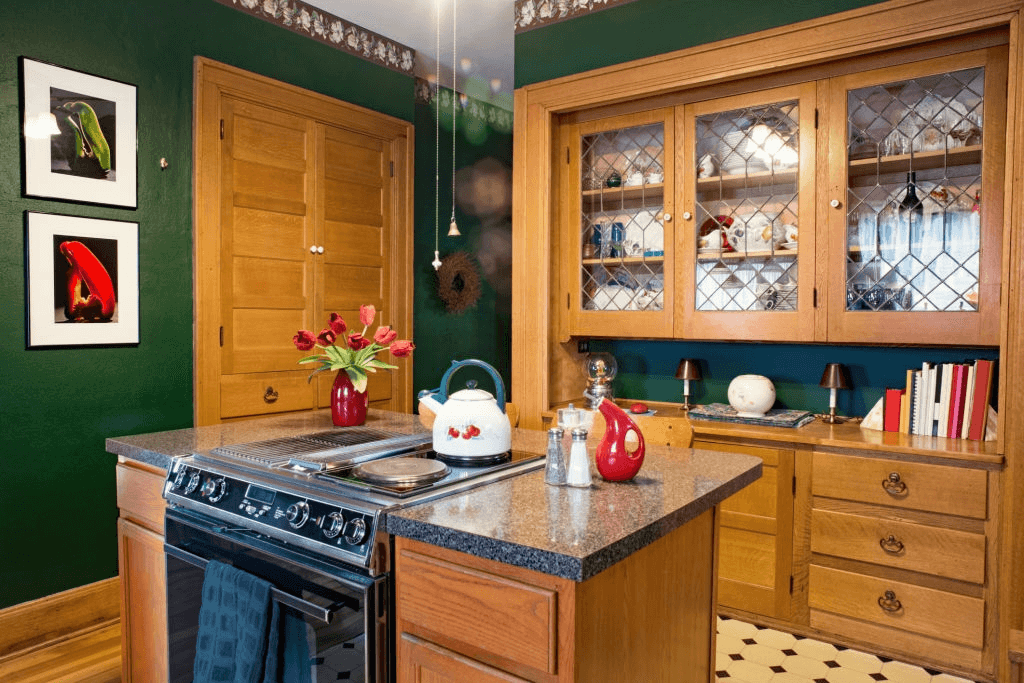 Leaded glass is commonly referred to as stained glass. However, when people think of stained glass they think of multicolored glass. Leaded glass, the style of cabinet glass where multiple sections of glass are brought together to form a single pane—often divided with metal—is an outstanding option for a kitchen upgrade. One of the greatest aspects of leaded glass is that it offers both a modern and classic style simultaneously—a look that will surely stand the test of time. Make it clear or colored leaded glass—whatever fits your cabinets best!
3. Sumiglass to Transform the Look of Your Kitchen Upgrade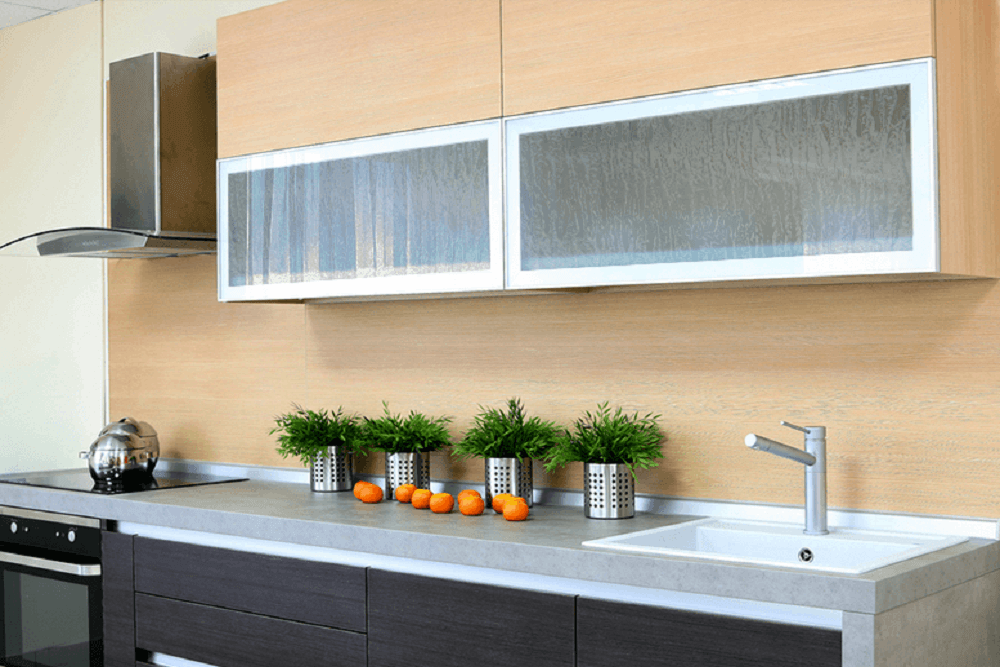 Ready to transform your cabinet glass during your next kitchen upgrade? Sumiglass is the glass for your project. Sumiglass combines frosted glass with unique white squiggly lines that intersect and artistically cover the entire pane. Pairing well with both dark and light cabinets, sumiglass is the perfect intersectional design between private cabinets and clear cabinets.
4. V-grooving for Elegant Kitchen Glass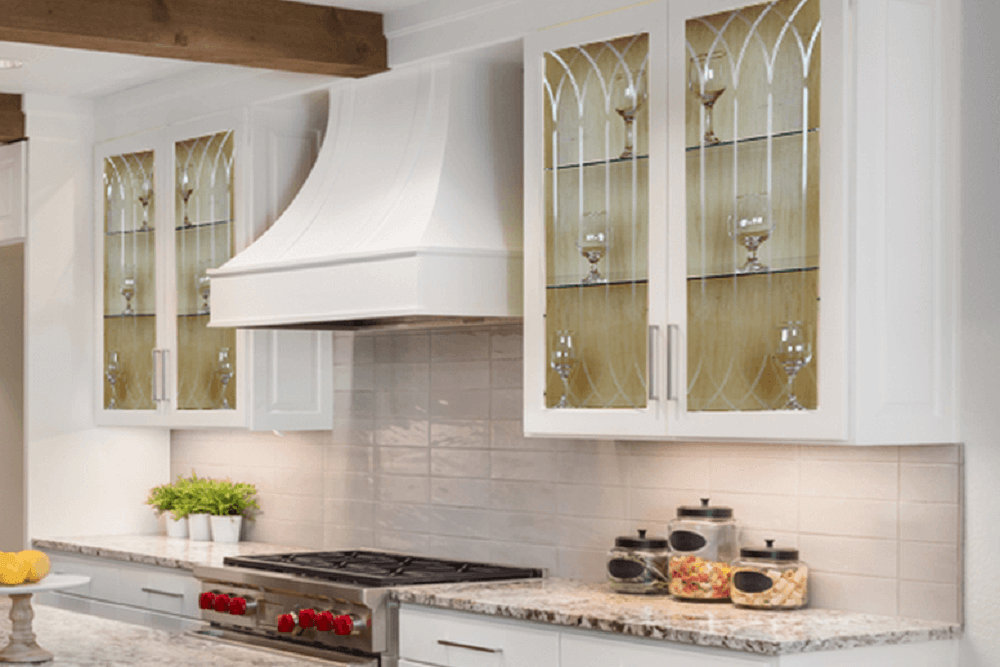 V-grooving, often found in the most elegant kitchen cabinet glass designs, is when glass is cut with delicate grooves in the shape of V's. This can be done in both frosted and clear glass. When frosted glass is v-grooved, the grooves are typically clear, adding one more dimension of style and beauty. The lines that are cut in the glass can be both rounded and straight, making the glass a very customizable style to match any kitchen design.
5. Frosted Patterned Glass to Add Privacy to Your Cabinets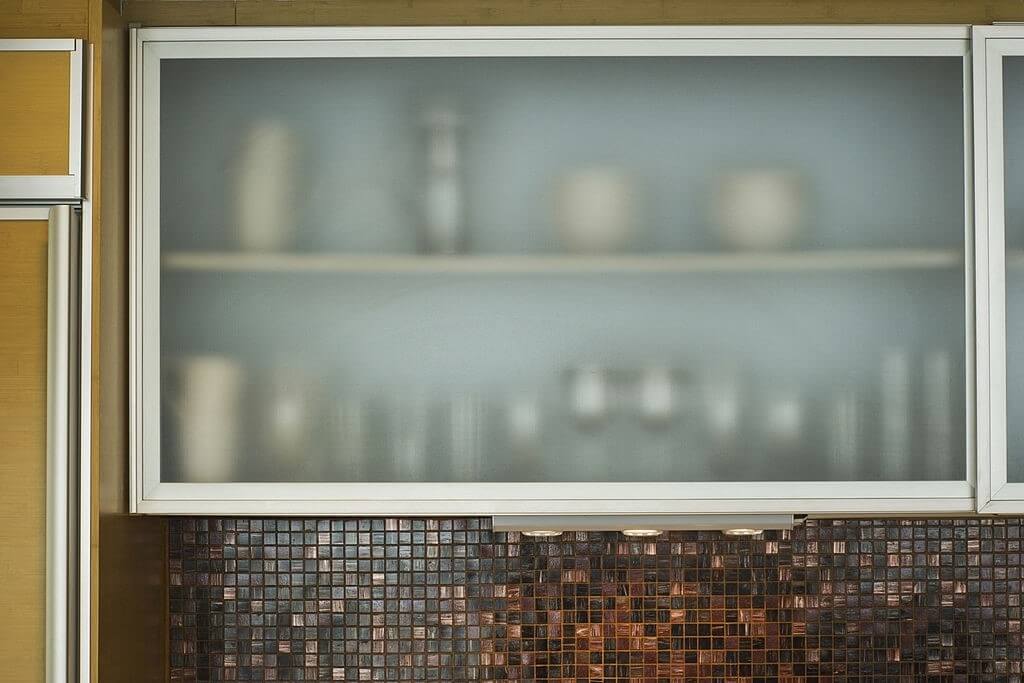 Not all homeowners want guests to have free views into all of their kitchen cabinets—even if those cabinets are only holding plates or cups. Frosted glass adds a layer of opacity to normally clear glass. The best part about frosted glass is that it can be taken a step further by adding patterns to it. The frosted look offers the privacy desired by homeowners and the patterns ensure that the glass will look stylish and sophisticated. If you are looking for a cabinet glass style for your new kitchen upgrade, frosted patterned glass is a safe yet stunning choice.
6. Seeded Patterned Glass for a Great 2021 Look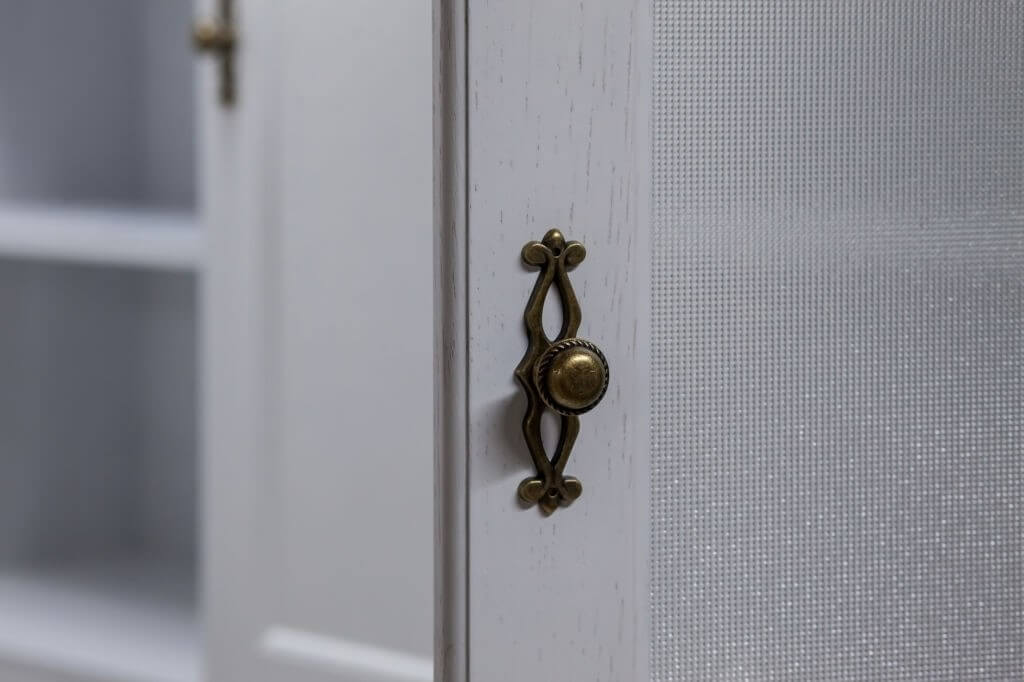 Seeded glass cabinets offer a unique look that will not only stand out in 2021 but will look great for years to come. This style is most often clear with small bubbles or textures inside of it, which appear as if an array of seeds are trapped inside the glass. Seeded glass has a beneficial mix of both privacy and clarity—while the "seeds" in the glass can distract from what is inside the cabinet, the glass still has plenty of clarity when seeing past the texture.