What are Bricks and Mortar Stores?
Every physical business or retail outlet is considered a brick and mortar store. Based on their design, they do not have enough resources to compete with eCommerce platforms such as Amazon, eBay, amongst others.
With so much difference between brick and mortar stores and large eCommerce businesses, it is impossible to disregard the importance of the former in the industry. In so many ways, physical stores have performed more than expected. Several people prefer to visit physical outlets than to shop online for products due to one reason or another. For instance, in physical stores, it is possible to view and choose what you desire correctly. On the other hand, i.e., online stores, you have to choose based on popular reviews and descriptions.
Technically, physical stores have been able to meet, relate, and establish relationships with customers. This is a substantial detail every business considers; thus, a brick and mortar store has been able to ensure that.
How Physical Glass and Mirror Stores Meet the Need of the Local Markets?
Concerning glass and mirror products, physical stores are worth it. Here, you can make demands for the exact thing you want. You don't have to struggle to get anything because they offer extensive services until customer satisfaction is positive. While, other stores lacking right option and trusted reviews to pick from a series of glass products.
If you are looking for a glass decorator, interior designer or glass supplier, it is possible to get one in a brick and mortar store. They would recommend the best glass and mirror products to use in addition to the installation services. The store would even give tips on how to install and take care of glass and mirror products to reduce maintenance costs.
In essence, physical stores meet the needs of the local market in the best way possible, and they make sure the satisfaction of every customer. If they are not, a return-policy is available for an exchange or refund (depending on the time given).
Challenges Faced by Local Glass and Mirror Stores
With the fantastic things about local glass and mirror stores showing superiority over online stores, there are some challenges they face. These challenges have limited people from patronizing them in the way they should.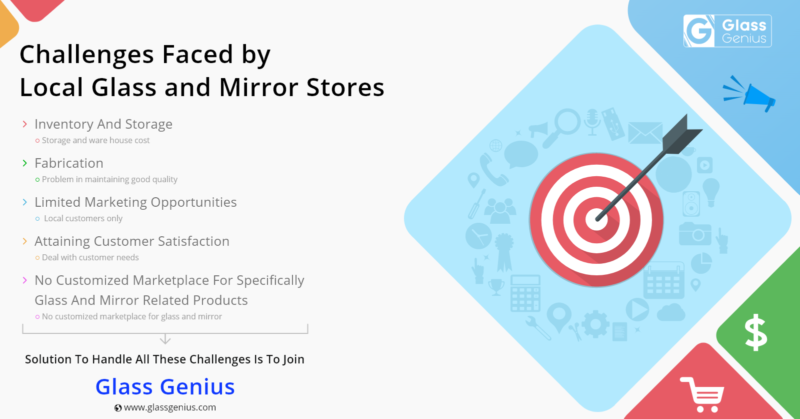 In physical stores, there is more damage compared to online stores. For instance, in a bid to take inventory or store, glass and mirror products may get damaged or lost. This is a loss on the store's side.
Fabrication is another major challenge, especially in local glass stores. Some of these products may not be true to size or quality. Quite a lot of products are in the poorest of quality, and there is almost no way to test it without breaking the box. Business owners are only left with the option to trust the supplying brand.
Limited Marketing Opportunities
Since the world is now digital, it may be a little difficult for local stores to catch up. Most of them only get their customers based on referrals or their jurisdiction. Therefore, only a few marketing opportunities are there.
Attaining Customer Satisfaction
Without a doubt, physical glass stores tend to get customers; however, the ability to satisfy these customers is another issue. Sometimes, it is hard to deal with people. If you can't deal with them or fulfill their needs, there is going to be a bad review of the glass and mirror product or the business later.
No Customized Marketplace for Specifically Glass and Mirror Related Products
In most brick and mortar mirror stores, you will find several brands of glass products. Everyone wants to sell different things so that they can reach different customers with disparate tastes all at once. This means it is sometimes difficult to find a specific place to get a particular custom-made product. Having no customized marketplace for glass and mirror related products is a significant challenge that may be very difficult to overcome.
How Glass Genius Seller Program Can Tackle These Challenges
There are a set of people who prefer to go for local glass stores over online stores, and another set who would go vice-versa. However, Glass Genius is a platform that has helped maintain a balance. It does so in such a way that it meets the demands of buyers and sellers of glass and mirror products.
With the help of its buyer portal, You can contact local glass companies, contractors, interior designers, and many more for glassworks. On the other hand, the seller program uses effective marketing strategies to reach desired customers and enhance business growth in the simplest way possible. In simple terms, all the challenges faced with local glass and mirror stores are overcome.