A perfect coffee table decor acts as a focal point in a living room. It complements your home interior in different ways. The aesthetic appeal of a well-set coffee table is matchless. For example, setting up an animal coffee table can remarkably change the aesthetic of your living space. Despite all this, many homeowners find it tough to link a coffee table with their home decor.
Don't worry; we have got best coffee table decor ideas to help out. This blog post will highlight these decor ideas in detail. So, let us jump in!
Coffee Table Decor Ideas
There are a ton of exciting coffee table decor ideas to follow. We have listed down the best ones for your ease. These decor ideas won't break the bank. So, let us take a look at them.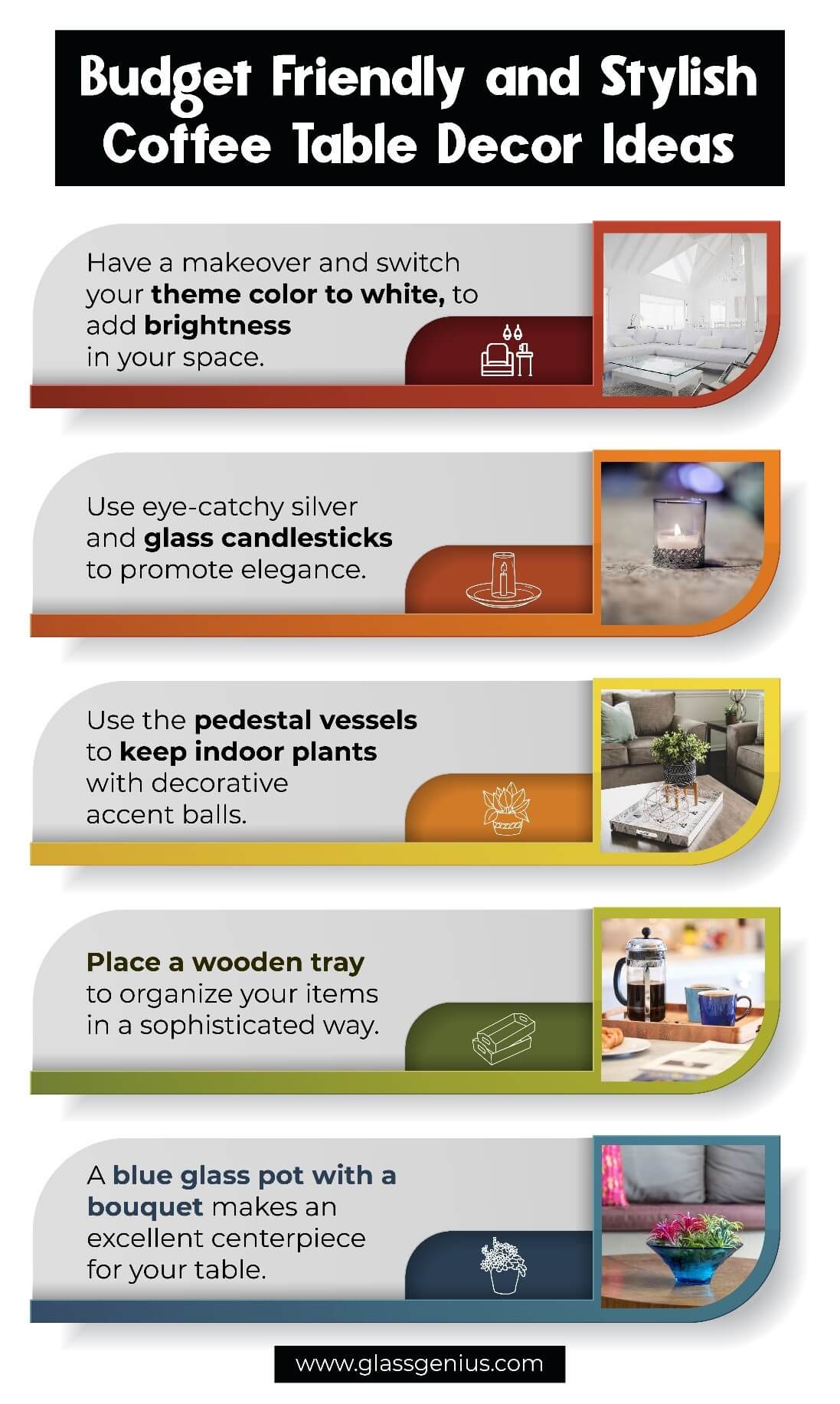 1. Makeover Round-Up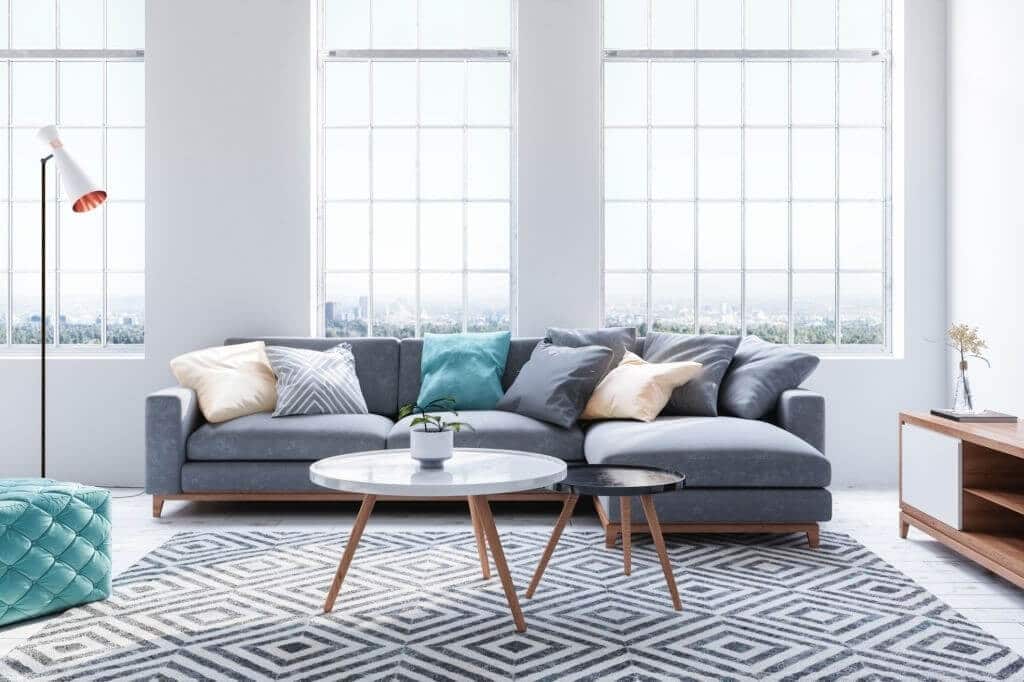 Having a makeover round-up, and switching up your theme to white is a décor idea you can never miss. Above all, a white coffee table top will be the ultimate makeover for your living room. A white coffee table will create depth in your living room, add brightness, and also an illusion of space.
White tables are also easy to combine with accents and other furniture. A white coffee table would be a great starting point for stylish coffee table decor.
2. Striking Silver and Glass Candlesticks with Fiber-Art Accents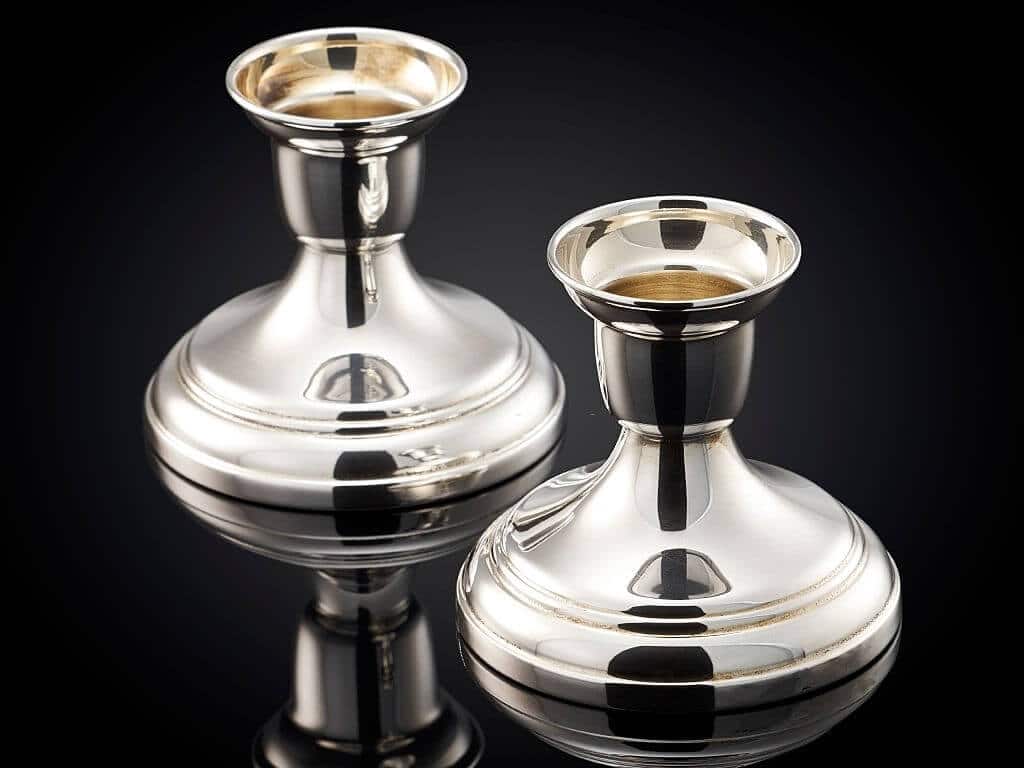 Silver-plated and glass candlesticks would make an excellent centerpiece for a coffee table. If you are looking to incorporate traditional or vintage interior design, then this would be a great choice. You can have the candlesticks in a wide range of patterns.
Glass candlesticks are ideal for the homeowner that loves a contemporary or modern design. Glass brings about a minimalistic design and also shimmers when hit by light, creating elegance in your space.
Fiber-art accents are also great to use as a centerpiece on your table to bring warmth to your living room. You can also use colored fiber art to add vibrancy to your table.
3. Romantic Shabby Chic: Pastel Dekorasyon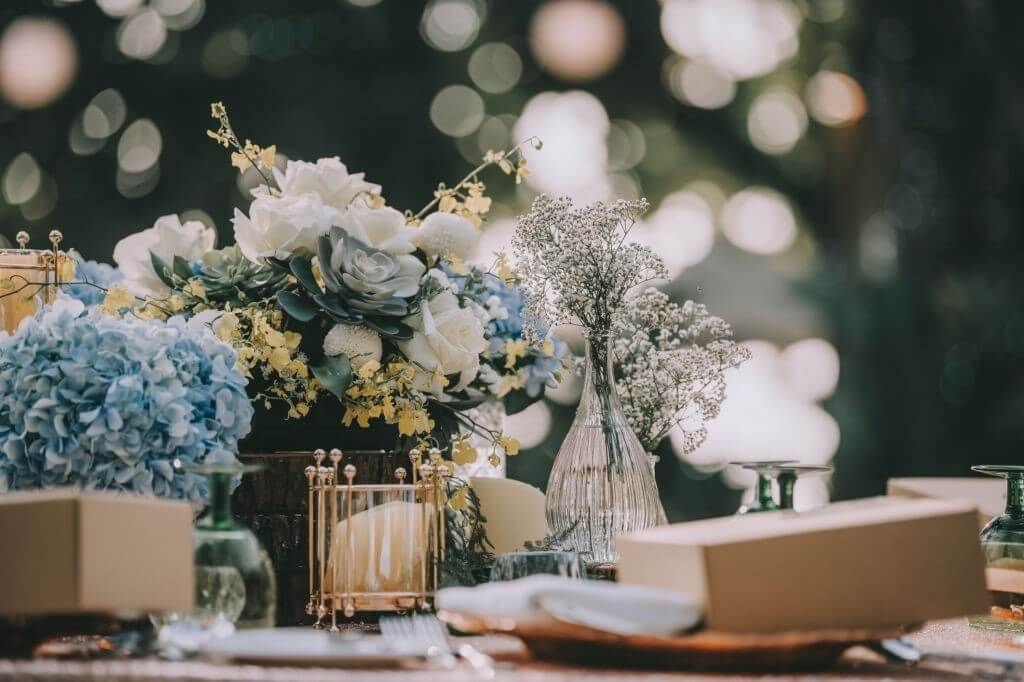 Romantic shabby chic can be described by ruffles, pastels, and some white. Shabby chic accents on your table create a romantic atmosphere, brings comfort, and make your living room relaxing. Romantic shabby chic is feminine, but there is a male version of it, which is masculine shabby chic.
So, a romantic shabby chic design is best suited for vintage home designs that have elegance at the same time.
4. Pedestal Vessels with House Plants and Decorative Accent Balls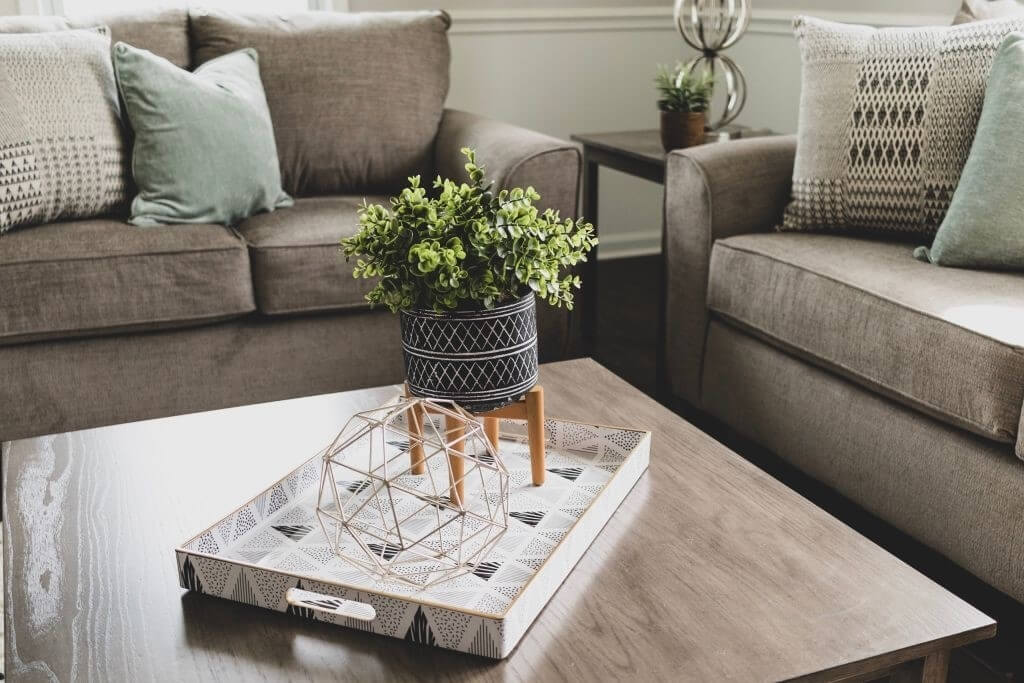 Pedestal vessels for coffee table décor can work for both traditional and contemporary home designs. The vessels can come in a wide range of materials from ceramic, glass, and even wood. You can also use the pedestal vessels to hold indoor plants.
Not only will the pedestals with plants bring about a therapeutic effect, but they can also help reduce your stress levels and improve your concentration. They are also beautiful, something you will enjoy seeing on your table.
You can also use decorative accent balls on the pedestal vessels. They come in different colors. For instance, they could be silver or gold plated, colorful fabric, made of sisal, plastic, metal, and many other materials. Bowls of the same color theme can hold decorative spheres to create a sophisticated decorative effect in your living room.
5. Decorate the Table with Catchall Tray
A catchall tray is a good idea for decorating your table. You can get a wide range of catchall trays from ready-made, custom, and personalized. Also, there are tons of reasons why you should not miss a catchall tray for home décor. For instance, when placed on the coffee table, they will make items like keys, clips, and other basic items feel special.
The catchall tray can also be used to hold a wine decanter, and tastefully organize your space. It helps declutter your table, reducing mess and making the living area elegant. Catchall trays also come in beautiful designs and colors which you can blend with the rest of your interior design.
6. Use Blue Glass with Gold or Silver Accents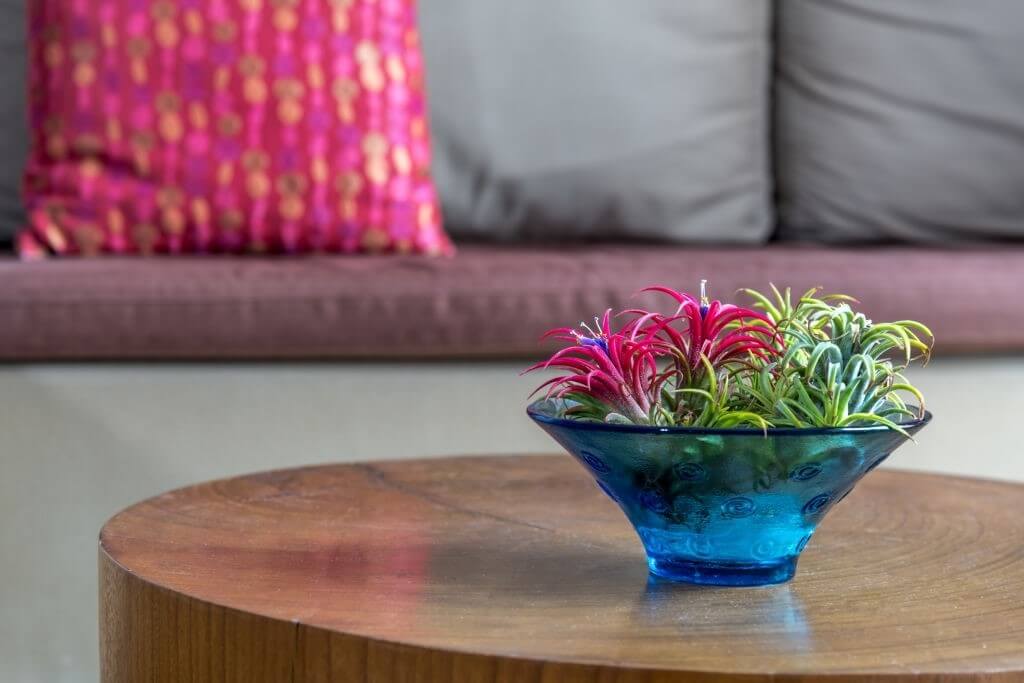 Glass serves as a great centerpiece. Ice blue glass accented with gold and a hand-tied bouquet will make an excellent centerpiece for your table. The hand-tied bouquet will add an elegant taste to the glass. Glass Table Tops also have shimmers, something which will beautify your table.
Also, blue is one of the world's favorite colors, and it will be a great thing to have in your living room. Moreover, blue has a relaxing effect, and it is something you will enjoy having in front of your sofa. More so, blue goes well with most color pallets, and it will seamlessly blend with the rest of your décor and theme.
7. A Statement Slab Made of Wood and a Monochromatic Book Display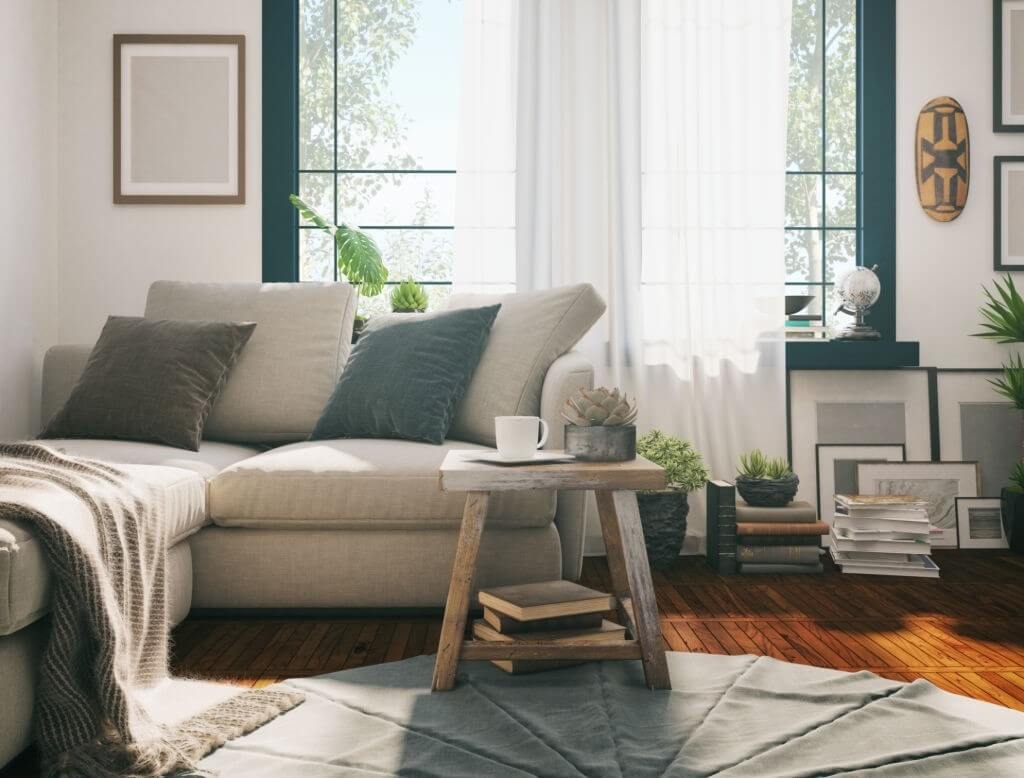 A wood-slab statement is something you will love for your table. A wooden slab will help you connect with nature hence bringing a relaxing feel while in your space. A wooden slab will also act as artwork on your table, as it can be customized, personalized, or handmade. Moreover, they come in different sizes and colors. A wood slab will also create an organic focal point that will be eye-catching to every guest who will step into the house.
It creates an irresistible rustic feel that you will enjoy every time you will be in the living room. Not only do wooden slabs add to your living room's aesthetics, but also they serve a functional purpose. You can place a flower vase or other accents.
You can style your table with coffee table books supported by a black-and-white book display. Books are so easy to style and organize. They can also add color to your table, and when placed in black and white, it will create a unique and sophisticated monochromatic effect.
More so, this is a very budget-friendly décor option as they are affordable. Books are also low maintenance, and you will enjoy having them around.
Take Away!
Decorating your table is one of the simple ways to enhance your interior décor. Coffee table décor options are endless, and there is so much you can do to add some life to it. The ideas above will help you a great deal in decorating your table and making your living room inviting.
So, there are a number of coffee table décor ideas to explore the creative sense.