Corner shower doors are not only a stylish option for smaller bathrooms but also a suitable replacement due to their subtly curved entrances. You don't need to fill up half of the bathroom space with a shower door when you can opt for a corner shower door. It's convenient, has a separate shower nook, and more importantly, gives an all-clear space look. Frameless, modern, and minimal designs sit alongside for minimal visual impact. They are crafted with care using state-of-the-art production methods to ensure reliable service in the future. Stop roaming over random websites! Here we've gathered all the necessary information for corner shower glass doors. Let's jump straight into it!
What are Corner Shower Enclosures?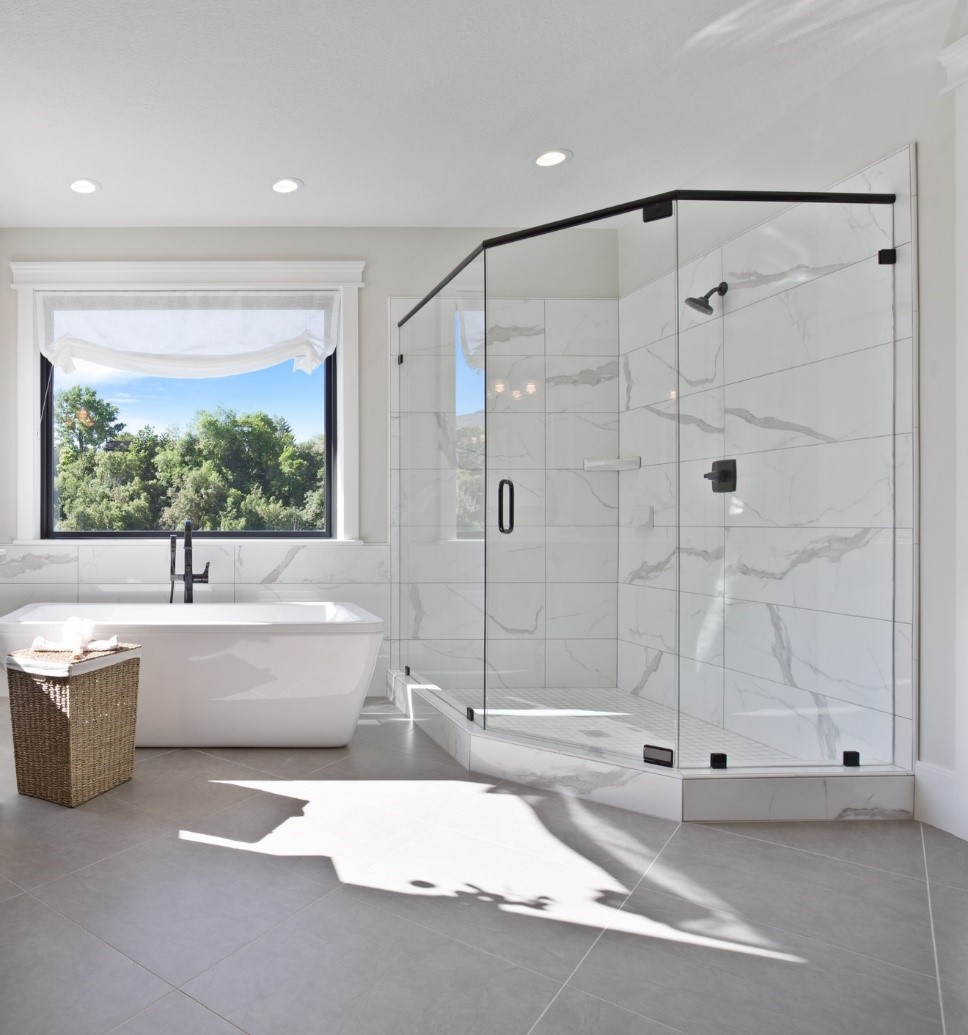 A corner shower glass door can be installed in a bathroom nook or corner. Anyone looking to free up some floor space in their bathroom should consider a corner entry shower enclosure. There are (typically) two walls inside the enclosure that make up the shower's surround. NEO angles, curves, squares, and rectangles are all possible. Corner shower glass doors are a great space-saving fixture that fits perfectly well in compact washrooms.
Doorways made of toughened glass with a convenient sliding mechanism don't necessitate any extra space to be opened. By creating a watertight seal, magnetic door strips help your bathroom maintain its pristine condition for longer. Make sure to check out its features, whatever shower door you select. Or place a custom order with your specifications.
Corner Shower Doors – Standard Dimensions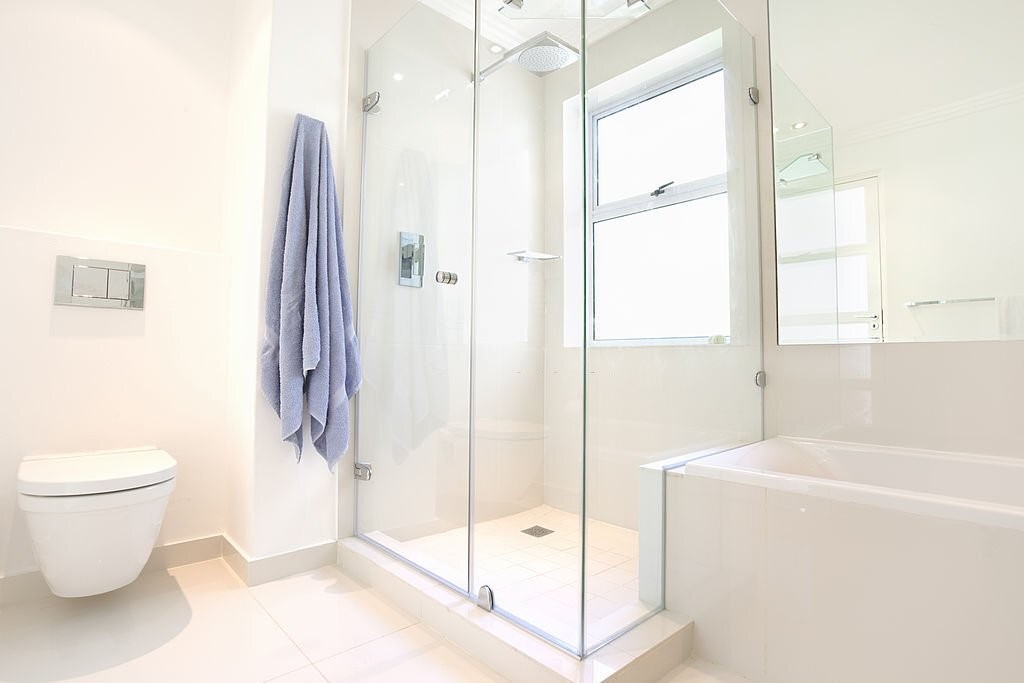 Doors for showers typically range in width from 22 inches to 36 inches. If the width of your shower opening is more than 36 inches, you'll either need to purchase an extra door panel. A special or custom door will accommodate large openings. Don't forget to check which way the door swings.
There's a choice of 45- or 47-inch widths and a standard height of 79 inches for sliding corner shower glass doors. Anyhow, you can always place your custom order to get a shower door right according to your needs.
Pros and Cons of Corner Shower Glass Doors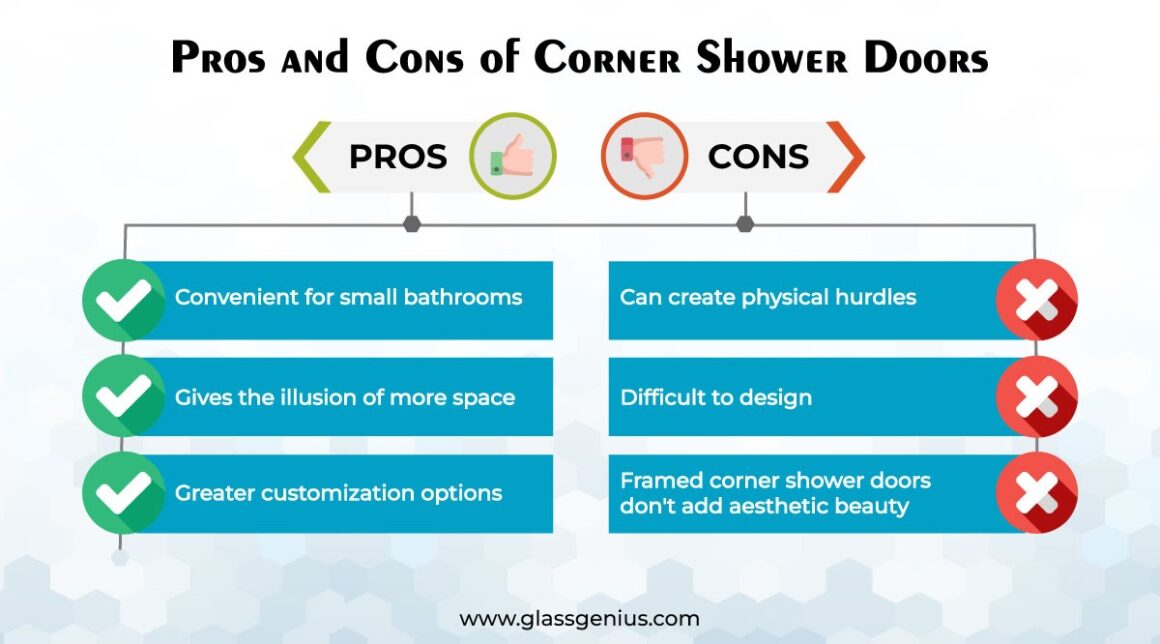 Pros
Convenient For Compact Bathrooms!
If you're installing a corner shower in a small house, its dimensions don't have to be those of a standard bathroom. They can be as small as 32 inches square, 34 inches square, or 36 inches square. Admittedly, the cramped quarters here may make you feel like you're in a phone booth.
Glass Enclosure Makes Even a Tiny Bathroom Seem More Spacious!
It's common that if your shower space is too compact, you'll need to do everything possible to make it seem larger. Additionally, a corner shower can give the impression of more space than an alcove shower due to the glass walls on two or more sides. Bathrooms that are square-shaped, are perfect for corner showers.
Corner Showers Come in a Variety of Designs!
Showers that look good and work well are welcome to any bathroom. Additionally, corner showers are available in a variety of shapes, which is a lot of fun. If you want to keep a sink, too, you can install a new angle corner shower. Which has a door that swings at a 45-degree angle.
Cons
Corner Showers in Most Homes Are "Teeny-Tiny"!
The exception to the rule is when you take a small shower. You should be prepared to take a physical beating from hurting or rubbing your elbows on the sides.
They Can Be Challenging to Design!
With a corner shower, you probably won't be able to achieve your dream of a luxurious doorless walk-in shower. The standard width for a walk-in shower is between 20 and 24 inches, and it must be constructed so that water trickles out instead of gushing in. To be honest, that ain't going to happen in a corner shower.
The Hardware For Framed Corner Showers Can Be Cumbersome!
You're probably going to use a framed shower door if you're on a tight budget. It's also important to note that the thick framing of framed corner shower doors is not the most aesthetically pleasing aspect of these enclosures. Undeniably, they have been more reasonably priced. But they won't get any "style points" for installing them.
Final Thoughts!
Do not compromise on shower design. You shouldn't settle for a style that you don't like. If you can't find a suitable one, simply place a custom order for corner showers with toughened corner shower glass doors. You just have to submit your specifications and there you go!