How to use glass aptly to decorate home or workspace? This is the question that arises in your mind at some point in life.
It happens when you take up the challenge of renovating or redesigning the interior. Usage of glass material in a living space gives it an artistic touch and inculcates a sense of tranquility among the inhabitants.
Glass, if properly applied for indoor embellishment has the potential to exude an aesthetic appeal and give classy look to the room.
Being an integral part of household and its consistent demand, there is a wide range of glass available in market, be it from the simpler ones to the sophisticated ones.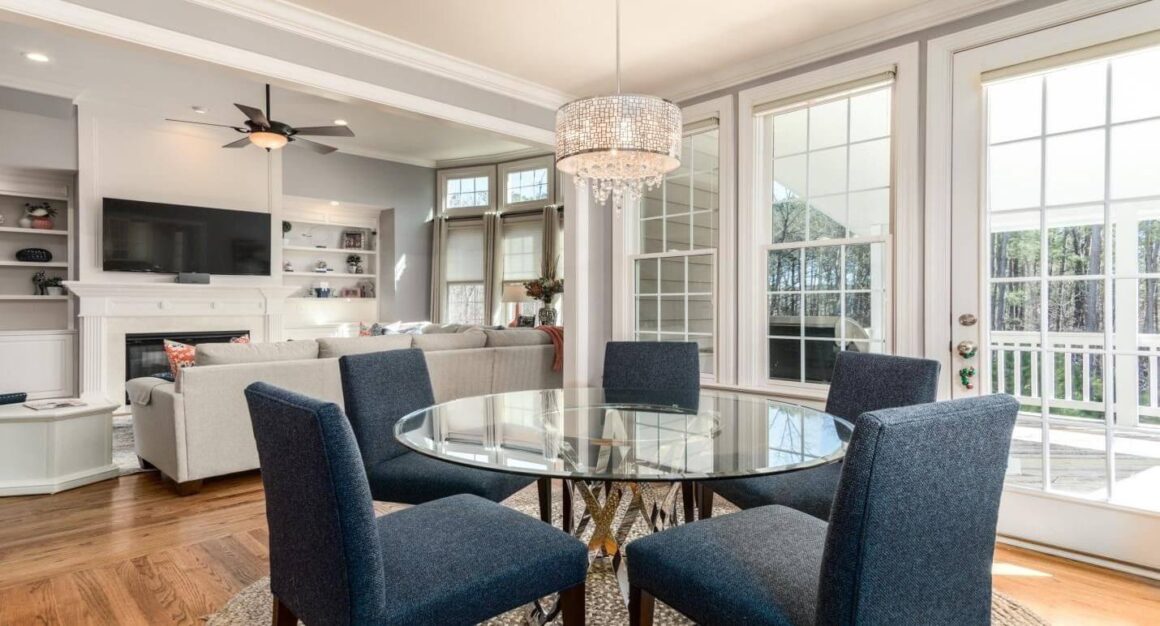 In the modern world, demand for custom cut glass has skyrocketed. Customization provides you the opportunity to use creative prowess to get product of your desire.
Custom made glass cut to any size or shape has the knack of making your stay in home or office more comfortable. Multifunctional feature of glass enables you to get it molded into numerous products such as doors, windows, table tops and shelves.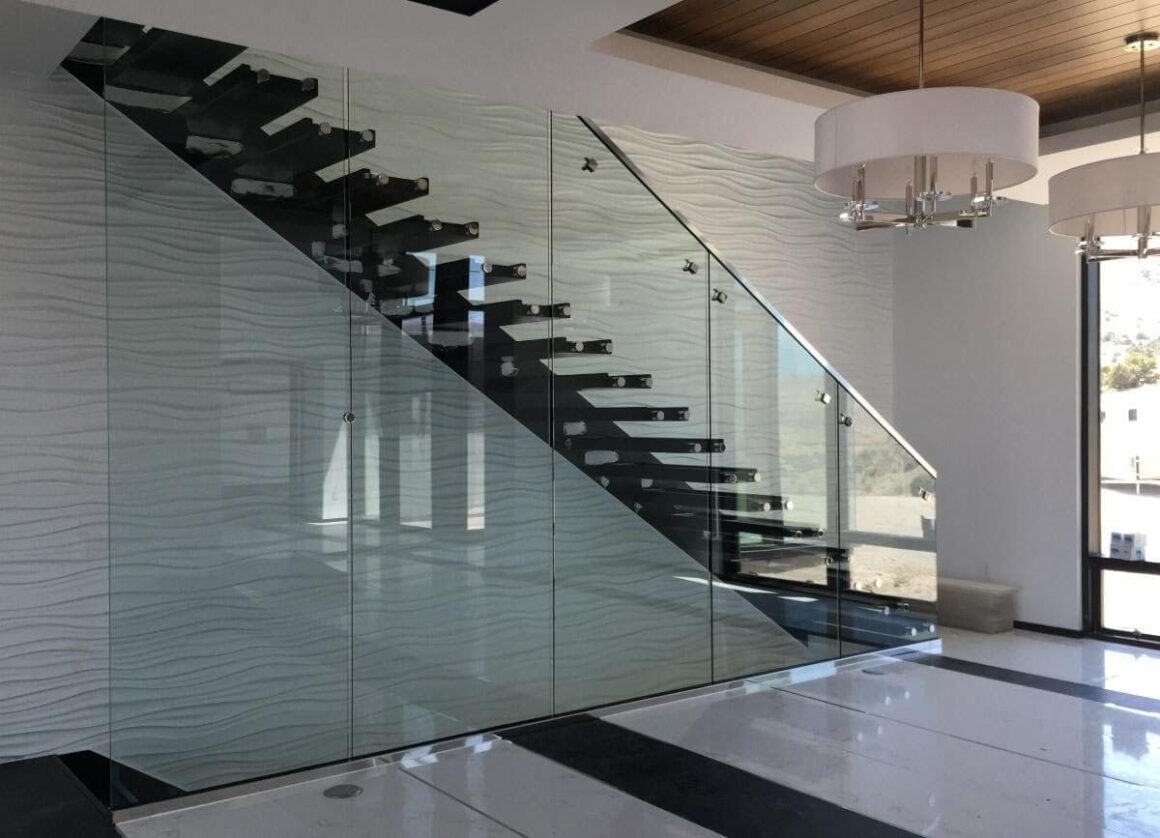 Getting a custom made glass adds uniqueness and a majestic touch to your living space as it is reflective of your own creativity and innovation.
Myriad glass types are available in the market from which you can make selection depending on your needs. For your ease, we have compiled a list of different glass types you can get from the market:
Below is a rundown of some of the most popular types of glass, along with their applications and common price ranges, to better help you decide what type of custom-cut glass to use for your next project.
List of Glass Types
Laminated Glass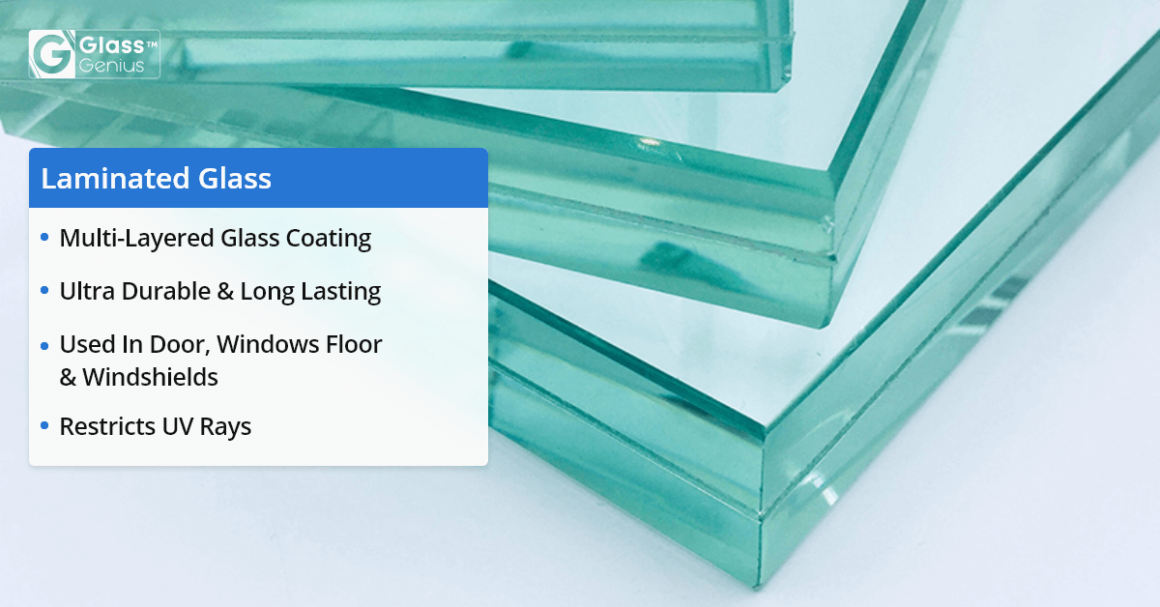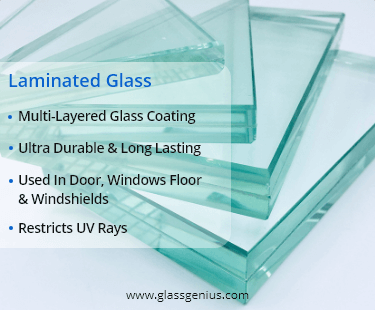 Laminated glass is a double coating glass with an inner layer of thin plastic film. This thick layering makes the laminated glass more durable and long-lasting.
● Multi-layered coating makes laminated glass more secure and there are lesser chances of it getting shattered in case of a blow or impact.
● This double layering also prevents the inflow of Ultraviolet rays and excessive noise.
Properties
Two glass pieces are joined together and between them there exists a thin layer of plastic which provides strength to the product.
● Omni Strength and Performance guarantees its usage in the glass floors and railings.
● Laminated glass offers maximum protection from the harmful UV rays of sun and stabilizes the room temperature. Restriction of UV rays inside the house not only safeguards human health but also protects the paint on walls from receding.
● The quality of being impregnable makes it one of the best glass types available in the market.
Application
Due to its ultra strength and ability to hold off UV rays, it is used in front doors, windows, windshields and glass floors.
Pros
Usually, we associate glass with fragility and something that is easily breakable. However, laminated glass' double coating provides it strength and more resistance to shattering.
It can also benefit you by offering protection from skin diseases (cancer) by limiting the transmission of UV rays from the atmosphere into the room.
Cons
A lot of work goes into the making of laminated glass, so it's an expensive product than the ordinary glass available in market.
Tempered Glass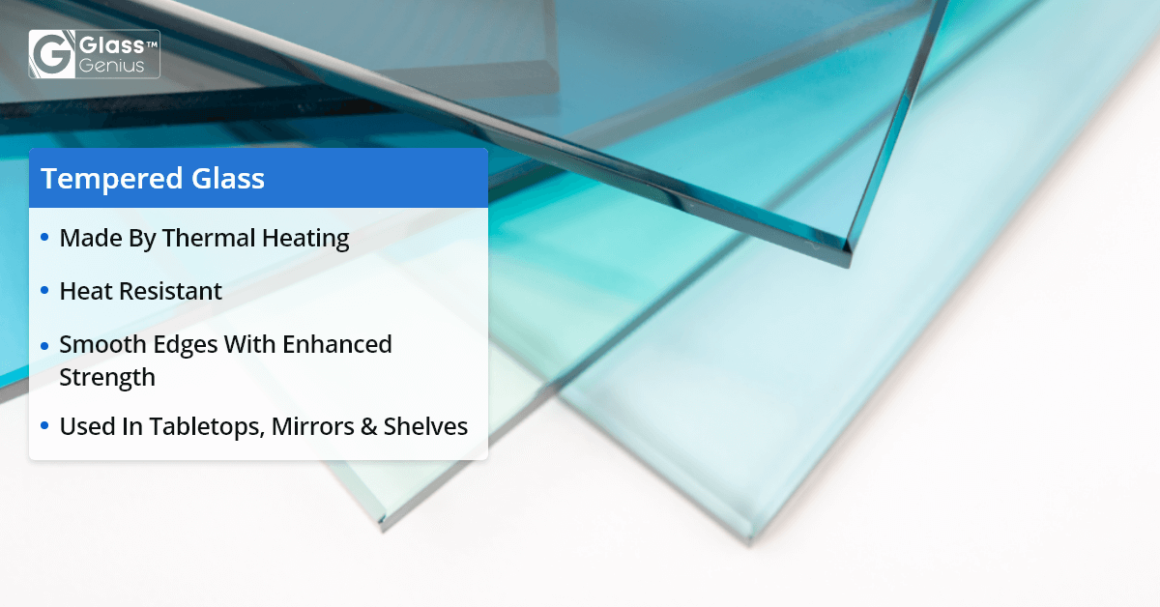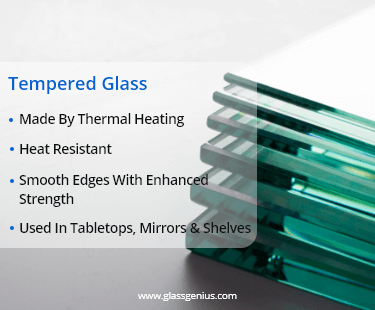 If you are looking to enhance beauty and bring some elegance into your room, then you should definitely purchase the Tempered Glass.
● The process of tempering creates a strong finishing product. Manufacturers use heat to mold the glass that also makes it heat resistant.
● You should definitely use tempered glass if you want to make a well-built table top.
Properties
Custom cut piece of tempered glass speaks volumes about its toughness.
● During the manufacturing, glass undergoes thermal treatment enhances its strength compared to other glass types.
● Due to this feature, it is more secure as breakage can result in only small pieces rather than ordinary glass.
● Tempered glass has smooth edges and you can feel it by running fingers over it.
Application
Tempered glass can be used in tabletops, mirror, shelves and panels due to its sturdy nature and heat-resistance ability.
Pros
Tempered glass has many advantages over ordinary glass.
Tough: Thermal process used to temper the glass makes it tough and it can withstand strong winds.
Heat-Resistant: Tempered glass has the ability to withstand high temperatures which makes it suitable for use in kitchen.
Scratch-resistant: Manufacturing process of tempered glass involving heat makes it less prone to getting scratched.
Cons
No resizing possible: Once designed, then you can't redesign, cut or resize the tempered glass due to its firmness.
Breakage due to edges: The edges of tempered glass are smooth so incase of any damage to them, the whole glass will disintegrate.
Pattern/Textured Glass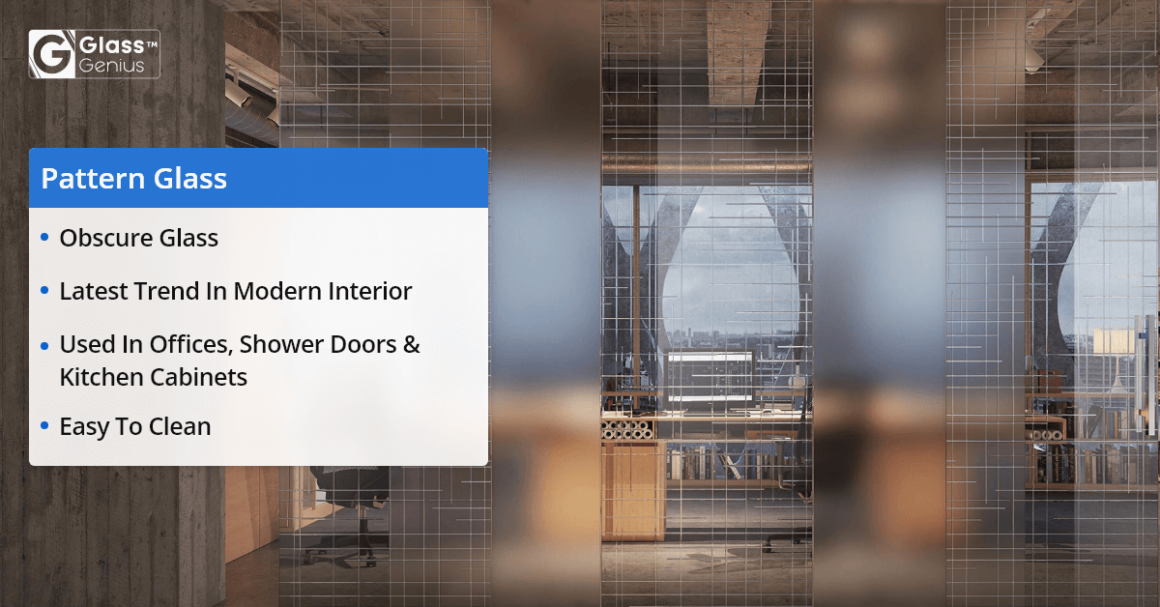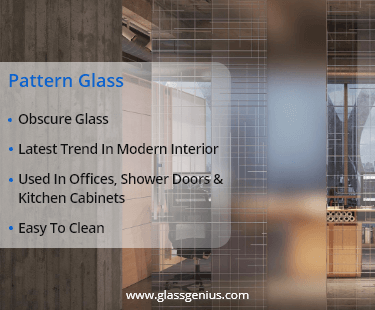 If you want to make exterior and interior of your house or office look more appealing, pattern/textured glass is the perfect choice. Having a patterned glass installed in the interior is the latest fashion trend that you must adopt.
● By customizing the opacity of glass patterns, you can create an alluring inner space to control light balance.
● Its addition also adds a majestic touch to your room.
Properties
Highly skilled glass manufacturers add design on standard glass or tempered glass to make it a pattern/texture glass.
● However, the tempered pattern glass offers more durability due to heat-resistant nature.
● Made from a high-strength glass, it's not possible to easily break pattern glass.
Application
Feature of opaqueness in pattern/textured glass makes it suitable for use in places where privacy is of paramount importance.
● It can be used in shower door, kitchen cabinets or in offices where a sense of security is required.
● These obscured glasses also provide you the option of controlling the light coming into room.
Pros
Easy to clean: Pattern glass is easy to clean and only gentle scrubbing can remove the dirt from its surface. Ordinary newspaper or smooth towels can help clean pattern glass with ease.
Obscure glass: It gives you more control over the flow of light in the room. You can also ensure privacy in a residential or commercial setting by adjusting the level of opacity.
More appealing: Different patterns and designs applied on the glass make it look more captivating than the ordinary glasses which are devoid of any visual and artistic appeal.
Cons
Cost: Pattern/textual glass is costlier than other glass types. Pattern on glass obscures the vision from outside which makes it more expensive than other types.
Bulletproof Glass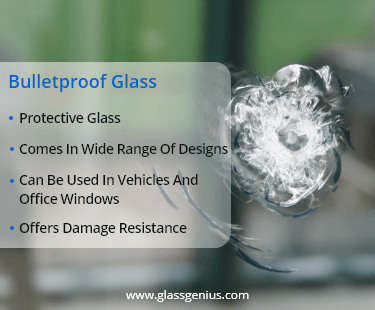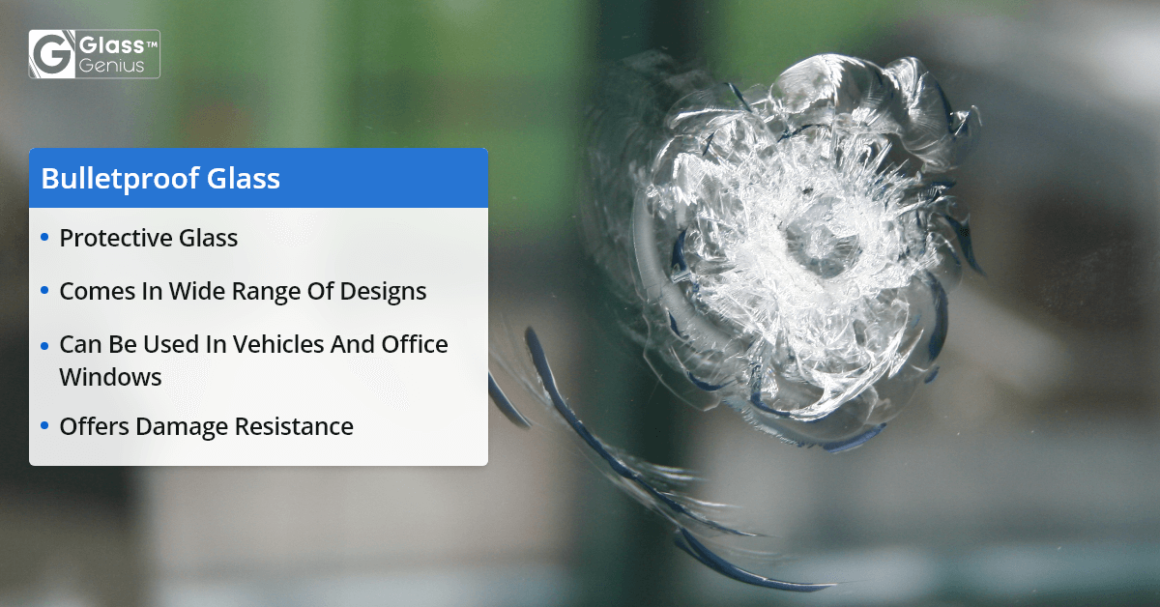 It is a protective glass that shelters the indoors and provides protection from powerful knock and strikes.
● Bullet proof glass is transparent just like other glasses but ensures security of inhabitants by acting as a cushion.
● Besides providing security, it also comes in wide range of designs to make it look more alluring.
Properties
Bulletproof glass is made from different layers of firm glass.
● Sandwiched in between these multiple layers of glass is plastic that resists the damage caused by sharp bullets and prevents shattering of glass upon breakage.
● These layers of glass and plastic absorb kinetic energy of bullet after the impact and slow its energy, thus reducing the damage.
● Bulletproof glass is available in square, round, triangle, arch, octagon and other customized shapes.
Application
Bulletproof glass is used extensively in armored bullet vehicles, windows for offices and in educational institutions to provide high-end security.
Its use is also visible in cars used by VIPs and VVIPs.
Pros
Protection: Bulletproof glass provides maximum protection and damage resistance to outside impact.
● Bulletproof glass also has the ability to tolerate extreme weather conditions and gusty winds.
Cons
Expensive: Bulletproof glass is expensive than other glass types.
Cutting: It is difficult to cut and size bulletproof glass.
Hurricane Resistant Glass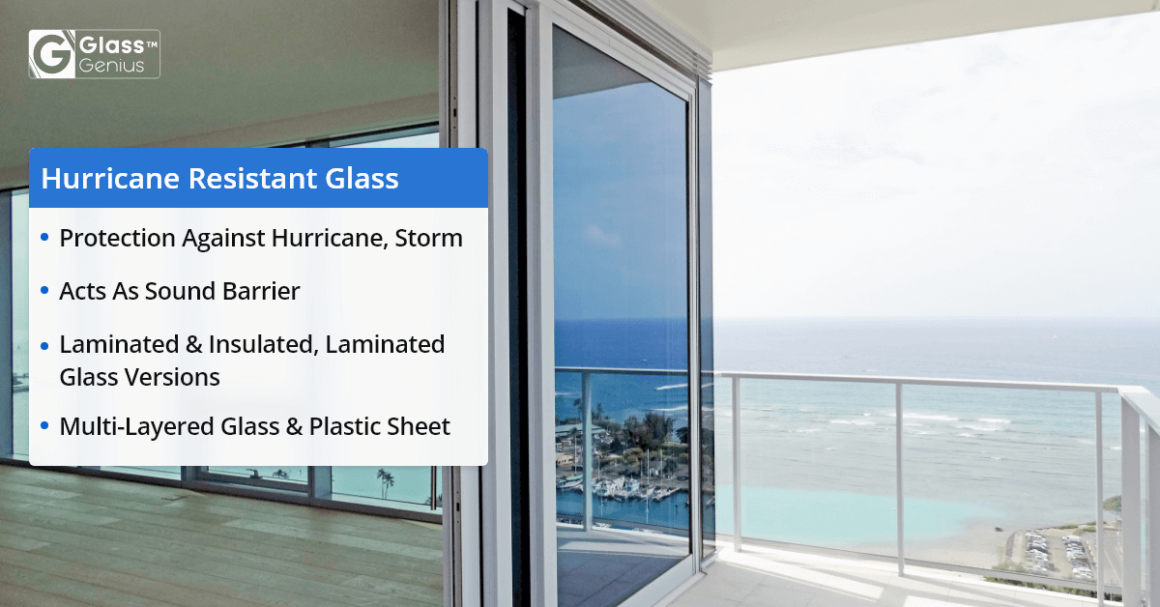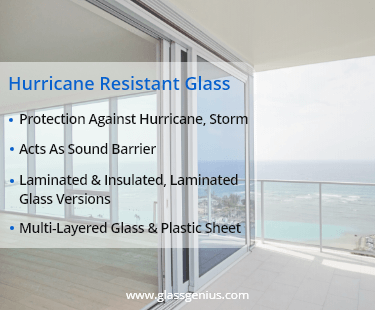 Hurricane resistant glass will protect you and your family from the raging storms. Made from multi-layered glass and plastic sheet, the hurricane resistant glass will withstand incessant storm and hurricanes. It is either fitted with a frame or laminated to prevent the gusty winds from destroying your rooms.
Properties
It comes in 2 versions, laminated and insulated laminated glass.
● Two glass panes are fitted in laminated glass with an inner layer of plastic to make it stronger and damage resistant.
● Hurricane resistant glass is tougher and thicker than the others to tolerate extreme conditions.
Application
If you live near the beach or coastal areas, then the possibility of a hurricane is higher. Therefore, you should use such glass in your house's door and windows.
Pros
Damage-resistant: Hurricane resistant glass is not prone to damage and can withstand drastic conditions such as storm, hurricane and gusty winds.
Sound barrier: This impact – resistant glass type can also act as sound barrier and restrict noise from diffusing inside the house.
Cons
Heavy expense: Installing hurricane – resistant glass in your home will put a strain on your pocket as it's costly as compared to other glass types.
Insulated Glass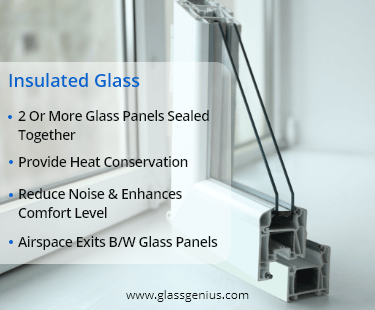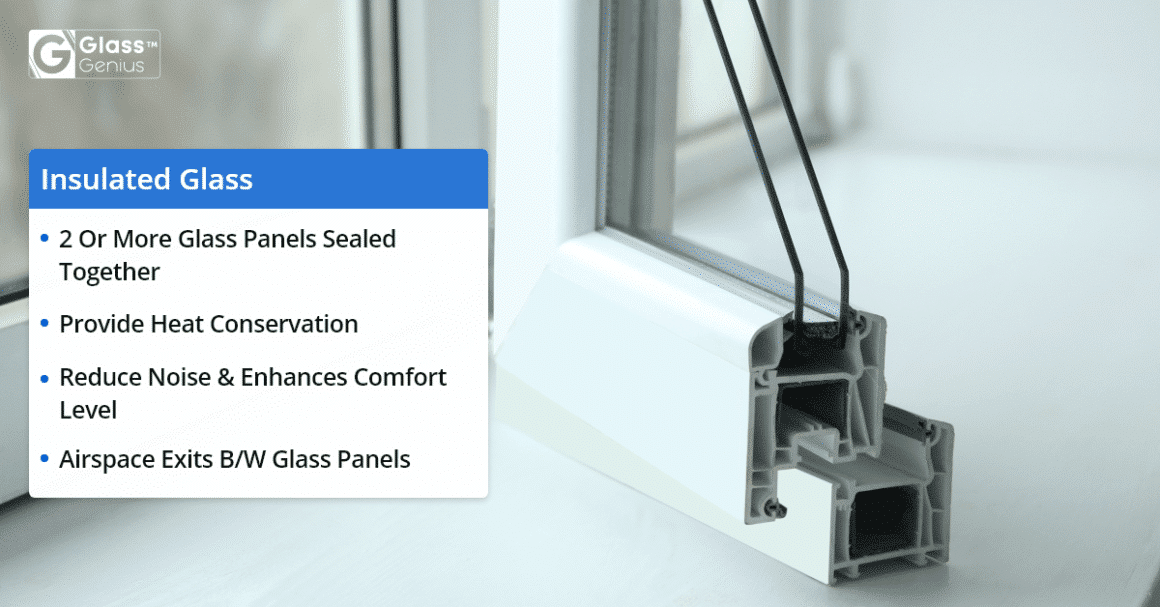 Two or more glass panes are sealed around edges and airspace exists between them. This airspace is filled with air and gas to balance room temperature and reduce expenses of air-conditioning and heating.
Properties
Insulated glass reduces heat loss and heat gain of the room depending upon conditions.
● It provides thermal insulation for any living setting.
● More airspace in insulated glass amounts to more insulation and heat conservation.
Application
Insulated glass panels can be used for residential as well as commercial purposes. Thermally efficient glass keeps the temperature of room at an optimum level.
Pros
Minimizes loss of heat: Insulated glass reduces loss of heat inside the room and saves energy.
Reduces noise: It also acts as sound barrier and stops noise from entering inside.
Cons
Irreparable: Double layered glass unit is irreparable in case of damage…You will have to replace it!!!!
High cost: Insulated glass is more costly as compared to monolithic glass.
Suitable only in winter: Insulated glass traps heat which makes it only suitable during winter season. In summers, it can result in overheating.
Frosted Glass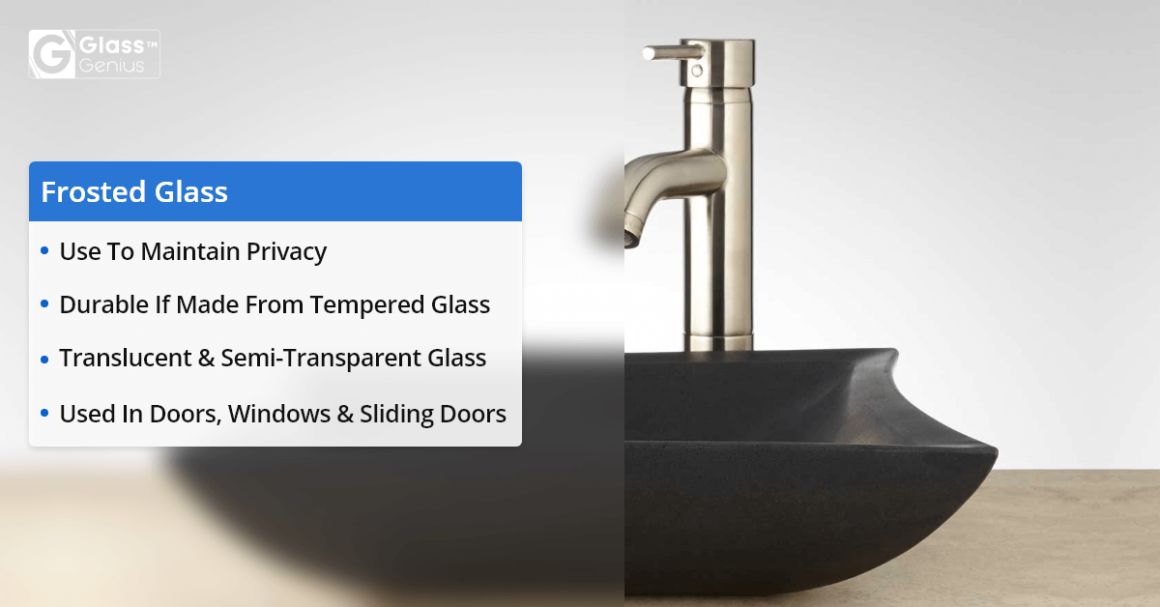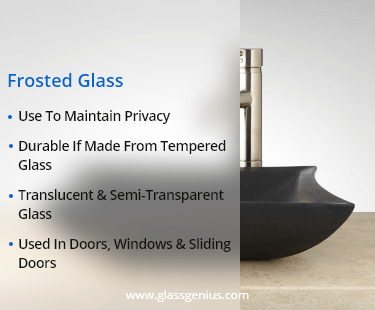 Frosted glass is a plain sheet of glass which is then turned opaque to ensure secrecy and privacy. Frosty glass has the ability to convert an ordinary glass into a special one by giving it a majestic look. It adds privacy to your room or workspace without making the room look dark.
Properties
Frosted glass is usually prepared through a process called sandblasting which makes it surface rough.
● It can also be prepared by applying acid to surface that gives it a rugged touch.
● Available in Square, Round, Triangle, Arch, Octagon and Custom made shapes.
● Any ordinary or tempered glass can be transformed into a frosted glass.
Application
Frosted glass can be used in home or office setting. It can be applied in doors, windows, sliding doors & separators to fulfil all of your decorative needs.
Pros
Translucent: Frosty glass is translucent and little light passes through it. No details of image on the other side can be seen through this semi-transparent glass.
Durable: If made from tempered glass, it can be more durable and sustain over a long period of time.
Cons
Irreparable: Frosted glass can't be reprocessed or tempered after the process of manufacturing.
Uneven surface: The surface of frosty glass is uneven and cannot be used as a mirror.
Plexiglass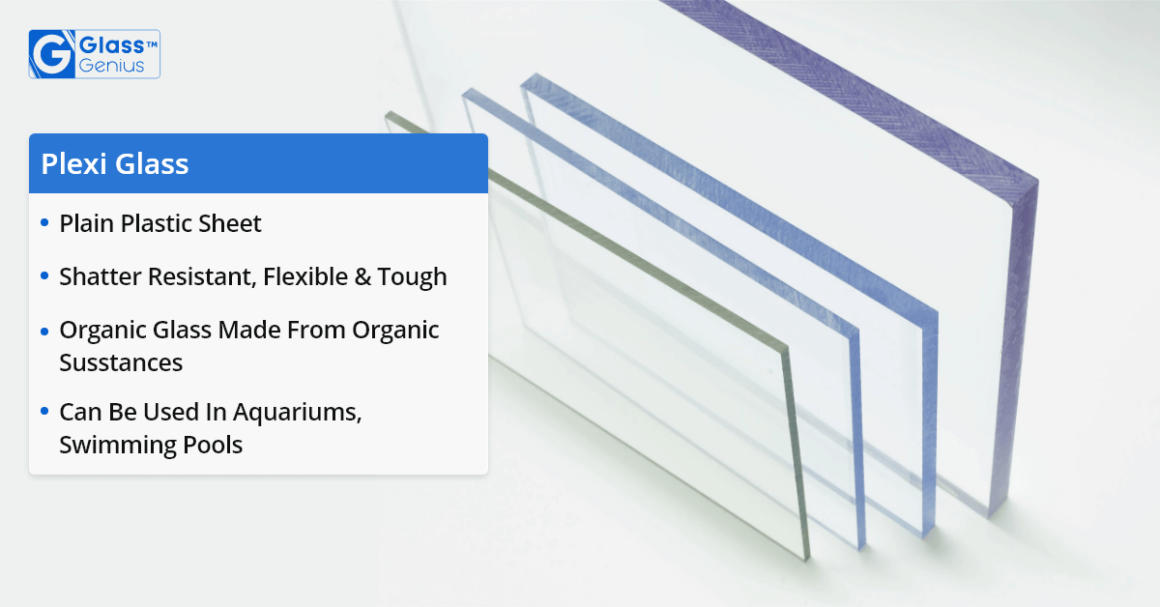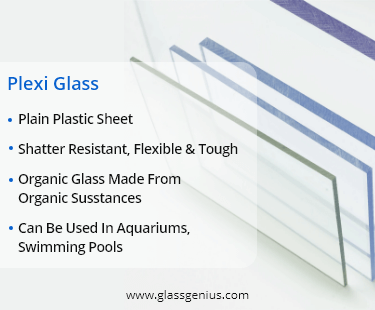 Widely known as Organic glass, it is made from organic substances. Plexiglass is a plain plastic sheet that is flexible and tough.
One plus point is that plexiglass is damage-resistant and lighter in weight.
Properties
Plexiglass is shatter-resistant and stronger than glass. It can be easily cut into any form or shape and available in variety of colors.
Application
Plexiglass is used in submarine windows, aquariums, swimming pools and as a fitting material for Greenhouses.
Pros
Weight of plexiglass is half as compared to ordinary glass
It is durable and easy to cut.
Cons
Scratchable: Plexiglass can be scratched easily resulting in an unpleasant experience.
Overpriced: It is overpriced as compared to other glass types and can put strain on your budget.
---
In a nutshell, glass is an integral part of our everyday life. Selection of the right glass for exterior and indoor decoration is pivotal.
So, you must be completely aware of the properties and application of different glass types before making the final call. Choosing the right performance glass can bring perfection in your lifestyle along with giving a sense of comfort and relaxation.