Do you want to make your dining room look luxurious and beautiful by spending just a few dollars? If yes, look for some elegant mirrors to place in your bedroom, dining room, or entrance hall as the mirrors are not only decorative but functional too.
This article is all about the dining room mirror, as a mirror in the dining room brightens the place and gives an illusion of greater space. Mirrors are an aesthetically pleasing accessory and an essential element for the dining room. So, Glass Genius has some perfect and interesting information related to dining room mirrors and some alluring dining room mirror ideas that will help you achieve a perfect and splendid character for the place. 
Why Hang Mirrors in the Dining Room?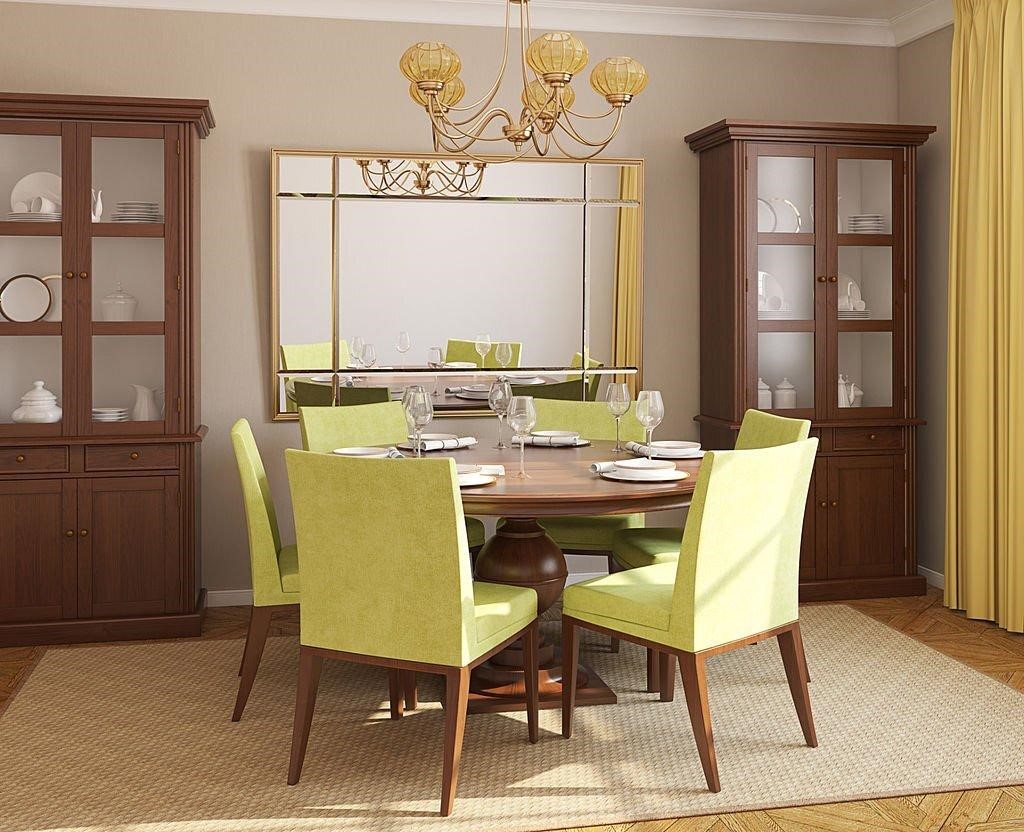 Hanging mirrors in your dining room is a great way to make your place appear bigger and brighter. It makes your place more inviting and aesthetically pleasing. Therefore, having mirrors in the dining hall is recommended for homeowners who look for simplistic decor at their place.
If you choose mirrors following the precedent principles, you will surely get a clutter-free space, and the visitors will admire your decor choice.
Things to Consider Before Buying a Dining Room Mirror
Don't rush to the market by just knowing the above little information. You need to know some important facts before buying a mirror for your dinette. Here are a few tips to follow before buying a new mirror for wall in the dining area.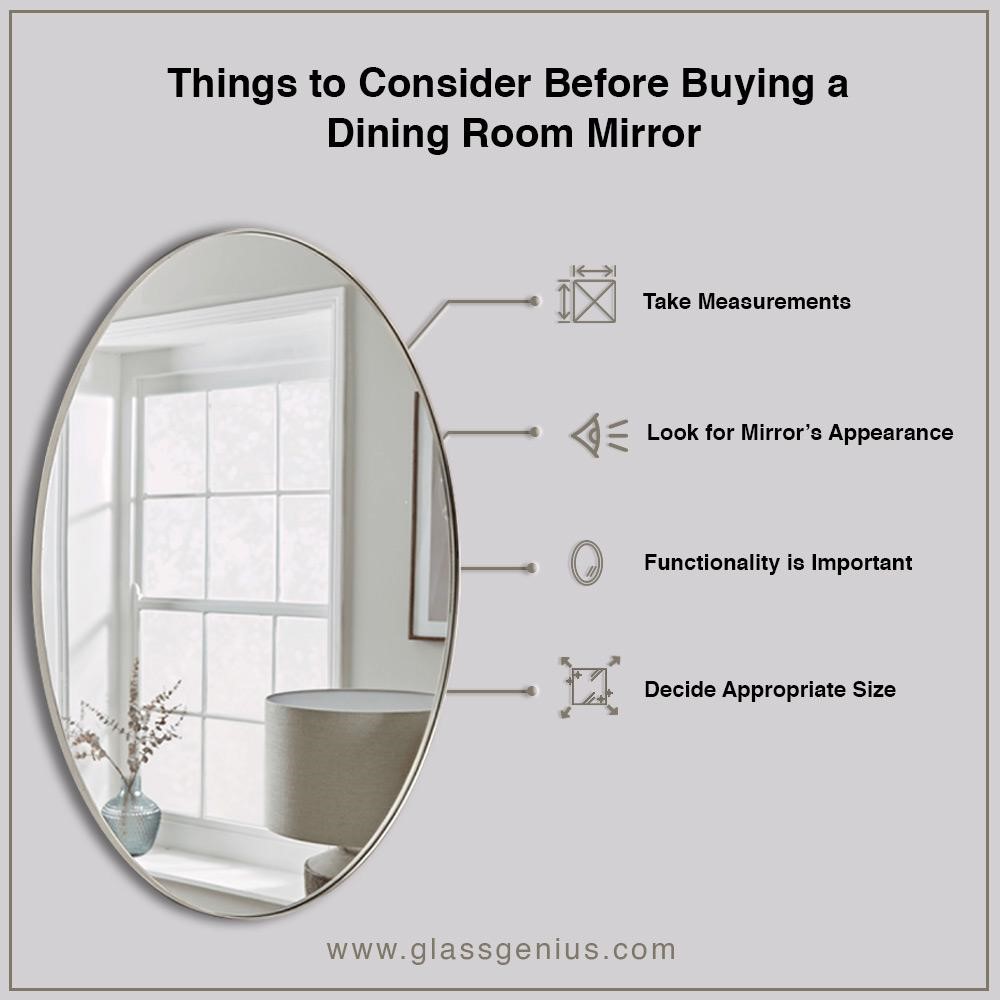 Take Measurements
Measurements are extremely important before buying a mirror. Measure the wall and the specific place where you are to hang the mirror.
Look for Mirror's Appearance
While deciding on a place for the mirror in the dining room, make sure that it will work well and go with the other interior elements. If the mirror is clashing with the interior decor, you will get nothing out of it.
Functionality is Important
Once you are done taking measurements and choosing a style for your mirror, you need to think about its functionality. Ask yourself whether you want a mirror for purely decorative purposes or if will you use it to make the room look more brighter and spacious. If you only want the mirror for decoration, you may choose a framed, frameless, or antique mirror of any shape and size.
Decide Appropriate Size
What should be the size of the dining room mirror? If you are having a small dining hall, avoid having full-length mirrors as it will make the environment look smaller. Prefer to have small and mid-sized mirrors at the dining table level or near the window.
You can place oversized mirrors in large dining rooms as it will be a different beautiful story and a focal point that grabs everyone's attention.
A Brief Guide For Hanging a Mirror in Dining Room
Mirrors provide a new attire to the dining hall as they have properties that make the area roomy and glowy. Moreover, they are highly versatile and available in different shapes and sizes. Yes, rectangular mirrors give the most classic and eye-catching look, but this doesn't mean that you can't have a mirror of another shape. Look for a round mirror with a sleekly designed frame and incorporate it into the dining area to make a focal point. You may also go for the antique mirrors to give an old-school look to your eating place. 
Some Spectacular Dining Mirror Ideas
Lean Against the Wall
If you have a long dining hall, you can have a full-length eye-catching mirror with a beautiful frame. The idea is to lean this framed mirror against the wall and let the mirror give a reflection of the beautiful interior.
Create a Focal Point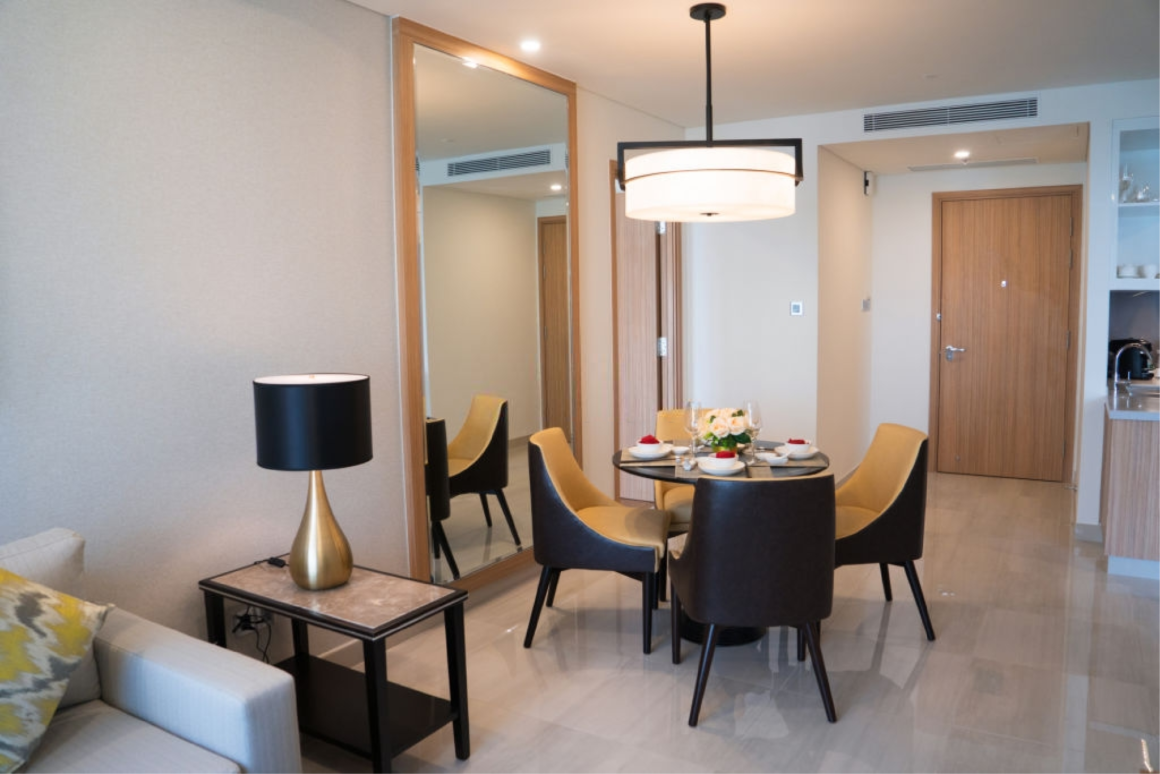 Mirrors are a great helping hand in creating a focal point in a room. Bedrooms and living rooms typically have their focal points, such as a fireplace or a beautiful bedroom or a sofa, but the look you attain by hanging a mirror in the dining room is something special.
A well-placed mirror in the dining space acts as a focal point that reflects the chandelier or a piece of art in the room and gives a mesmerizing touch to the area.
Put a Mirror in Front of the Window
Putting a mirror in front of the window is a classic way of bringing natural light into your dining room. The incoming light makes the room spacious and makes your room more welcoming. Moreover, you can place a table opposite the dining table and place some decorative pieces and a mirror above that table as it is a very nice way to bring ambiance and style to the dinette.
Go For Multiple Mirrors
Limiting yourself to only a single mirror is not the only choice for the dining hall. If you love to have a single mirror, it's good, but you can go beyond the traditional ideas. Try having a set of oval wall mirrors above the table residing opposite the dining table. It is a very unique and ideal way of decorating the dining hall as it puts a bold statement on the visitors and grabs their attention. You can also have different sizes of oval mirrors.
Reflect the Light Fixtures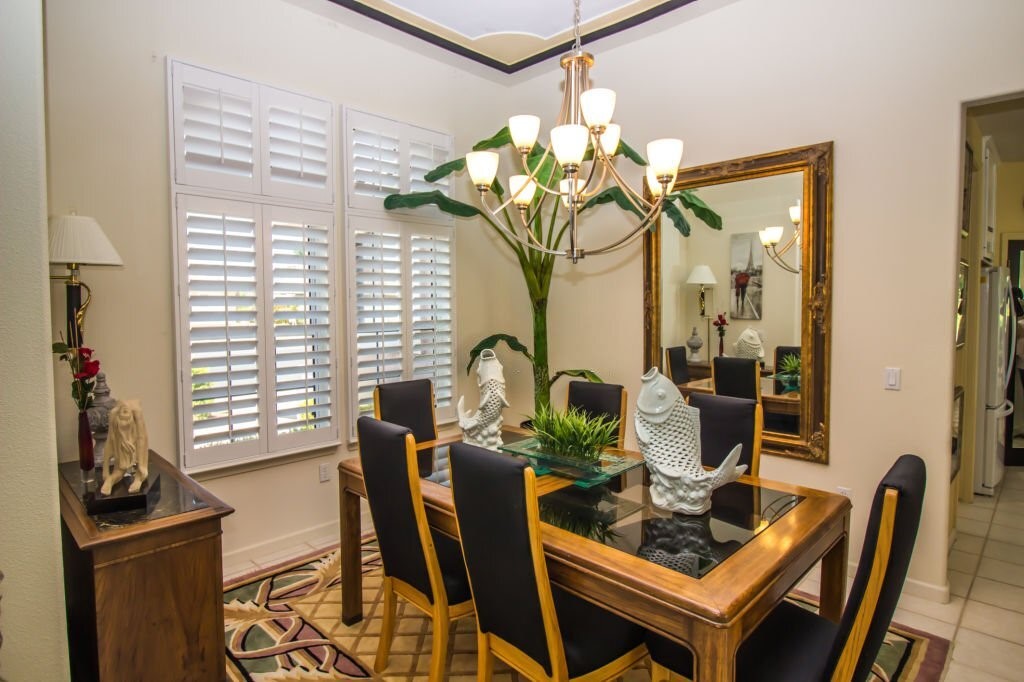 Don't have a window in your dining room? No worries! You can hang a big round framed mirror over a table on the back wall of the dining table. Place a lamp or candles on the table. The mirror will reflect this light and create a very beautiful atmosphere. Moreover, if there are pendant lights, the mirror will reflect that light and it will be an attractive part of the place.
Rounding Off!
A mirror is affordable, yet an impressive and elegant way to give new energy to the dining room. The dining room mirror gives a luxurious look and makes the place appear bigger, brighter, and more sophisticated. Be very careful about the interior look and choose wall mirrors that suit the internal attire. Plus, hang your mirror at eye level so it may not shine into anyone's eye while sitting on the dining room table.