Even today, wrought iron furniture is widely used by many homeowners. Though better options are there, the practicality and durability of wrought iron furniture are matchless.
For example, a wrought iron coffee table might be the perfect little addition to your outdoor furniture. It looks good and also lasts for years without demanding any extra repairs.
How about making a wrought iron coffee table at home? Sounds interesting? Well, here is all you need to know about it.
Is a Wrought Iron Coffee Table Good For Outdoor Furniture?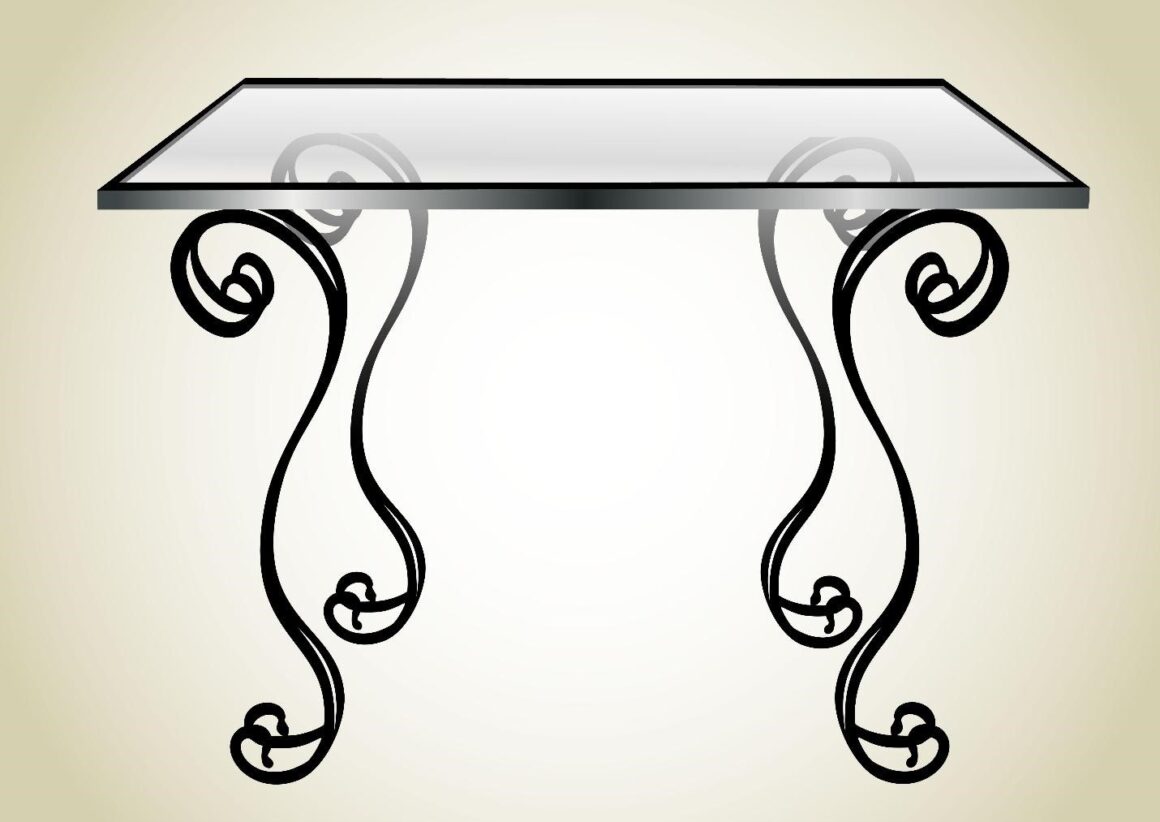 Wrought iron glass top coffee table can be used both indoors and outdoors. Although it is usually treated as an outdoor furniture item.
Thanks to the durability of wrought iron material, you don't really have to worry about its maintenance. Keep it clean, and it won't require repairs or extra maintenance.
Setting the coffee table adjacent to the sofa or fire pit might be a good idea if we talk about indoors. Similarly, for outdoors, you can place it on the patio or maybe in the backyard.
Where to Buy a Glass Top for a Wrought Iron Coffee Table?
The glass top of a coffee table also determines its overall durability and lifespan. So, it has to be reasonably thick glass.
For the best quality and peace of mind, always buy glass table top for your wrought iron table from a reputable glass vendor.
Glass Genius is one trustworthy glass marketplace. You can shop for different types of quality custom glass panels. They also offer same-day shipping.
How To Make Wrought Iron Glass Top Coffee Table?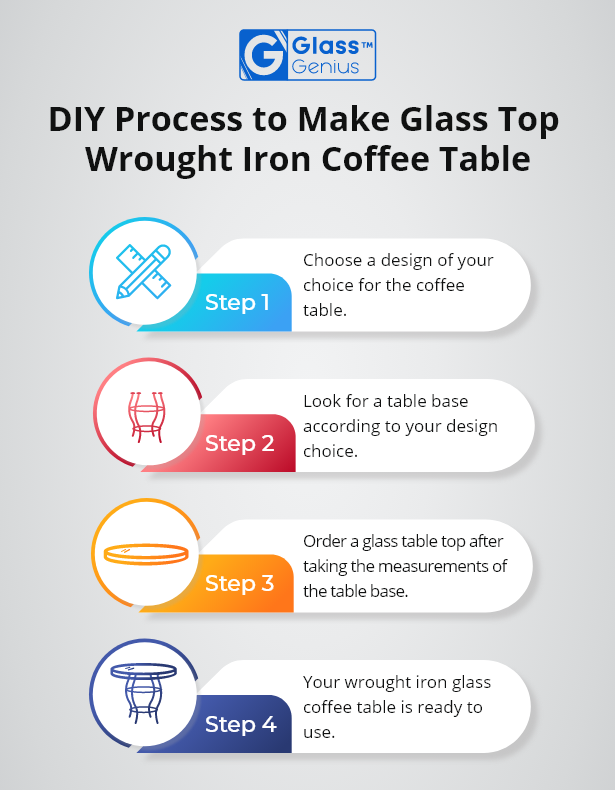 These days, DIY hacks help you save some costs in buying such furniture items. For example, making a wrought iron table at home is now possible. All it requires is some tools and some experience in doing everyday house chores. Here is the step-by-step process explained.
DIY Process to Make Glass Top Wrought Iron Coffee Table
Step 1: Choosing the Right Design 
Before you begin, you should clearly know the design you want to choose for the coffee table. Now, you'll have a ton of designs to choose from. However, we recommend choosing a simple and straightforward design.
A round, square, or rectangular-shaped coffee table would be ideal. That's because you can easily find a table base for such design options. 
Step 2: Getting Things Ready
The next step is to gather all the required materials. The base or the frame is the element that's most important here. You can order a customized base if you want.
In this regard, it is best to visit your local retailer who deals in such iron and steel bases. You can also find pre-made table bases from these retailers.
Step 3: Time to Order Glass Table Top
Once you have the table base with you, it's time to order the glass table top. First, measure the table base from all sides. For accurate measurements, you should measure the sides twice. You can order glass table tops for wrought iron coffee tables from any renowned glass marketplace.
Benefits of Wrought Iron Coffee Table:
There isn't any major downside to owning a wrought iron coffee table. You can utilize it in so many ways. Here are some of its benefits.
1: They Are Durable 
No homeowner wants to invest in a fragile coffee table. Outdoor furniture items like this coffee table must be durable. They get exposed to direct sunlight (sometimes even rain). Here, the wrought iron tables really shine.
The wrought iron offers excellent durability. If you keep it nice and clean, it can last for even decades. Therefore, these coffee tables are best suited for outdoors.
2: A Sturdy Table
These coffee tables are also quite sturdy. This means the strong wind cannot blow away such tables. The wrought iron has some weight to it. So, it holds its place no matter what happens.
3: Enough Room for Customizations 
These coffee tables are highly customizable too. For example, you can choose the design and overall styling of your choice. Similarly, the glass table top can be customized. In addition, homeowners have the liberty to choose the dimensions, shape, style, and thickness of their choice.
4: Easy To Maintain
Wrought-iron coffee tables are pretty easy to maintain. You don't necessarily have to use a ton of cleaning agents to bring back their lost shine.
Keep a microfiber cloth for cleaning the table. No need to use any chemicals here. Just keep the paint on the table nice and shiny. It will also prevent the table from rusting.
Final Thoughts!
So, that is how you can make a wrought iron coffee table at home. It is not a hefty task. If you are working on a DIY project for the first time, we recommend choosing a simple table base to get started.
It will help you follow the rest of the steps with ease. No matter which style you opt for never compromises on the quality of the glass table top. We recommend buying all types of glass table tops or panels from a reliable glass vendor.