Modern and contemporary bedroom interiors have a lot to offer. However, one cannot overlook the value of a makeup vanity for any bedroom. It is a must-have add-on as it enhances the bedroom's aesthetic appeal and is highly functional.
Now, there are various makeup vanity ideas to choose from. For example, a DIY vanity desk with floating shelves is a head-turner for sure. This blog post is all about some of the best DIY makeup vanity ideas. So, let us get into it!
How High Should a Makeup Vanity Countertop Be?
There is no specific height for the makeup vanity countertop. However, it should be at a height where you can easily access it while being seated. Usually, 26" or above is considered a good height for these vanity countertops.
What is the standard size of a makeup vanity?
The ideal size range for makeup vanities differs. For example, 18", 26", 30", and 36" (width-wise) are the size options for single makeup vanity desks. Whereas double vanity countertops are also available in various sizes. Their sizes range from 24" to 72".
Is it cheaper to build your own vanity?
A makeup vanity can get a bit expensive since you have to manage all the materials yourself. However, the look and feel of a customized vanity is worth the hassle.
How much does it cost to build a DIY Vanity?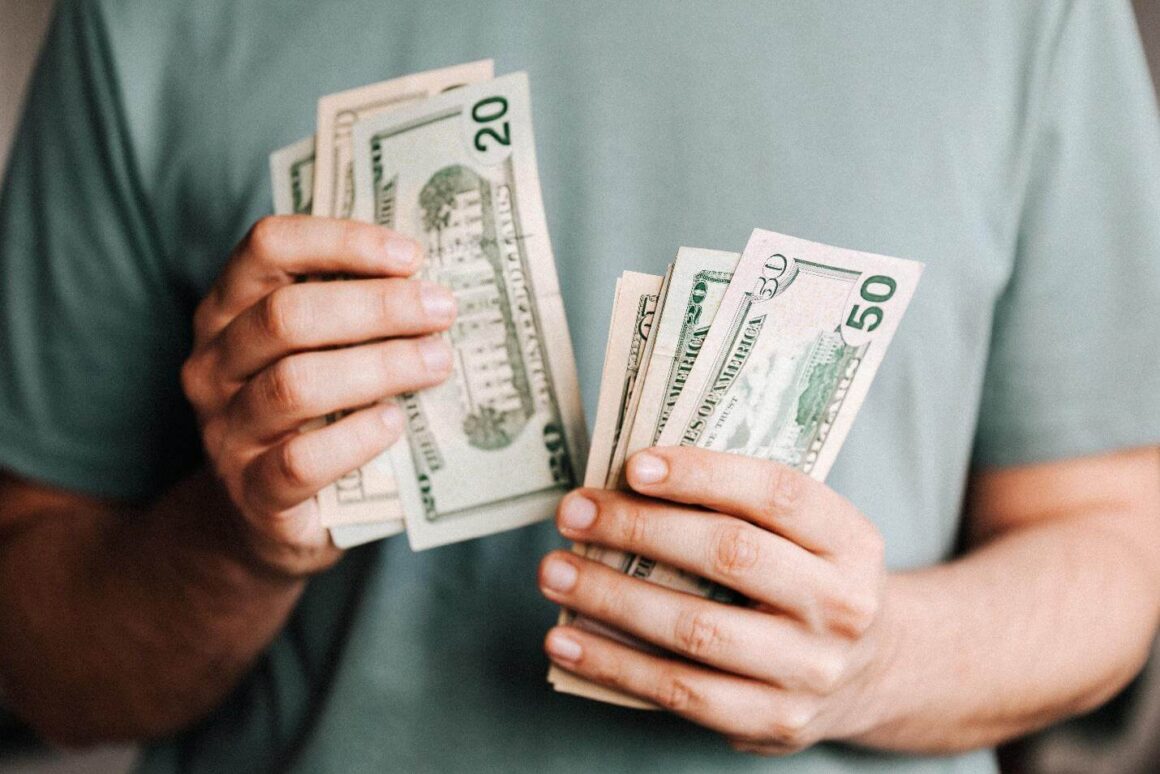 Building a DIY makeup vanity can cost around $200 – $1500. Note that this is an estimated figure. So extra customizations and add-ons can raise overall costs.
DIY Makeup Vanity Ideas:
Here are a few exciting DIY makeup vanity ideas. Let us explore them one by one:
1: Small Space DIY Makeup Vanity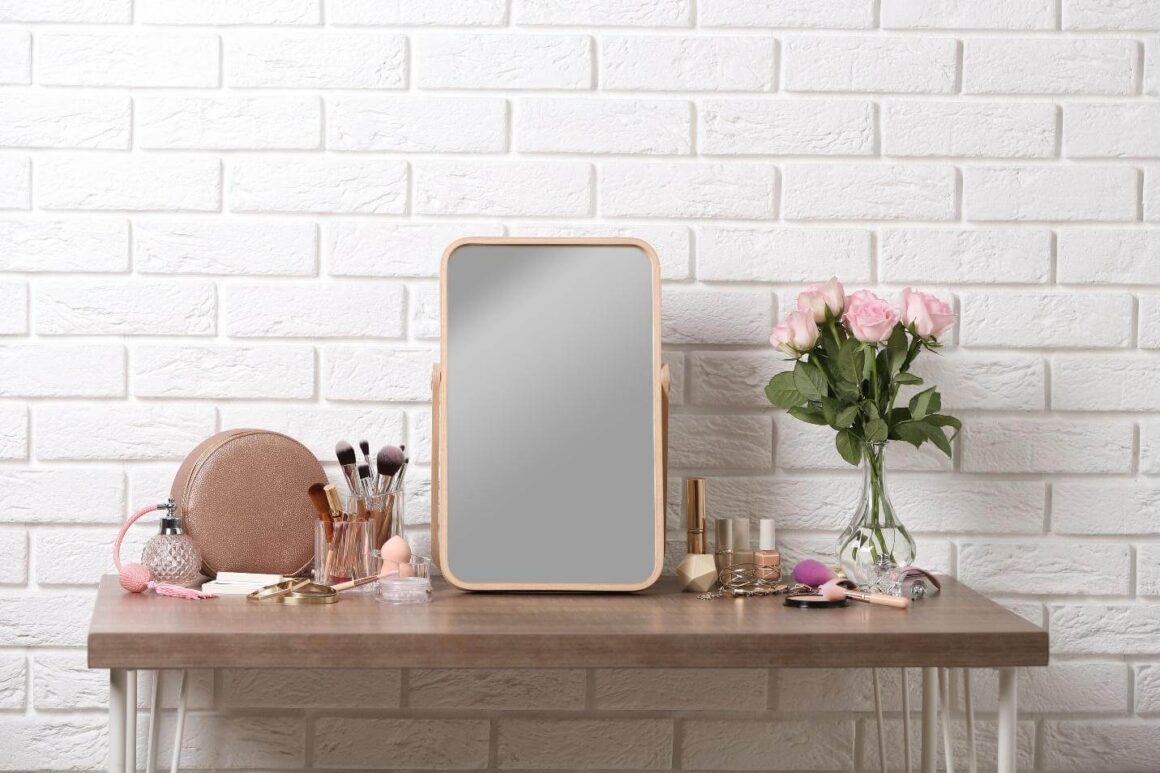 First up, we have a small DIY makeup vanity. For this style, mount a small wooden shelf or place a table against the wall and place the vanity mirror on top of it. You may also hang the vanity mirror alongside the shelf.
2: Makeup Vanity with Floating Shelf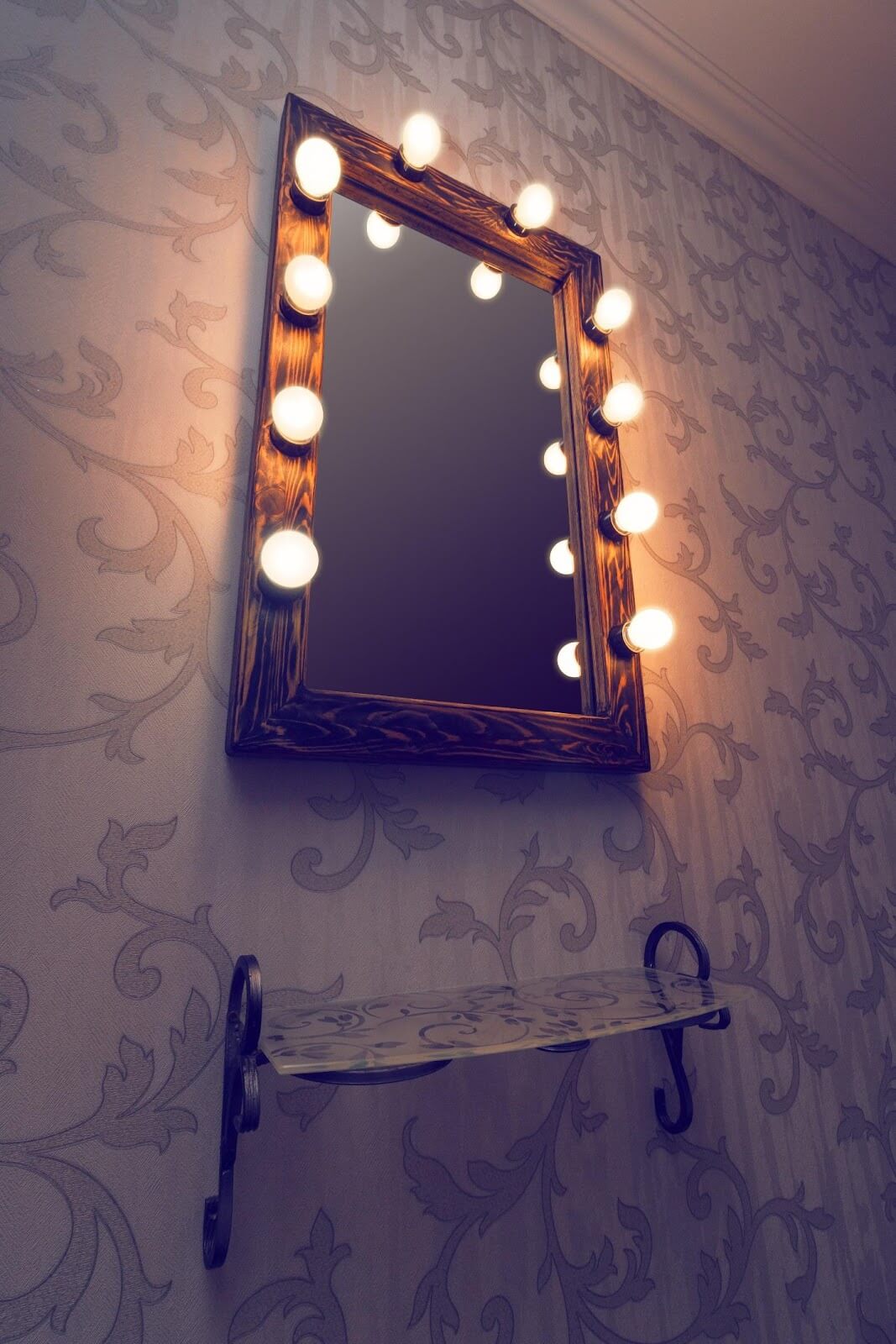 Floating shelves are known for their unique aesthetics. Combine a couple of glass or acrylic floating shelves with a wall mirror of your choice. This combination is perfect for modern bedroom décor.
As mentioned, you can go with glass floating shelves since their clean looks perfectly complement the vanity shelf.
3: DIY Glass Top Vanity Desk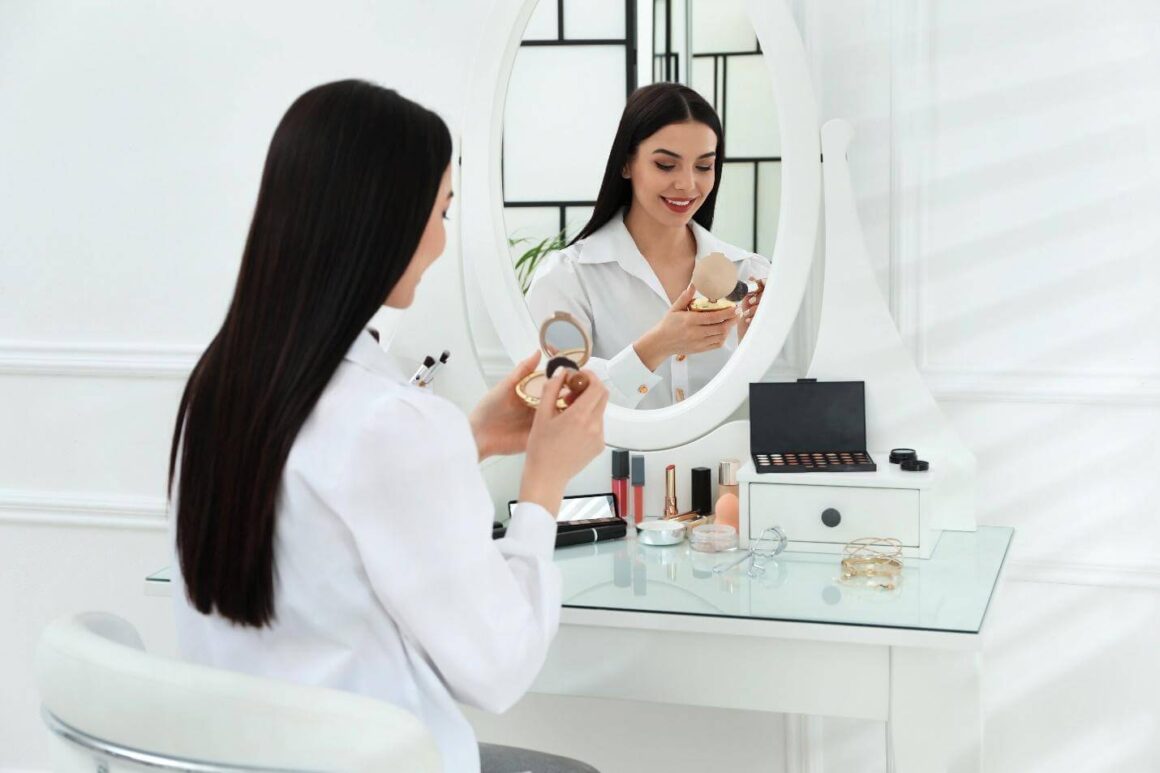 It is the DIY makeup vanity with the cleanest and most modest looks. For this design, a glass-top vanity desk gets the job done and ticks that aesthetic appeal box.You can place your makeup items in different ways. Here, a custom glass top could further enhance the looks of your DIY makeup vanity. Glass Genius is the best online glass marketplace for buying all types of customized glass tops.
4: Wood Dressing Table with Mirror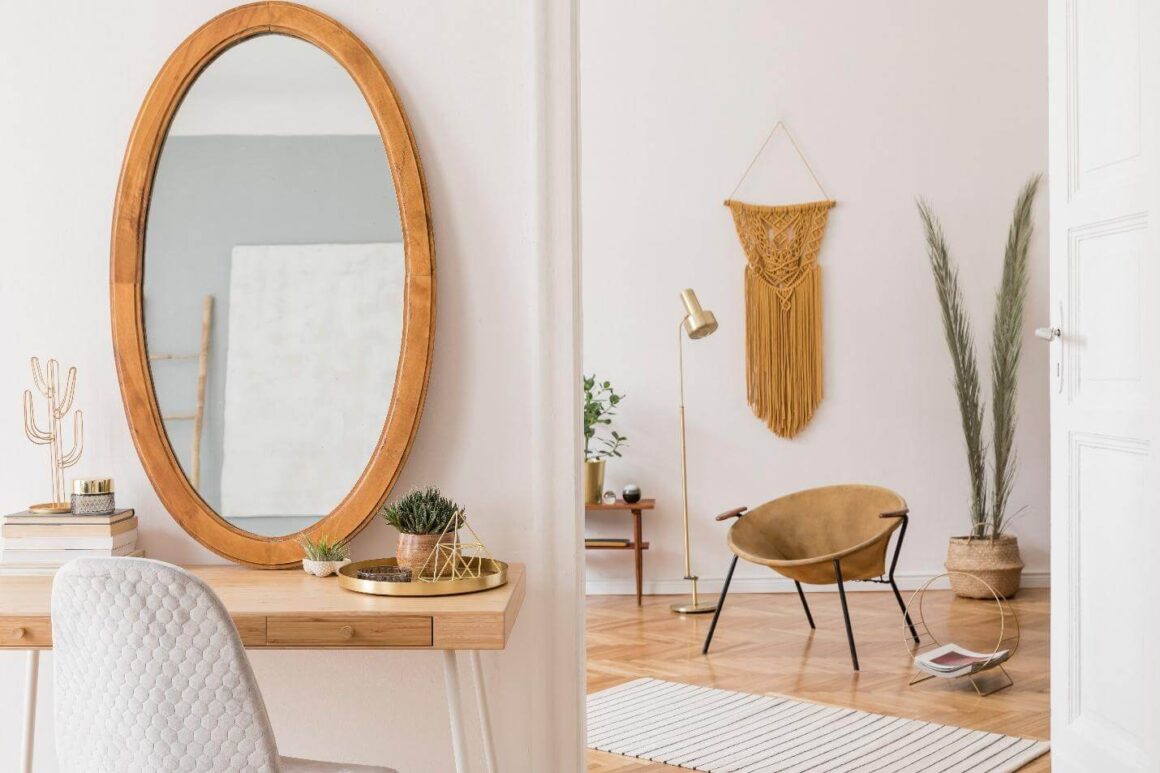 Confused about choosing the best DIY vanity makeup desk? If yes, the wooden dressing table with a mirror is for you. It's simple, clean, elegant design is what makes it unique. You can place any type of readymade or custom mirror on top of it. A perfect little makeup vanity for your bedroom.
5: Bedroom Interior Vanity Table with Mirror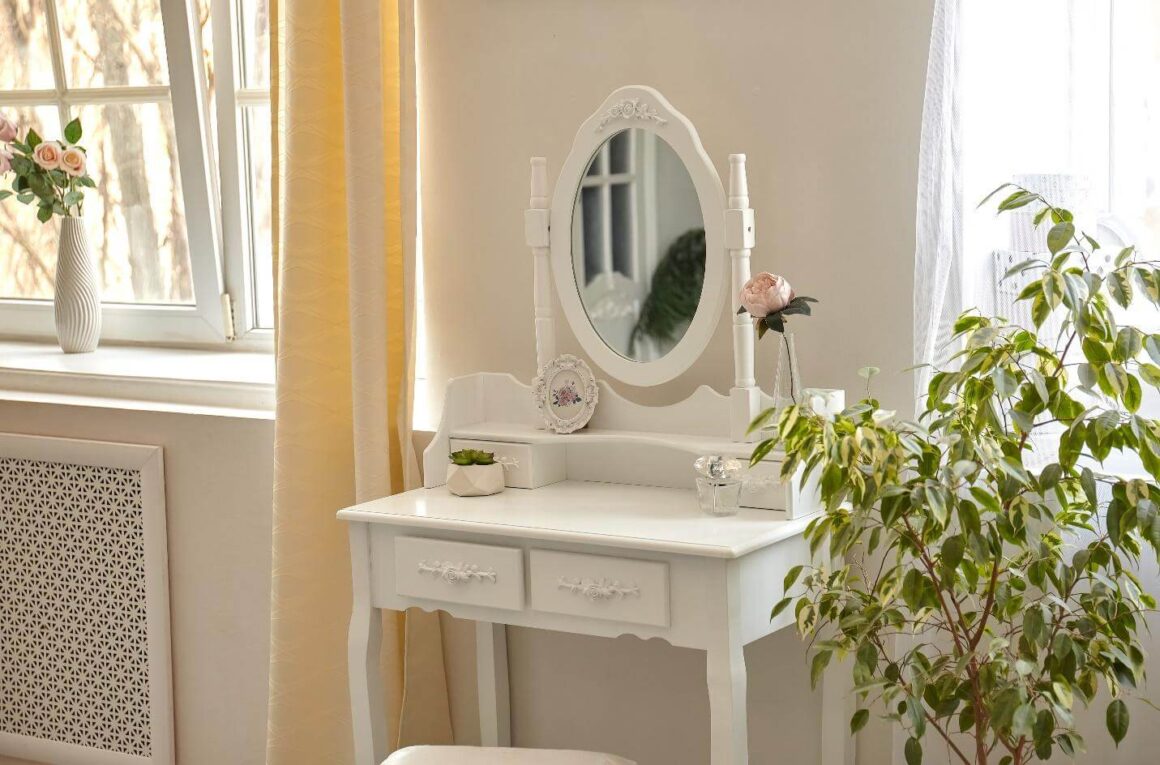 If you are short on budget, this vanity mirror desk plan is best for you. Here, you don't have to buy an expensive table for placing the vanity mirror. Choose any interior table and hang a mirror on top of it. Place your makeup items on top of it, and your DIY vanity desk is ready.
6: Simple Table with a Large Mirror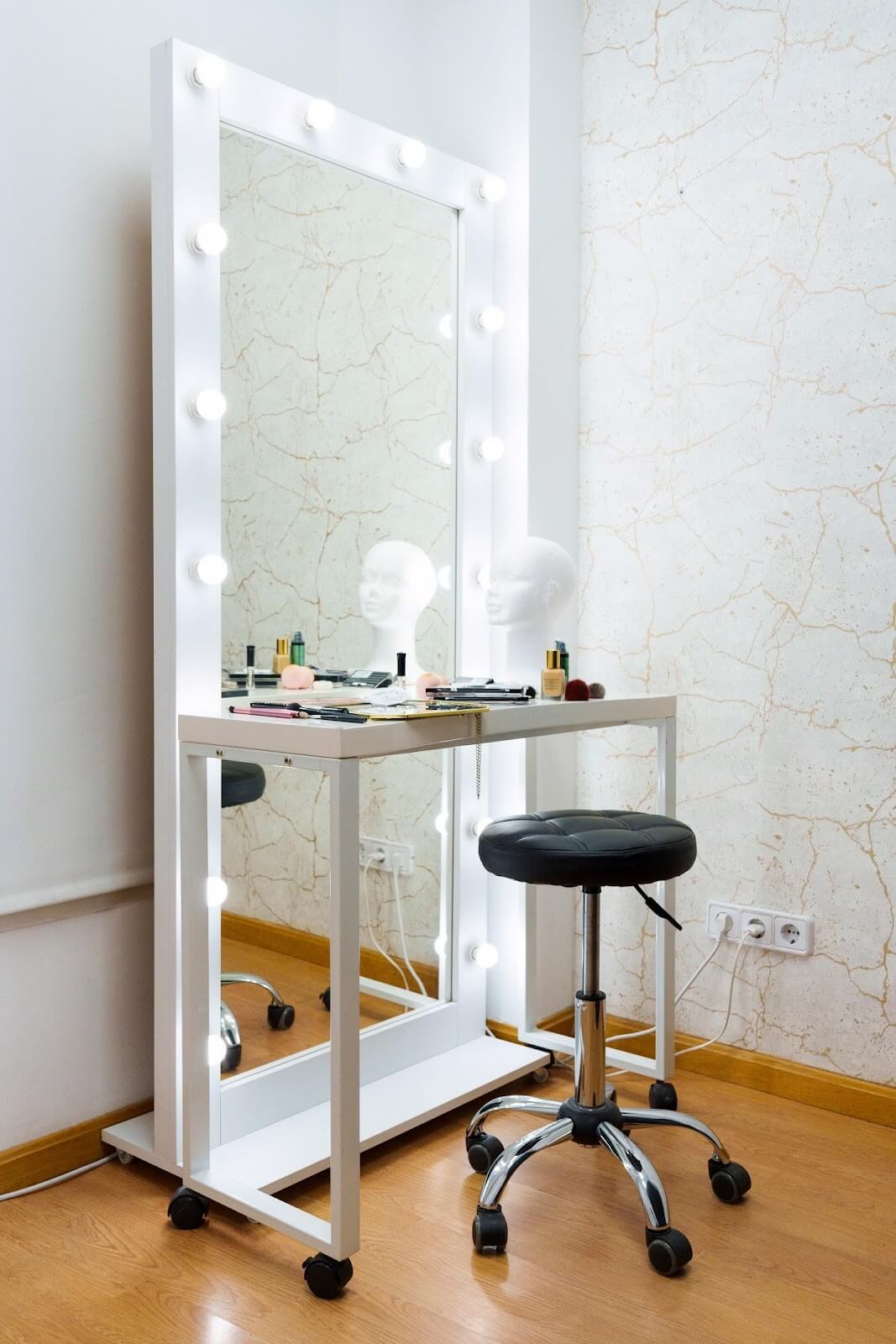 Are you a fan of simple and clean interior design setups? If yes, you would be more than happy with a simple table vanity setup. As the name says, here you will be relying on a simple interior table. Simply hang a large mirror on top of it.
7: Modern Mirror with Light Bulbs on Makeup Vanity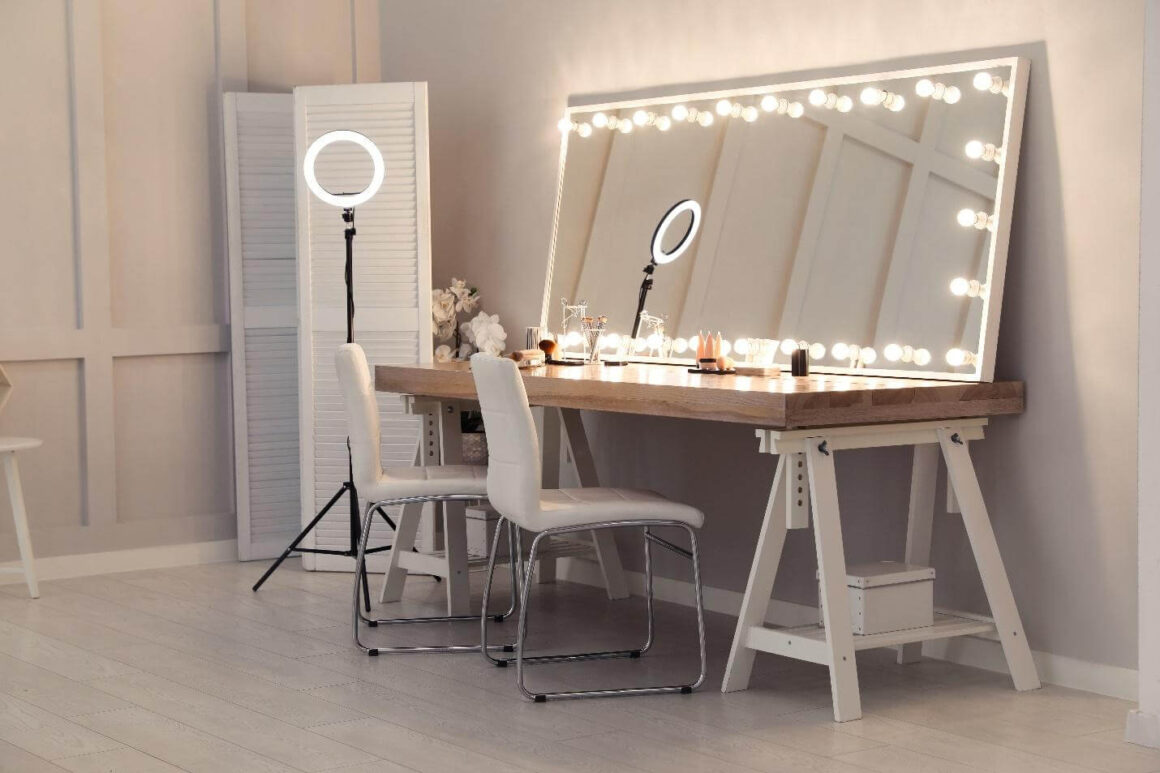 The DIY makeup vanity with lighted bulbs is a perfect upgrade for some added looks and functionality. Homeowners can choose fluorescent lights or LED strips, whatever works for them. Ideally, you should place these lights alongside the mirror's frame.
8: Simple Desk for Vanity with Circular Mirror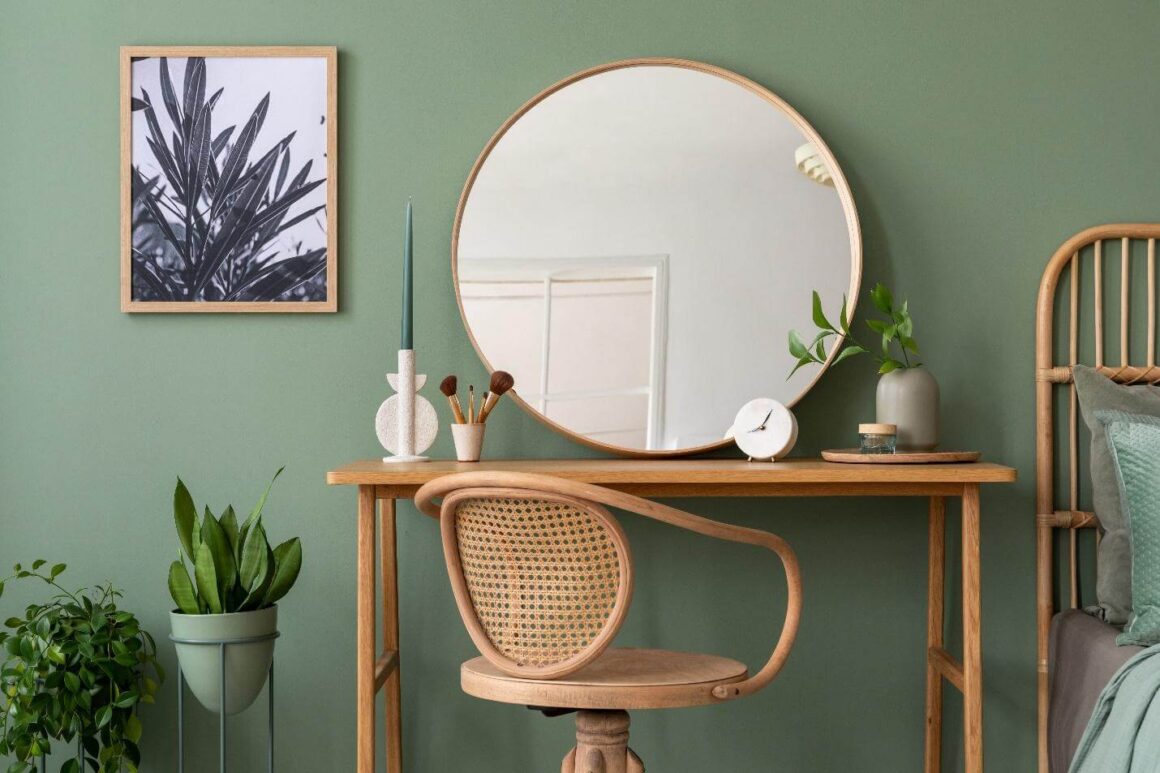 Whether you want to style your hair or want to apply fancy makeup items, the simple vanity desk with circular mirror has got you covered. Because of the round mirror, these vanity desks are more suited for interior setups which have that classical appeal.
Final Thoughts!
So, that was our list of various makeup vanity ideas. All of these DIY vanity desks serve their intended purpose. They also help you get the most out of your bedroom décor. With small little tweaks, you can change the overall aesthetic of your bedroom or bathroom.Many makeup vanity ideas require a quality glass top. Therefore, you should always buy your desired glass or acrylic table top from a reliable glass marketplace.