In recent times, new trends of bathroom showers without door ideas have become more popular than other enclosures. The reasons for the popularity of such amazing doorless showers are their conveniences, functionalities, and chic styles. So, no matter how small the bathroom you have, it can be changed from a monotonous look into a modern, elegant and spacious area. Before getting into the doorless walk in shower ideas, let's explore some of the pros and cons of doorless walk-in showers.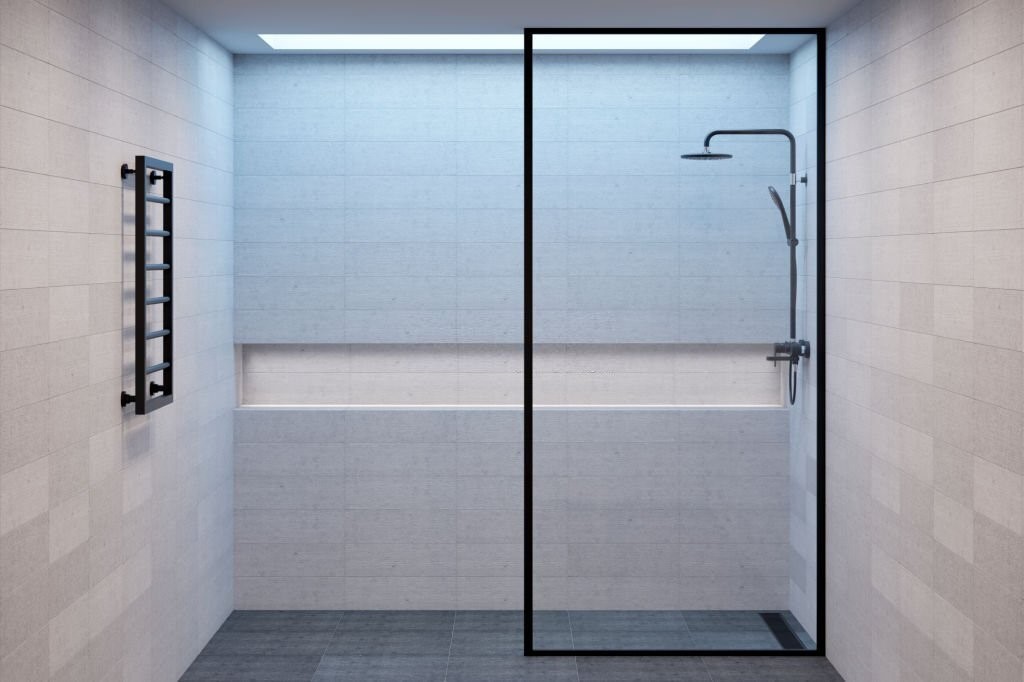 Pros and Cons of Doorless Walk-In Shower
Pros
---
No special ventilation system is needed
A budget friendly-option for a minimalistic bathroom design
Customize frameless walk-in shower designs
It can easily be installed anywhere in the bathroom of any size, shape, and design
A Walk-in shower is a trendy bathroom feature
Make your bathroom look spacious
Shower accessories can easily be customized
Much easier to use compared to other enclosures
Easy to clean and maintain
Cons
---
Water splashing and leaking issues in the bathroom
You may feel an absence of warmth while taking shower in winter, in a doorless walk-in shower
Moisture may easily spread in the rest of the bathroom 
Limited privacy
Now that you are quite familiar with the doorless showers. So, let's see the best doorless walk in shower ideas that will surprise you.
Doorless Walk In Shower Ideas
1. Half Tiled & Half Glass Walk-In Shower
Furnish your bathroom by putting a sink adjacent to the half-tiled partial wall that separates the shower area from the sink. Install a fixed glass panel above the partial wall to prevent water from splashing into the sink area.
2. Functional Walk-in Shower For Tiny Bathrooms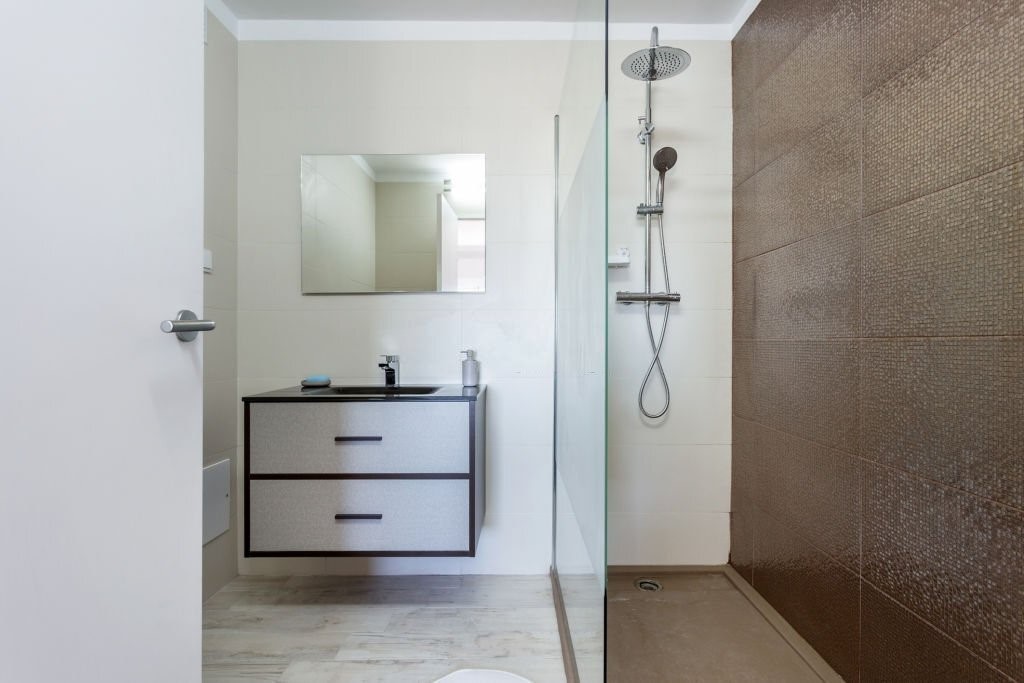 If your bathroom is too small to add a separate shower enclosure, smartly split the small empty area at the side of your sink with a glass panel and you can make such a tiny bathroom highly functional and easy to clean.
3. Revamp Your Bathroom With A Corner Walk In Shower Having A Fixed Glass Screen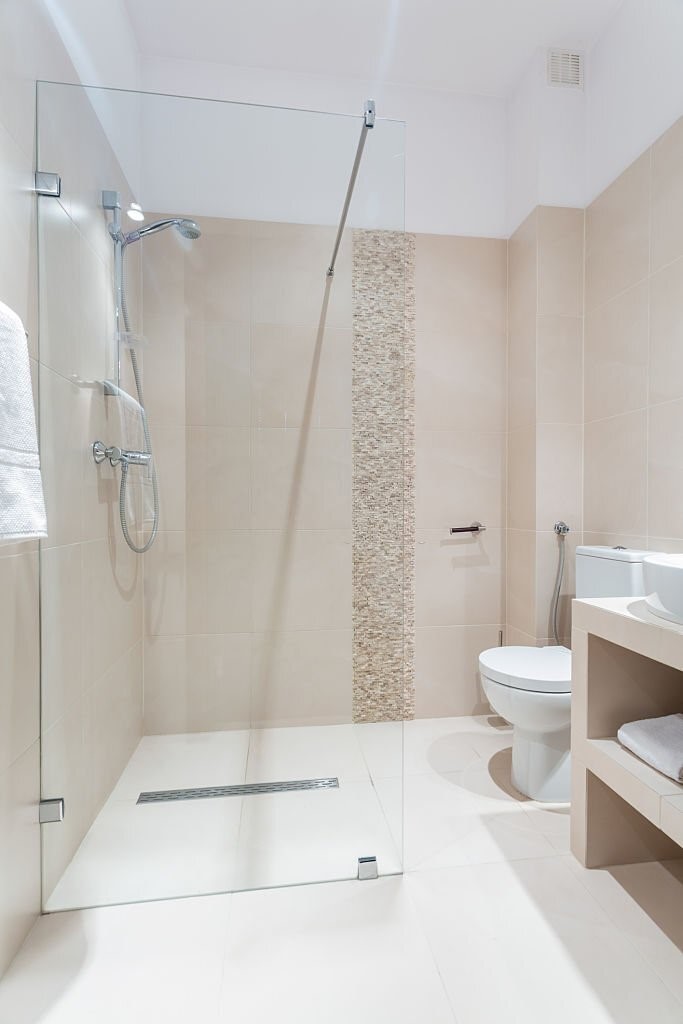 Installing a fixed glass screen at the corner of the bathroom adds a whole new dimension with much better convenience. Above all, you have various options to alter the bathroom style with versatile shower glass panel options such as clear frameless glass panels, frosted glass panels, etc.
4. Small Doorless Walk in Shower Ideas Using Vibrant Tiles or Marbles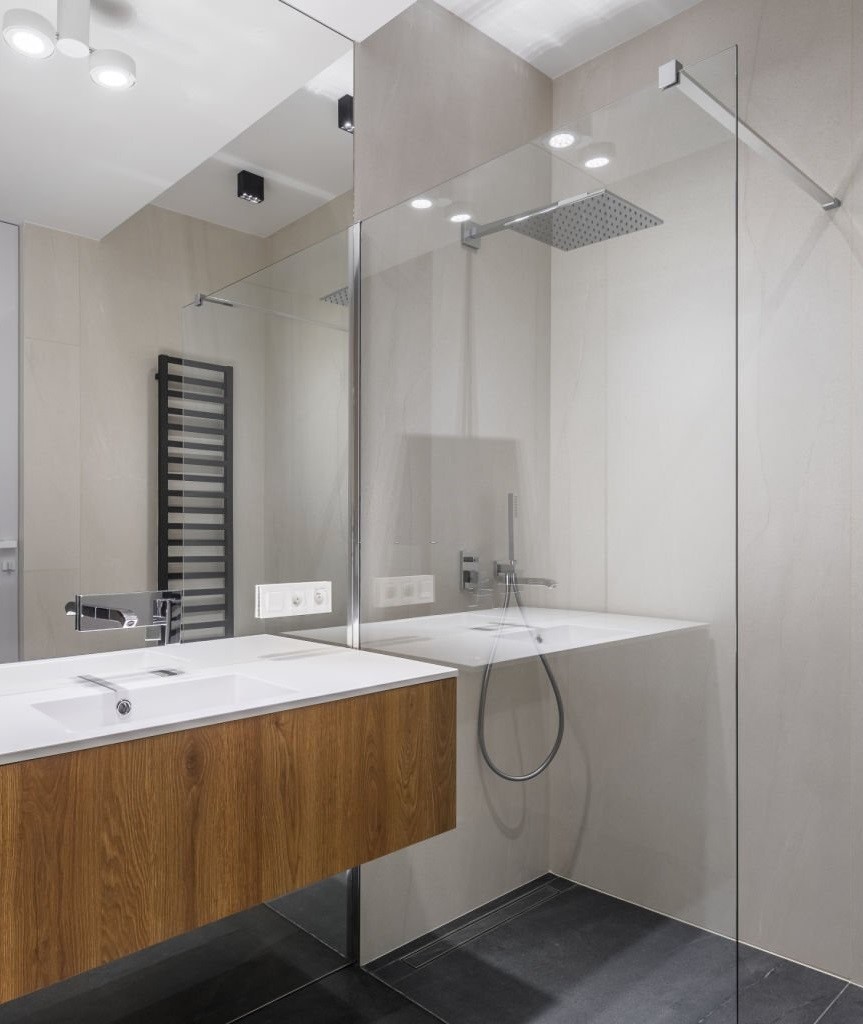 You may take the outdoor look within the bathroom with a strategic bathroom design. For this purpose, you may use marbles, geometric-shaped tiles, vertical tiles, and matte finishing tiles to allow people to use the shower without any fear of slippy.
5. The Simplest Walk in Shower Idea for the Minimalist Decor
Have a bright and minimalistic bathroom with a wall mirror above the sink and a straight area allocated for the shower. Minimal clutter means a minimalist appearance, which meets your goal to have a neat and clean bathroom all the time.
6. A Small Walk in Shower With A Built-in Shower Bench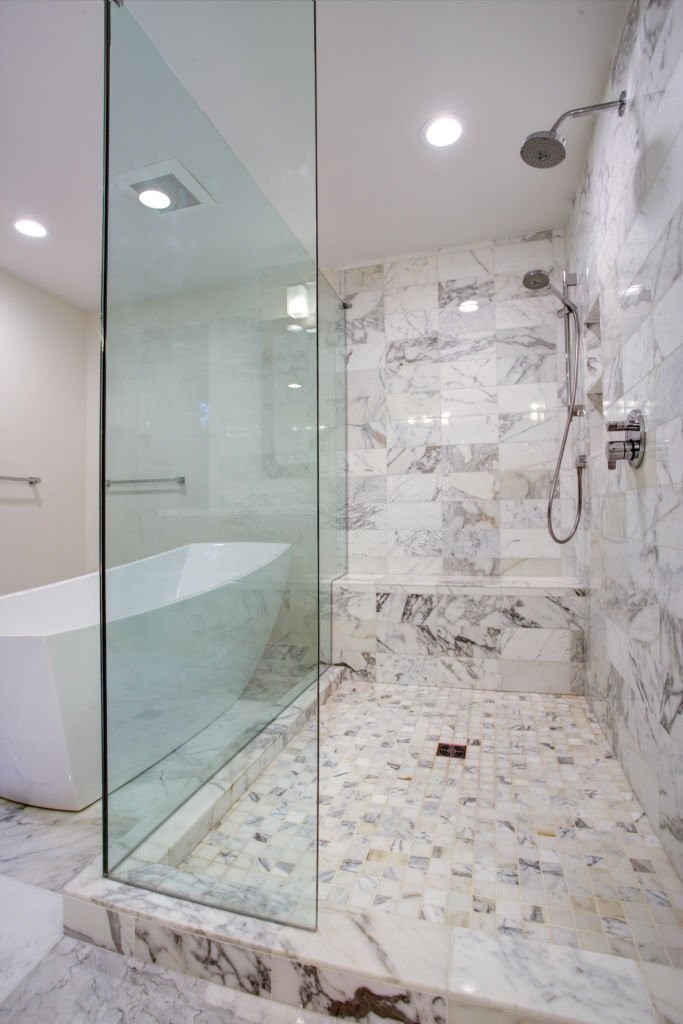 Using complete top to bottom marble walls and a built-in bench is amongst the best small doorless walk in shower ideas that looks luxurious and highly functional. Moreover, a recessed wall niche allows superb storage space for the body products. Above all, the shower faucets are fixed so well into the shower that no door is required.
7. Dual Entry Wall in Shower with Glass on the Middle
This idea seems good if the shower is allocated in the middle of the wall in the bathroom. The central glass allows an elegant complexion of the modern bathroom with a dual-entry experience. The best thing about this idea is the seamless appearance of the design gives a wider feel to your bathroom space.
8. French Grided Clear Glass Panel With Gray Tiles To Adorn the Space
Do not limit yourself to common things, and add some value when designing your walk-in shower with a doorless design. This beautiful piece of french gridded shower glass panel adds so much value in addition to sophistication to any bathroom. They are good to go with gray tiles for ease of maintenance and cleaning the bathroom floor.
Related Article: In-depth Guide to Walk in Shower Dimensions
Bottomline
When it comes to doorless showers, there are endless design options. Wall tiles, shower trays, shower heads, and other accessories can be easily customized to suit your bathroom. Moreover, you have plenty of options for the fixed shower screen: from clear tempered glass to frosted glass for brightness and privacy. Likewise, you may simply go with a combination of a tiled wall partition and a clear glass panel to split the shower area from the rest of the bathroom. All are stunning and welcoming for any bathroom space and design.