A dining table is an essential component of any home's interior. It's not just functional but also enhances your house's curb appeal. Now, you may have a small dining area to accommodate a glass-top kitchen table.
That's why it's essential to know the right dimensions of a dining table before setting it out. How about the glass option, its customizations, and price? There is so much that comes to mind when we plan to set up a kitchen or dining table in our house. This article highlights all aspects of glass dining tables. So, let us dive in!
What is a Glass Top Kitchen Table?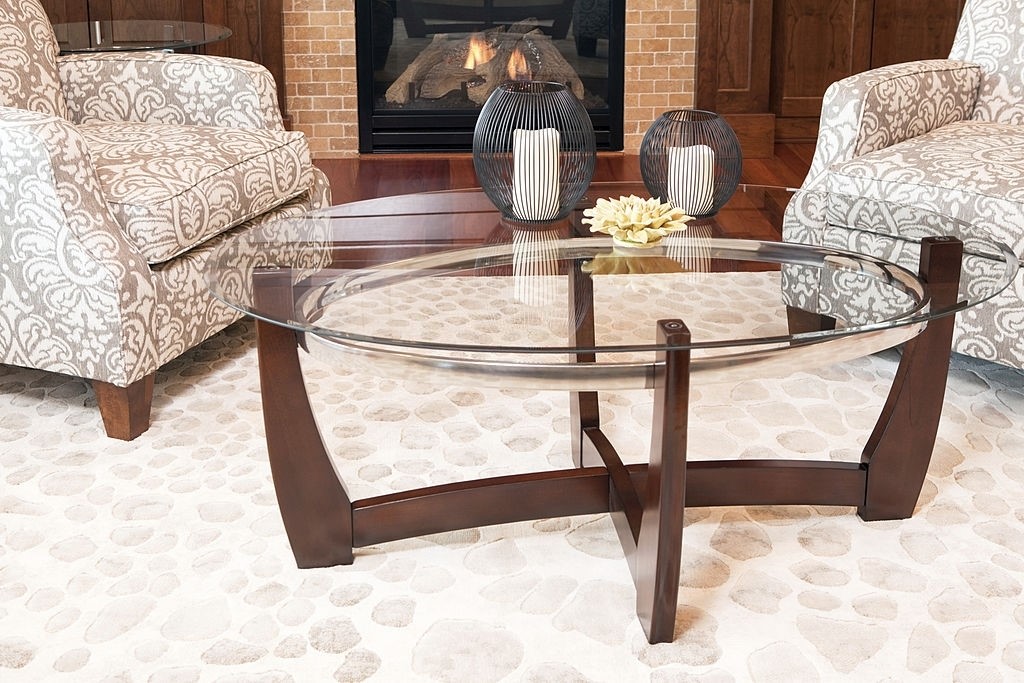 To put it simply, a glass-top kitchen table can be referred to as any table with a glass top. Now, they can be rectangular, circular, or even round. In addition, they are highly customizable, so their sizes, shapes, and ideal settings may vary.
Usually, dining tables with glass tops are used to host small parties and family get-togethers. A well-kept dining table also enhances the aesthetic appeal of your home's interior.
Glass Top Kitchen Table Ultimate Buying Guide:
1: Dimensions:
As mentioned, the right dimensions of any dining table with a glass top depend on factors like its appearance, etc. So, we have listed the dimensions of various glass-top kitchen tables. Note that these dimensions are good for a kitchen table that accommodates 3 to four people.
| Table Shape  | Dimensions |
| --- | --- |
| Rectangular Shaped Dining Tables | |
| Circular Shaped Dining Tables | |
| Square Shaped Dining Tables | |
2: Price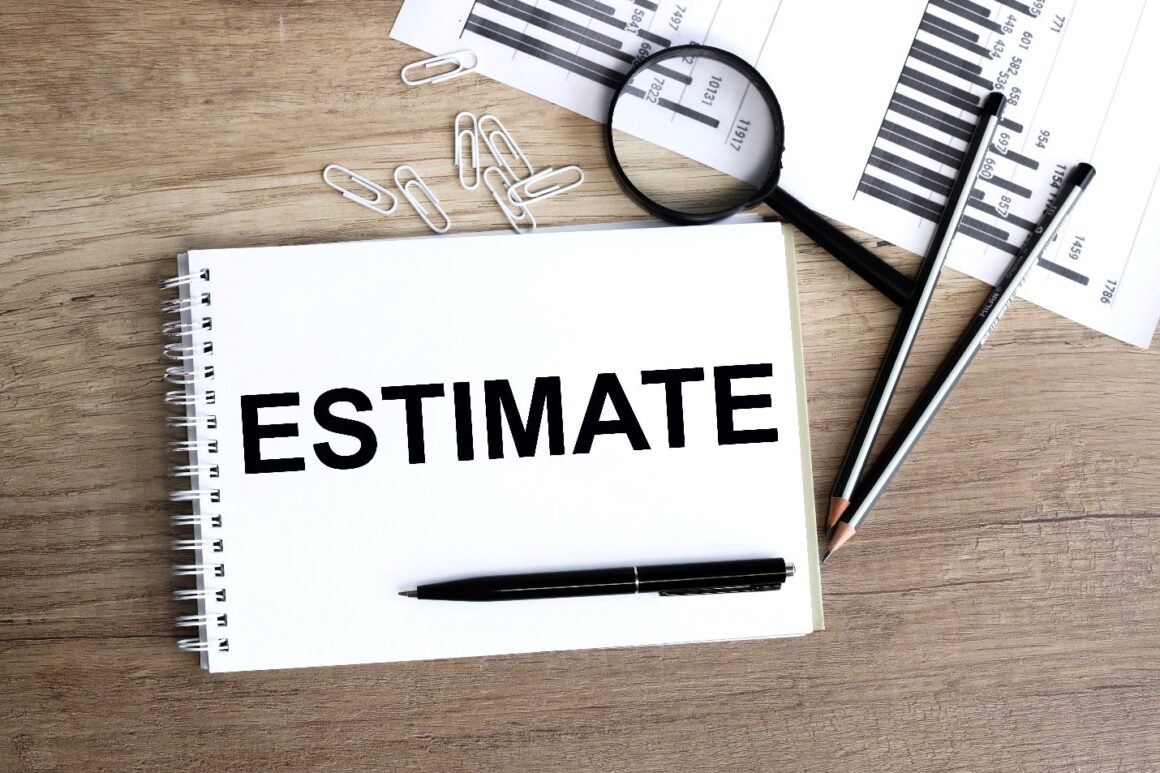 Before we talk about the price of a dining table with a glass top, we have to consider various factors. For example:
Table Dimensions: Your dining or kitchen table dimensions mainly control the cost factor.
How Many People Is it for? Find out whether a 4-person kitchen table is good for you or if you need a 12-person dining table.
Table Styling: The table styling, its shape, and additional customization also raise the overall cost.
Anyhow, on average, a glass-top kitchen table costs around $10,000 to $12,000. Note that $10,000 is the starting price here. Further, for chairs, you'll have to spend extra. So, expect to pay around $12,000 to $15,000 for a glass dining or kitchen table.
3: Shapes: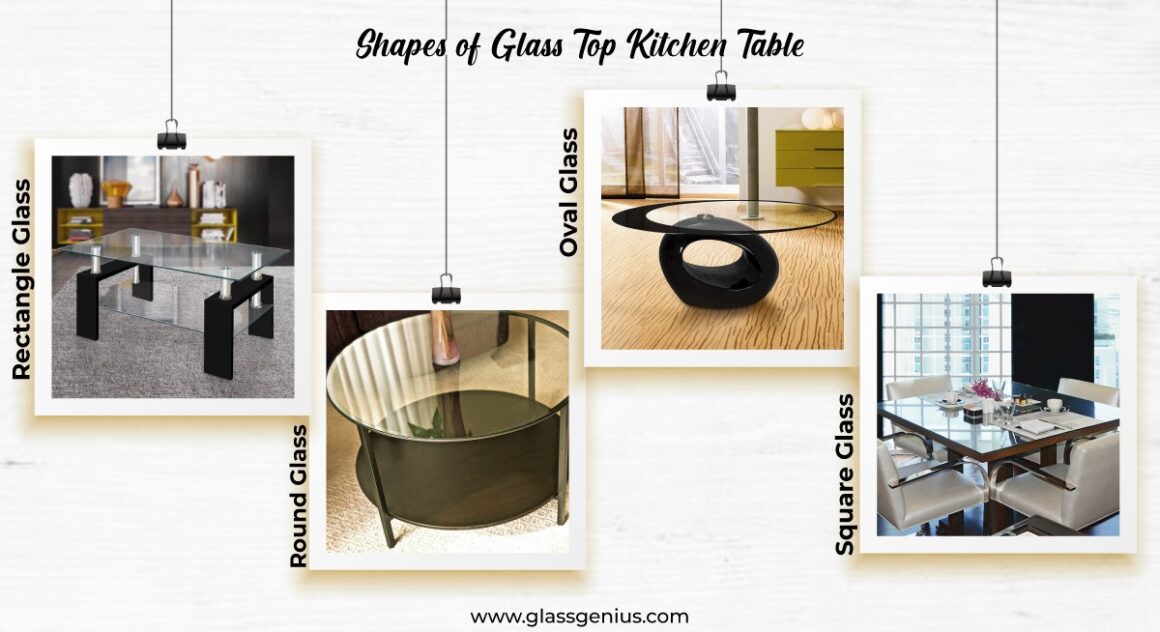 Usually, square-shaped dining tables are preferred. However, rectangular-shaped dining tables are also quite common these days. Here is a brief look at different shape options for these tables.
| Table Shape | Characteristics |
| --- | --- |
| Rectangular | Most common shape for a glass stop kitchen table. Good for dining areas as well as the kitchen. |
| Circular | Perfect shape for a small coffee table or a patio table. |
| Oval | Takes up less space. Good for small spaces. |
| Square | Good for square-shaped dining rooms. |
Suitable Glass Options for Table Tops
These kitchen tables are no short of glass options. Luckily, there are plenty of glass options to choose from for such tables. Here are a few of them:
▶ Tempered Glass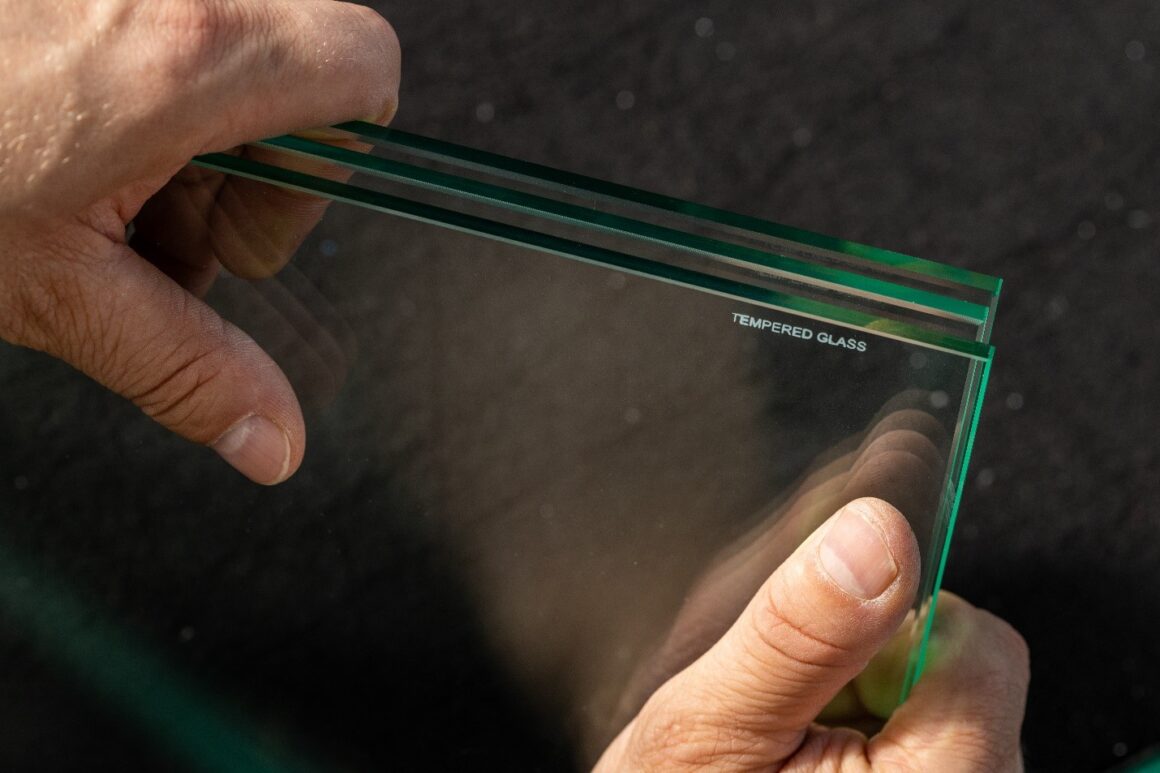 Arguably, the most commonly used safety standard glass by homeowners. Tempered glass is a good option for you if you want safety standard glass on a budget (Since it's cheaper than laminated glass).
It is impact resistant to a great extent. So, tempered glass table tops are a good option for any kitchen or dining table.
▶ Laminated Glass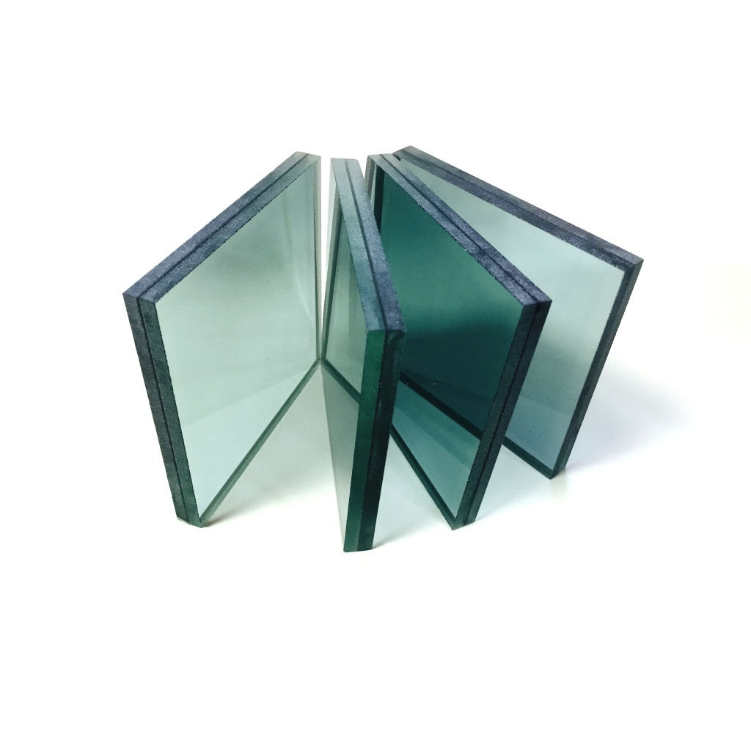 Next up, we have the laminated glass. This glass option is for you if you want the best-in-class safety standard glass. Laminated glass is even tougher and more durable than toughened glass. That's why it is slightly on the expensive side.
▶ Tinted Glass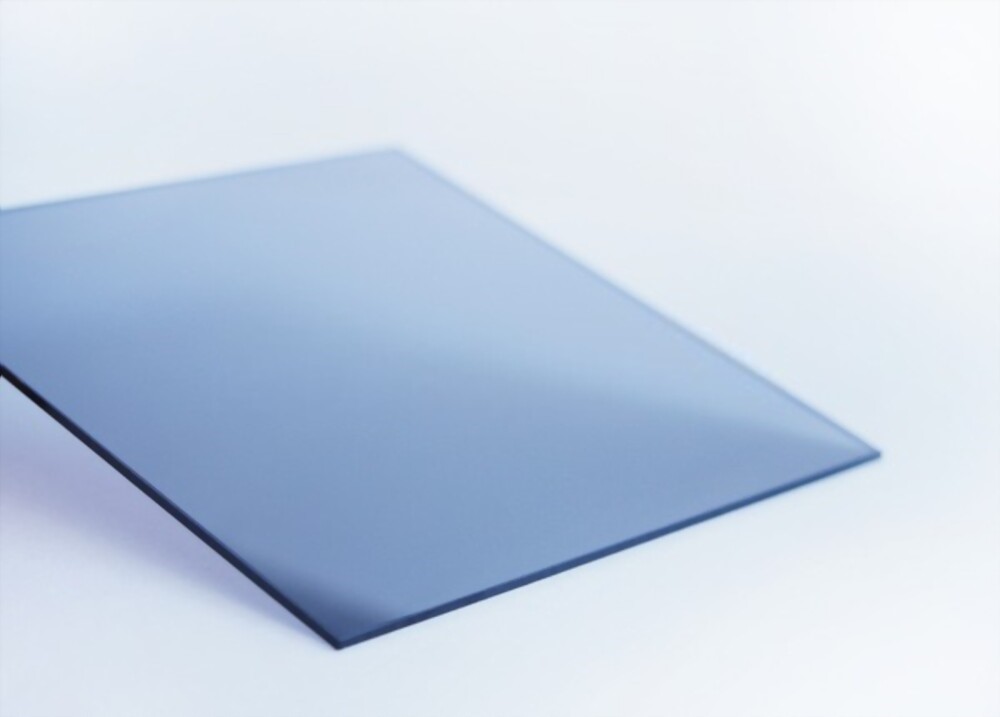 Tinted glass also looks great on these tables. You can choose the tint (gray, bluish, greenish, etc.) of your choice. Tinted glass table tops give a different appearance to these kitchen tables.
▶ Acrylic Glass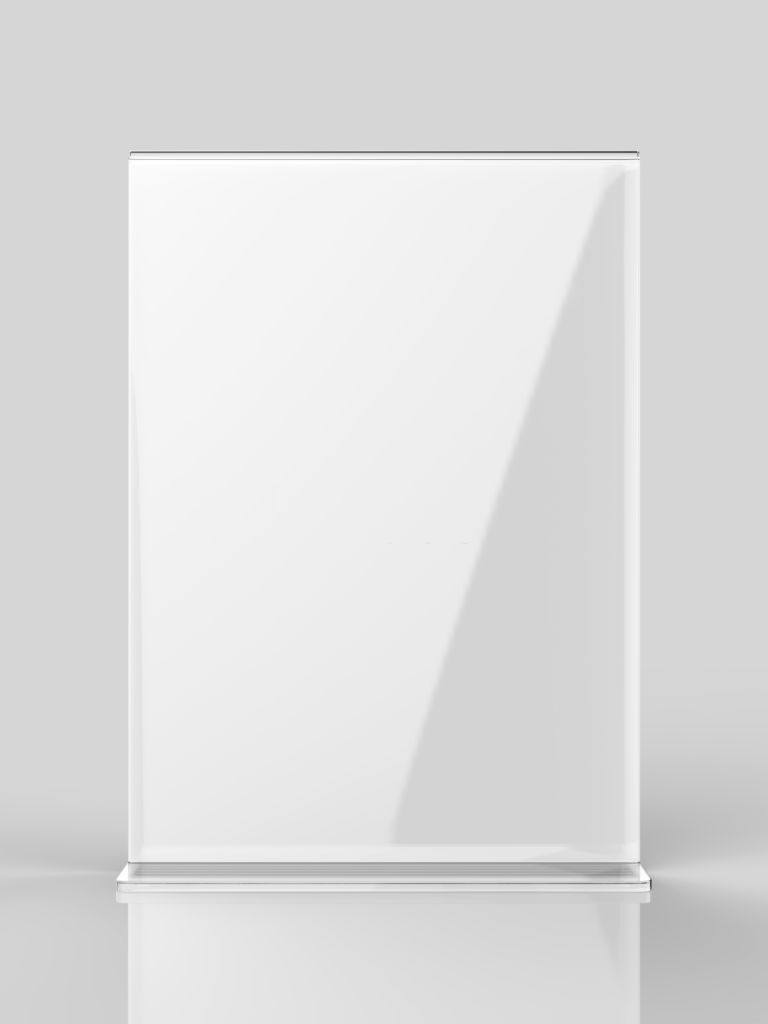 Acrylic table tops have also become a hot pick of many homeowners. That's because they are cheap and also look pretty good. However, they can be tough to maintain (because of the slightly hard surface). So if you are on a tight budget, there is no harm in opting for Plexiglass table tops.
Glass Top Dining Table Vs Wood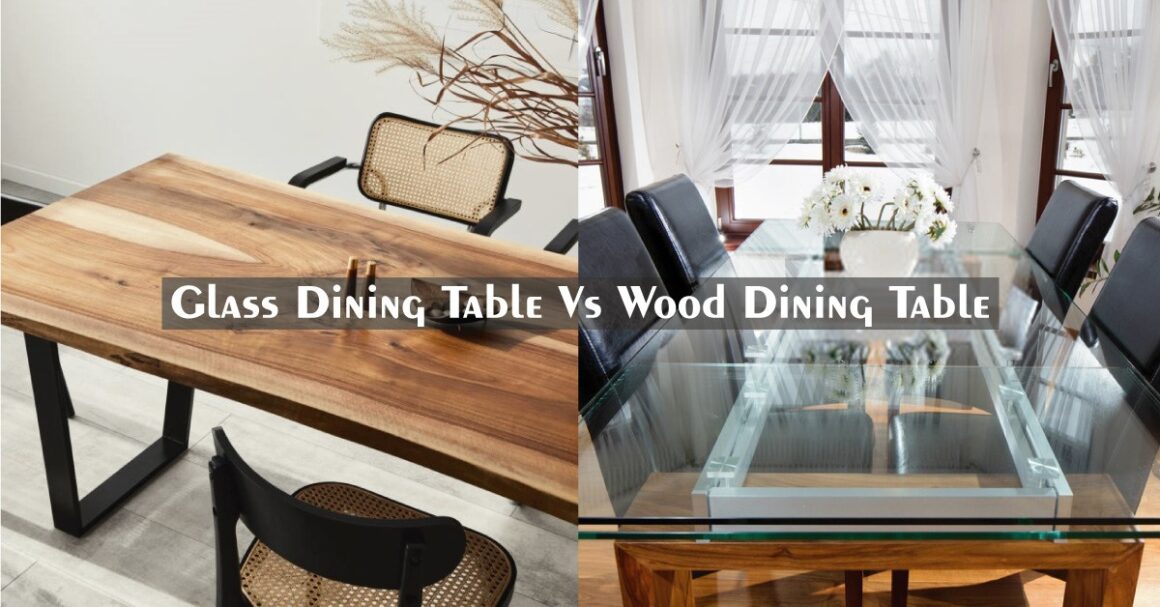 Another common question of homeowners is which table top is best? Is it glass or wood? Well, both are effective in different aspects.
To claim one material option is better than the other one, you should define their usage. Glass table tops are good if you prefer modern and stylish looks. Further, glass table tops can also be customized. This makes this table top the preferred choice of many.
On the other hand, wooden table tops are known for their strength and durability. In addition, they give a natural vibe to your home's interior. However, they aren't easy to clean (as they get old). Also, wooden table tops aren't considered ideal for a modern home interior.
Final Thoughts!
That was our take on glass-top kitchen tables. We highlighted all the essential aspects that you should look for while buying them. For example, their dimensions, styling, and the right glass option are some factors to consider here. Compared to wood, glass table tops take the lead. Since they are highly customizable and perfectly complement any modern home's interior. Prefer to buy your chosen glass table top from a reputable glass marketplace.
Frequently Asked Questions:
1: How to Protect Glass Top Dining Tables?
The best way to protect your glass top is to keep it clean. You can use any clean microfiber cloth to remove all the dust particles from its surface. Further, order a customized table top with the desired thickness level that best matches your needs.
2: How to Maintain a Glass Top Dining Table?
Maintaining a glass-top dining table isn't a hassle. Just keep it nice and clean, and its original shine won't fade away soon.
3: Are Glass Top Dining Tables Safe?
Yes, glass table tops are safe to a great extent. Simply use a safety standard glass (Toughened glass or laminated glass) for maximum safety and protection.
4: What's The Most Durable Glass for a Glass Top Kitchen Table?
Laminated glass is the most durable glass option for any kitchen or dining table. In addition, its safety characteristics make it one of the best safety standard glass types out there.