Barn doors are becoming quite common these days. Since they require less space for installation, many homeowners prefer them over other door types. Furthermore, these doors are also pretty easy to install. Usually, wood is used to make barn doors. However, materials like glass can also be used to give a modern touch to these doors. This detailed guide will help you build a barn door with glass. So, let us get into it!
Can You Make a Full Glass Barn Door or Add Glass Sheets in Wood?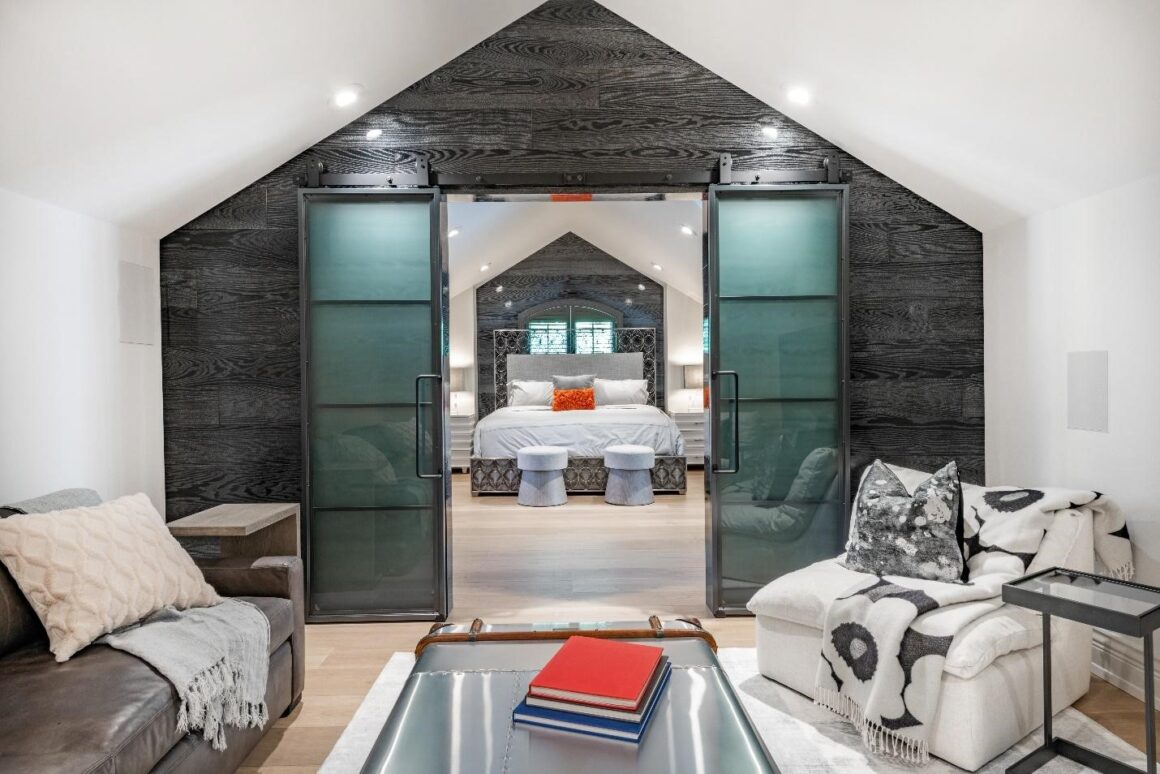 Sure, you can make a glass barn door. However, a full glass barn door isn't easy to build. For that, you have to hire an expert. Nevertheless, the DIY method (more on this later) is helpful for making wooden barn door glass panels incorporated within its frame.
Generally, adding a few glass sheets to a barn door makes it look a lot different. So, it's better to opt for a barn door with custom glass sheet inserts for that unique look and feel. However, you may opt for a custom-made fully glass door if you have the budget.
Which Type Of Barn Doors With Glass Can You Make?
Barn doors are highly customizable. If you are using glass to build them, there are a few great options to choose from. Here are a few of them:
1: Frosted Glass Barn Doors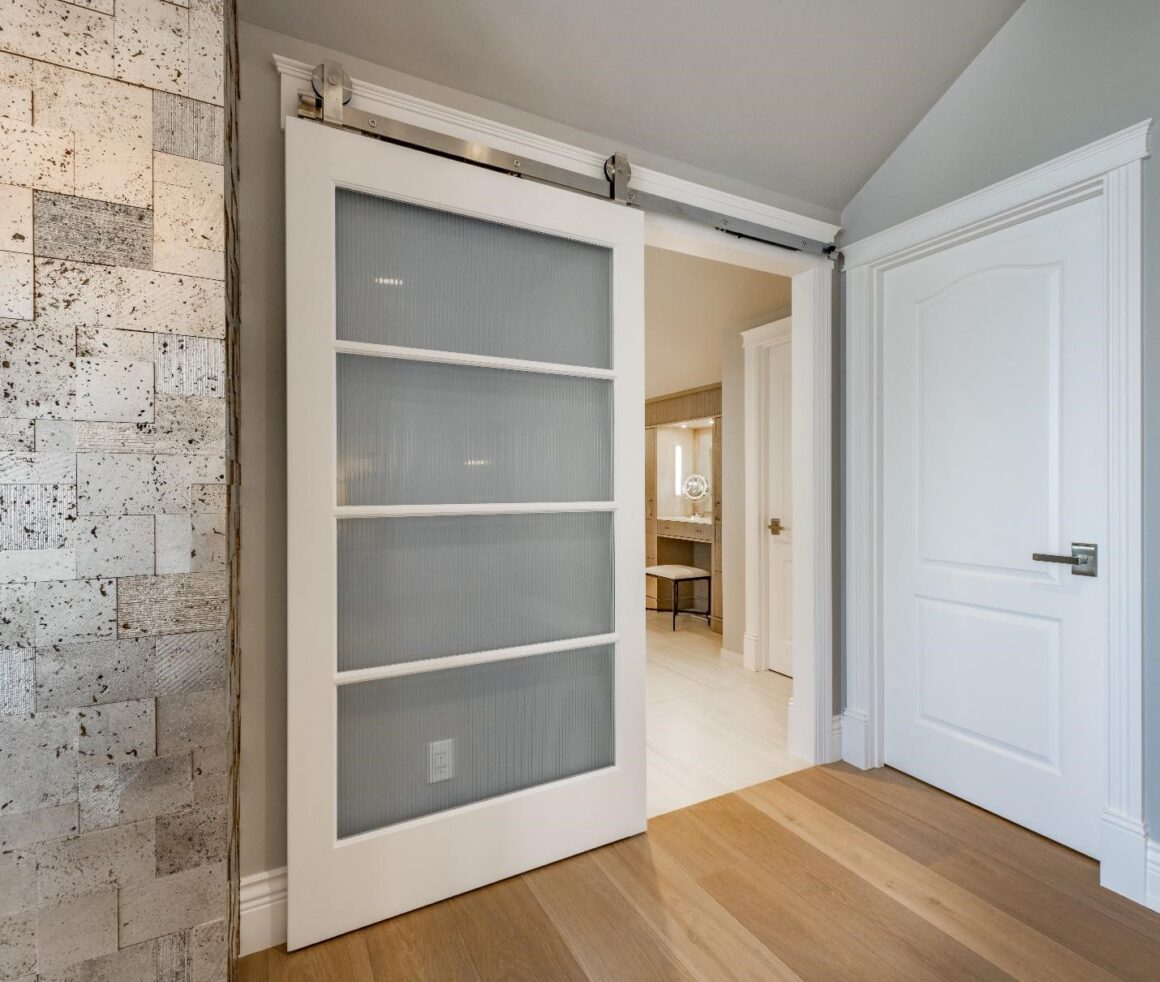 Frosted glass can be an excellent option here. Frosted glass barn doors with glass look pretty different from standard glass barn doors. Frosted glass has an opaque surface that doesn't let anyone see through it.
Therefore, these glass barn doors are perfect if you prefer a bit of privacy along with the transparent feel of the glass.
2: Tinted Glass Barn Doors
The tinted glass dramatically changes the aesthetic appeal of glass barn doors. As the name highlights, these glass panels have a particular tint on their surface. Homeowners can choose the tint of their choice.
Tinted glass barn doors aren't that common. However, you can opt for this glass panel to make your barn doors look different.
3: Tempered Glass Barn Doors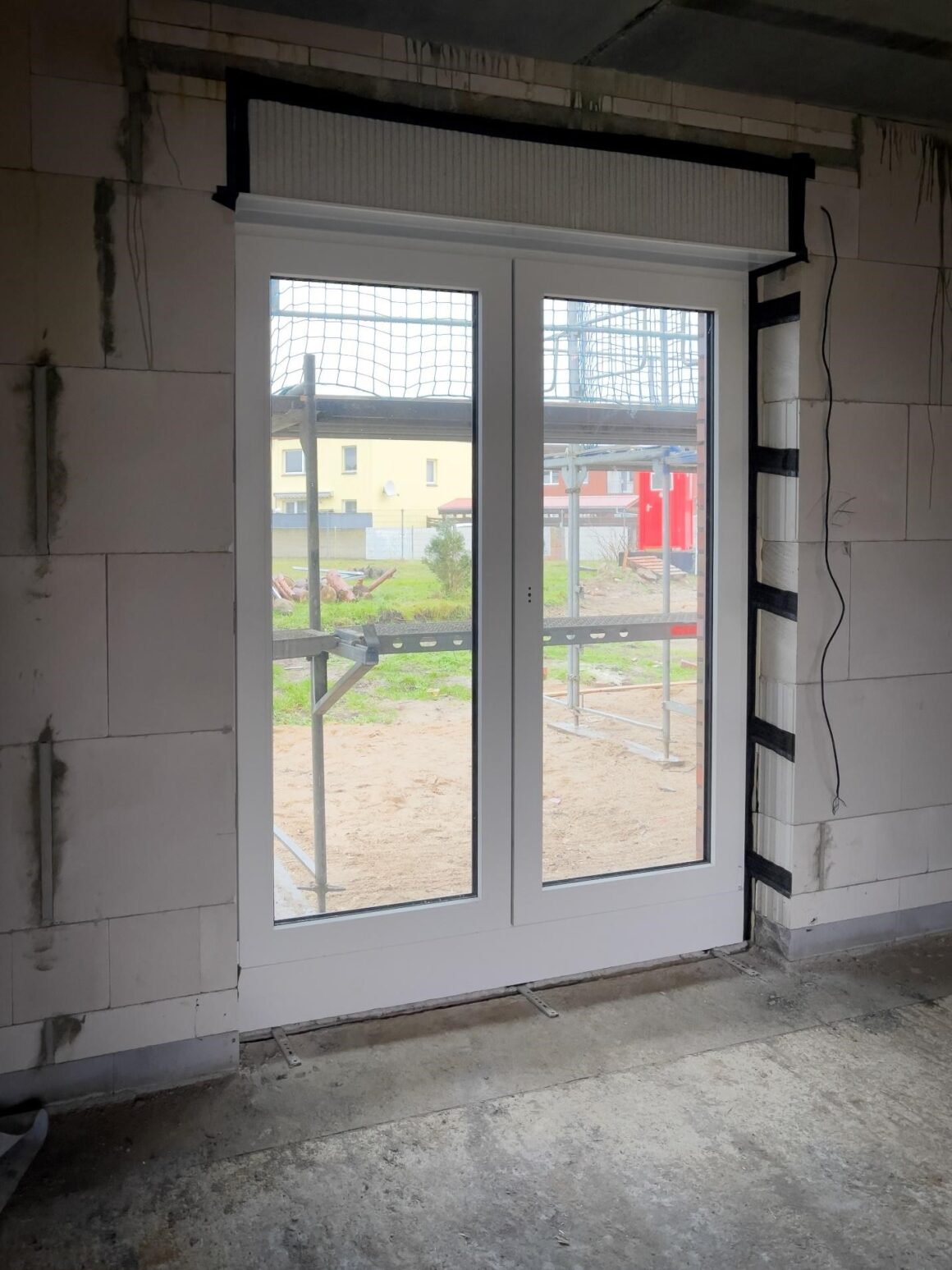 Tempered glass panels can also be used to make a DIY barn door glass. Also known as toughened glass, this glass panel is known for its exceptional strength and durability.
It doesn't break that easily and also has a scratch-resistant coating. Tempered glass barn doors are excellent for you if you want to ensure maximum safety.
How Much Does It Cost To Build A DIY Barn Door With Glass?
The installation cost here totally depends on the materials you choose. Further, the type of barn door you prefer to go with could also vary the cost. In general, glass barn doors will cost around $800-$2000.
If you opt for cheaper glass alternatives, like plexiglass, you can save some bucks here.
How to Build a Barn Door with Glass – Step-By-Step-Guide
Now, let us explore the actual steps to making a DIY barn door with glass. Here are the materials you will need for this DIY project:
Materials And Tools Needed:
A Large Plywood Piece
A Few wooden Boards
Glass Panels (Can be any)
Barn Door Hardware Kit
A Table Saw
Glass Cutter
Air Nailer
Jig Saw
Cordless Drill
Step-by-Step Guide: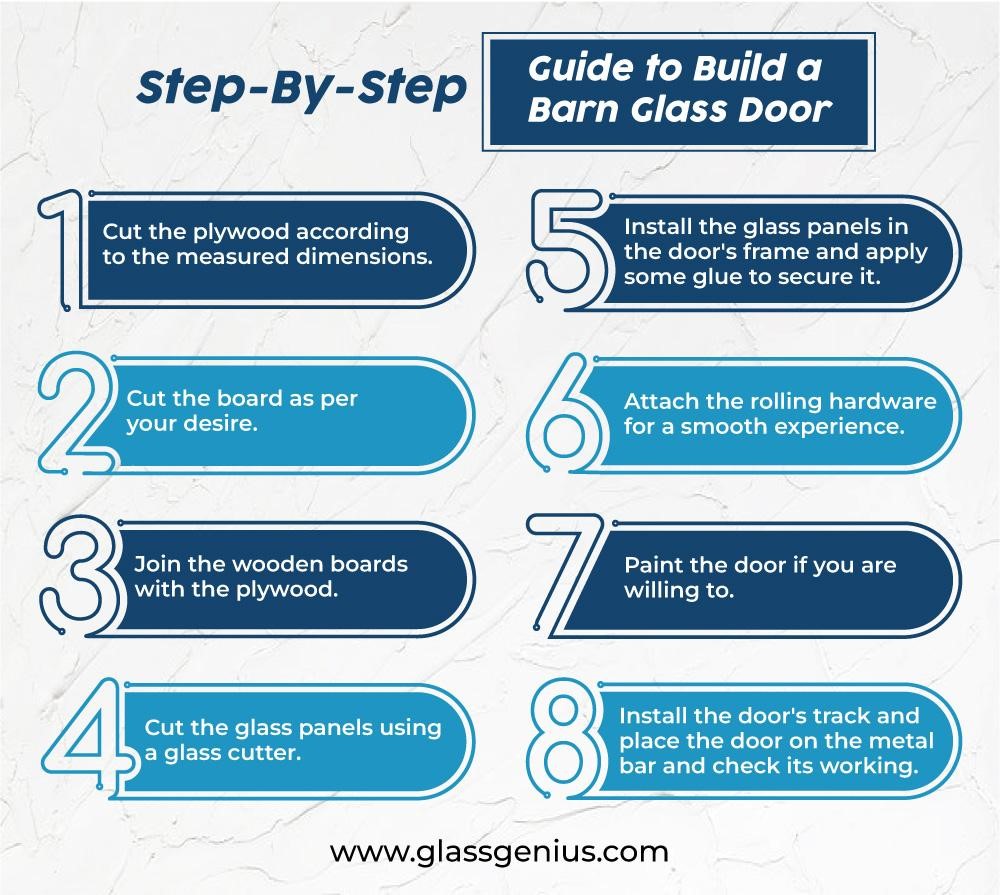 Step 1: Cut the Plywood
For step one, you have to cut the plywood. Now, their ideal dimensions vary. You can cut the plywood sheet according to your desired length and width. You can use a table saw here to cut the plywood to pieces.
Step 2: Cut the Board
Now, you have to cut the board into pieces. Again, their right length would depend on how big or small you want your barn door to be. Ideally, 4 to 5 boards will be enough.
Step 3: Join the Wooden Boards with the Plywood
Before you join the wooden boards with the plywood, ensure that they all have the right length and width. Now, you can use a few nails and some glue to join them. The glue will further make the bond between wooden boards and plywood stronger.
Step 4: Choosing The Right Glass Panels
As mentioned before, you can choose any type of glass for your barn door. In this regard, we recommend choosing the durable glass. For example, you can order custom-cut glass that best matches your door's measurement. Similarly, ready-made tempered glass can also be a good option.
Step 5: Secure the Glass Panels
Once you have the custom-cut glass with you, it's time to place them within the door's frame. For this, ensure that those wooden boards have 1-1.5 inch space for incorporating the glass panels. Then, simply place the glass panels within their frame. Apply some glue to ensure that it fits well.
Step 6: Attach the Rolling Hardware
Next up, you have to attach the rolling hardware. Ideally, two rollers would be enough. So, drill a few holes using a cordless drill. Then, simply attach the rolling hardware using pre-installed screws.
Step 7: How About a Paint Job?
Though, stock glass barn doors don't look bad at all. However, you can always paint your barn doors if you prefer a more customized look. You can choose the color of your choice to best match the barn doors with the rest of the interior design.
Step 8: Install The Door's Track
Now, it's time to install the track (where the barn doors would slide on). Take some measurements before installing the door's track. First, ensure that the track sits above the door's frame. Ideally, there should be a few inches of gap between the track and the door's frame.
Step 9: Time for Rolling the Door
Now simply place the door on the metal bar. Roll the door and check for any unwanted noises. If you have followed the steps correctly, the door should slide smoothly.
Final Thoughts!
So, that's how you can build a barn door with glass. Once installed properly, the glass barn door looks stunning. This DIY method will also help you save costs. Further, you can choose any type of glass panel for these glass barn doors. We recommend buying your favorite glass panel from a reputable glass marketplace.