What can be a better place to get together and chit-chat than a dining table!
The dining table is potentially the best place to have quality time with friends and family. The delectable aroma of food along with the hot topics of discussion make the dining table the perfect place to gather together. It also serves as the focal point of the dining room. So it's important to pick the right dining table. You can choose a pre-made dining table according to your room specifications or go a step further and build a dining room table on your own.
Making furniture items on your own is the new trend. It helps add a flavor of your personal style to the interior elements. So let's jump on the bandwagon and explore how to build a dining table.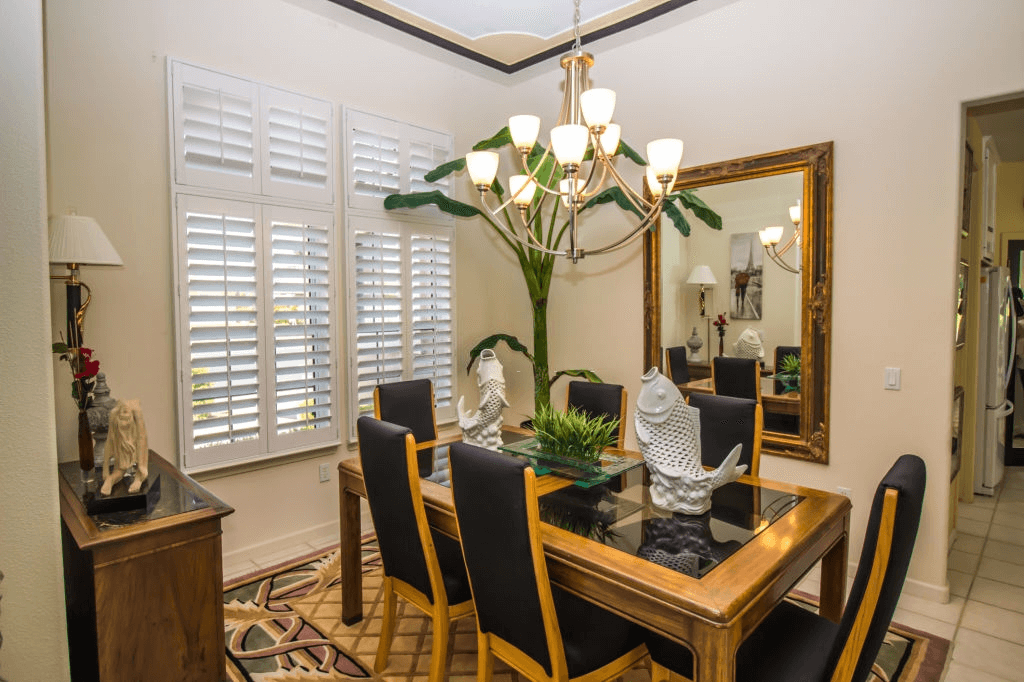 Material Options For DIY Dining Tables
When it comes to building a DIY dining table, you have a number of material options. From traditional wood to vinyl and glass to aluminum, you can use any material according to your preferences. The size and utility of the dining table help in deciding the right material for the DIY dining table design. A standard dining table is 28 to 32 inches tall and works perfectly with 18 to 24 inches high chairs or stools. Let's have a look at the material options for DIY dining room tables.
For Dining Table Tops
There are plenty of material options for both tabletop and base. Let's explore the popular tabletop options first.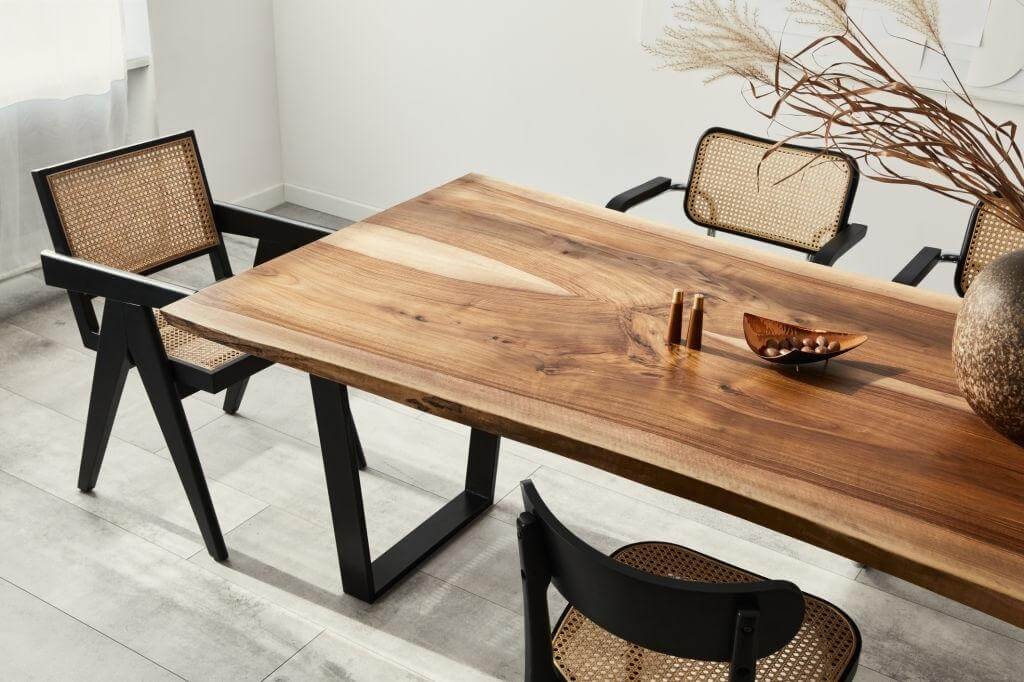 It is one of the most popular materials used for making table tops. Wood is a versatile material and simple to work with. Table tops made of wood are sturdy and robust. The solid design offers durability and the ability to bear heavy weights.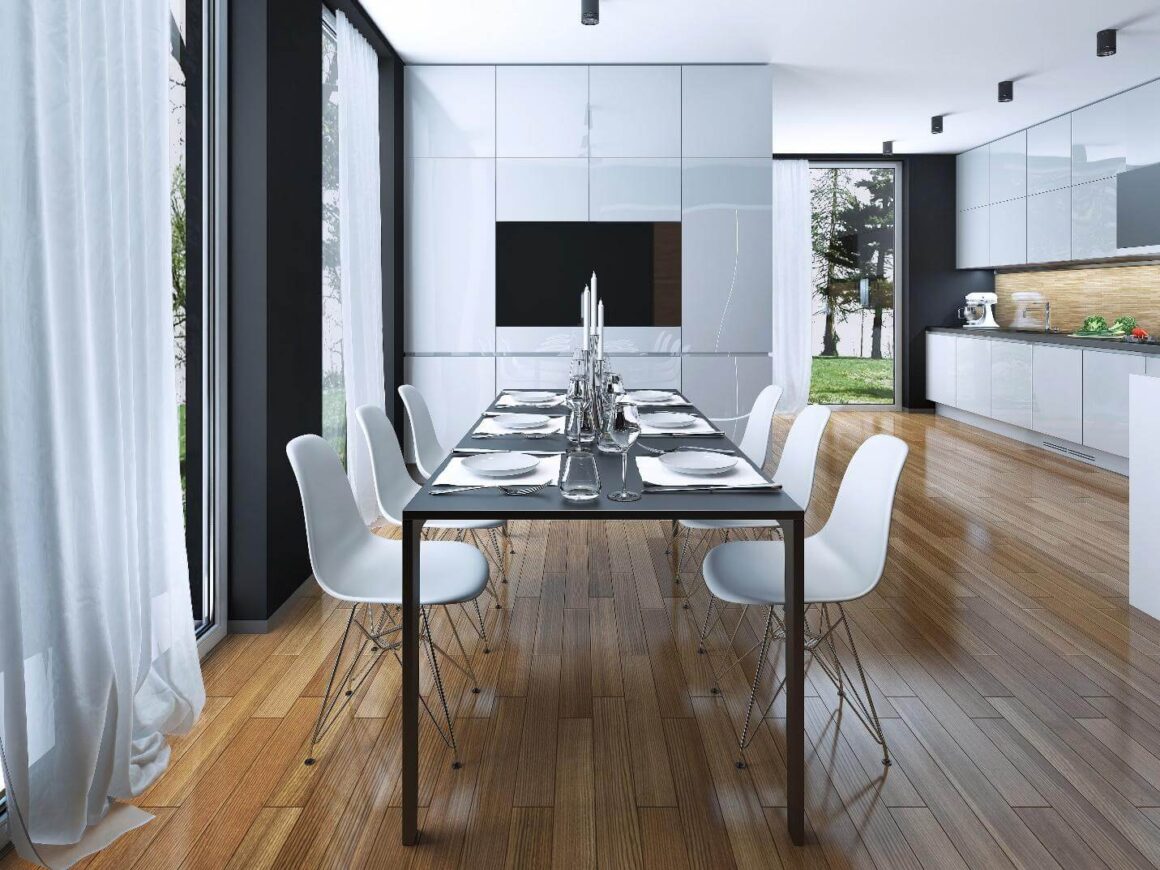 A dining table with metal tabletops offers a clean and elegant look. They are an incredibly durable option. Due to their peculiar visuals, metal table tops are mostly used for industrial settings or themed home interiors.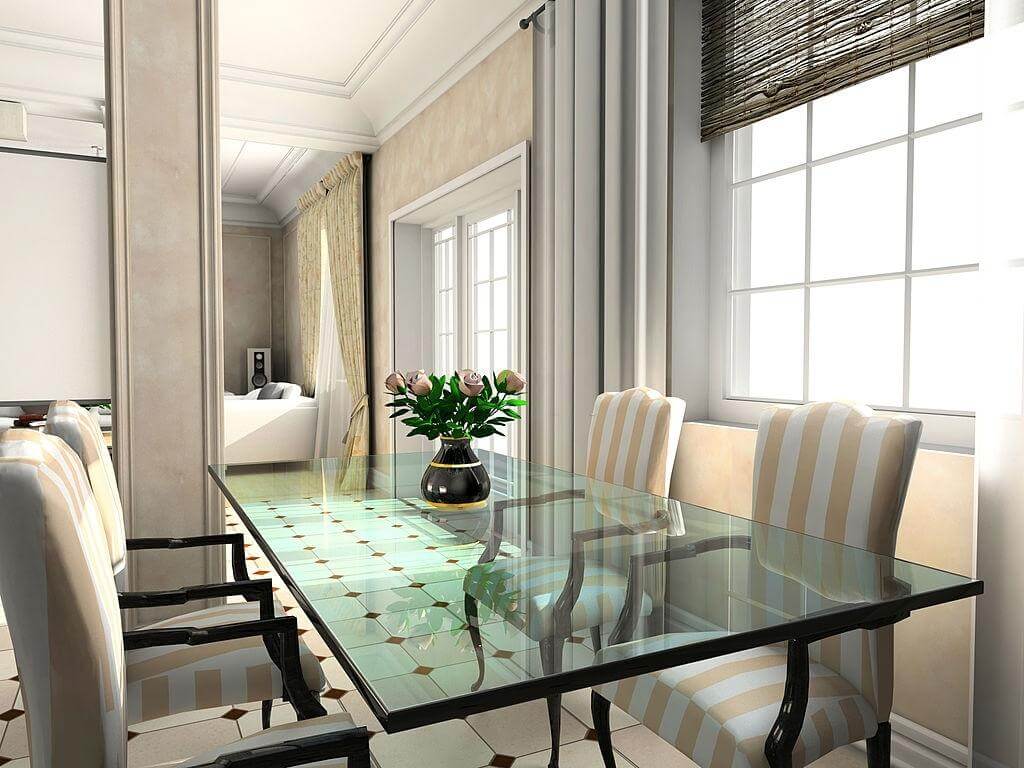 Glass tabletops are known for being the most sophisticated and contemporary choice. They require minimum upkeep and offer high durability value. The glass table tops add a posh vibe to the interior space with their polished appearance.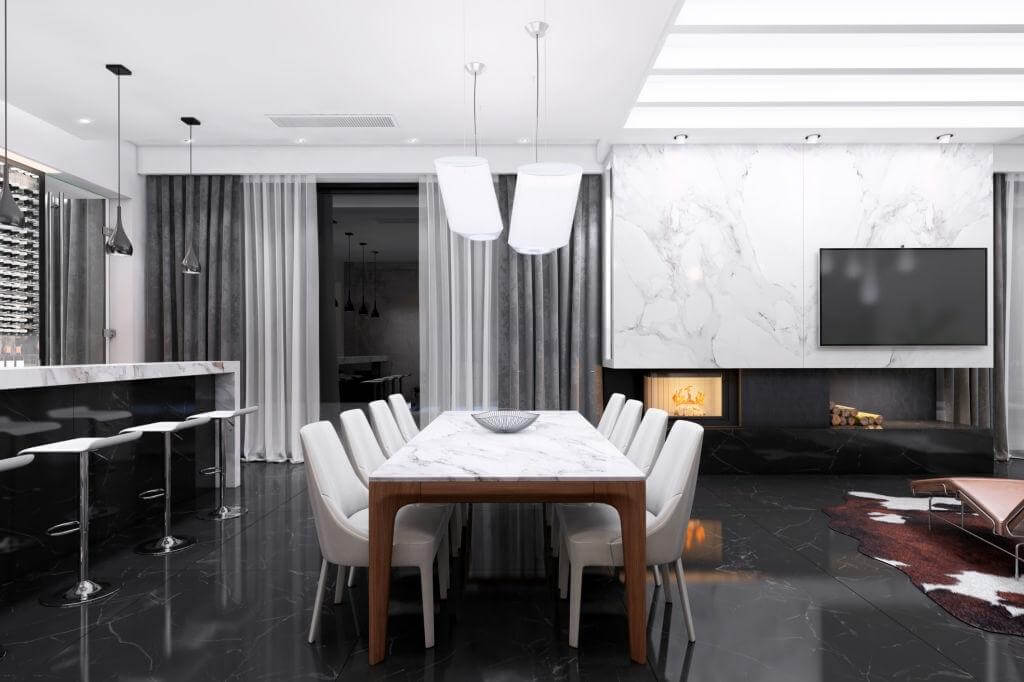 Marble table tops add a sense of luxury to the space. It is a perfect material for kitchen islands and countertops. Marble comes in a wide range of patterns and colors. Its low maintenance is an added benefit.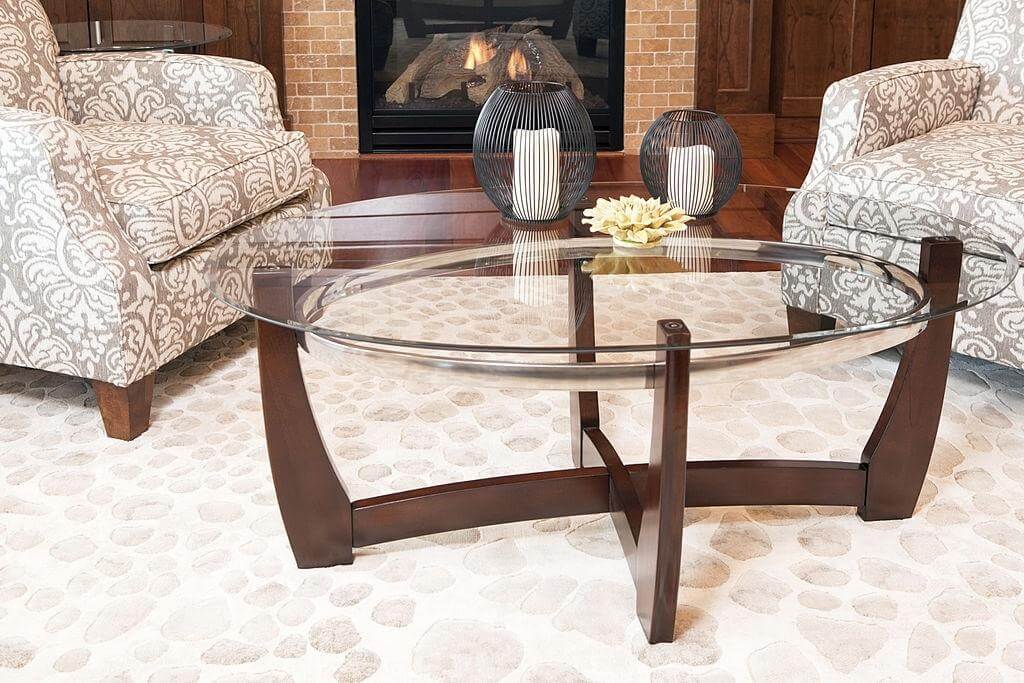 Acrylic Top is another practical option for dining table tops. It offers the aesthetics of a glass top and the strength of a wooden top, acrylic glass is lightweight and highly durable.
For Dining Table Base
Just like the tabletop, we have multiple options for the dining table base. The table base has to take all the weight of the table. So it should be sturdy enough to support the dining table. Here are the most commonly used materials for dining table bases.
Metallic table base features a sleek look and offers solid support to the tabletop. The metal table base comes in many designs. From geometric to irregularly shaped and basic to contemporary design, you can opt for any metal table base style.
Acrylic glass is a versatile material. It can be molded and bent into any designed shape. Acrylic table bases are a recent addition to furniture designs. It gives an all-glass feel to the table.
The most popular table base material is wood. It is easy to design into any shape, strong enough to hold any tabletop, and readily accessible.
Which Material Is Best To Build A Dining Room Table?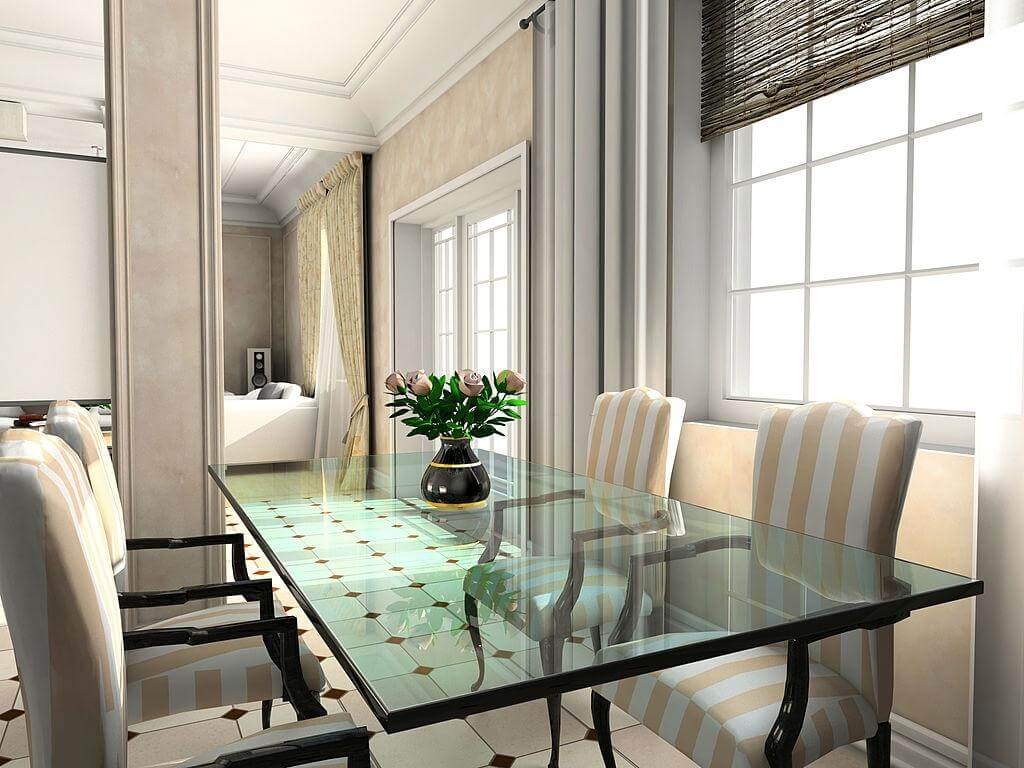 Glass dining tables, unarguably, are the best among all the available options. Glass tops go well with any interior setting and effortlessly give an opulent feel to the entire space. Whether you opt for a wooden base or a metallic one, a glass top would work perfectly well with any combination. You can also go for clear plexiglass tops if you want a sturdier option. The clear top has a contemporary feel so is the ideal pick.
How To Build A Dining Table?
Building a DIY dining table is a great way to channel your creative self into your interior setting. If you aim to build a dining room table, follow the given instructions.
Material Needed
Wood screws
Jig saw
Tape measure
Table top clamps
Wooden planks
Cut to size glass top
Wood screws
Steps To Make A Dining Room Table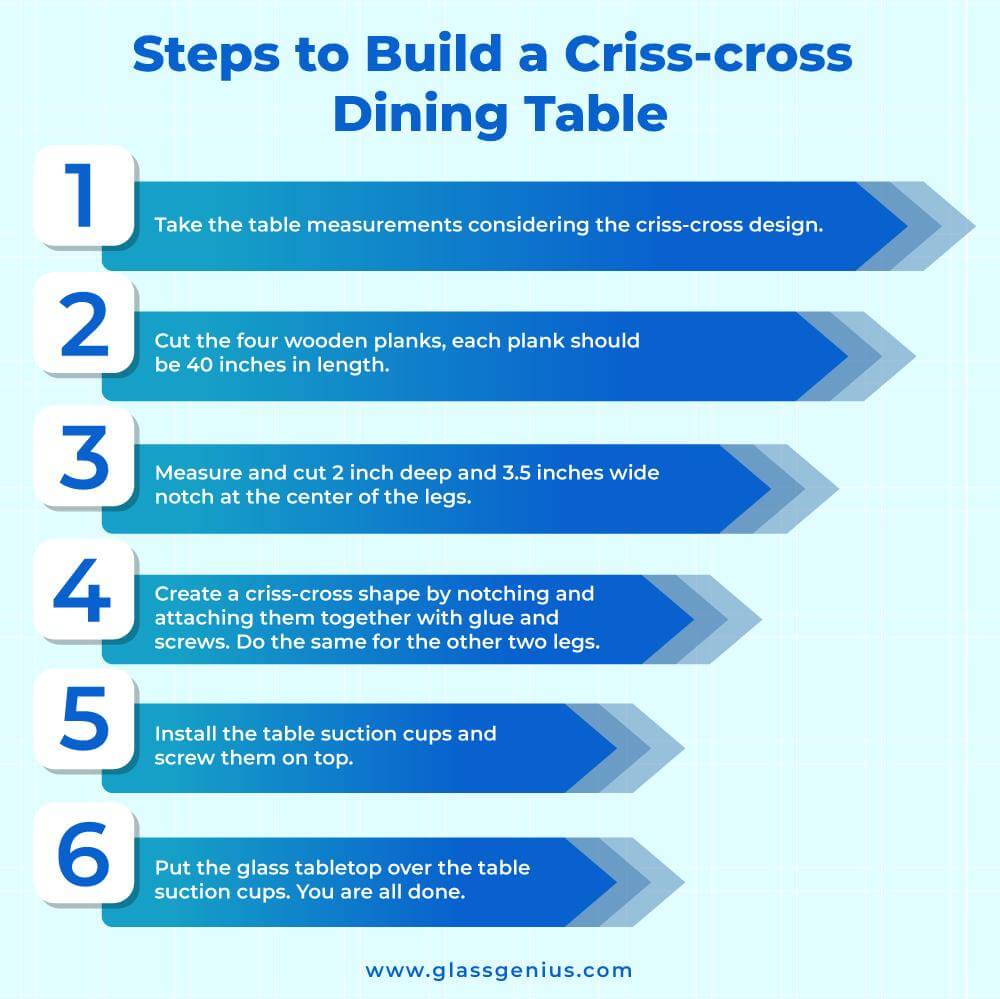 Here are the steps for making a crisscross DIY dining table for everyday use.
First, we need to cut and assemble the table base into a crisscross shape. For that, first, evaluate the desired table measurements. For a standard table base, we would need at least 40 inches of wooden planks that would be diagonally assembled to get the table height of 30 to 32 inches. So measure the wooden plank length. You would require a total of four wooden legs. Each wooden leg should be 40 inches long. You can get cut-to-size wooden legs for the table or do it yourself.

Once you have the four wooden legs. It's time to cut the notch. Measure and cut 2 inch deep and 3.5 inches wide notch at the center of the wooden legs.

To create a cross-shaped leg, slide both legs into the corresponding notch and apply wood glue inside the notch. Also, screw wood screws into the center of the notch to hold the legs together. Do the same for the rest of the two wooden legs.

Now connect the two cross-shaped with each other. Mark a horizontal line through the center of the cross and fix the four legs together such that they achieve the criss-cross shape. Use wood glue to attach the legs together and fix them using screws.
Take the table suction cups and screw them at the top of the four top legs.

Now carefully align the glass table top over the table suction cups and attach the tabletop to the base. And that is it, your DIY dining room table is all ready to use!
Can I Build My Dining Table With A Wood Top?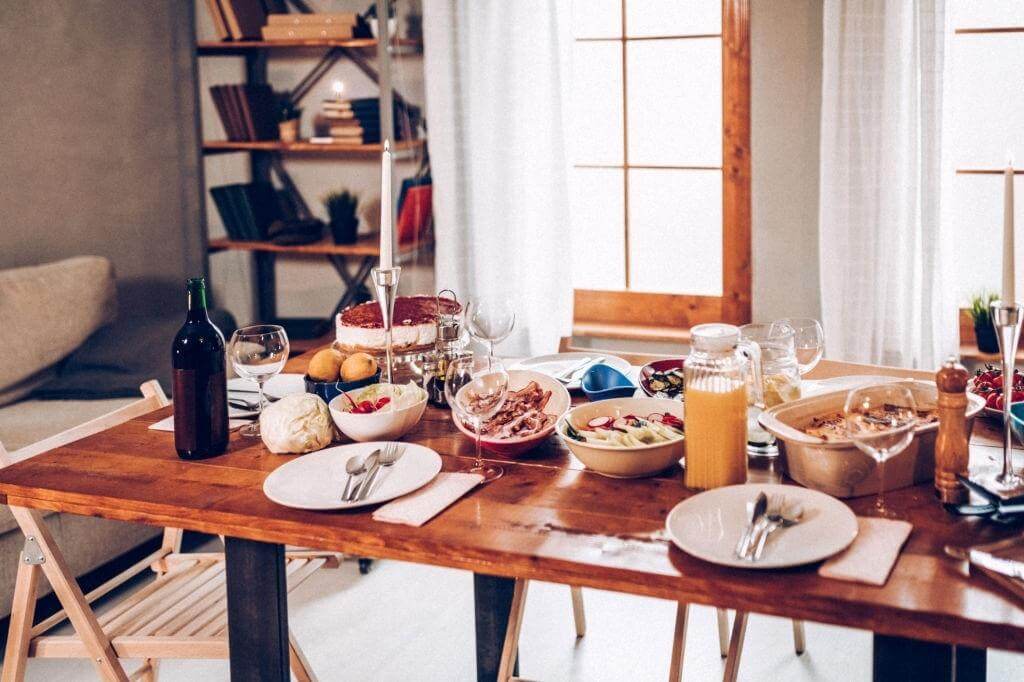 Building a DIY wooden top dining table is possible. You can get a cut-to-size wooden top and add it to the table base. However, after some time the wooden top would require polishing and proper refinishing for a smooth look. It may also get scraped and scratched due to exposure to sharp objects. Adding a glass or acrylic protector to the wooden dining top would give a contemporary feel to the dining table and elevate the visual appeal of the space.
Wrapping Up!
Building a DIY dining table is a great way to challenge your creative self into creating a practical furniture item. It would also help you save a good amount of money on pre-made products and give you confidence in your creativity. So take on the challenge and make your DIY dining room table and claim your artsy side!