Kitchen remodeling is something that adds value to your property and also compliments your home décor. Usually, it's the kitchen cabinets that most homeowners plan to remodel at first. Now, you can convert your kitchen cabinets to avoid extra replacement costs. For example, you can convert your wooden arched display cabinet to an arched glass cabinet. The addition of a cabinet glass door makes it look unique. Here is all you need to know about converting an arched display cabinet to an arched glass cabinet.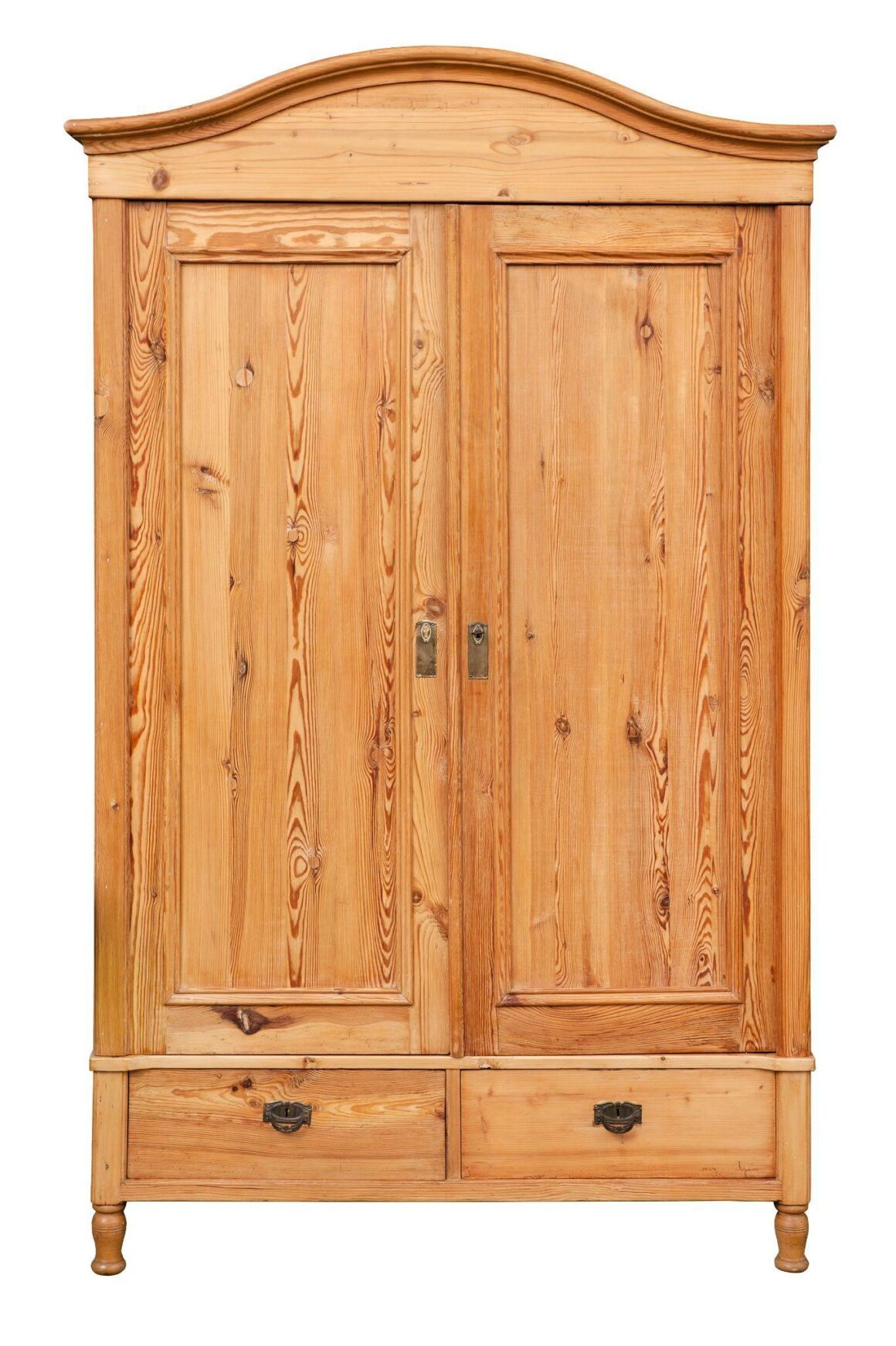 Before You Begin
As it's a DIY method, So, there are some common queries homeowners generally have in their minds. Below discussed are some of those queries to help you get started with ease.
Can A Wood Cabinet Be Converted Into An Arched Glass Cabinet?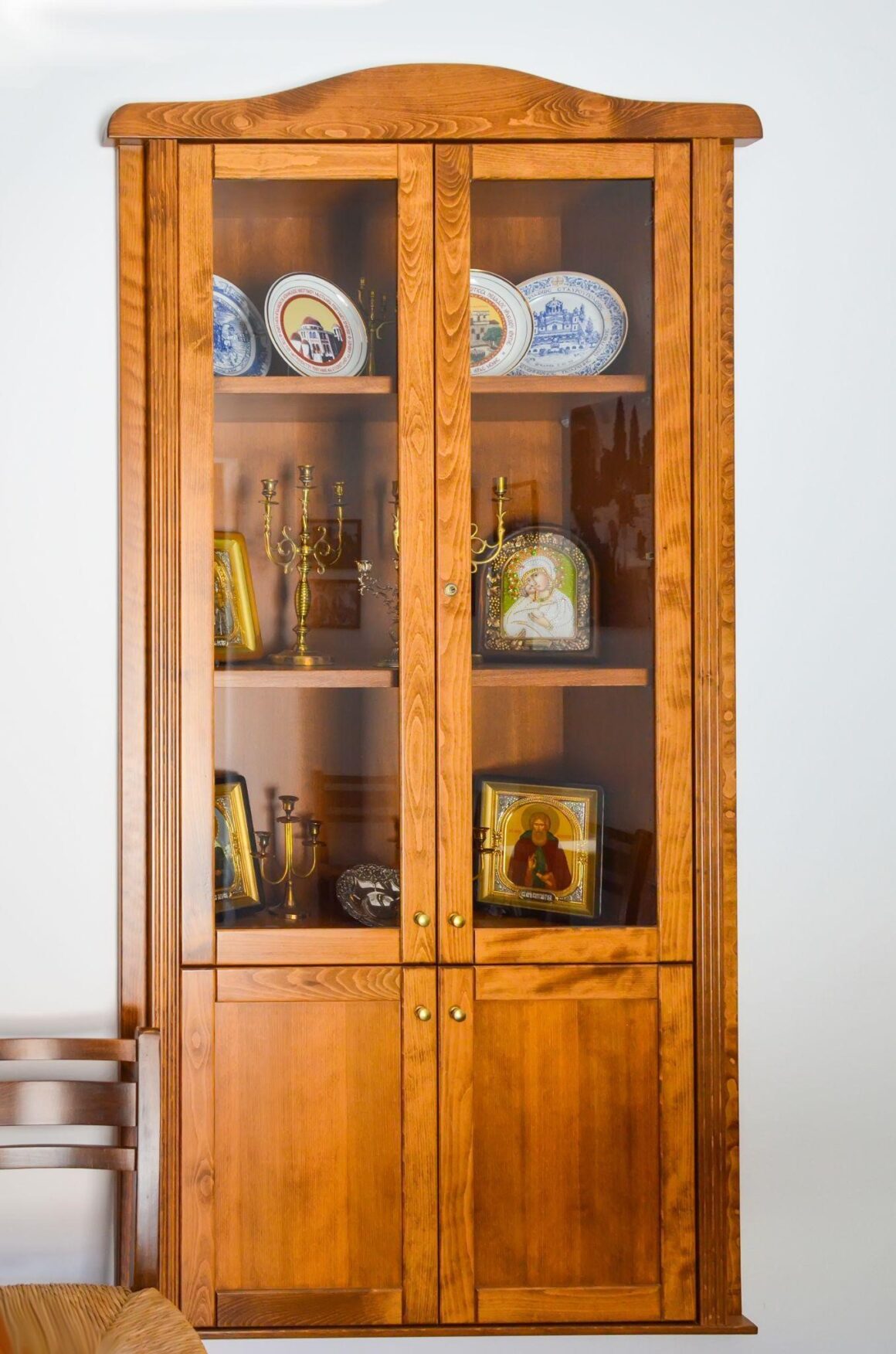 One can easily convert a wood cabinet into an arched glass cabinet. You save some extra cost as the whole conversion process is cheaper than opting for new glass cabinets. Further, arched glass cabinets give a stand-out look to your kitchen.
Are Arched Cabinet Doors Outdated?
For some, it's outdated, and some homeowners find it appealing and practical as well. Therefore, one cannot declare them as an obsolete trend. However, glass arched cabinets are preferred by many homeowners because of their clean look and practicality.
You can showcase your vintage or expensive crockery in a unique way. Also, glass arched windows are easy to clean and add that unique element to your kitchen décor. Still, if you find them dated, you can simply convert standard arched cabinets to glass arched cabinets. This would also help you save some extra costs.
What Glass Type Should Be Used For Arched Cabinet Doors?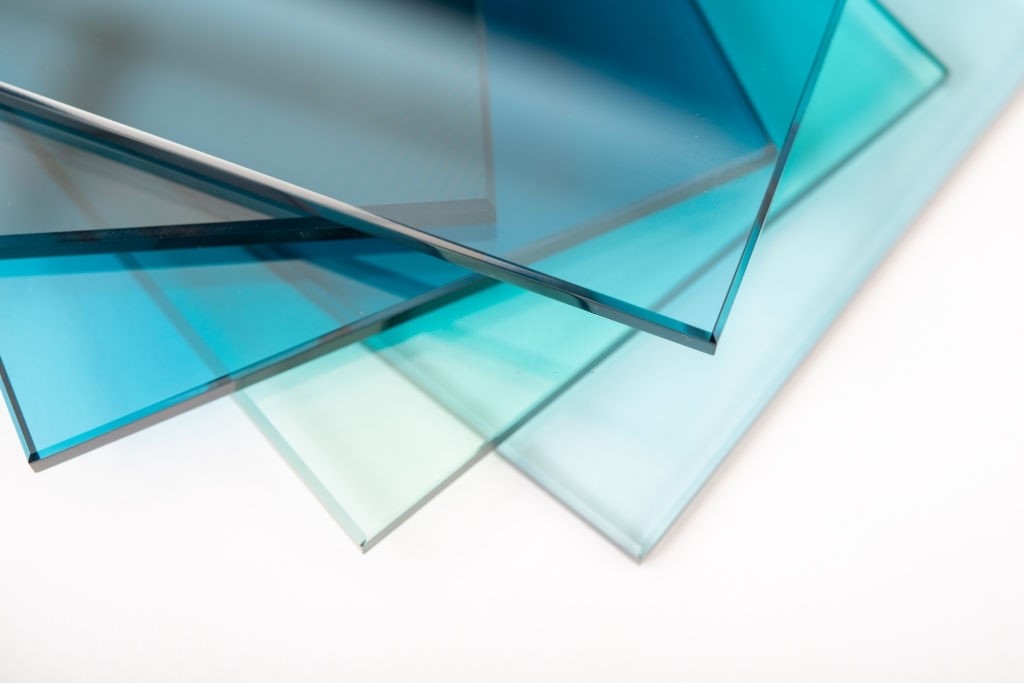 Ideally, you should go with tempered glass with at least 3/16 inches thickness. Tempered glass is scratch-resistant and tough glass. Regarding thickness, 3/16 inches thickness would be enough for some added strength. You can also go with a textured glass of your desired thickness level.
Where to Find the Perfect Glass for an Arched Cabinet Glass Door?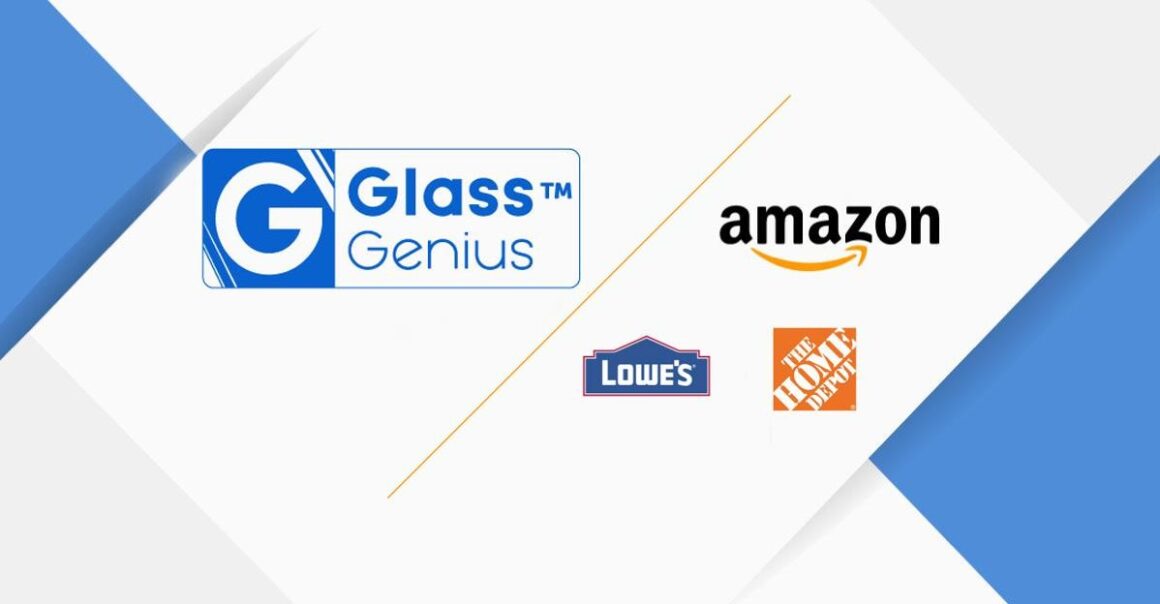 No matter which type of glass you choose, always buy it from a reputable glass seller. For instance, Glass Genius is one trustworthy place for buying any type of glass. They have all types of glass readily available in a variety of shapes and thicknesses. Further, they also offer same-day shipping and have unbeatable prices.
Convert Wood Cabinet into Arched Display Cabinet with GlassDoor (DIY Method)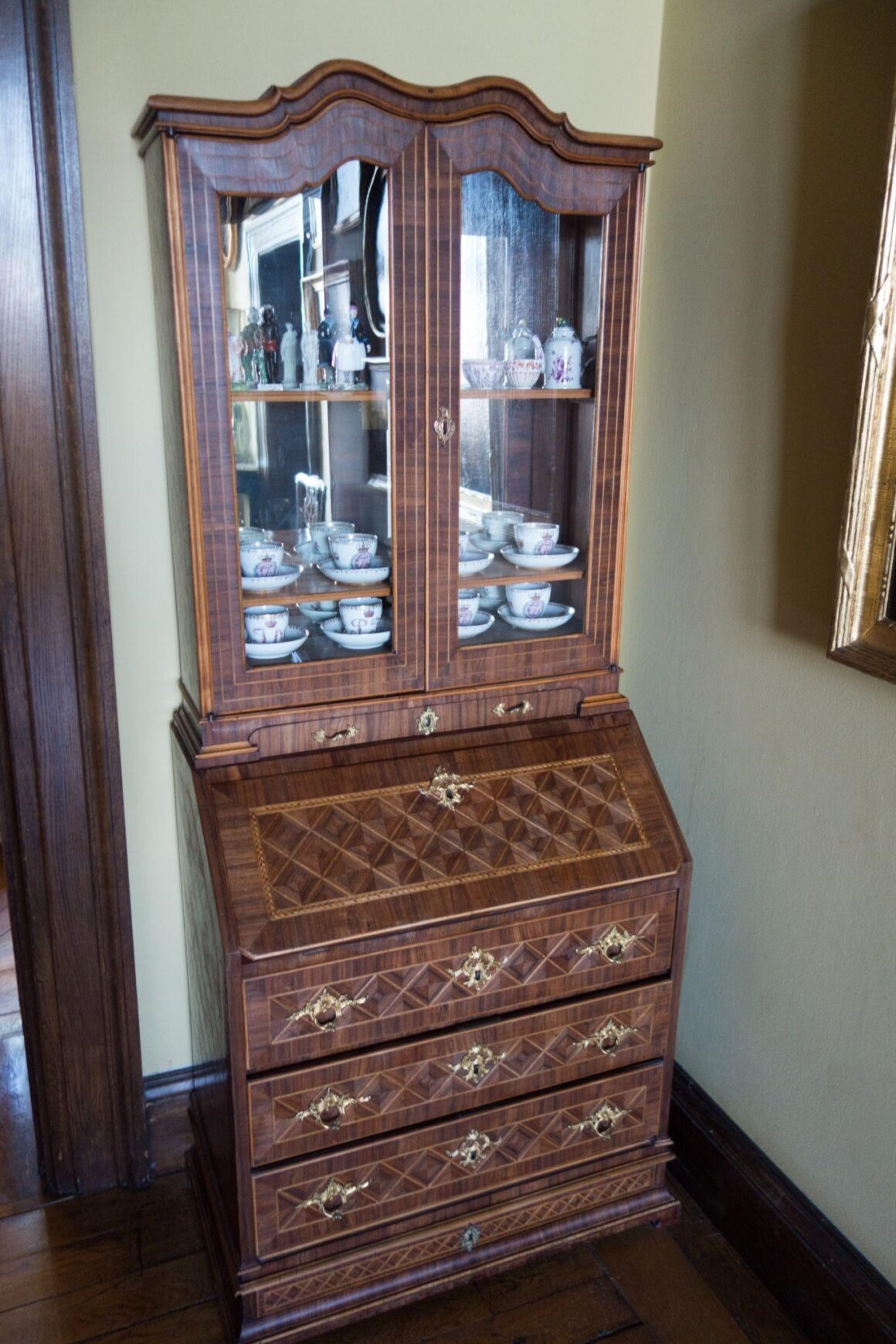 Now let's talk about the actual process. At first, you will need some professional tools to make the whole process convenient. The rest of the steps are mentioned below.
Tools Needed
Any DIY replacement is incomplete if you don't have access to the required tools. That's why you have to make sure that you have the professional tools to get the job done the right way. Here is the list of tools you'll need for this replacement task.
A Screwdriver
Jigsaw
A Drill
Caulk
Clamps
Silicone or Glass Clips
Sandpaper
Tack Cloth
Steps to Convert Wood Cabinet into Arched Display Cabinet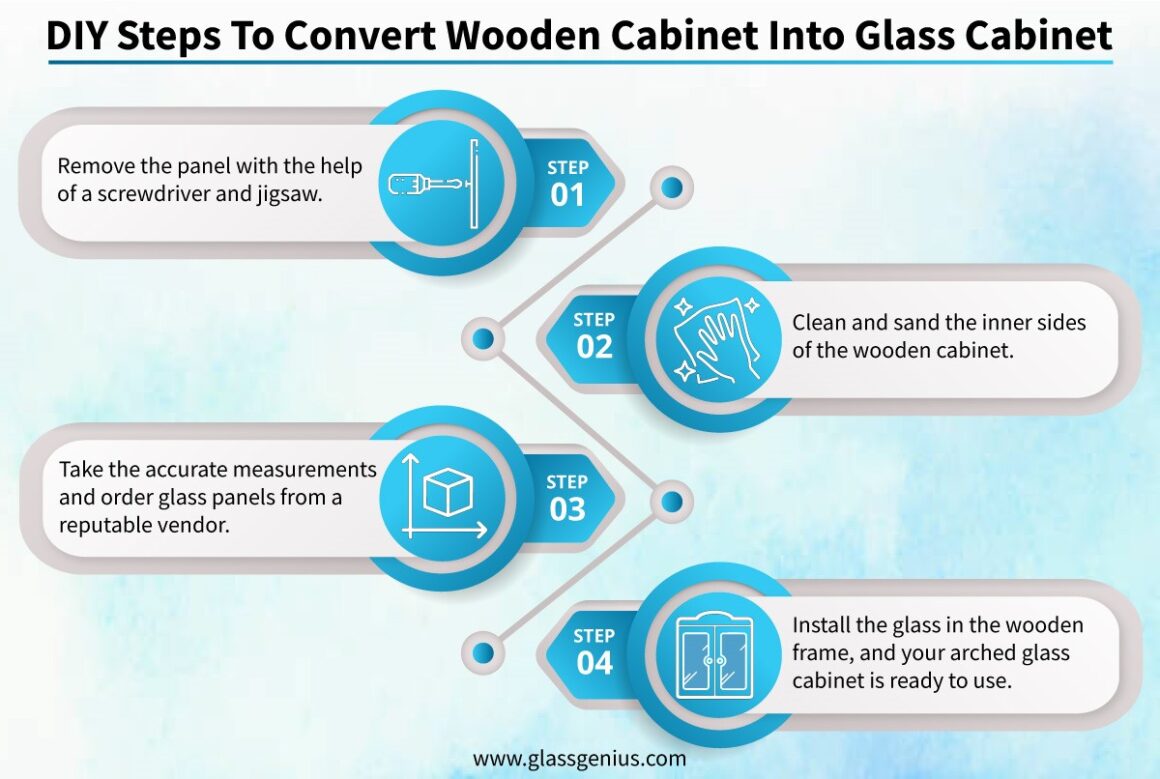 Here are the simple steps for converting wood cabinets into arched display cabinets. Let's get into them.
Step 1: Remove the Panel First
The first step is to remove the wooden panel. Use a screwdriver to unscrew the panel from the cabinet. Now, use a jigsaw to separate the panel from the cabinet frame. Ensure that you cut the panel equally from all ends. After cutting the door panel from all ends, carefully remove it from the frame. While removing the panel, ensure that the front element is facing you.
Step 2: Sanding the Frame
Once the door panel is removed, you have to clean all four inner sides of the kitchen cabinet box. First, use a microfiber cloth to remove dirt and dust. Watch out for any left residue. Now, take light sandpaper and sand the inner sides of the wooden cabinet frame.
Step 3: Time for Some Measurements
After sanding the cabinet box, you have to carefully measure it from all four ends. You may take measurements multiple times to ensure that it's accurate. Once done with the measurements, simply order your chosen glass door from any reputable glass seller.
Don't forget to order a glass door with smooth polished edges so that it fits well within the cabinet box.
Step 4: Installing the Glass Door
Now, your cabinet frame is ready for glass installation. Applying caulk on the inner sides of the cabinet frame will seal or fill gaps or cracks (if any). Next, install the glass within the frame. Ensure that the arched angle fits well. Let the applied caulk dry for around 30-45 minutes. Use silicone or glass clips to secure the glass.
Final Thoughts!
So, that's how you can convert an arched display cabinet to an arched glass cabinet. You will be amazed by its looks and the value it adds to your home. The arched glass cabinet's clean, simplistic, and unique appearance is worth the time and effort you put in.
All you need is the right tools set, some confidence, and a quality glass panel to finish the job successfully. Just be careful while cutting the glass at an arched angle. Last but not the least, don't forget to buy your desired glass panel from a trustworthy glass marketplace.