The concept of an outdoor living space has evolved a lot over time. Homeowners want to enjoy natural environmental beauty from the comfort of their homes. That's why the trend of screened porches is rising these days. However, it still has some limitations. For example, these porches may not offer the appropriate protection (from pests, etc.). But don't worry; you can convert screened porch to a sunroof without too much of a hassle. A sunroom lets more natural light pass through. It also keeps you and your loved ones safe from pests. This step-by-step guide will help you convert screened porch to sunroom. So, let us explore this guide!
Turning a Screened-In Porch into a Sunroom? Is It Possible?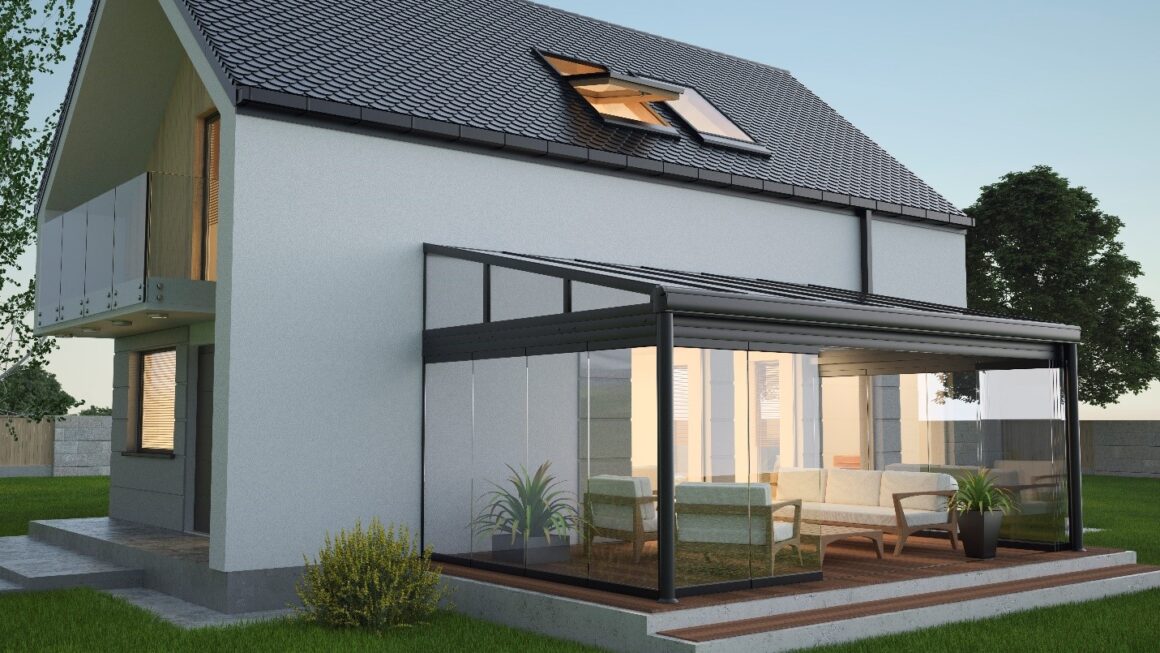 A screened porch may not be an ideal place to host get-togethers or spend some quality time with your family. Therefore, enclosing a screened porch with glass makes a lot of sense here.
You can easily convert a screened-in porch into a sunroom. All you need is a bit of house chores experience, a few tools, and durable custom cut glass panels (more on this later).
Benefits of Converting Screened Porch to Sunroom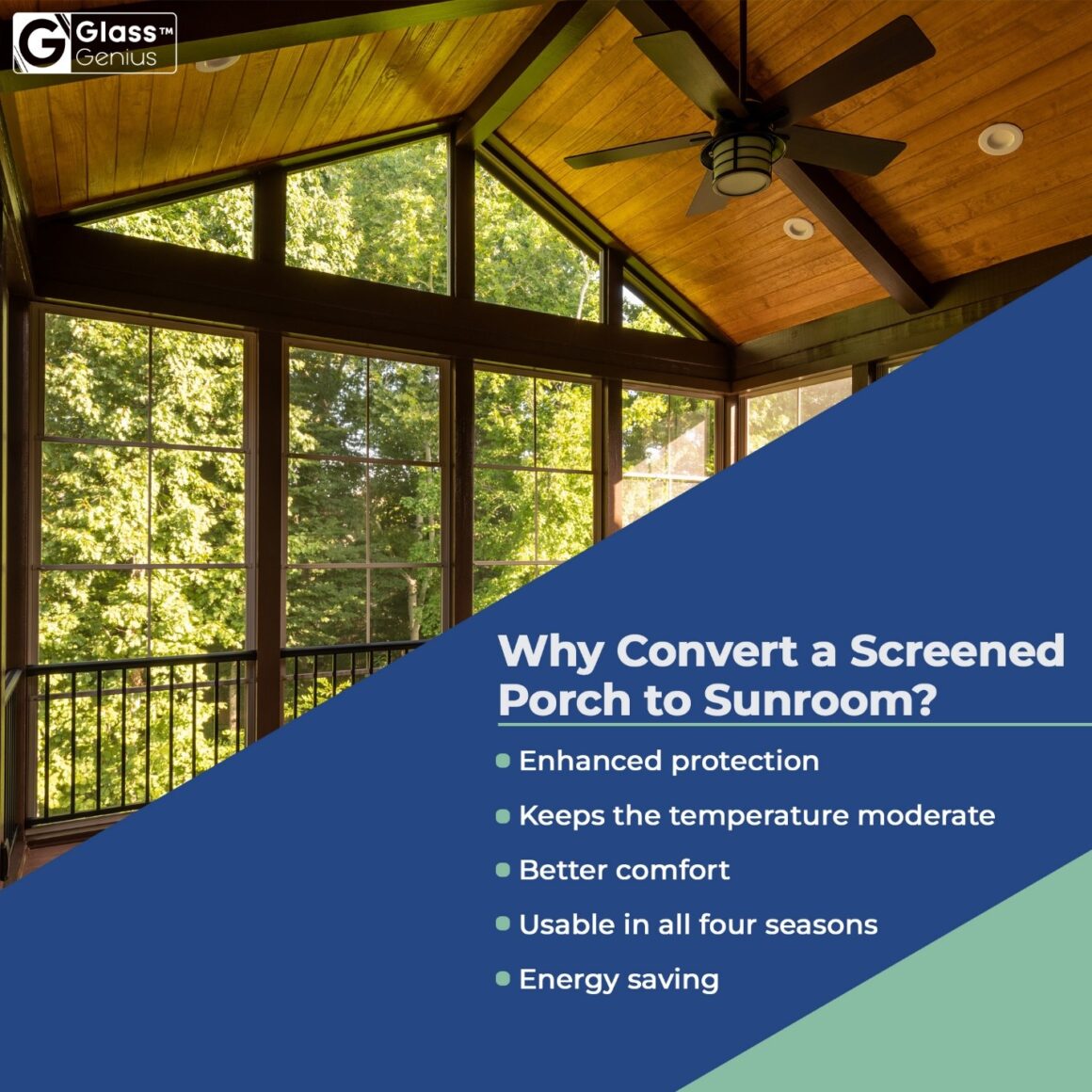 Before we explore the actual steps, let us highlight some benefits of converting screened porch to a sunroom. Here are a few of them!
1: Enhanced Protection
Durable glass panels usually enclose a sunroom. Therefore, it protects you and your loved ones from environmental factors like dust particles, rainwater, moisture, and even pests.
Moreover, a sunroom also keeps your furniture items protected from rain and dust. So, unlike screened porches, there aren't too many compromises here.
2: Precise Temperature Control
One of the main downsides of screened porches is that you can't control the temperature. Since it's an outdoor living space, the temperature depends on the weather.
In the case of sunrooms, the scenario is the opposite. You can opt for an insulated glass unit to keep the temperature nice and comfortable. This way, you can utilize your sunroom all year long.
3: Better Comfort
With controlled temperature, no noise and dust pollution, and maximum sunlight light exposure, the sunrooms are clearly a comfortable place to sit back and relax.
Therefore, you can host as many get-togethers as you want. Invite your friends, family members, and colleagues to spend quality time outdoors.
4: An All-Season Outdoor Sitting Space
Converting the screened porch to a sunroom definitely has a cost to it. But the benefits are worth every penny. For example, you can utilize this outdoor living space in all four seasons. So, it is considered an all-season outdoor space.
5: Energy Saving
As mentioned earlier, opting for an insulated glass unit helps eliminate noise pollution. These glass panels also aid in controlling the inside temperature. Further, these glass panels let maximum light pass through.
Therefore, you can also save some energy bills as these sunrooms require minimal artificial lighting.
Converting the Screened Porch into a Sunroom? Step-By-Step Process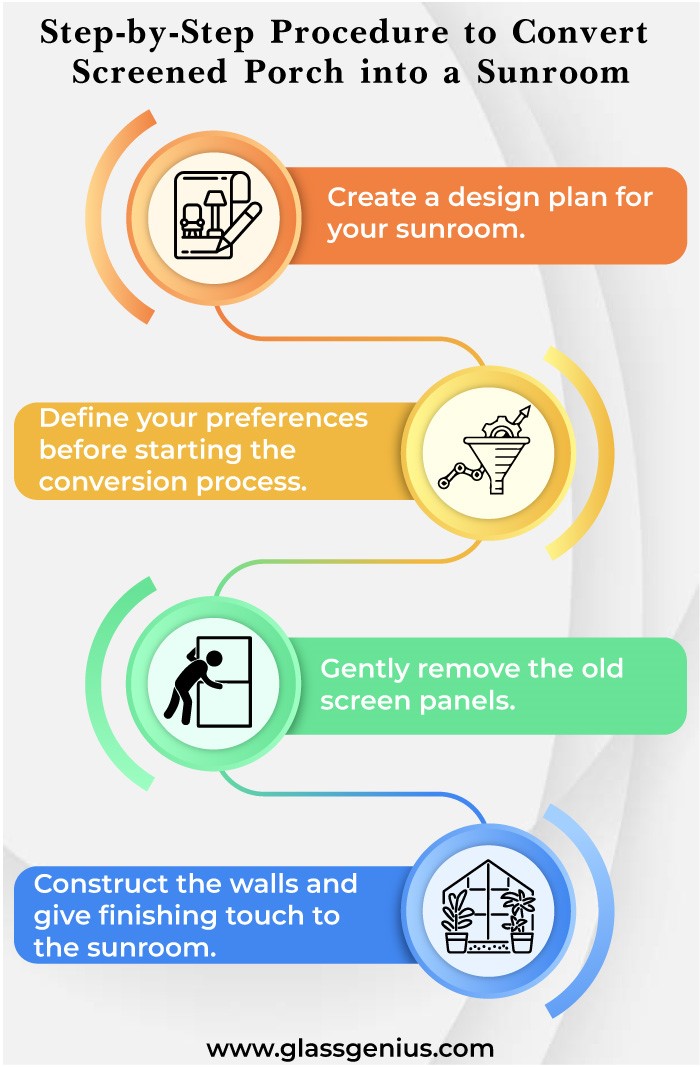 Now, let us dive into the actual step-by-step guide on enclosing a screened porch with glass. So, here are the simple steps to follow:
Step 1: The Designing Part
First, you have to create a design plan for your sunroom. You can create one yourself or may take assistance from a professional architect. He will guide you on whether or not your porch requires additional structural support to hold the sunroom's structure. So, these aspects are also important to consider.
Step 2: Choose Your Preferences
There are some variations too when it comes to enclosing a screened porch with glass. For example, you can convert the porch into a sunroom with screens. Similarly, you can also choose a simple sunroom design (without screens). The difference here lies in the design of the window. Note that such preferences will also affect the overall installation cost. So, it is essential to define such preference before the conversion begins.
Step 3: Remove the Old Panels
Next up, you have to remove the old screen panels. Take out the wood stops that hold these screen panels. Don't use any unnecessary force while removing the screens, be gentle.
In some cases, the porch's pillar may not be strong enough to bear the extra weight. You may have to construct new ones. So, it is better to consult an expert designer to ensure everything goes smoothly.
Step 4: Construction of Walls and Flooring
Once you have chosen the sunroom's design and window preferences, it's time to construct the walls and floors. The process of constructing the walls is pretty much the same as constructing any exterior wall.
Once the walls are constructed, you must finish the electrical wiring setup. Again, you may have to take help from a professional electrician. Moreover, don't forget the finishing aspect here. Once the walls are set, you can paint them with any color of your choice.
Regarding the sunroom's flooring, you don't necessarily have to opt for a fancy design. Standard flooring would be more than enough. However, in case you have the budget, you may opt for expensive flooring options.
Suitable Glass Types for Sunroom
1: Single pane glass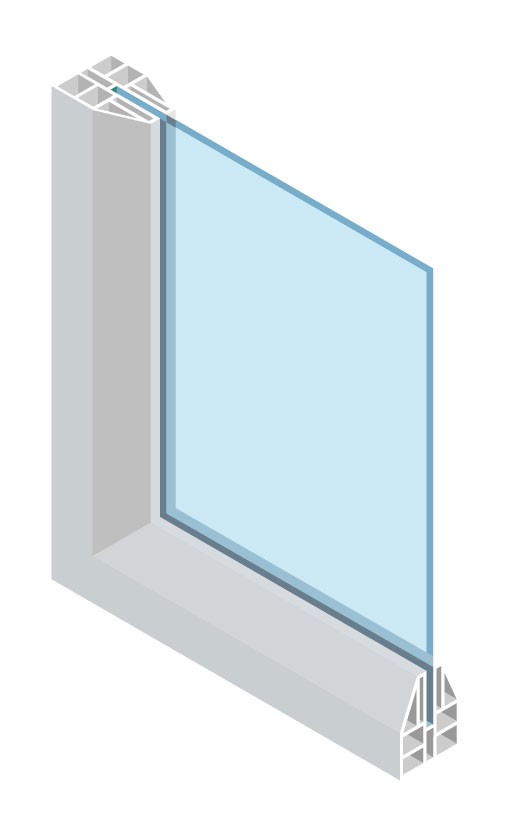 Single-pane glass panels are a perfect option for homeowners with a tight budget. As the name says, they basically contain a single pane of glass. That's why they are quite inexpensive.
2: Double pane glass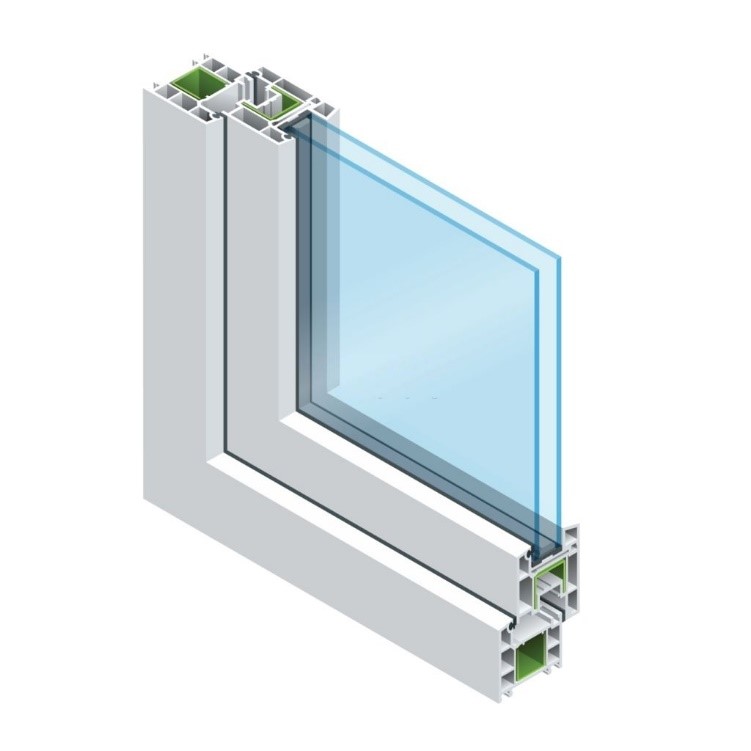 Double pane glass panels are also known as insulated glass units. These glass units have dual layers of glass.
Therefore, they are quite durable and lower noise pollution's effect. Similarly, double-pane glass also insulates the space where they are installed because of its multiple layers.
Related: Single Pane vs Double Pane Windows
3: Triple Pane Glass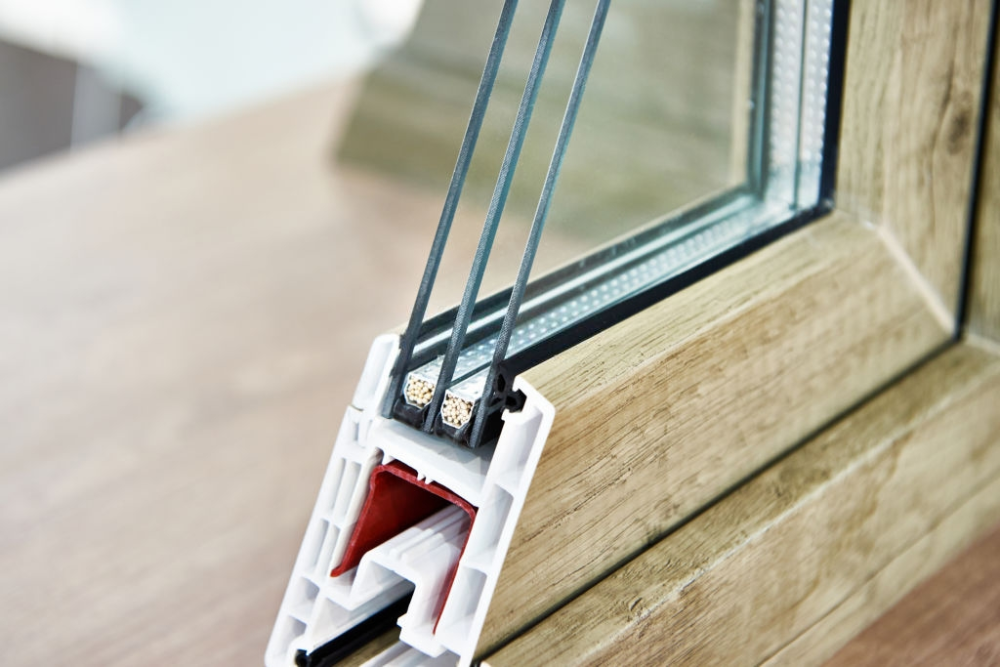 Triple-pane glass panels are expensive because they contain triple layers of glass. However, triple-pane glass panels are ideal for you if you want optimum safety, protection, and insulation.
4: Tempered glass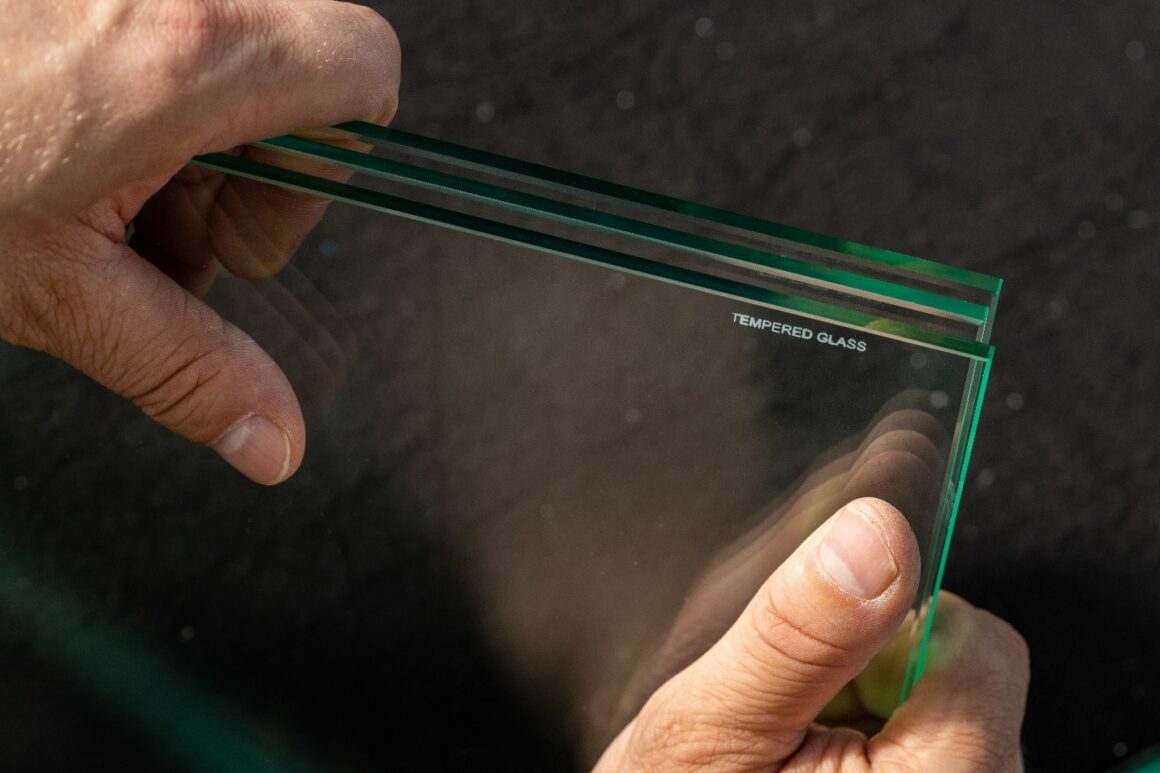 Tempered glass is an ideal safety standard glass. It is also known as toughened glass for its excellent durability. For enhanced safety, tempered glass is probably the best option.
Final Thoughts!
That's how you can convert screened porch to a sunroom. The overall conversion process isn't that complicated. The primary aspect is choosing the right materials. Also, go with a defined plan. As we mentioned, you may get help from a professional if things get complex for you. We recommend opting for a quality glass type like tempered or insulated glass. Also, prefer to buy your chosen glass panel from a trustworthy glass vendor.