If you are a travel enthusiast and want to explore the world without the restrictions of staying at hotels and lodges, then mobile home trailers are a great choice for you. They give you the freedom to roam around while also offering the perfect accommodation for you. Just as in the case of homes, windows play an important part in the temperature regulation inside a mobile home. So along with other things, you should pay special attention to the mobile home windows before purchasing it. The climate of the area where you intend on traveling should be taken into account. Similarly, there are several other factors that contribute to making the right decision. Mobile home window replacement is a matter that often emerges as a critical concern while buying mobile home trailers. Luckily it is very much possible to carry out a mobile home window repair. This blog will cover how to replace mobile home window glass and some other important facts about mobile home window replacement.
How are Mobile Home Windows different from Regular Windows?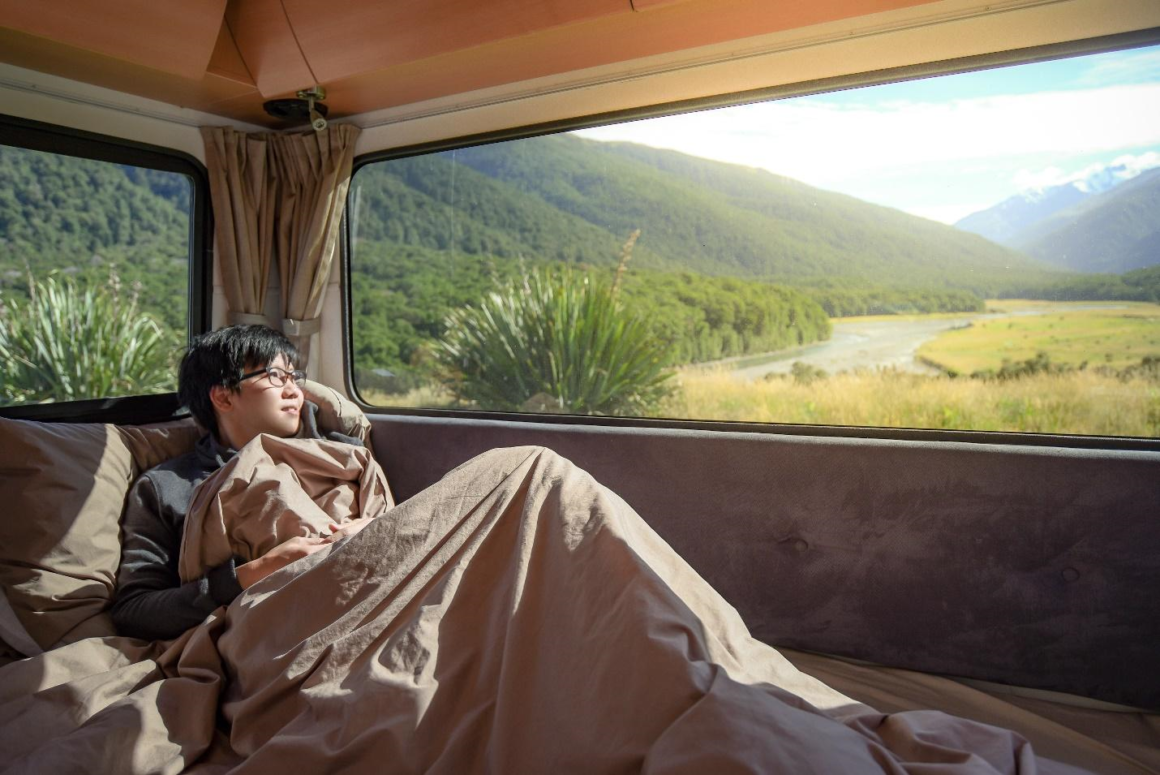 In addition to the appearance, there are a number of differences between mobile and regular home windows. Let's explore some major differences.
▶ Window Sizes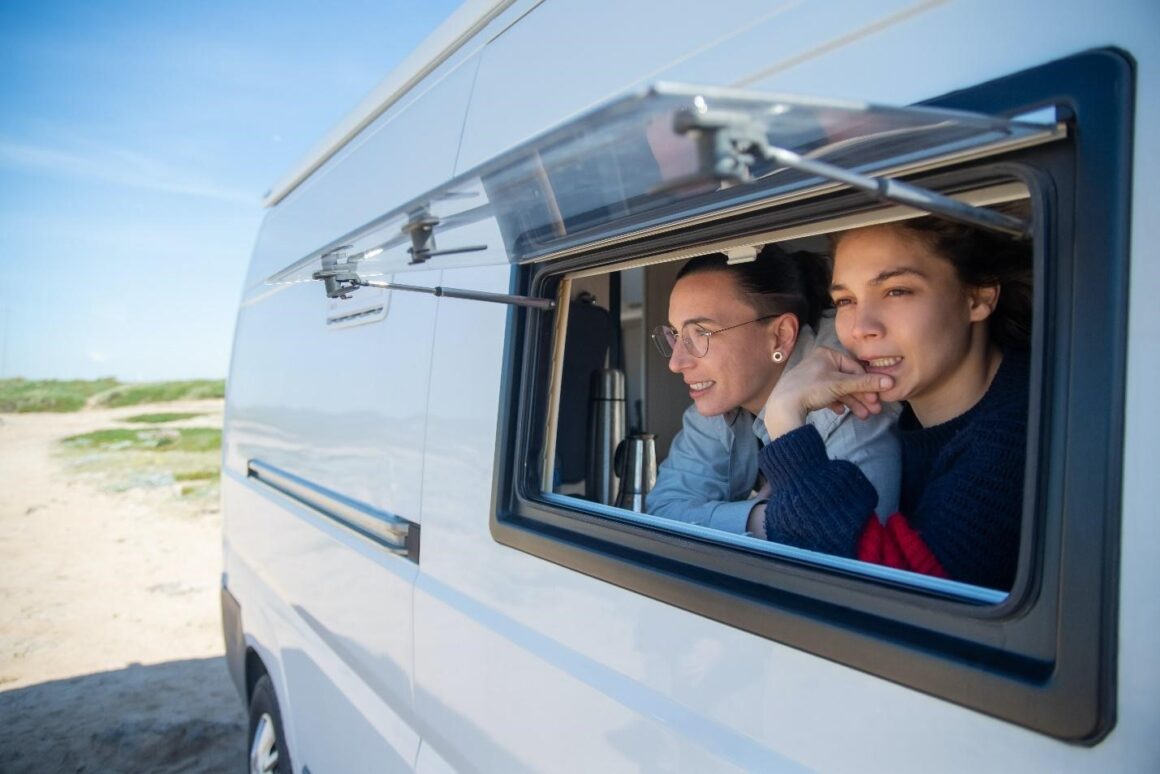 There is a huge difference between the standard window sizes for a home and a mobile home. The standard home windows are bigger than mobile home windows. Moreover, it is quite easy to find windows for homes as they are easily available in the market. On the contrary, you need accurate measurements to get mobile home windows manufactured on order.
▶ Window Type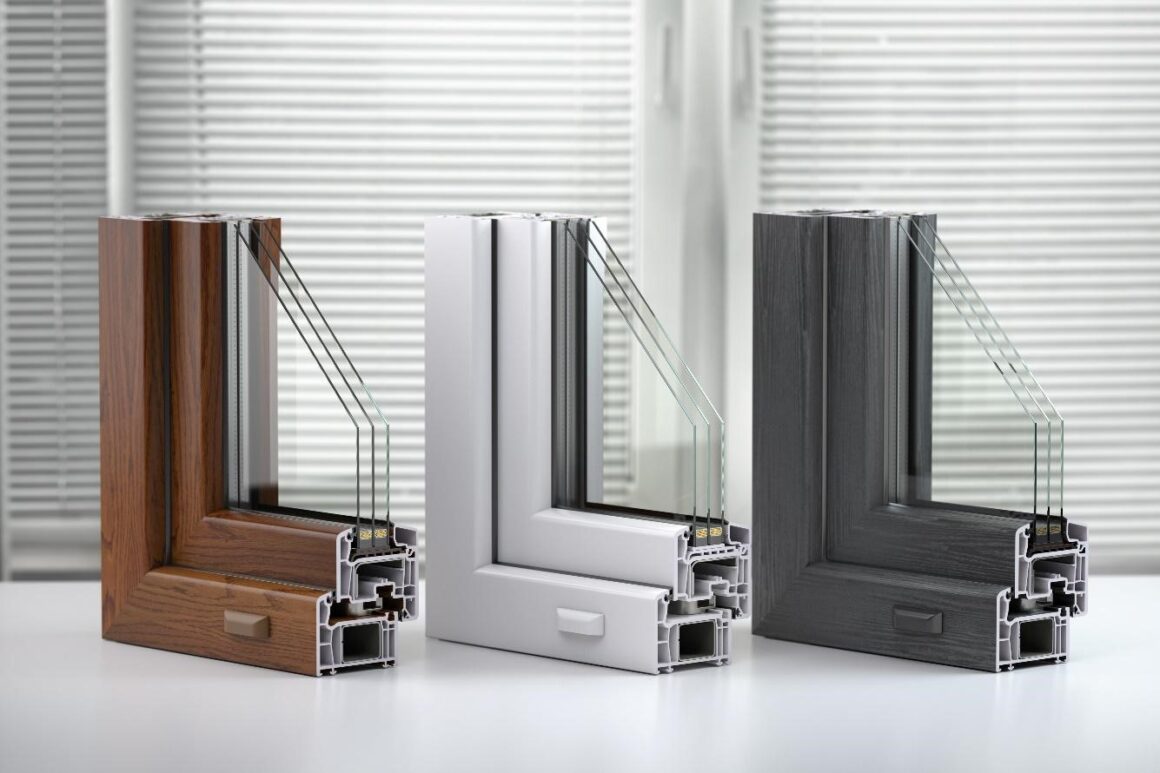 Single or double-pane glass windows are usually employed in residential homes. While mobile home windows typically feature windows with two or three panes of glass. This is done to achieve suitable energy efficiency in mobile homes.
▶ Strength and Durability
Mobile home windows are typically more robust and strong than conventional home windows. Thicker glass is used in the manufacture of mobile home windows so they are less likely to break. The weather conditions of the particular living area are also considered while designing mobile home windows to ensure better durability and value.  
▶ Energy-Efficiency
Mobile windows are designed to be more energy-efficient as compared to ordinary windows. This approach makes mobile homes suitable for use in areas with harsh weather conditions.
▶ Installation Complexity
The window installation process for mobile homes is somewhat more complicated than the standard home windows. This is due to the fact that window glass used in mobile homes is heavier and thicker. However, with some professional assistance and suitable expertise, you can also execute a mobile home window repair.
Glass Types Used For Mobile Home Window Replacement
The mobile home windows are designed with special considerations in mind. However, you still have the freedom to choose your preferred glass type for mobile windows. Here are the two most popular glass types among the many available options.
▶ Tempered Glass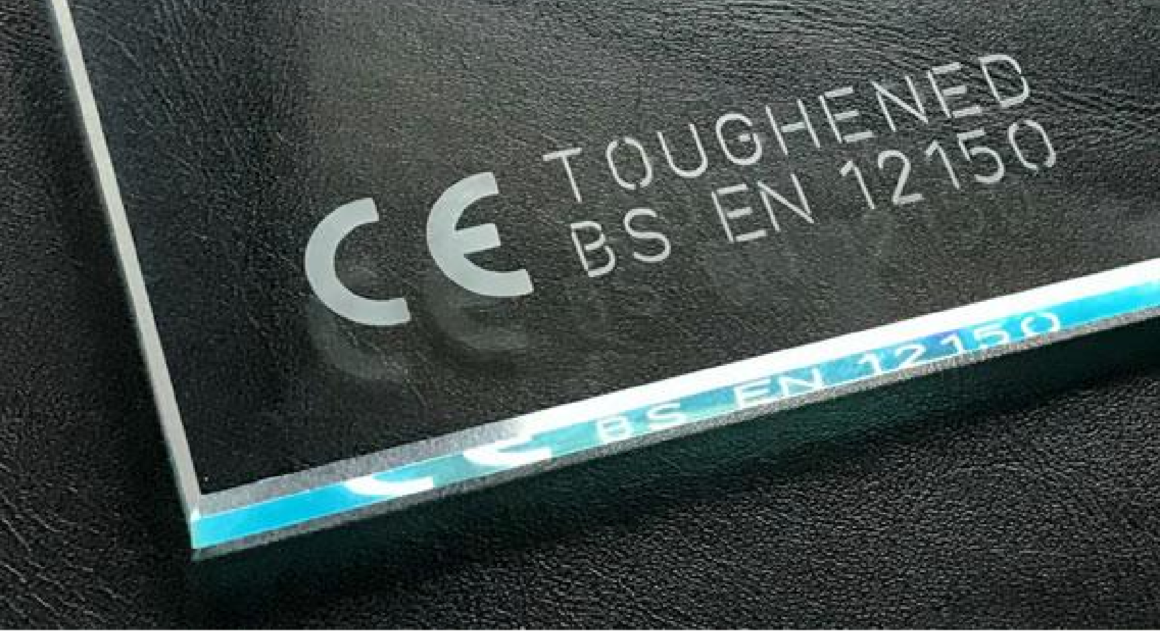 Tempered or toughened glass is heat-strengthened to ensure optimum strength and safety value. Usually, two or three panes of tempered glass are fused together to design the thick mobile window glass. Tempered glass windows are effective against hard impacts and weather changes. It is easily available. Moreover, you can easily get custom tempered glass for mobile home window replacement in case of any damage so it is a suitable option to consider
▶ Laminated Glass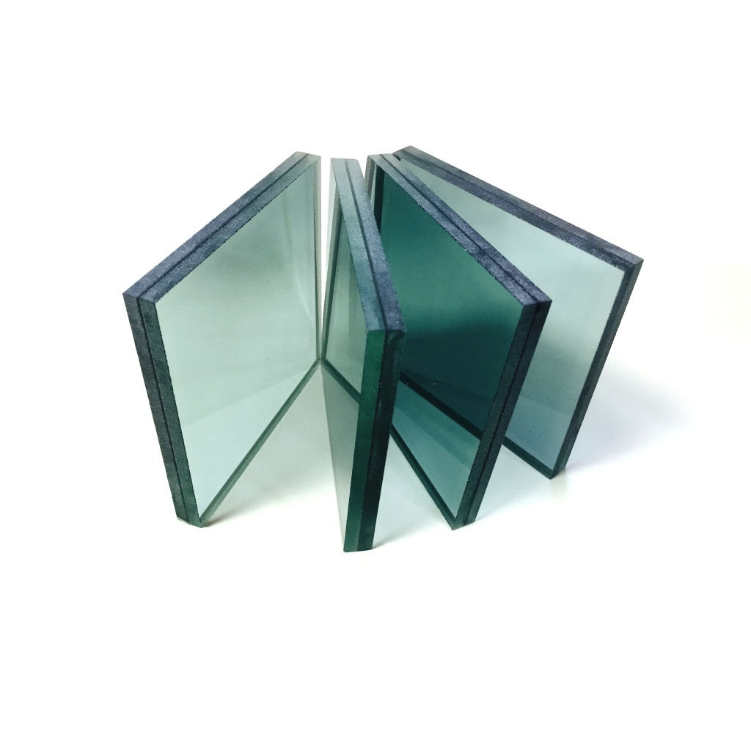 With a multi-layer structure, laminated glass offers significant resilience against weather changes. It offers thermal insulation as well as exceptionally high strength value due to the interlayer of adhesive resin. These properties make laminated glass an effective glass option for mobile windows.
How to Replace Glass for Mobile Homes?
In case you spot a crack, signs of condensation, or damage on your mobile home window, go for a repair instantly. You can either change the entire window or opt for window glass replacement. It is better and more economical to replace the window glass than to get the entire window replaced. Here is a step-by-step guide on how to replace mobile home window glass.
What you will need?
Before you start, make sure that you have the following tools and things with you. 
Screws and screwdriver
Measuring tape
Putty tape
Putty knife
Paint scraper
Chisel
Wire brush
Level
Silicone sealant
Drill with drill bits
Procedure: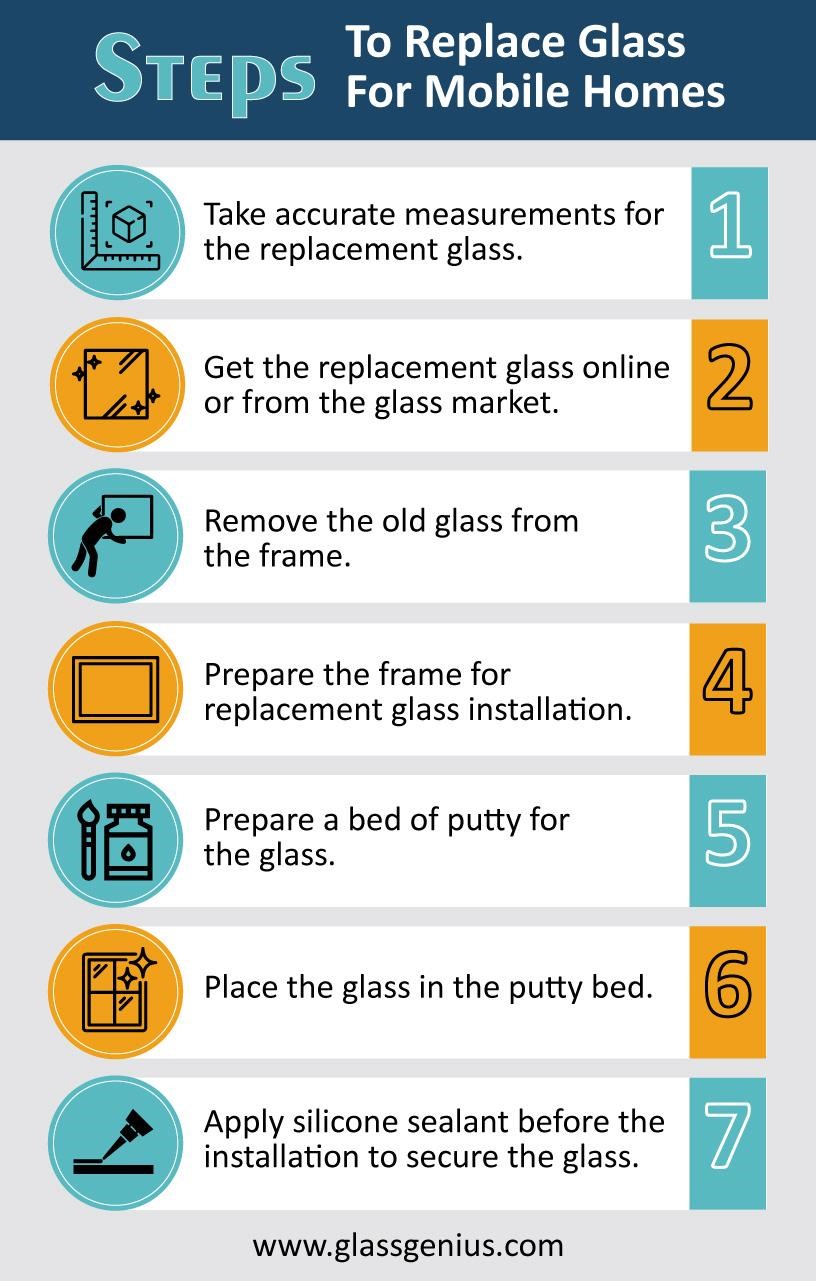 Follow the instructions to successfully carry out the mobile home window repair.
First, take the measurements to get the right replacement window glass. It is quite simple, just take a tape measure and measure the width and height of the window glass. Take the measurements from three different places to ensure accuracy.
With these measurements in hand, place the order for custom cut window glass or get a pre-cut glass panel for replacement.
It is typically easier to replace the glass after removing the entire window. However, you can also replace the glass while it's still in the frame. If the glass is broken, wiggle and take out the glass shards. Make sure to wear safety gear. If the glass is intact, take a heat gun and melt the putty and points. Now using a scraper or chisel, remove the glass from the frame.
Make sure that you get rid of any remaining glass, putty, or metal glazing in the window frame. Use a heat gun to soften the putty or glazing. This will ease the new window glass installation by keeping the installation grooves smooth.
Now prepare the frame. Use the wire brush to clean the frame. Then vacuum or wipe it clean with a rag.
After preparing the frame, create a narrow bed of putty for the glass to rest in the window frame. To smooth the putty, press hard along the line with the knife. Set the putty in the frame in a way that is not visible. Gently wipe any putty ridges with the finger.
Take a utility knife and remove the vinyl stop. Get a replacement glass that fits and align it properly in the frame. Gently press the glass panel in the putty bed.
Apply silicone sealant to the frame just before installing the glass. Set the window glass in the frame, push the vinyl stop back into the frame, and secure the glass in its place.
Final Words
Once you notice any damage or crack in the windows, glass replacement becomes utterly important to avoid any further damage. You can also opt for window glass replacement to improve air circulation, enhance ventilation, increase curb appeal, or lessen the noise. Window glass replacement is also a great way of elevating the value of the mobile home if you intend on selling it soon. In any instance, you won't regret replacing your window glass so go for it before it's too late!