Planning to install a glass shower door but not sure about its ideal thickness? Well, don't worry. It's not that complicated to choose the right shower door glass thickness. Glass shower enclosures are a practical addition to any bathroom.
They also enhance your bathroom's beauty on top of their functionality. However, it is also essential to go with the right glass thickness. This blog shares all you need to know about choosing the ideal glass shower door thickness. Let us get into it!
How Important Is Choosing The Right Thickness Of A Glass Shower Door?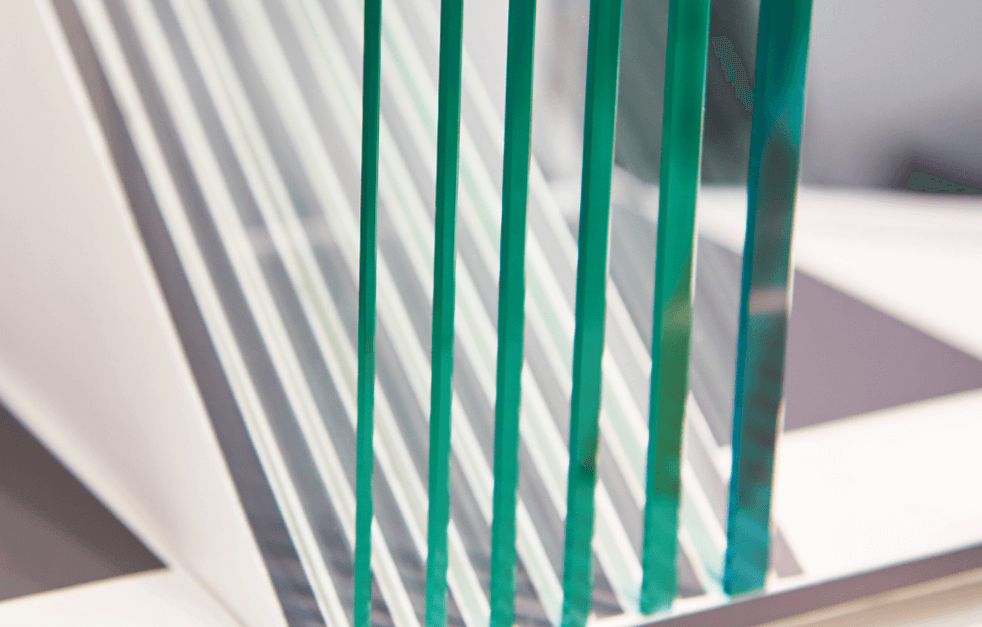 Choosing an appropriate glass shower door thickness is quite important. That's because the overall life span and factors such as durability also depend on the quality and thickness level of the glass door. So, it is recommended not to compromise on the shower door's quality and thickness level. Here are some points that explain why the right thickness level for the shower glass door is important.
1: The Glass Thickness Should Match the Chosen Enclosure Type 
There are a ton of glass shower doors available out there. Therefore, your chosen shower enclosure type also plays an important role in determining the right thickness level. Usually, standard shower enclosures don't really require a very thick glass shower door. However, modern enclosure types like frameless shower doors may require slightly thicker glass.
2: A Thick Glass Adds To the Strength of the Shower Enclosure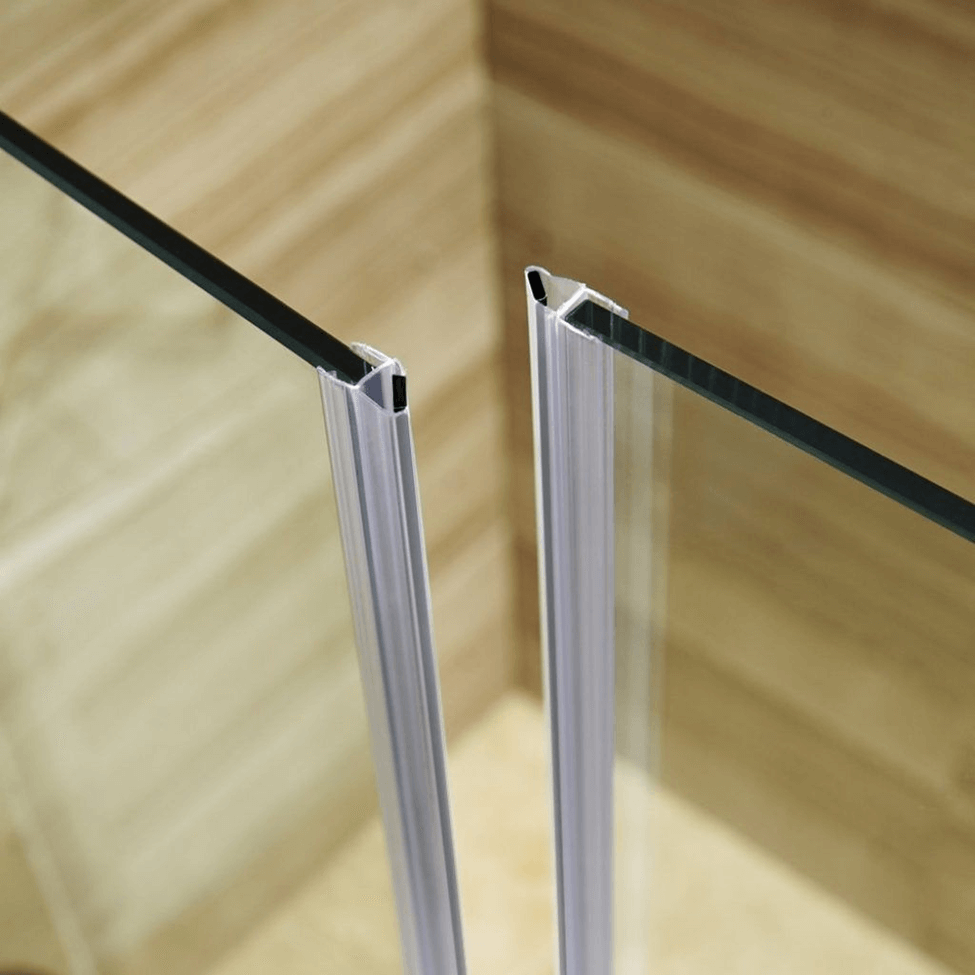 Usually, a glass shower enclosure lasts for a fairly long time. However, to ensure its good life span, you should choose a thick glass.
Further, the type and quality of glass also play an important role in determining the overall durability of any shower enclosure. That's why the importance of an ideal glass thickness can't be overlooked.
Which Type Of Glass is Best For Shower Doors?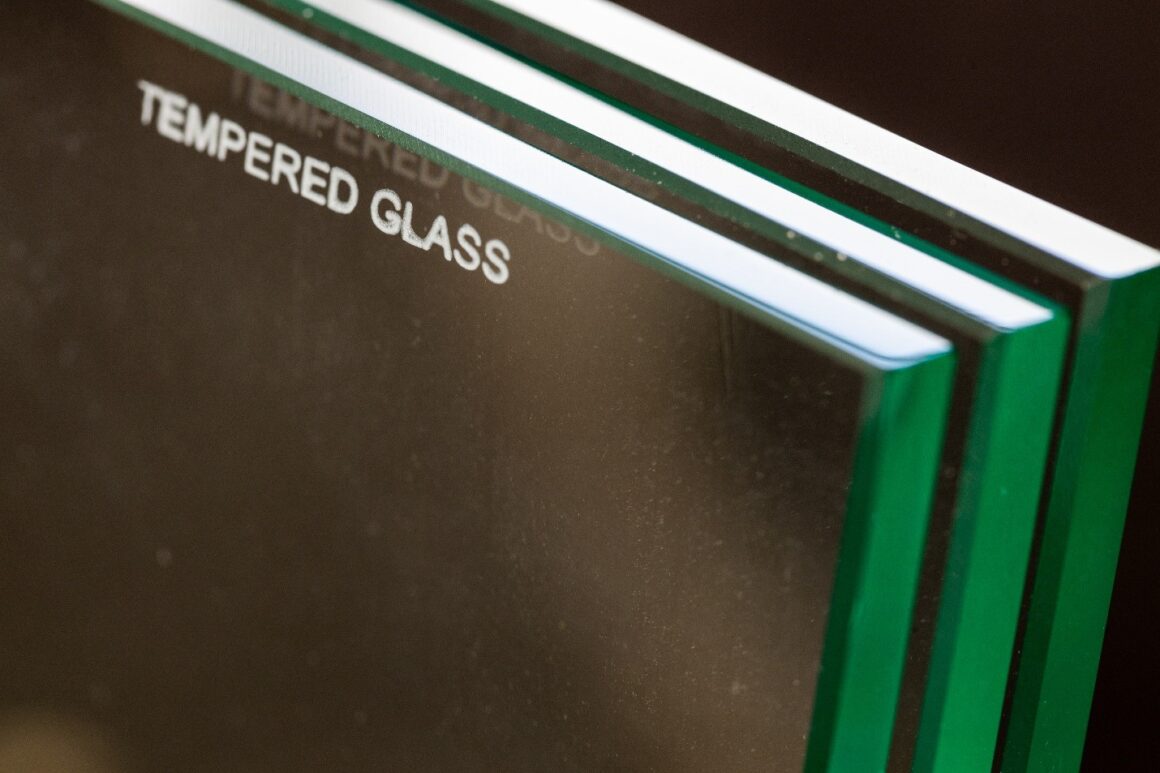 Homeowners can choose nearly any type of glass for their shower door. But for maximum strength, you should go with quality safety glass. 
For example, tempered glass is a perfect choice here. Also known as toughened glass, it goes through extensive processing and testing during its manufacturing. 
This makes tempered glass an excellent safety glass. Further, it also doesn't shatter into tiny pieces upon any major impact. Its surface also has a scratch-resistant coating on top. That's why tempered glass is the first choice of various homeowners.
Suitable Glass Thicknesses for Shower Doors?
Now, let's come to the actual point of discussion. Honestly, there isn't any defined thickness level for glass shower enclosures. Factors such as glass enclosure type, quality, and dimensions can vary the thickness level by a great margin.
Anyhow, the majority opt for 3/8″ thick glass and 1/2″ thick glass for their shower enclosure. It is best to go with at least ½ inch thickness for maximum stability and strength. Note that a very thin glass may require additional structural support.
Glass Thickness for Framed and Frameless Shower Doors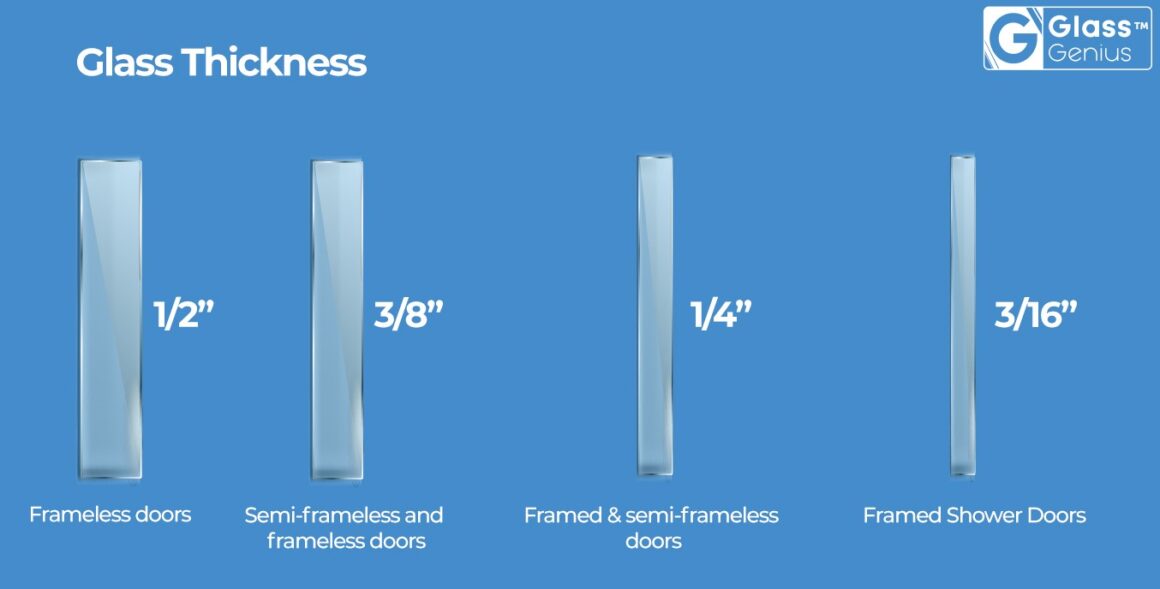 Out of all the glass shower enclosures, the frame and frameless shower doors are the most common ones. Because of their simple yet modern looks, both these shower doors are widely opted for by many. Anyhow, the thickness of both these shower doors varies a lot.
The difference in thickness level is because of the structural support and overall dimensions of both shower enclosures. The majority opt for either 3/16" thickness or 1/4" thickness for framed shower doors.
On the other hand, 3/8 and 1/2 inches thickness is for frameless shower doors. These are minimum thickness levels. Ideally, you should go with a slightly thicker glass for added durability.
Do Frameless Shower Doors Leak?
It's the frameless shower door that offers clean, transparent, modern, and practical looks. Their look and feel are simply astonishing. The absence of any dedicated frame makes them look unique.
Despite all their grace, some complexities can occur. Usually, frameless shower doors don't leak. Ideally, they should be installed with proper care. In case you aren't an expert, you may opt for some help from an expert.
Anyhow, some water may leak if you expose the hinges or sides of frameless shower doors directly to water. However, it isn't anything to really worry about. Leaking frameless shower doors can be easily fixed. 
Wrap Up!
So, that's how you should choose the right shower door glass thickness. As mentioned, there isn't any single thickness level defined. Therefore, we recommend choosing at least 3/8″ thick glass. However, the 1/2″ thickness should be preferred. Note that your chosen shower enclosure styling is also an aspect to consider before opting for any thickness level. Anyhow, it is best to buy glass shower doors from a trustworthy glass marketplace. Glass Genius is your reliable glass vendor. You can buy all types of glass products at the best prices.