Glass shower doors are quite practical. They increase your property's worth and make your bathroom look unique. Moreover, there is so much room for customization. Homeowners can opt for various designs, textures, and finishing options. In short, there is so much to like about glass shower doors. That's why many homeowners want to install sliding shower doors in their bathrooms. A sliding shower door is perfect for compact size bathrooms. Sliding shower door installation isn't that complicated. You can even install it by yourself. This guide covers all about installing a sliding shower door without any professional assistance. So let's get into it!
Why Sliding Shower Doors?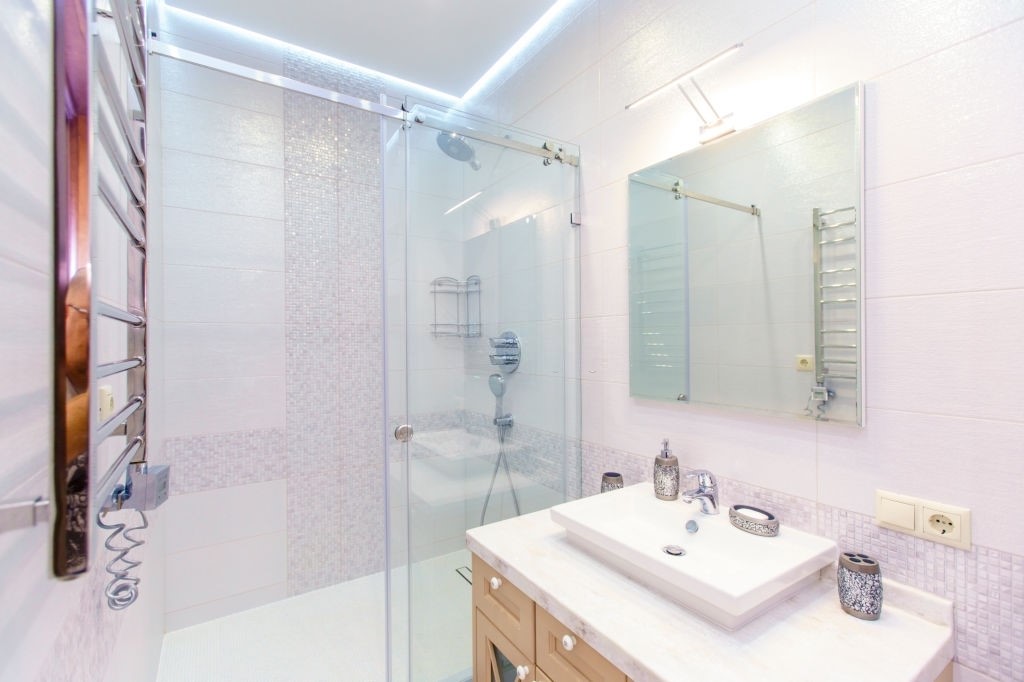 Shower doors themselves are a modern yet practical addition to any bathroom. However, they may require some decent space for perfect installation. Therefore, the majority opt for sliding shower doors because they can be installed in a small space.
You end up saving some space which further creates a roomier look. Also, this shower door type operates by sliding the glass door. Some people also choose this option because of its different opening and closing mechanism.
Can You Install A Shower Door By Yourself?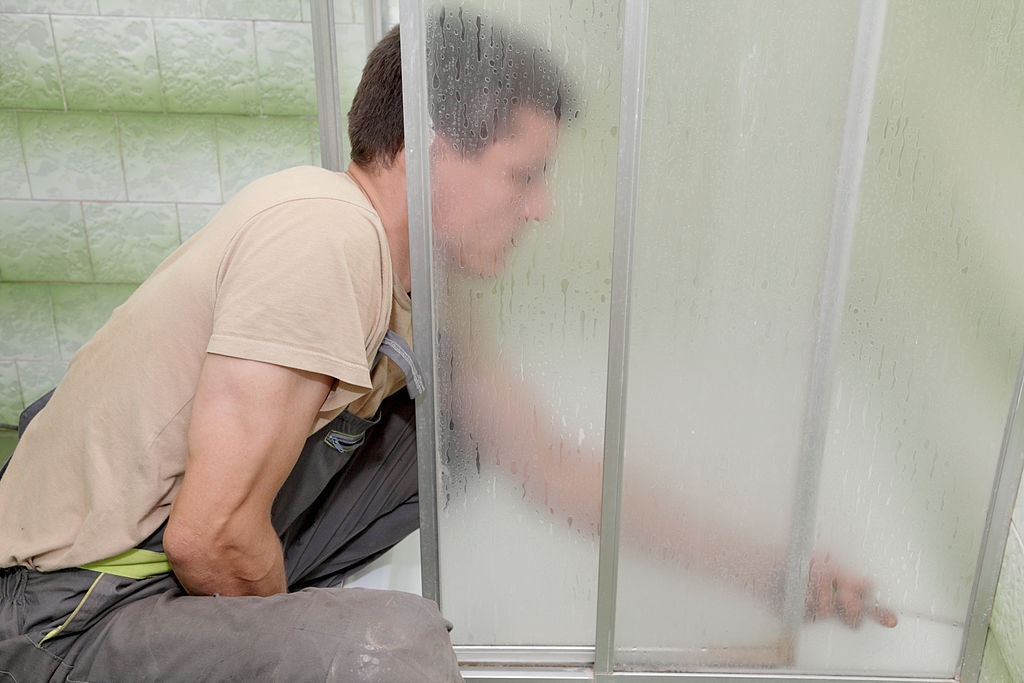 A simple answer is yes; you can install a shower door by yourself. However, the sliding shower door installation process can sometimes get tricky. Anyhow, if you have the right tools and you are used to common house chores, it shouldn't be a tough ask. So, stick to this guide to find out what it takes to install a sliding shower door.
Tools Needed:
Installing the sliding shower door can be tough without the proper set of tools. So, here is the list of tools you'll need for this job.
A Screwdriver
Cordless Drill
Some Extra Quarter Inch Screws
A Hacksaw
Measuring Tape
Metal File
Silicone Caulk
Sliding Shower Door Installation – Step-By-Step Process Explained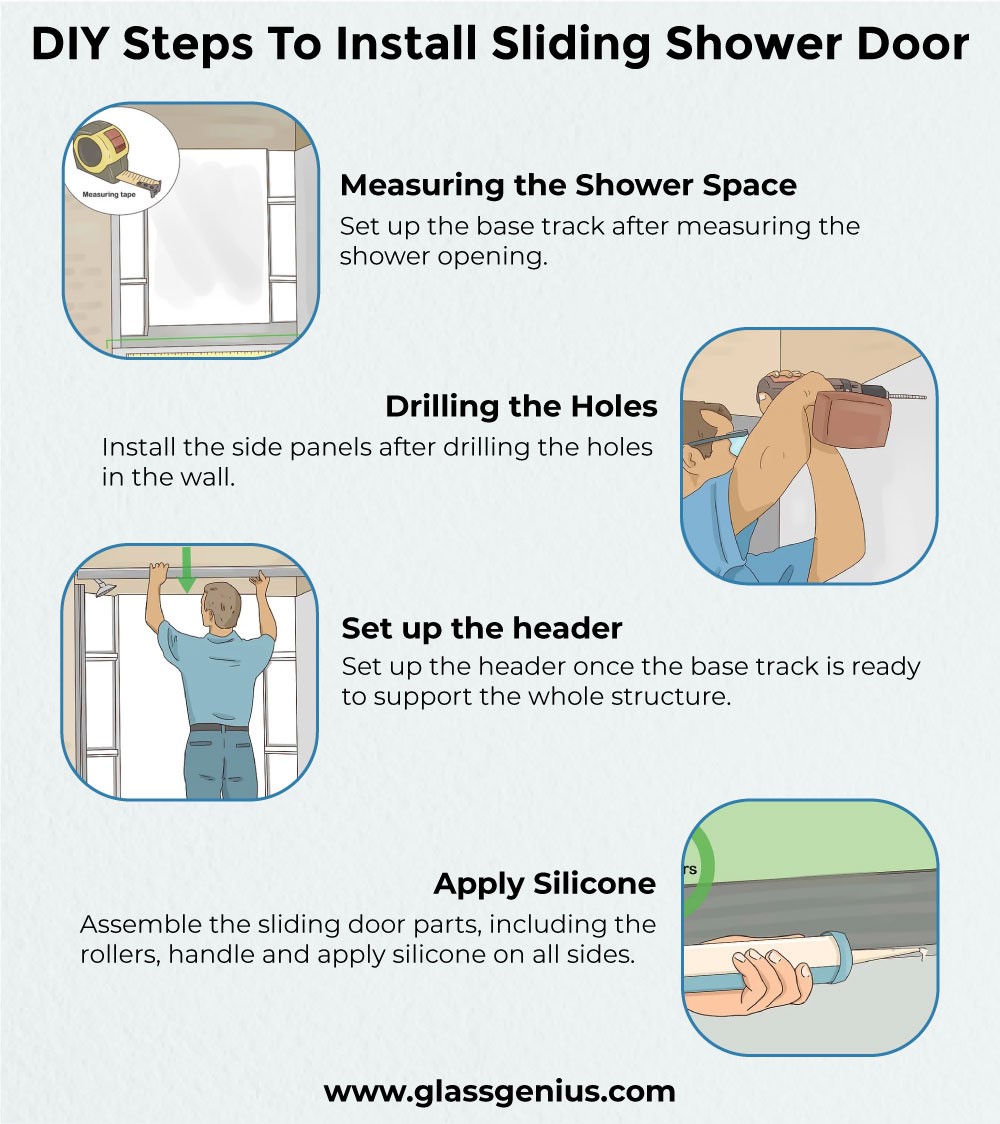 Now, let's jump to the actual sliding shower door installation process. Note that skipping any of these steps may make the whole process confusing. So, try to follow each step carefully for the perfect installation.
Important: Refer to the installation guide that comes with the glass shower door for safety information and specifications.
Step 1: Setting up the Base Track
A sliding shower door has four major components. A base plate, a couple of side panels, and a top plate (aka header). In the first step, you have to set up the base plate. Measure the opening of the shower. You can use a measuring box for accurate measurement. Note down the measurement on a piece of paper. Next, cut the base plate according to the measured size of the shower opening. A hacksaw would be enough for cutting the base plate. Homeowners who have access to a circular saw may also use it. After cutting the base track, you will notice some uneven edges and burrs. Use any metal file to get rid of them. Ensure that both edges are smooth before placing the base track on the ledge. You can use masking tape to hold the base track for the time being.
Important: Don't forget to check for any damage prior to installation. Inspect the glass panels carefully before installing them.
Step 2: Install the Side Panels
Now comes the turn to set up and install the side panels or wall jambs. Every glass shower door manufacturer provides two side panels for installation. Place the first wall jamb next to the wall and tape it. Similarly, place the other wall jamb on the opposite side and tape it. Now, mark the anchor locations of the wall jamb. Remove both side panels. Drill a quarter-inch hole in all marks. Always use an appropriate drill bit to avoid any unnecessary damage to the wall. After drilling the holes, install the side panels. Ensure that they are tightly screwed. Don't over-tighten any screws.
Step 3: Set Up the Header
Before you set up the top plate, aka header:
Ensure that the base plate is all set to support the whole structure.
Mark a straight line alongside the base plate.
Remove the masking tape.
Apply silicone alongside the straight line.
Place the base track back in its place.
Tape it again so that silicon can hold the base tight enough for extra support.
Measure across the top for placing the header. Just like the base plate, cut the top plate according to the measured length. Now place it on the top of the side panels. Use a screwdriver to screw the header.
Step 4: Assembling the Sliding Glass Door
To set up the sliding glass shower door, you have to install the supplied rollers with the help of bundled screws. Then fix the handle of the shower door. Again, tighten a couple of screws for an easy fix. After installing all the necessary hardware, you have to place the shower alongside the top plate. For this step, you can take the assistance of someone to place the shower door with care. Slide it and back forth to ensure that the shower door operates smoothly. Don't forget to apply silicone on all sides of the wall jambs for added support.
Related Article:How to Install Frameless Glass Shower Door Panels
Bottom Line!
So, that's all you need to know regarding sliding shower door installation. Initially, it seems like a tough job. However, if you follow the guidelines properly, you can easily install it without any professional assistance. For premium looks and added strength, it is recommended to order sliding shower door glass from a reliable seller. Glass Genius is an all-in-one place for buying all types of glass shower doors. You also get free shipping on top of unbeatable prices.