The concept of having a dedicated outdoor living space is on the rise. Modern and contemporary homes have such spaces where one can relax or entertain a few guests. When we talk about such spaces, terms like solarium and sunroom come to our minds.
Now, both these outdoor spaces are ideal for all types of homes. However, they have their own benefits and shortcomings. In this blog post, we will talk about solarium vs sunrooms in detail. So, let us get into it.
What is a Solarium?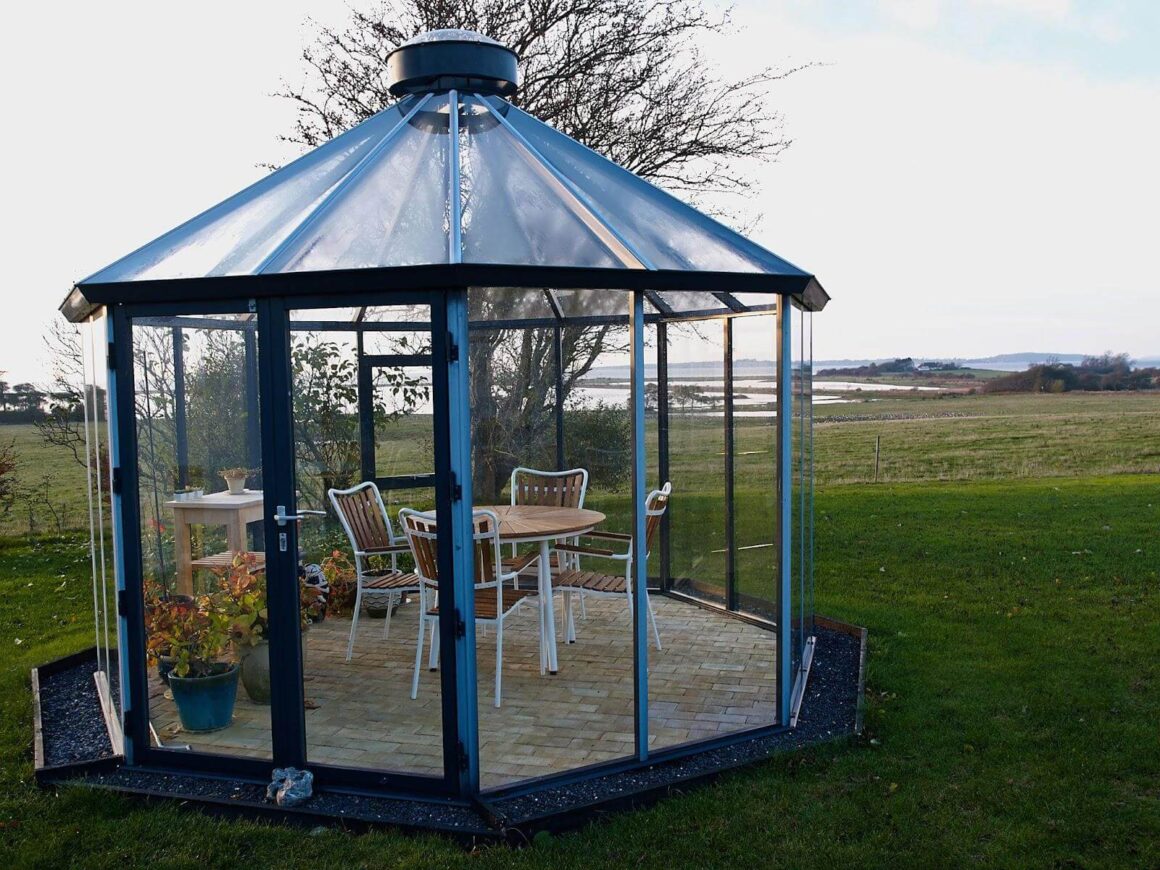 A solarium is basically a whole glass room that is made completely of glass. Even its roof is made of glass. Material like metal or aluminum are used here but only for enhancing the structural rigidity. Rest, it's all glass construction.
Solariums aren't directly attached to a home. Instead, they are built independently and have their own heating and cooling system to ensure maximum comfort all year around.
Homeowners prefer to build a solarium as it looks great and lets them enjoy bright sunshine with ease. Most of these solariums are built for all seasons.
What is a Sunroom?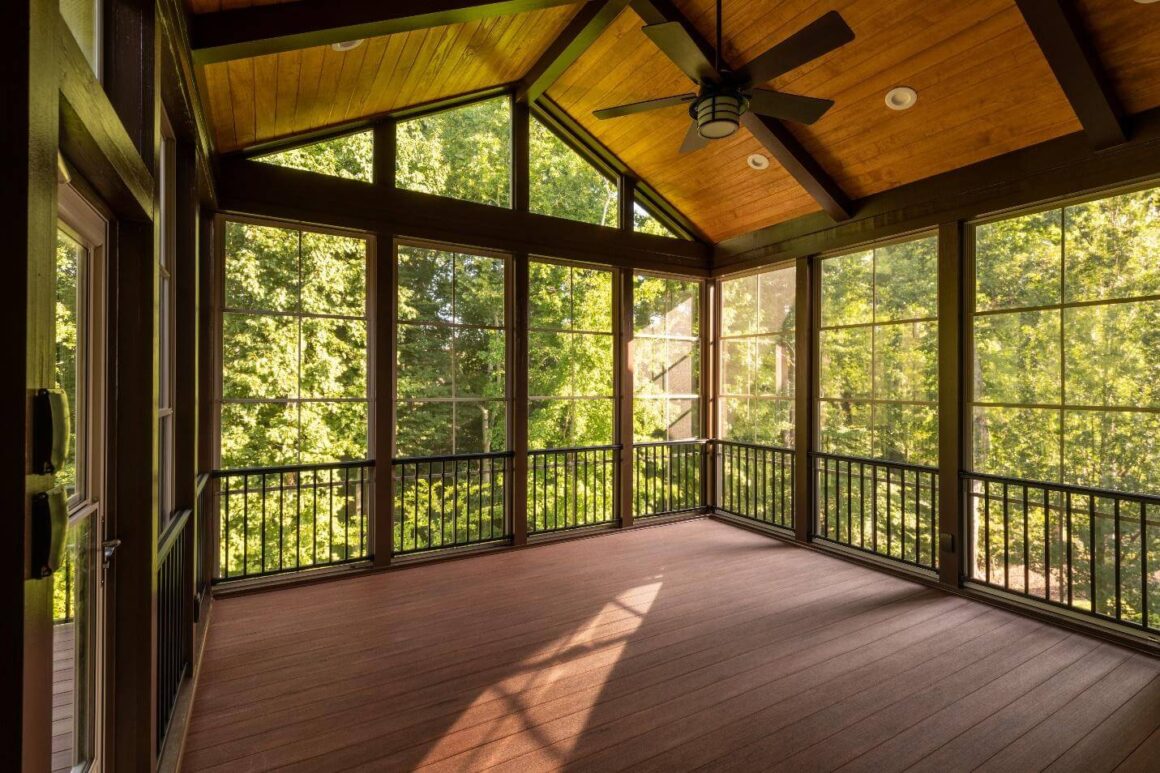 In simple words, a sunroom is a cheaper alternative to the solarium. As the name says, it's a dedicated room designed for maximum sunlight passage. It mainly has large glass windows.
Further, sunrooms are usually attached to a home. Therefore, they are less expensive to build and can also withstand harsh weather to an extent.
Now, not all sunrooms have a glass roof. However, some homeowners prefer an insulated glass roof. Anyhow, you can always go with a customized design and structure.
What is Main Difference between Solarium and Sunroom?
Though sunrooms and solariums have many similarities but there are some differences too that sets them apart. The primary difference between both these open rooms lies in their design. As mentioned, solarium is made completely of glass. Its sides, roof, and doors are all made of glass.
On the other hand, a sunroom is not entirely made of glass. Its ceiling is made from different materials. That's the primary difference between solariums and sunrooms.
Is solarium more expensive than a sunroom?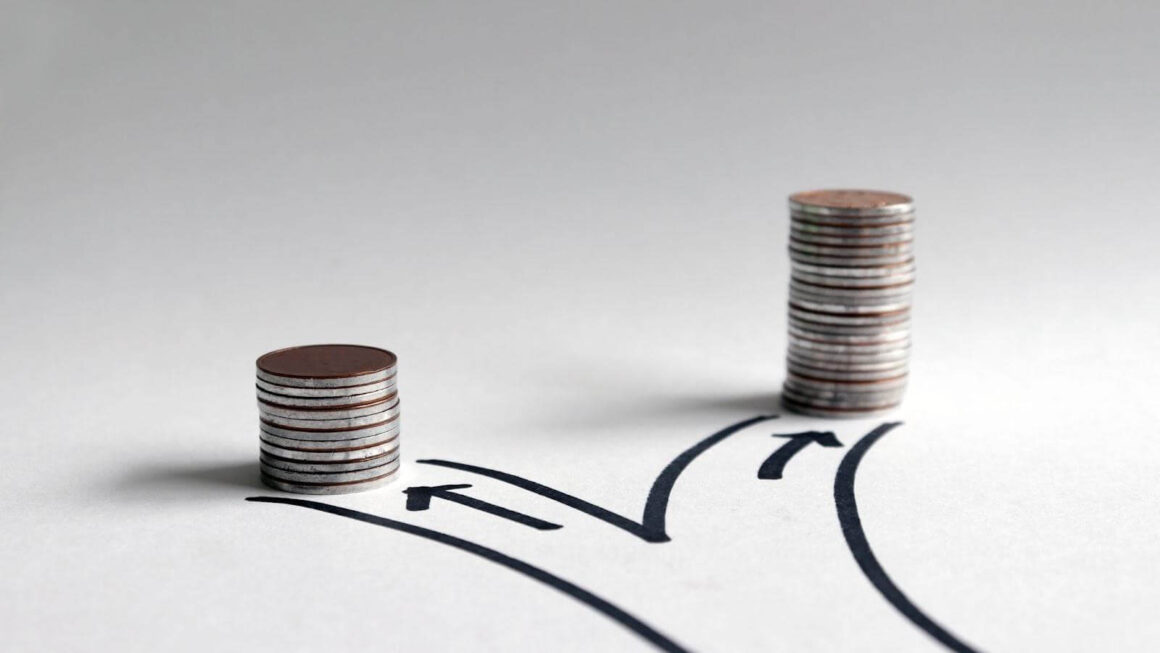 Yes, a solarium is quite expensive than a sunroom. That's because the majority of solarium construction relies on glass panels. Further, for maximum safety and durability, safety standard glass is opted, which raises the whole project's cost.
Similarly, the labor charges for building a solarium room are also high. All these factors make solarium rooms more expensive than sunrooms.
Things to Consider Before Building a Solarium or Sunroom: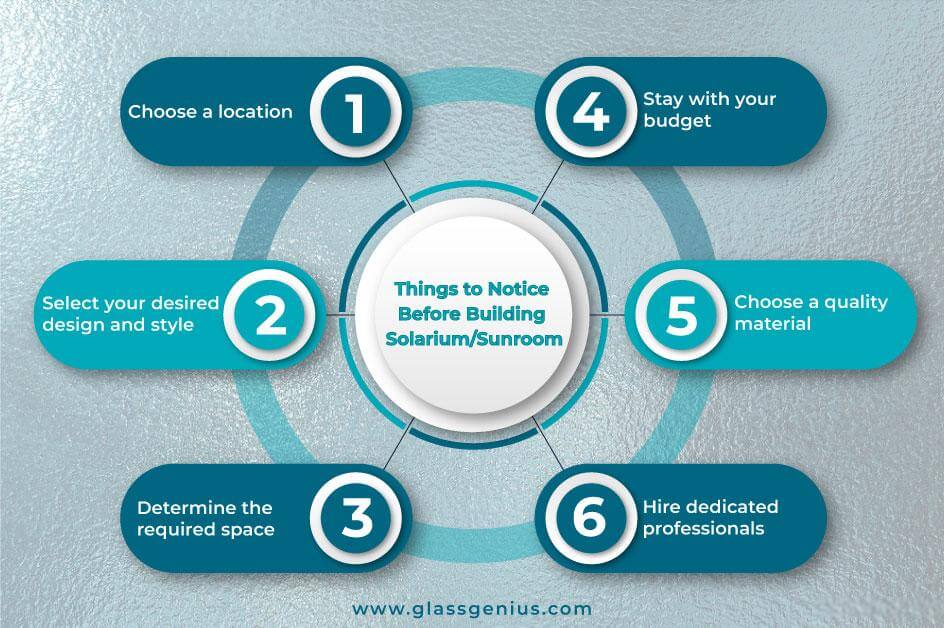 Now, let us take a look at some factors that are essential to consider before Building a Solarium or Sunroom.
Location Matters
Firstly, you have to choose the location where you will be building a sunroom or a solarium. Usually, these open rooms are built alongside the porch. However, you can opt for any location within your property's premises.
It can be the backyard space too. If you want maximum sunlight exposure throughout the day, you should opt for a location that's closer to the south direction.
Perfect Design and Style
Next up, it's the design and overall styling that you have to consider here. Now, it's a matter of personal preferences. Again, you have the liberty to choose the design, style and overall appearance of your choice.
Space You Need
Determine how much space your chosen design and style will take. In this regard, it is best to consult with a professional. He will guide you where you can easily install a customized solarium or sunroom. As mentioned, the ideal spaces can be your house porch, or backyard. 
Choose Material Wisely
You cannot go wrong with the material choices when it comes to building a solarium or sunroom. That's because their whole construction totally relies on the quality of material you opt for. For the most part, you'll have to invest in quality glass panels. In the case of a solarium, you will completely have to rely on glass panels. Therefore, we recommend opting for quality glass panels. In this regard, you should always buy your chosen custom glass panels from a reputable glass marketplace like Glass Genius.
Determine Your Budget
Note that building a solarium can cost thousands. So, you should have a defined budget in your mind. These days, even a sunroom can cost a lot. That's why it is best to consult with an expert contractor. This way, you can get an estimated cost of the whole project.
Hire Professionals
DIY hacks sound great but they aren't ideal for all such projects. Therefore, always hire a professional or at least take their opinion before finalizing your decision.
The whole solarium or sunroom project also requires time. Therefore, hiring a professional contractor is best since he will streamline the whole project for you.
Should you build a Sunroom or a Solarium – Which is best?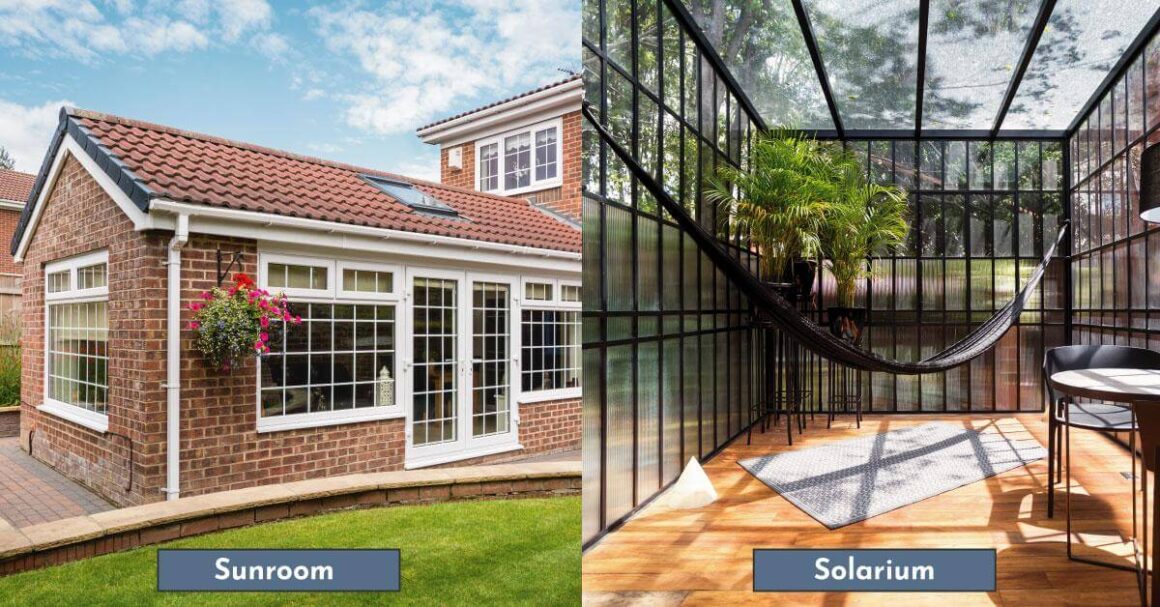 A sunroom or solarium both serve great and enhance your property's worth. However, their installation cost and construction challenges can differ. So, here one cannot claim one option to be better than another.
That's because your personal preference, space options, and budget will greatly impact your decision. Therefore, we have classified sunrooms and solariums for two different types of homeowners.
1: If you have the budget and want to build a luxurious open living space alongside your porch or backyard, a solarium room is the best option.
2: If you prefer an open living space where you can entertain some guests but have a limited budget, a sunroom is the right option for you.
Is it better to build a DIY or Hire a Professional?
It's better to hire a professional to build a solarium or sunroom. Though there are DIY hacks too. However, they can get complex and require a lot of time, skill, and experience.
So, we recommend hiring someone who is licensed and has experience of building such open rooms.
Final Thoughts!
That was our take on solarium vs sunroom. As we discussed, both these open-room designs are great. They both have their own advantages and disadvantages. For example, a sunroom costs less but doesn't offer the full open room feel a solarium room offers.
Similarly, a solarium room not just looks great but also enhances the financial worth of your property.
It is best to opt for durable glass for solarium rooms or sunrooms. We recommend buying your selected glass panels from a trustworthy glass marketplace.