What else can cheer you up than accomplishing exquisitely fine makeup while getting ready for a festivity? If you're very well aware of the makeup tactics, you must know that makeup done under fluorescent lights or other fine lights is simply- flawless. Not to mention the fact that now, you get a handful of options if you go for a makeup mirror with lights. That's something 'you never thought you need a lighted makeup mirror- once you make use of it.
Today, mirror retailers surprise people with new unique and technical inventions, day by day. Who could have thought to get an adjustable LED light on a mirror, to fix up the puny makeup mess? Well, you can choose among the built-in lighted, LED, or even magnified makeup mirror to apply lashes or extract blackheads. But, wait! There's much more to look for before selecting an ideal makeup mirror with lights. Let's dig in to explore!
What Lighting Is Best For A Makeup Mirror?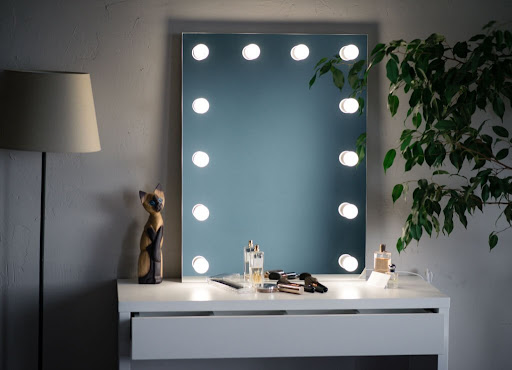 The huge reason for someone's best or worst makeup is- the difference in Lighting!
No expensive makeup kit will be valuable if you don't set up some pleasing light at your vanity spot. The reason why bloggers use ring lights, softboxes, or a makeup mirror with lights is the need for an ample amount of CRIs, color temperature, and lumens while doing makeup.
LED lighting is good enough to apply makeup as it's a great alternative to natural light. Just like sunlight, LEDs churn out expended light carrying clear visibility, infrared waves, good CRIs, and perfect color temperature options. With the ability to emit and adjust warmer and cooler white lights, LED lighting turns out to be the perfect lighting needed for makeup. Also, makeup needs light that is somewhere between the warmer and cooler textures to achieve a smooth foundation blend.
How To Choose The Best Makeup Mirror?
The right wall mirrors for your vanity spot are achievable when you look for the suitable type, shape, size, and lighting system. To build a professional makeup vanity in minimal space, let's walk through these points mentioned below.
Types Of Makeup Mirrors
There can be numerous stylish mirrors around you, but for makeup, you need something more than an ordinary mirror. So, here are the 3 types of Must-Have makeup mirrors that you can choose depending upon your conditions.
Mirror With Lights For Vanity Table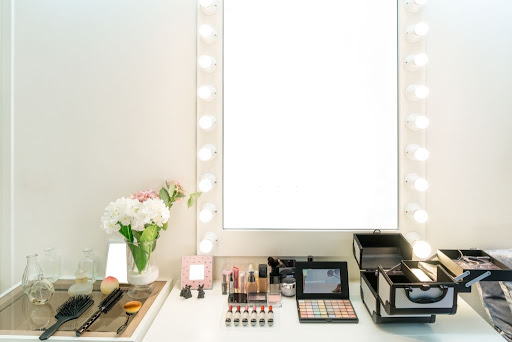 Well, if you want to go with a budget-friendly option, try DIYing your own makeup mirror with LED bulbs.
Wall Lighted Mirror For Makeup Zone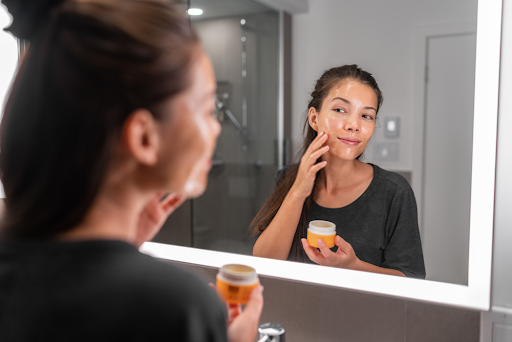 One of the other best makeup mirror options for makeup freaks is a lighted or LED mirror. Constructed with powerful yet controllable integrated LED light or LED bulbs, these mirrors give a consistent light to any dingy spot. The best option, indeed, is if you need to draw light directly on your face and the cosmetics and nowhere else. Reach out to Lighted LED Mirror With Touch Sensors for a pretty affordable makeup mirror option.
Magnifying Mirror For Detailed Makeup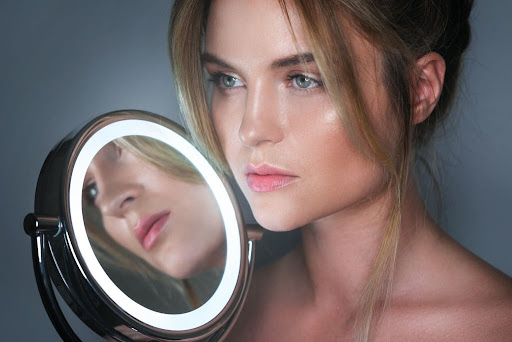 If it's hard for you to settle eyelashes on your eyelid, rightly, go for a magnifying mirror. It will easily zoom your mirror up to 10X to beat a detailed makeup struggle. Well, that's the second-best option, though it can help to apply lashes and tweeze the eyebrows or facial hairs. But, you may treat your skin way harshly, when you look at those scary blackheads or open pores.
Look For When Buying A Makeup Mirror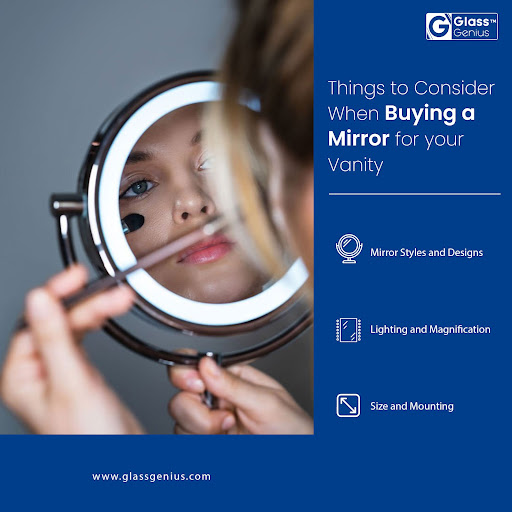 Not only to succeed in delicate makeup, but makeup mirrors can also enhance the overall look of the space. So, choosing the right mirror that fits well is really important. Take notice of the points below, while buying a makeup mirror for your vanity. 
Mirror Styles and Designs
Consider different mirror designs, shapes, and style options in order to get a mirror that works splendidly for your vanity. You can choose from, circular, square, rectangular or even full-length LED mirrors.
Lighting and Magnification
The second most important thing is to adjust the lighting of the mirror just like described above, somewhere in the middle of warm and cool lighting tones. If the mirror has such specifications of adjusting the lighting and magnification, without any second thought go for it!
Size and Mounting
Make sure to check out the hinged arms to mount on the wall wherever you want. Plus, multiple options within makeup mirrors require to be plugged into an outlet, so take care of it, too. Another main thing is the size, never buy a mirror without knowing your space first.
Install Lighted Mirror to Avoid Cakey Makeup!
Specifically for applying makeup, and making the interior look brighter and contemporary, high-quality makeup mirrors are worth it. Just keep the above points in mind and make sure to test out how your makeup appears at various times of the day.