Joining a gym is considered a huge step towards the fitness journey. However, actually going to the gym is accompanied by endless excuses. Time constraints, weather conditions, or simply the lack of motivation is enough to sabotage your fitness aspirations. You can ditch all these excuses by having a personal gym.
Set up your own workout oasis and say goodbye to the gym-skipping excuses. You won't have to work out in crowded gyms, wait in long lines for equipment, or pay the pricey membership fees. Just bring the gym experience to the comfort of your own home by setting up a personal gym.
In this blog, we will discover some exciting home gym ideas to inspire you to achieve your fitness goals with ultimate convenience.
Basic Equipment For Home Gym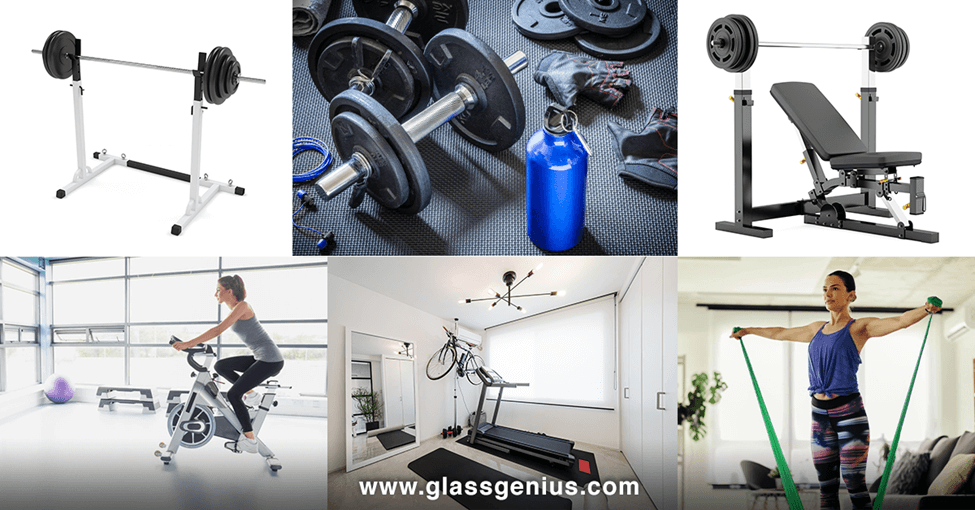 When it comes to equipping the home gym, the options are endless. From cardio gear to balance balls, you can add any gym equipment you want. However, it's important to equip the home gym with the right gym gear to elevate your workout experience and achieve your fitness goals. Consider the available space and your fitness goals to choose the right gym gear. Some recommended gear for home gym is as follows.
Power Rack or Squat Rack
Stationary bike or Rowing machine
Suspension Trainers
Multi-Functional Home Gym System (Garage Specific)
Cardio Machines
Yoga and Pilates Equipment
Resistance bands
Adjustable Dumbbells
Stability Balls
Adjustable bench
Agility ladders (Outdoor gym specific)
Punching bag
Pull-Up Bar
Home Gym Ideas:
1. Garage Gym
Transforming the garage into a gym is a game-changer. It provides you with the convenience of working out just steps away from home and helps you level up your fitness journey. The key to setting up a successful garage gym is to maximize the space you have. Keep your equipment organized and easily accessible. You can also add a small seating area or a mini fridge for post-workout snacks and drinks.
Benefits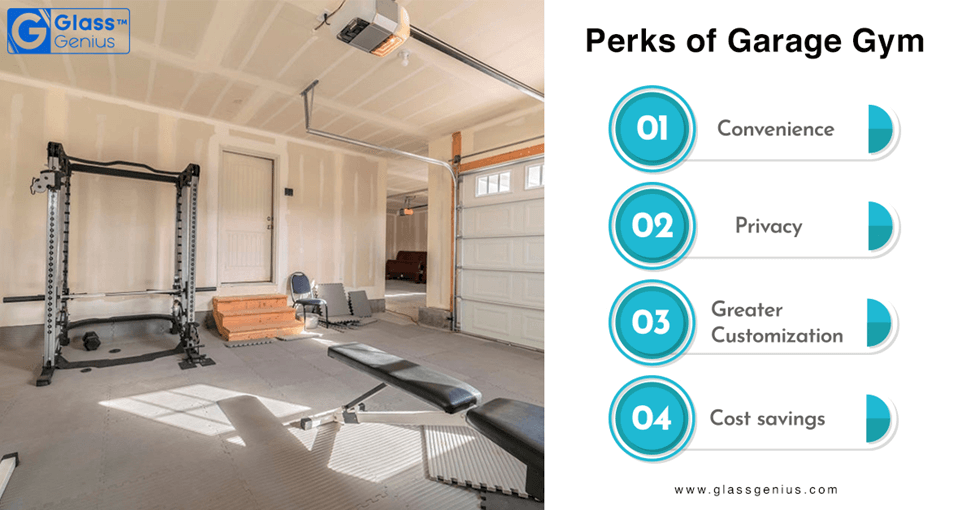 A garage gym offers the convenience of having a dedicated workout space just steps away from your home. You can easily integrate your fitness routine into your daily life without making any huge changes to the routine.
With a garage gym, you have the luxury of working out in a private environment. It allows you to maintain focus and concentration on your workouts.
Your garage is a blank canvas and allows unlimited options for customization. You have the freedom to design the space according to your preferences and incorporate desired equipment, and other design elements.
Setting up a garage gym offers significant cost savings. It cuts the expensive gym membership fees and travel costs.
Customization Options
Customizing your garage gym transforms it into a functional and appealing workout room. Here are some garage gym ideas for a personalized feel.
Flooring – Consider adding rubber flooring to your garage gym. It provides a comfortable surface for workouts and ensures durability and easy maintenance.
Wall Mirrors – Install gym wall mirrors to enhance the functionality of your garage gym. They allow you to check your form and technique during exercises.
Lighting – Adequate lighting is essential for a functional garage gym. Install energy-efficient LED lights or adjustable overhead lighting to ensure proper illumination.
Storage Solutions – Maximize the given space by using the wall space. Include lockers, racks, and wall-mounted glass shelves to keep your equipment organized and accessible.
Custom Wall Art – Add a personal touch to your garage gym by incorporating motivational wall art and graphics. It would keep you inspired and motivated.
2. Basement Gym
A basement gym is a fantastic idea as it offers unparalleled convenience. You have immediate access to a dedicated fitness space within the comfort of your own home and choose to work out at any time of the day. A basement gym also provides a high level of privacy, allowing you to exercise without feeling self-conscious or distracted by others.
Benefits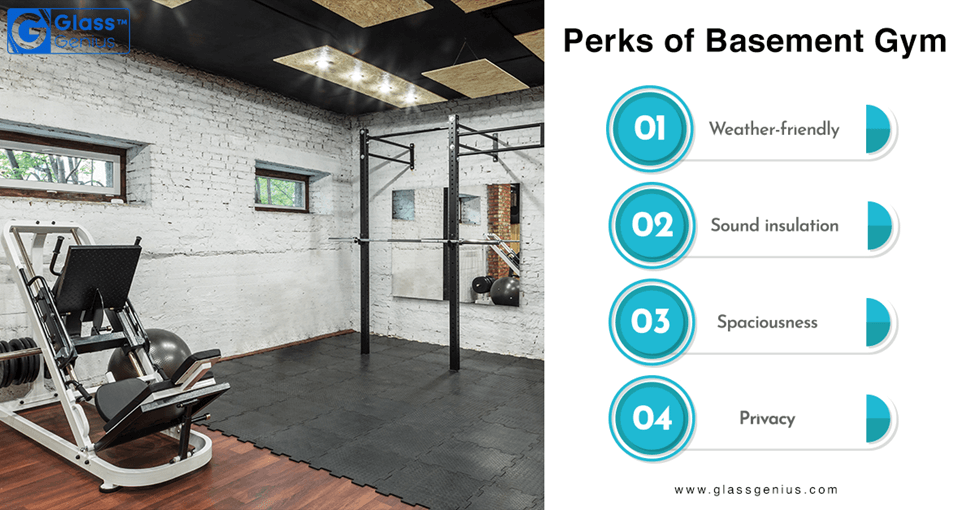 A basement gym provides a controlled environment that allows you to work out easily regardless of the outside weather. This is particularly beneficial in areas with extreme weather conditions.
Basements typically have better sound insulation compared to other areas. It creates a quieter and more focused environment for workouts.
Basements usually have ample space, making them ideal for setting up a well-equipped gym.
A basement gym offers privacy, allowing you to exercise without feeling self-conscious.
Customization Options
Adding custom details to your basement gym can enhance its functionality, comfort, and overall appeal. Here are some customization basement gym ideas.
Lighting – Basements often have limited natural light so suitable lighting is essential for setting up a basement gym. Integrate adjustable lights to ensure proper illumination and create different moods according to the light adjustments.
Wall Mirrors – Install wall-to-wall mirrors or large mirrors on the walls of your basement gym. They will not only create the illusion of a larger space but also allow you to monitor your workout sessions. Mirrors also make the basement gym feel brighter and more open.
Insulation – Basements are prone to temperature fluctuations and moisture accumulation. Add proper insulation and consider installing a climate control system to maintain a comfortable workout environment.
Foam Flooring – Invest in high-quality flooring to create a comfortable space for exercise.
Organization – Maximize space efficiency by adding storage elements like shelves, racks, or cabinets to your basement gym.
3. Living Room Gym
Setting up a gym in the living room is a brilliant idea as it allows efficient use of available space. The living room gym idea enables you to integrate exercise seamlessly into your daily routine without sacrificing precious square footage. You can simply step into your living room and engage in your workout whenever you want. Furthermore, a living room gym allows you to involve your family members in your workout routines, thus promoting a shared commitment to fitness.
Benefits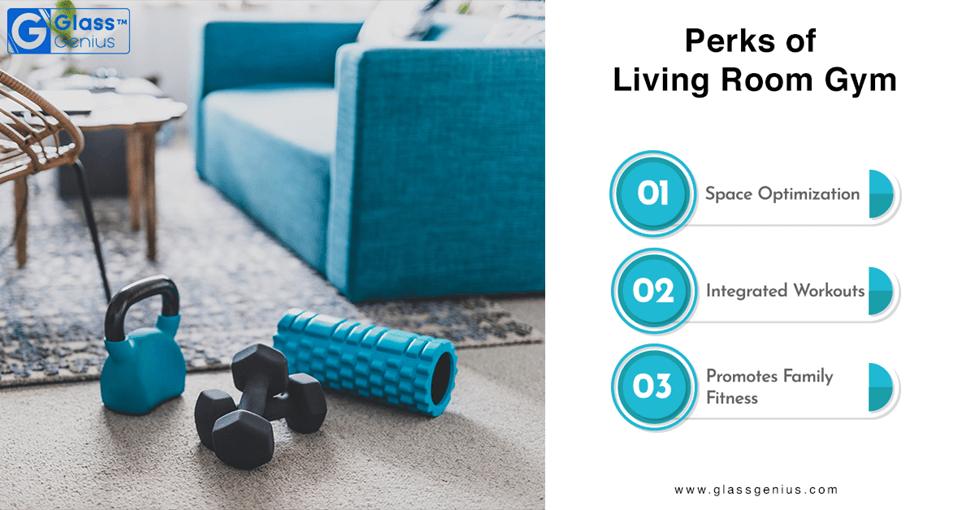 A living room gym makes the most of the given space. It allows you to utilize an existing area for multiple purposes.
Having a gym in your living room means you can seamlessly incorporate workouts into your daily routine. You can work out while watching TV or spending time with your family.
A living room gym offers the opportunity for family members to work out together.
Customization Options
Adding customizations to your living room gym can transform it into a functional and stylish workout space. Here are some living room gym ideas.
Accent Wall – Add an accent wall to define the workout area and create a focal point in the living room. You can choose a bold color, wallpaper with a motivational pattern, or a chalkboard wall to write down your workout plans and goals.
Wall Mirrors – Install wall mirrors to create the illusion of a larger space and monitor yourself during exercises.
Multi-Purpose Storage Solutions – Maximize the given space and keep your equipment organized by incorporating multi-purpose storage solutions like storage ottomans, shelves, and storage cabinets.
Seating Area – Consider adding a small seating area to the living room gym. Include a comfortable sofa, chairs, or a bench where you can relax before and after the
Technology – Integrate a TV or a wall-mounted screen in your living room gym. This allows you to follow workout videos, and stream fitness classes, and online training programs. workout.
4. Sunroom Gym
A sunroom gym combines the best of both worlds by blending the benefits of outdoor workouts with the comfort of an indoor setting. The natural light pouring in through the glass walls creates a vibrant and uplifting atmosphere, boosting your mood and motivation during the workout sessions. The controlled environment of a sunroom allows you to enjoy year-round workouts regardless of the weather conditions.
Benefits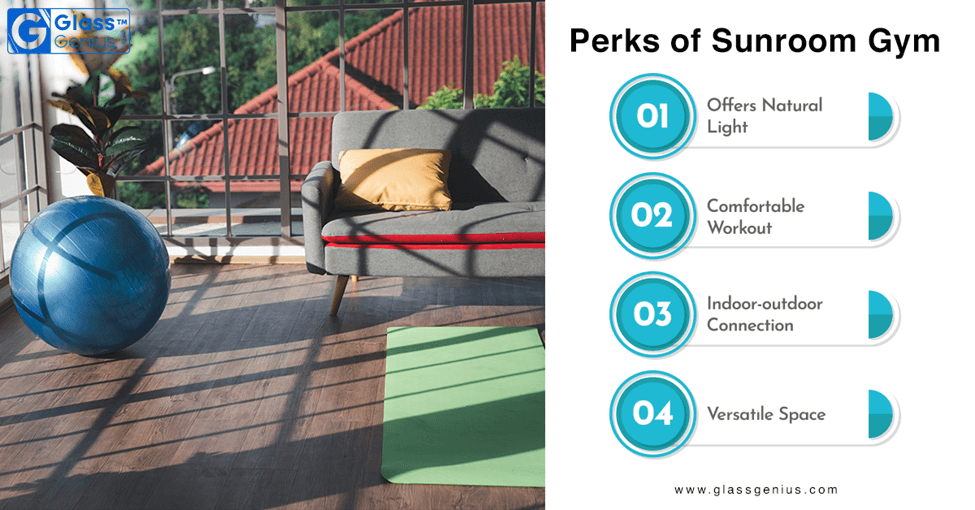 A sunroom gym provides the advantage of ample natural light streaming in from the glass walls. The well-lit environment creates a bright and uplifting atmosphere for workouts.
You can enjoy beautiful views while working out in a sunroom gym. The natural views can be motivating and refreshing.
The sunroom is typically designed with climate control in mind, allowing you to work out comfortably throughout the year.  
With a sunroom gym, you have the advantage of exercising indoors while still feeling connected to the outdoors.
Sunrooms provide sufficient space for a variety of workout activities. You can incorporate cardio machines, yoga mats, and strength training equipment.
Customization Options
Adding customization to a sunroom gym can enhance its functionality and aesthetics. Here are some workout room ideas for the sunroom.
Large Mirrors – Since sunrooms often have glass walls, incorporating large mirrors on the walls can further elevate the aesthetics and practical appeal of the space.
Window Treatments – Get window treatments for your sunroom gym to control the amount of sunlight. You can choose blinds, curtains, or shades to create the desired ambiance for workouts.
Flooring – Add carpet or rubber flooring to create a soft and cushioned surface for comfortable workout sessions.
Adjustable Lighting – While natural light is a significant benefit of a sunroom gym, adjustable lighting can further enhance the ambiance. Install dimmable lights and adjustable light fixtures to control the brightness.
Inspirational Decor – Personalize the sunroom gym with motivational decor and artwork. Add plants or greenery to bring a touch of nature and serenity to the space.
5. Outdoor Space/Shed Gym
Take your fitness journey to new heights with a personal outdoor gym. Whether you have a backyard, a small patio, or even a shed, creating a gym in an outdoor setting offers a lot of benefits. From increased motivation and variety in workouts to the freedom of fresh air and open space, an outdoor gym allows you to break free from the confines of the indoor exercising routine.
Benefits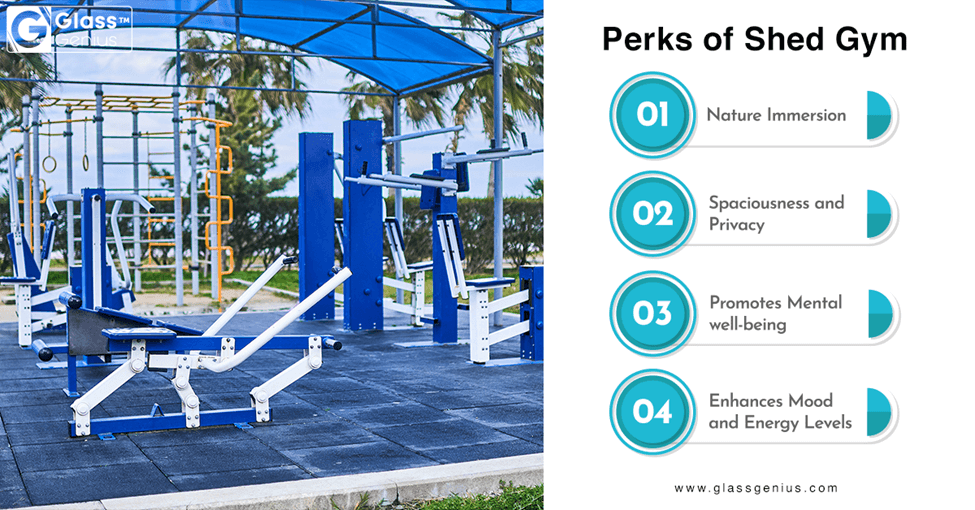 Exercising in an outdoor gym allows you to immerse yourself in nature while working out. You can enjoy the fresh air and the beauty of the outdoors during workouts.
Shed gyms provide ample space for different workout activities. You have the freedom to design the space according to your needs and preferences.
Exercising in an outdoor gym provides a sense of privacy and solitude. You can enjoy your workouts without the typical distractions of indoor gyms.
The connection to nature can have a positive impact on your mental well-being and overall workout experience.
Exercising in the open air can provide a fresh perspective and a break from indoor environments. Exposure to natural elements enhances the mood, increases energy levels, and makes workout sessions more enjoyable.
Customization Options
Here are some customization ideas for outdoor or shed gyms.
Outdoor Flooring – Consider installing rubber or foam interlocking floor tiles in the outdoor gym to ensure a comfortable and slip-resistant surface for your workout sessions.
Canopy or Awning – If your outdoor gym is exposed to direct sunlight, add a canopy or awning for shade and protection for comfortable exercise.
Outdoor Lighting – Install outdoor lighting options to extend your workout time into the evening or early morning hours. This can include string lights, pathway lights, or spotlights.
Outdoor Storage Solutions – Incorporate storage solutions in your outdoor gym to keep your equipment organized and protected. Include shelving units, cabinets, or storage bins for this purpose.
Outdoor Fans – If you live in a hot climate, consider installing outdoor fans or misting systems to keep the space cool and comfortable.
Final Thoughts!
Setting up a home gym is a fantastic way to prioritize your fitness and well-being without staying in your comfort zone. From converting your garage into a gym to utilizing the outdoor space as a workout room, the home gym design ideas are endless. Integrate the right equipment, personalize the space to reflect your style, and consider your safety to create a fully functional workout space that inspires you to achieve your fitness goals. So, set up a home gym and unlock the potential for a healthier and happier life right at your home!