There's nothing quite like relaxing in the warmth of the sun while still being in your comfort zone. Glass sunrooms provide the perfect blend of indoor comfort and outdoor beauty. The patio sunroom offers a unique ambiance that can be cherished all year round. Whether you are having a cup of coffee or lounging with your favorite book, there couldn't be any place better than a glass room to feel peace and tranquility. It creates a retreat corner for you that seamlessly integrates with the home interior. There's a lot more to know about glass sunrooms. Let's have some insights into this amazing architectural feat. 
Purpose Of Sunroom
Along with improving the aesthetic value of the house, the sunroom provides a comfortable and versatile space to enjoy the outside views while still being protected from the environmental elements. The sunrooms typically feature huge windows or glass walls to let the natural light in. It serves as a functional extension to the house that can be used for relaxing, dining, gardening, or even working from home. The sunroom are usually equipped with heating and cooling systems to ensure maximum comfort all year round. The all season sunrooms surely are a fascinating design feature that lets you connect with nature without leaving the comfort of your home.
Pros And Cons Of Building A Sunroom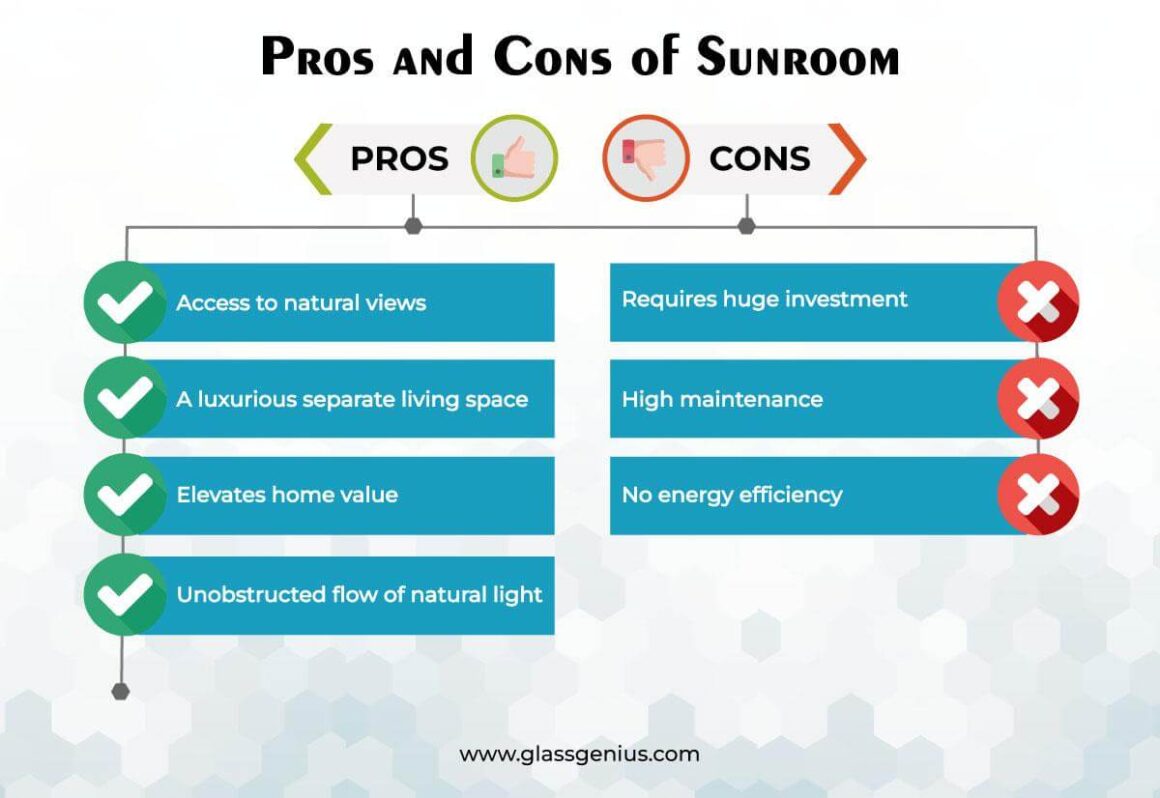 A modern sunroom can be a great addition to your home. It offers a space to relax and enjoy the outside views while staying in the house.  Let's explore the pros and cons to have better insight into the utility of glass rooms.
Pros:
1. Access to Natural  Views 
The glass rooms allow you to enjoy the beauty of the outdoors without having to step out. You can easily revel in the calm of rain without getting drenched. Similarly, you can enjoy the warmth of the sun whenever you want. 
2. Additional Living Space 
A sunroom adds effective space to the house. It provides extra living space that can be used for a variety of purposes. You can use it as a family room, a dining space, a place to host family gatherings or even as a home office.
3. Better Home Value
 Adding an all season sunroom is a great way to boost the value of the house. It makes the house architecture more attractive to potential buyers and elevates the overall property worth. 
4. Uninterrupted Flow Of Light
The glass patio rooms let in plenty of natural light to boost your mood and improve your overall well-being. It also minimizes the need for the use of artificial lighting. 
Cons:
1. Cost Factor
Getting a patio sunroom is a significant investment. Although it offers a good return on investment, it still costs a good sum of money upfront. 
2. Maintenance Requirements
Traditional sun rooms, especially if it's made of wood, require regular maintenance to keep them in good condition. 
3. Lacking Energy Efficiency
It could be quite expensive to heat or cool the patio sunroom especially if you are living in a region with extreme weather conditions. 
Applications of Sunrooms  
A sunroom is a versatile design feature that can be used for a variety of purposes. Some popular applications are as follows.  
Dining Room: It can serve as an ideal dining space. With an open view and bright atmosphere, a it is perfect for enjoying meals with family and friends.
Living Room: You can also use a sunroom as a living or family room as it offers a comfortable space to relax and entertain.
Home Office: With natural light pouring in and outdoor views, a glass sunroom can make a great home office. The well-lit space provides an inspiring space for working or studying.
Toy Room: A sunroom can also be used as a playroom for the children to play and explore in a bright and airy interior space.
Garden Room: A glass room can be used as a garden room or greenhouse. As the natural light flows uninterruptedly, it provides ideal growth conditions for plants and therefore serves as a perfect greenhouse.
Reading Corner: With its natural light and comfort, a sun room is ideal for reading. The peaceful ambiance calls for delving into the delight of your favorite books. 
Popular Sunroom Styles 
There are several styles of sunrooms. Each style has its own unique features and benefits. Two of the most popular styles are listed below.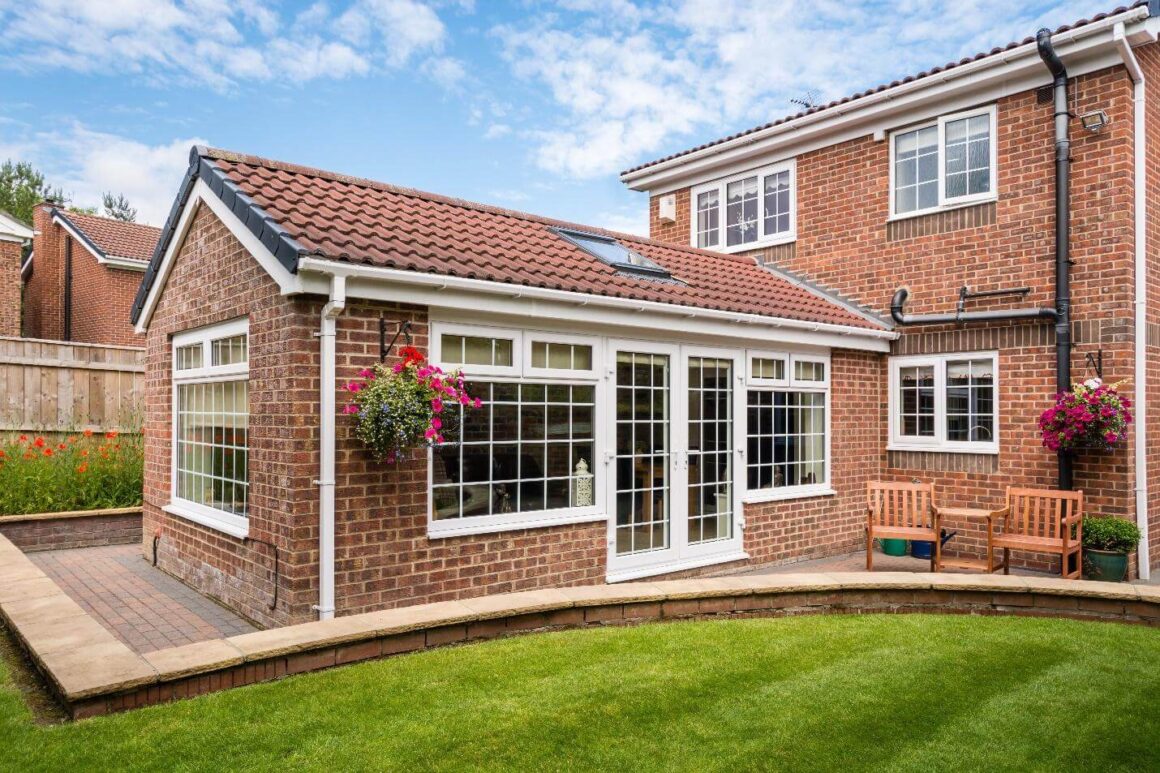 The Gable sunroom is a traditional solarium style. It features a peaked roof and an angled wall design. This style is typically used to blend the solarium with the existing building architecture.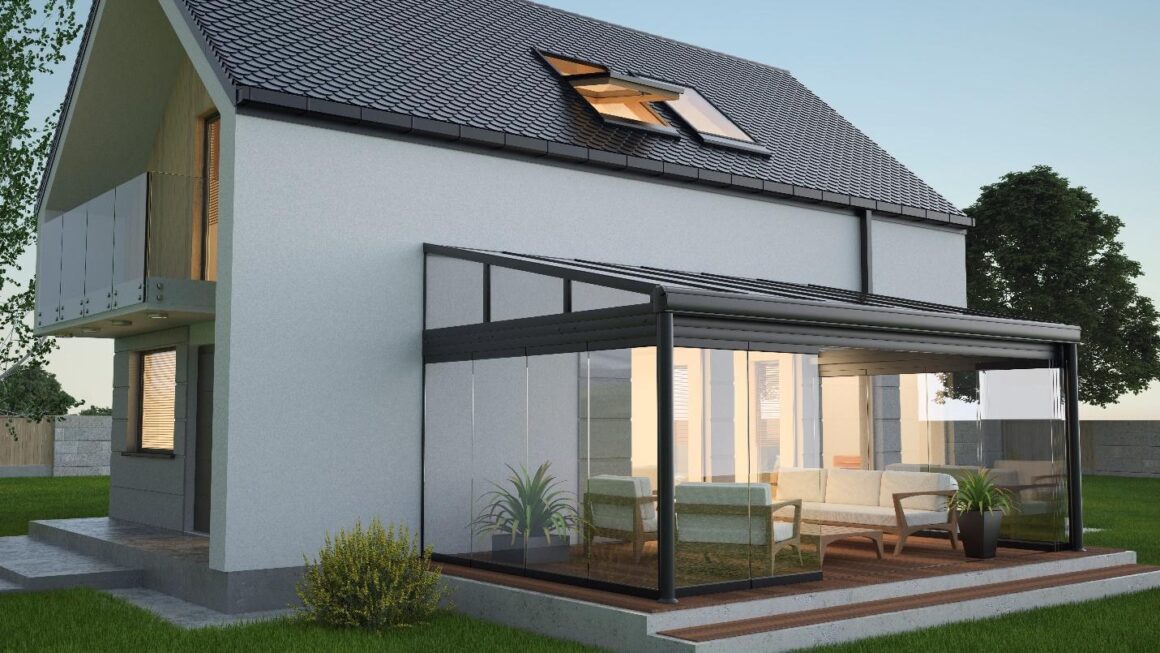 The Studio sunroom is a more modern and sleek style. It supports a flat roof with a streamlined wall design. This studio style offers a contemporary or minimalist look.  
Material Used for Sunrooms
There are multiple material options for the design of modern sunrooms. Here are the most widely used options.  
The classic and traditional option for sunroom  construction is wood. It is known to add a unique warmth and character to the sunroom. However, wooden material require regular maintenance to avoid rot and damage due to exposure to moisture and sunlight.  
It is a low-maintenance option. Aluminum is durable as it is resistant to rust and corrosion. Its lightweight also makes it a popular choice for patio sunroom designs.
Glass is the most popular option for the construction of modern sunrooms. It allows natural light to flow through the interior space and provides unobstructed views. Moreover, the clarity of glass claims aesthetic superiority that is highly cherished in modern sunroom designs.Different types of glass can be used in the construction. So, it is your choice to use tempered glass panels, laminated safety glass or insulated glass mostly for the roof. However, insulated glass is the best option as it offers higher energy efficiency. Insulated glass has a multi-pane structure that ensures effective weather-resistance. You can expect high energy efficiency by integrating insulated glass.
Plexiglass is a lightweight and shatter-resistant alternative to glass. It serves as a dependable option for sunroom construction. It is highly clear and offers a glass-like appearance. However, it scratches easily.
Do Sunrooms Add Value To A Home?
Adding a modern sunroom to the house architecture is a great way of adding value to the house. However, the size, style, and quality of the sunroom highly influence the house value. A well-designed glass sunroom blends seamlessly with the house architecture and boosts the visual appeal of the house and effectively increases its resale value. Moreover, it also adds usable living space to the home. 
Can A Sunroom Be Built On A Deck?
Yes, it is possible to build a sunroom on a deck. The feasibility of the project, however, will depend on the size of the deck and the type of sunroom you want.
If the deck is roomy and structurally sound, it would be possible to build a patio sunroom without significant modifications to the deck. However, you might need to consider some major changes before building the modern sunroom if the deck is in poor condition.
Can A Sunroom Work As A Four-Seasonal Sunroom? 
The usability of a sunroom as a four-seasonal space depends on its design specification, construction, and the climatic conditions of the area.
The typical sunroom don't have the level of insulation and climate control features to serve as 4 season sunrooms. However, if you live in an area with mild weather changes, a simple sunroom with suitable insulation may be able to function as a 4 season sunroom. The all season sunrooms are typically designed with thicker walls, more insulation, and efficient heating and cooling systems to ensure their functionality all year round.
Standard Sunroom Size
The ideal sunroom size for a house depends on the available space, the intended use, and your personal preferences. The size of a small patio sunroom is around 100 to 150 square feet, while a relatively large sunroom ranges from 200 to 500 square feet. It is important to consider the overall size of the property to choose the right sun room size for your house. 
Cost Of Building A Sunroom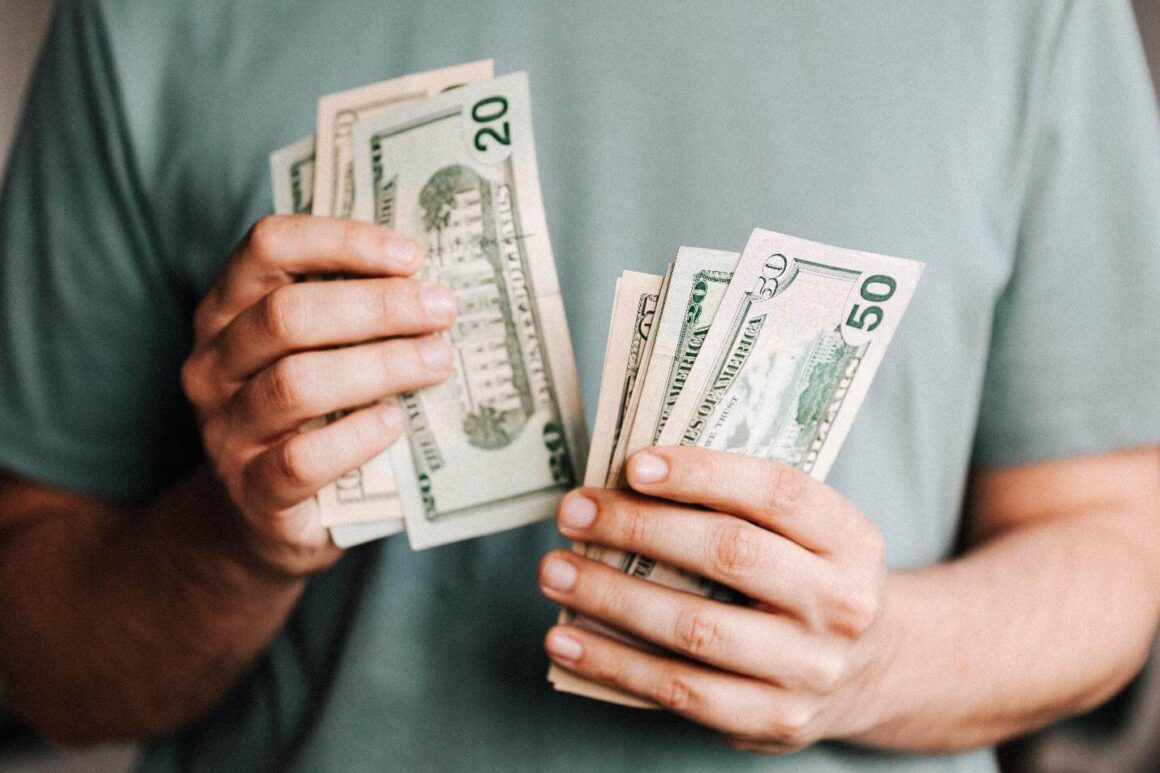 The cost to build a sunroom varies depending on the size, style, material, and scope of the project. On average, the glass sunroom cost starts from $15,000 and goes up to $50,000. More elaborate sunrooms with luxury features can even cost $100,000 or more.
Final Words
Whether you want to add extra living space to your house or simply enjoy the beauty of nature, a sunroom is a wonderful addition to the house. You can use it for a variety of purposes. Make sure to consider your space constraints, regional weather conditions, and budget before getting a patio sunroom. With proper consideration, you would be able to cherish the brilliance of the sunroom for years to come!