When updating an old bathroom, the idea of installing glass shower doors is proposed the most. Do you know why? Because they allow small bathrooms to look clean, hygienic, and spacious. Not only this, but shower doors also minimize the mess created by the splashing of water while having a bath. Well, apart from these, we need to stick to the budget while planning such projects. A shower door is a plus point in remodeling your bathrooms to the next level. The shower enclosures come in different sizes, styles, and several categories. Shower door installation cost differently for different sizes. This suggests that the cost of the installation of a shower door varies from size to size and design to design.
When the cost of installation varies?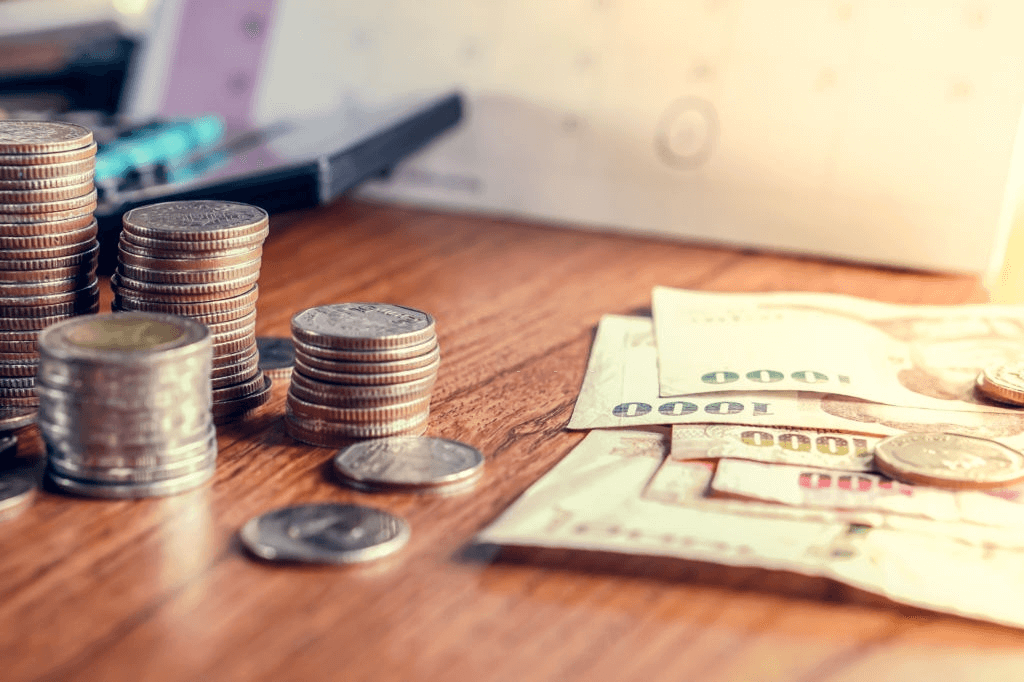 As the shower doors are made with different types of glass. So each type of shower door will cost a different sum of money. Let's say, the tempered glass shower doors with metal frames will come in a different price range. While installing a frameless shower door will cost more. Likewise, installing clear or tinted glass shower doors will cost you differently. Don't get baffled!
If you're confused about what type of glass and frame you should choose, just go through this detailed guide. You will be able to calculate your shower door's cost through this guide.
The total cost of installing any shower door includes,
The price of glass (depending upon its size and type)
The structure of shower doors (whether it's framed or not)
The labor cost
For that, you've to make a cognitive choice that will grant you the best quality at fewer expenses. Here we have several options of glass types along with their estimated prices. Read through and pick according to your requirements and budget constraints.
Shower Door Price range according to the type of glass
The type of glass you are going to use for a shower door will cause a difference in the installation budget. Let's see which glass type is best suitable for your thematic shower doors.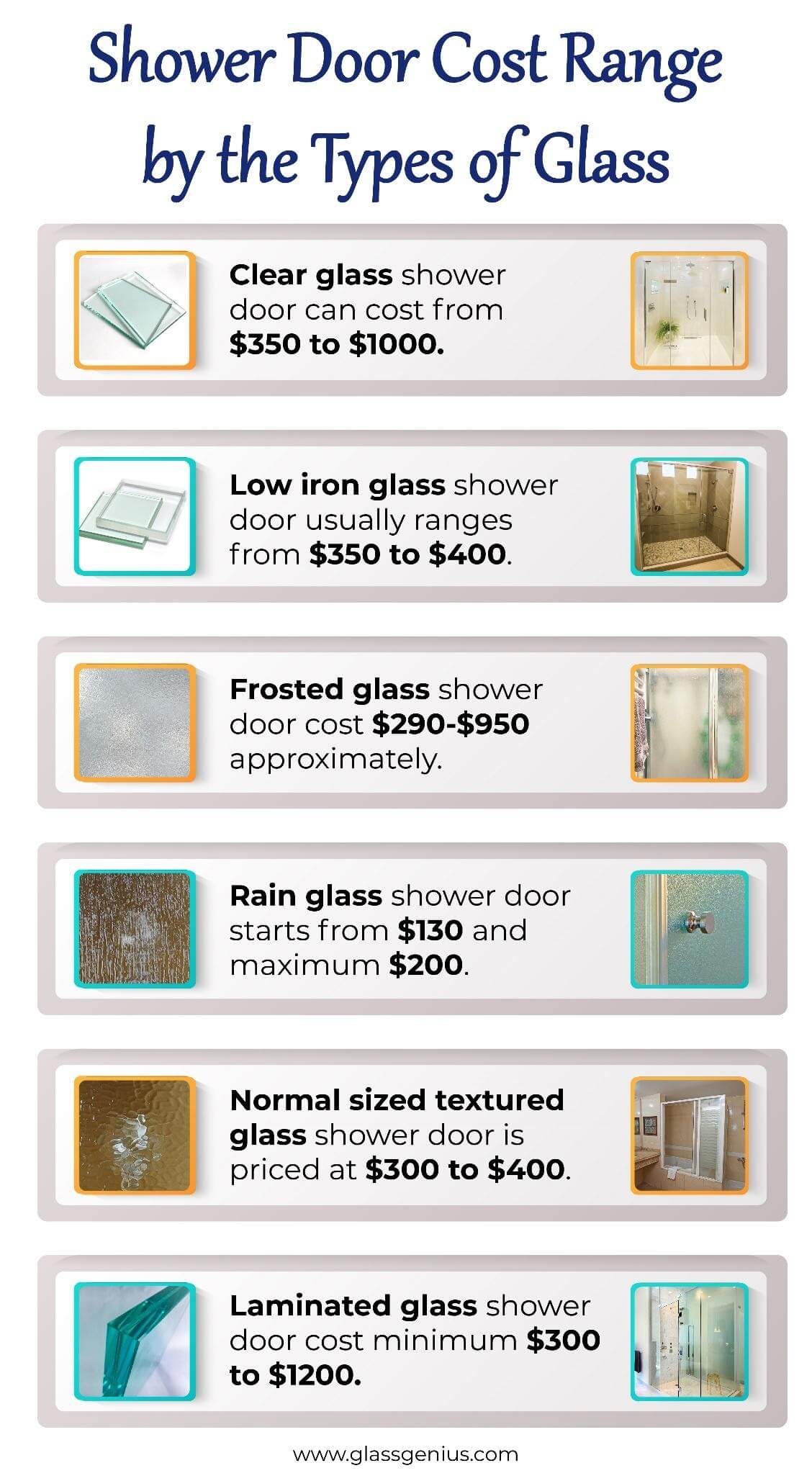 1. Clear Glass Shower Doors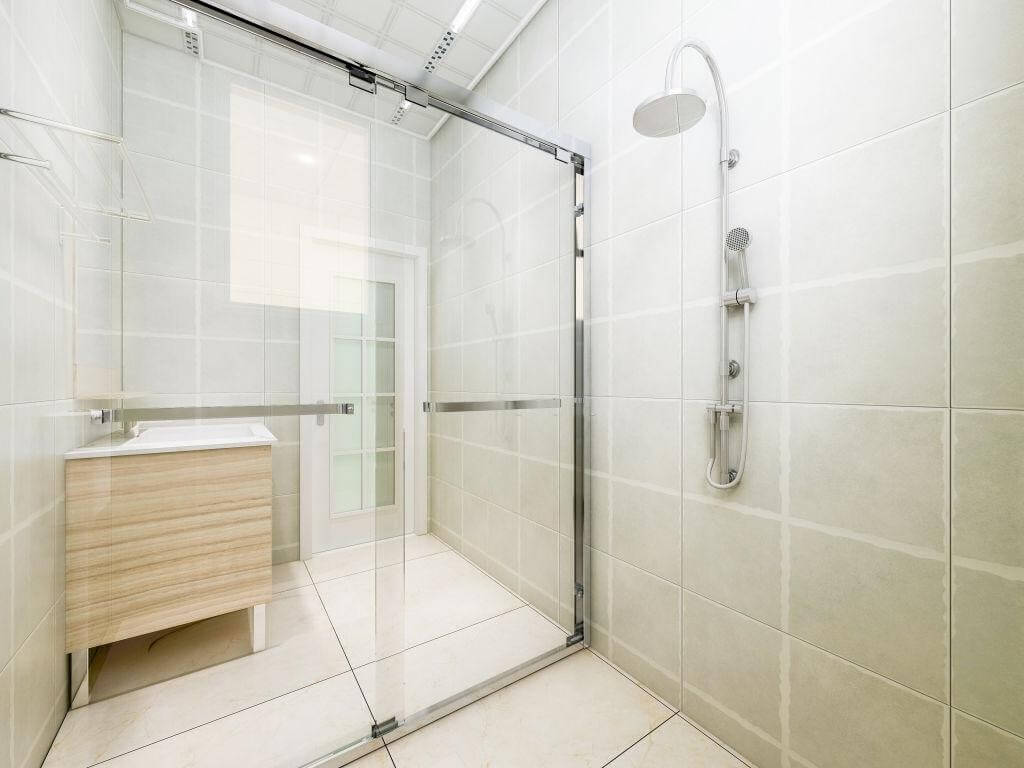 Clear glass is a fine option to use in a shower door as it accords a sleek and subtle look to a bathroom. It coordinates with hygiene matters. The clear glass doors offer a visible and clear view of the beautiful back walls or tiles of the shower area. In short, if you want to have clear visibility, you can pick this glass type for your shower doors. It can cost you up to $350-$1,000 approximately, depending upon the size.
2. Low-iron Glass Shower Doors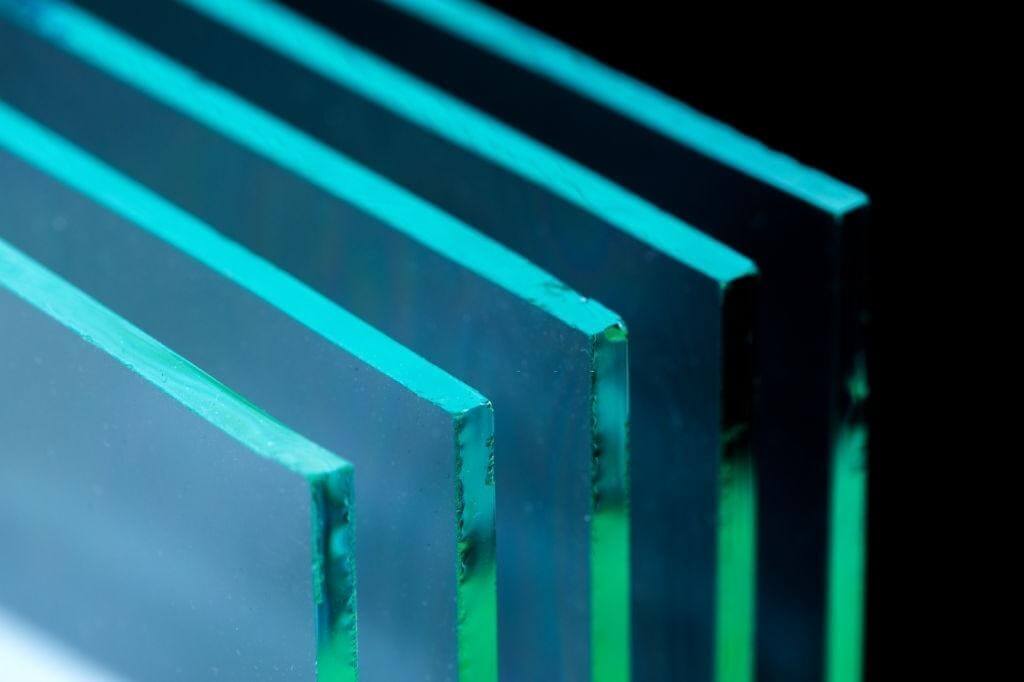 Low iron glass is typically used in small windows, aquariums, and decorative items. It is 5% clearer than clear glass. So, some people like to add Low-iron glass to their shower doors to boast a clearer shower enclosure. They are a bit inexpensive as compared to other types, they can usually charge you $300-$450 at most.
3. Frosted Glass Shower Doors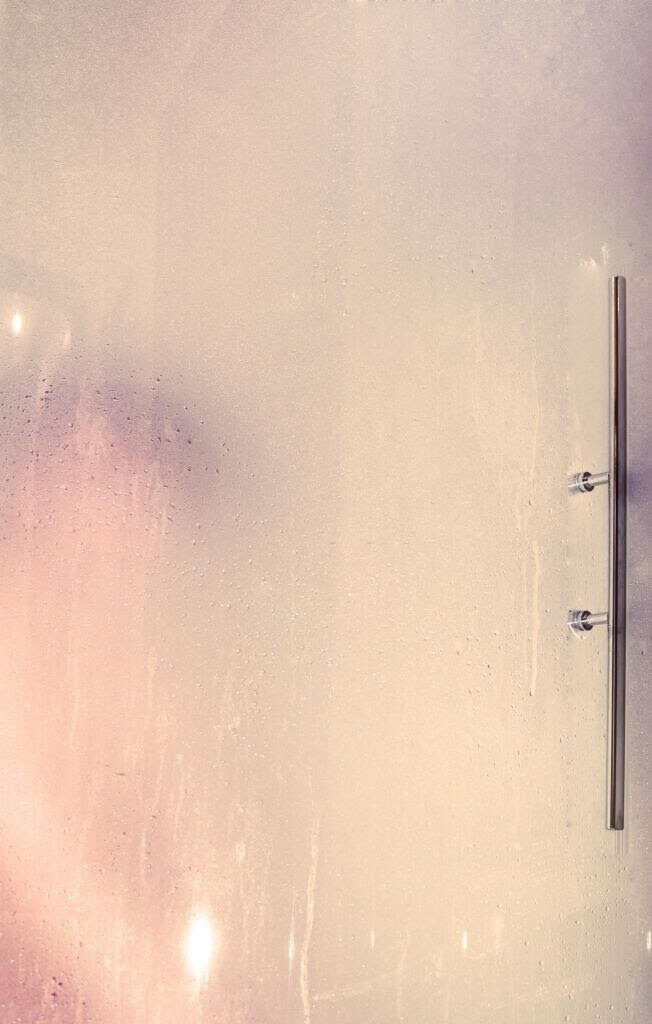 Do you want to add a glass shower door but are concerned about privacy?
Well, the frosted glass shower door might be well-suited to your requirements. Its opaque surface offers an enhanced privacy value. Frosted glass can cost you from $290-$950 approx.
4. Rain Glass Shower Doors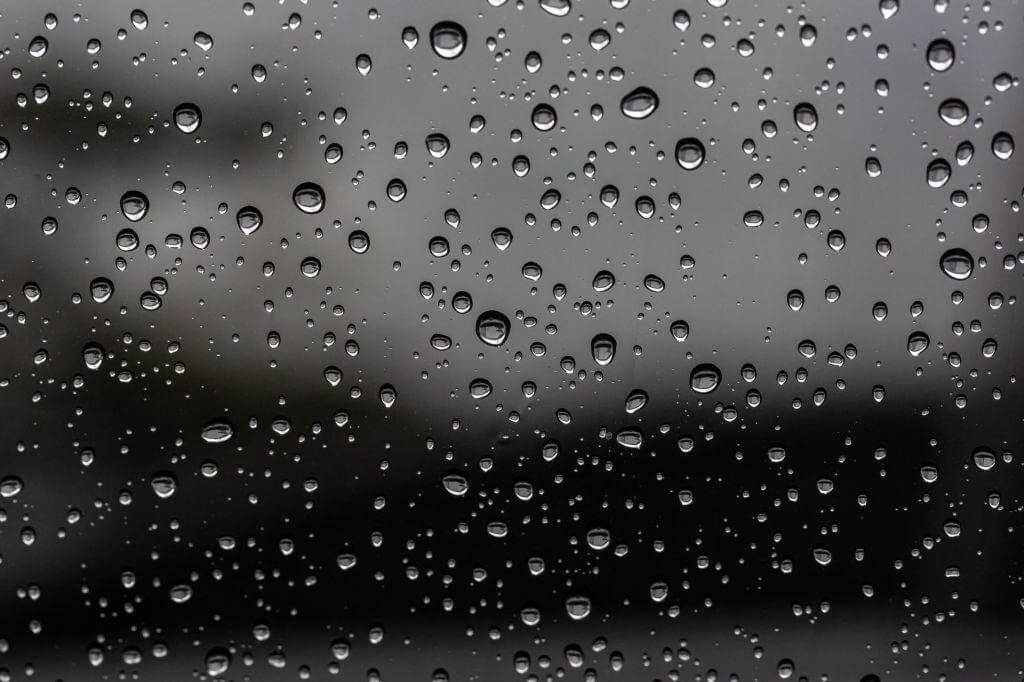 If you want to add a touch of elevated style in your bathroom but need privacy too, try rain glass shower doors. They are perfect to use as modern and classy shower doors along with serving some benefits. You can style your bathroom with fresh dewy raindrops design on the shower doors. The rain glass shower doors allow maximum light to enter. This glass type can cost you from $130-$200, depending upon the size of a shower door.
5. Textured Glass Shower Doors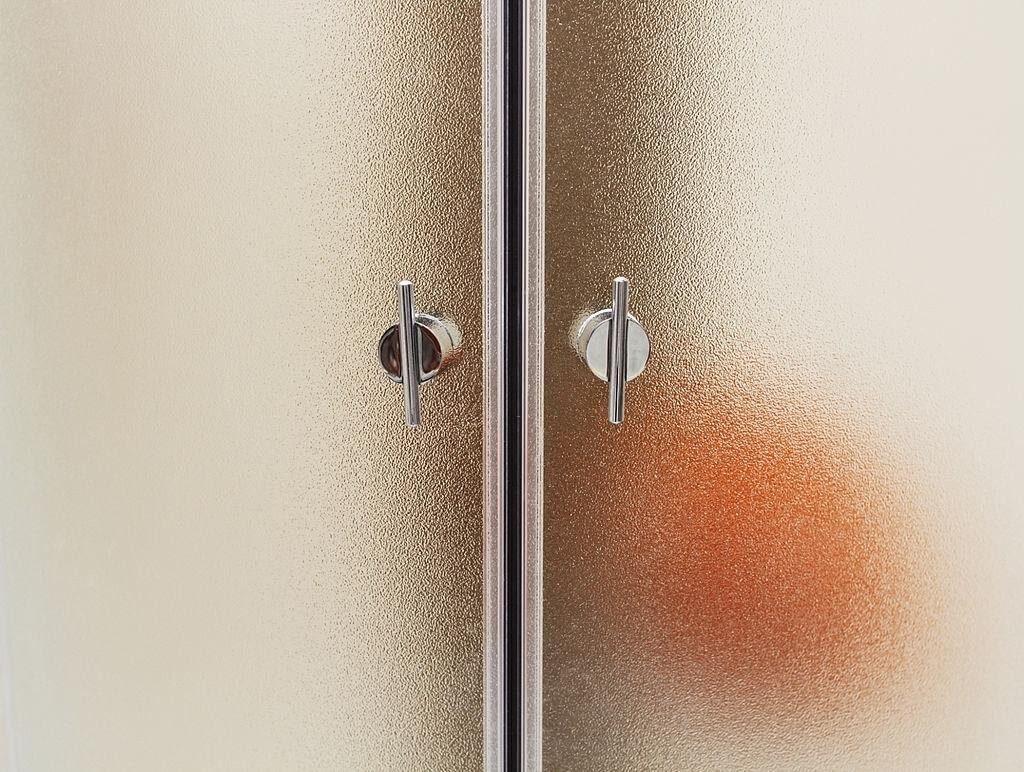 Some people might be looking for modern bathrooms with traditional shower doors. Are you among those?
Textured glass is perfect for your bathrooms if you want some patterned shower doors, and it won't cost you much. A normal-sized textured shower door costs somewhere $300 to $400.
6. Neo-Angle Shower Door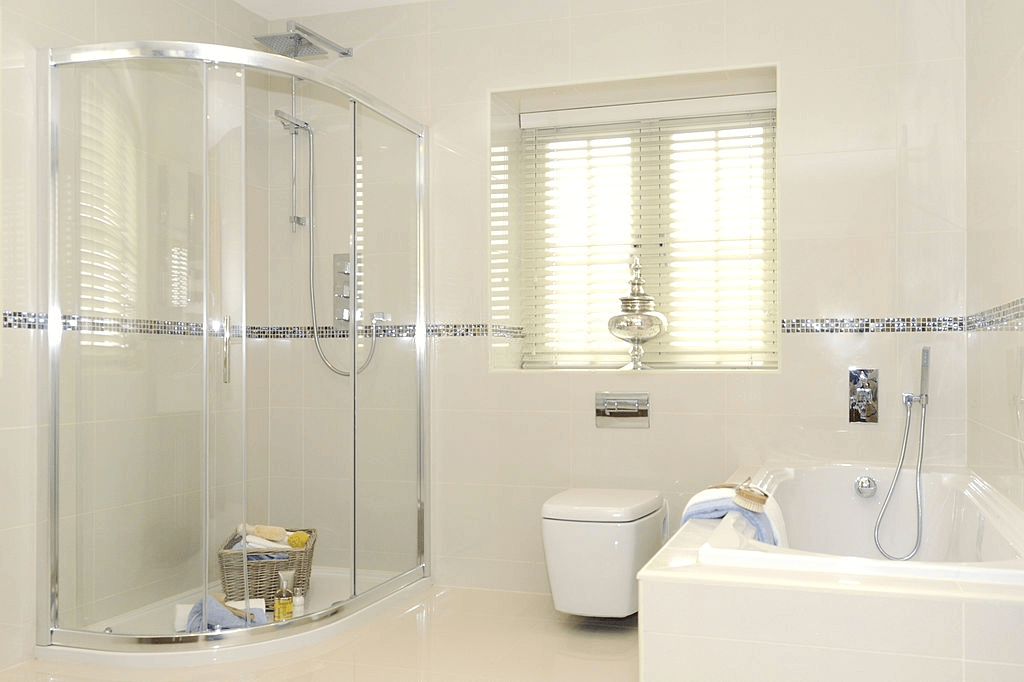 If you need to cover your shower corners with a shower door, you can pick up a neo angle shower door. As its neo-shape can cover any corner without using much space. It's the best fit for small bathrooms, where you can't waste a single inch. Small bathrooms are far more difficult to decorate, as they can look messy or cluttered. Neo-angle shower doors may generate expenses between $400 to $1500.
7. Laminated Glass Shower Doors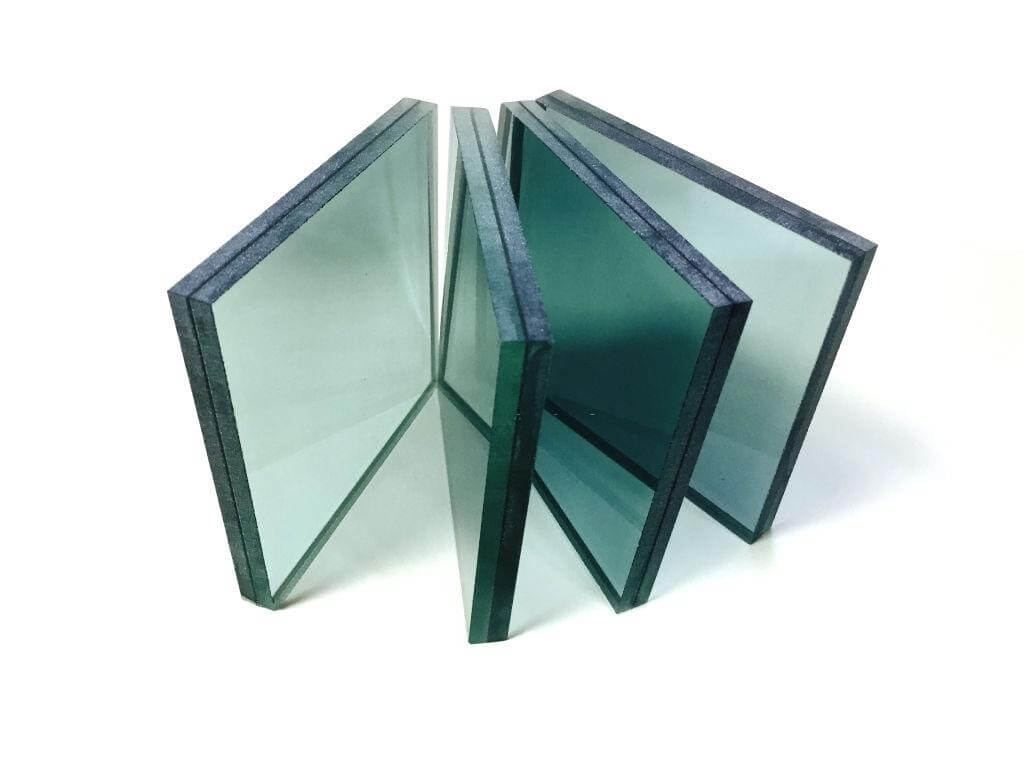 What else do we want than safety?
If you are concerned about safety, laminated glass shower doors are the best choice. It's quite stronger than clear or normal glass. Using laminated glass for the shower door can cost a minimum of $150 or above.
Tempered Glass- makes a difference or not?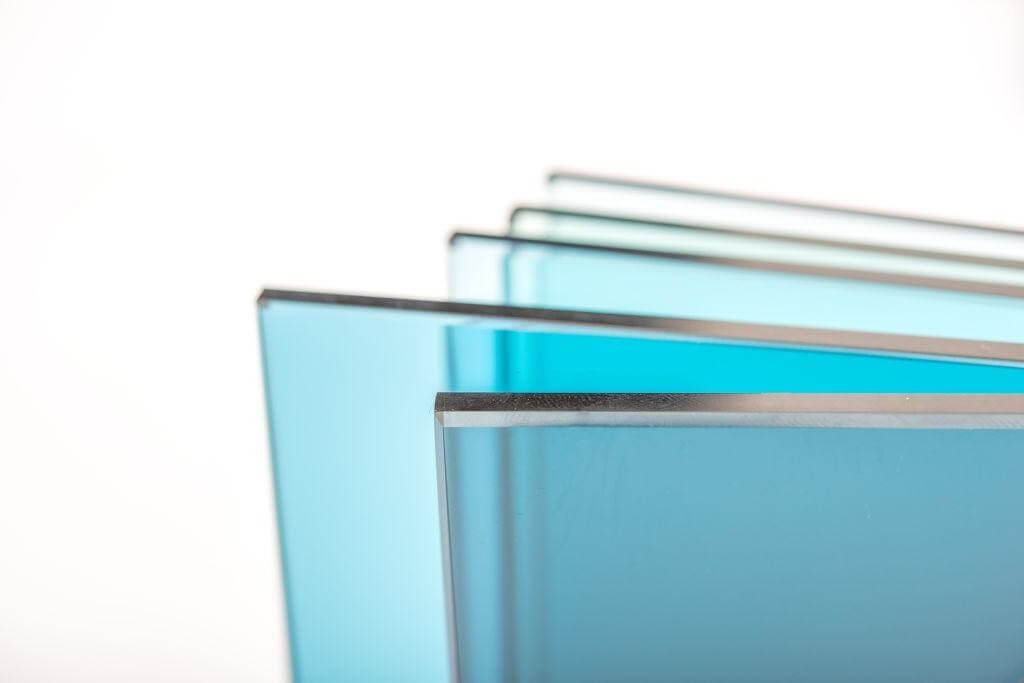 As far as safety is concerned, we can't ignore the beneficial properties of tempered glass. When looking for safety glass, tempered glass is the first choice. Because no glass type can beat the strength of tempered glass and that's what makes it more durable. When the glass is tempered, it becomes 4 to 5 times stronger than ordinary glass. Tempered glass can cost a bit more but in return, it guarantees high strength and durability. You can rest your worries after installing a tempered glass shower door. As it is strong enough and offers easy maintenance.
Shower door cost by type available in the market or online stores
Glass shower doors are a better option for modern bathrooms than shower curtains. Not only are they attractive and stylish but also add space to small bathrooms. Shower curtains are quite messy as they leave the whole floor wet with water drops. Shower curtains are quite common but now interior trends are changing a lot.
Glass has become the main material for contemporary interiors. There are many options for styling your bathrooms with shower doors. Choose framed, frameless, bi-fold, or bypass shower doors according to your preferences. Let's explore some of the common styles and their expected expenses.
Framed and Frameless Shower Door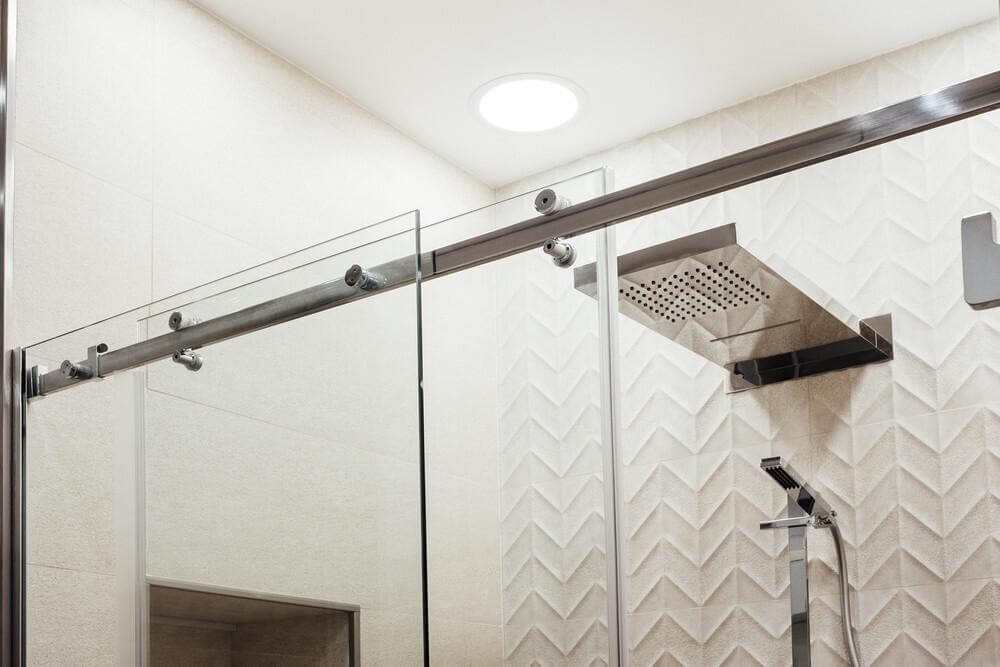 Depending upon what sort of frame you use, shower doors can cost differently. Framed shower doors add more style, especially when your bathrooms have any theme. Metallic frames are usually used to guarantee safety. But refined and strong wooden frames also look fabulous. Framed shower doors can cost at least $195 and $2,000 at most. On the other hand, frameless shower doors cost $300-$3,000 approximately. As they are difficult to handle during the installation process. But they are far more unique than framed shower doors.
Bypass Shower Door and Bi-Fold Shower Door
Bypass shower doors are trendier because they can easily fit in small bathrooms. This type of shower door costs between $390 and $2,000. They provide a single way of opening without cluttering small spaces. While bi-fold shower doors are perfect for bigger bathrooms. As they have a 2-way opening without confining any of the door sides. Such sort of shower doors typically cost a bit expensive; between $450-$900.
Swing/Hinged Shower Door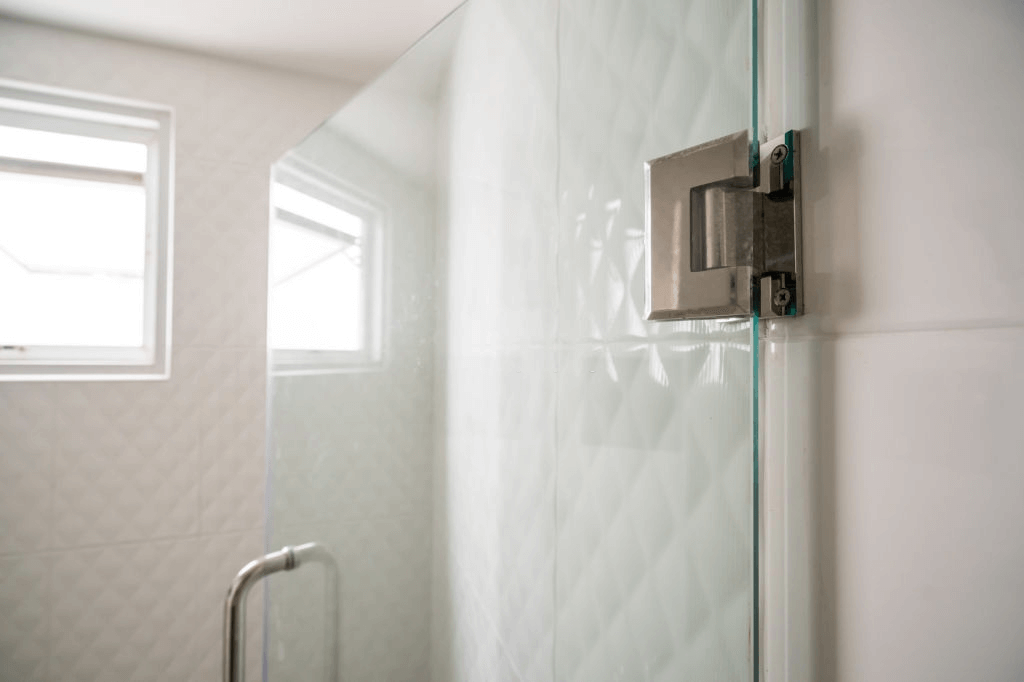 Usually, people go for swing or pivot shower doors that have a fixed glass shower panel for opening. It can be moved in any certain direction and is fixed with a wall or its pivot point. These shower doors usually cost around $1,200 or above depending upon size and structure.
French Shower Door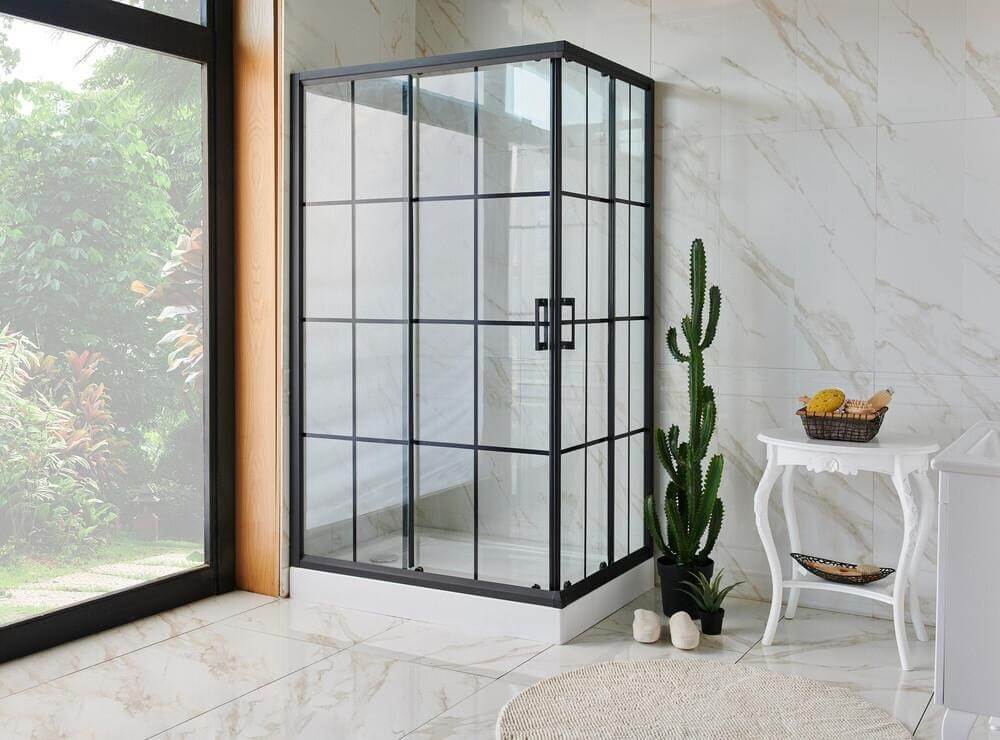 Does a French shower door more suit your thematic bathroom?
Well, you must be careful while purchasing a quality glass for it. Tempered glass is the perfect option for French shower doors. Well, a French shower door can lift an interior of a bathroom and usually cost a minimum of $300. It can be varied according to the size of a shower door.
Inline Shower Door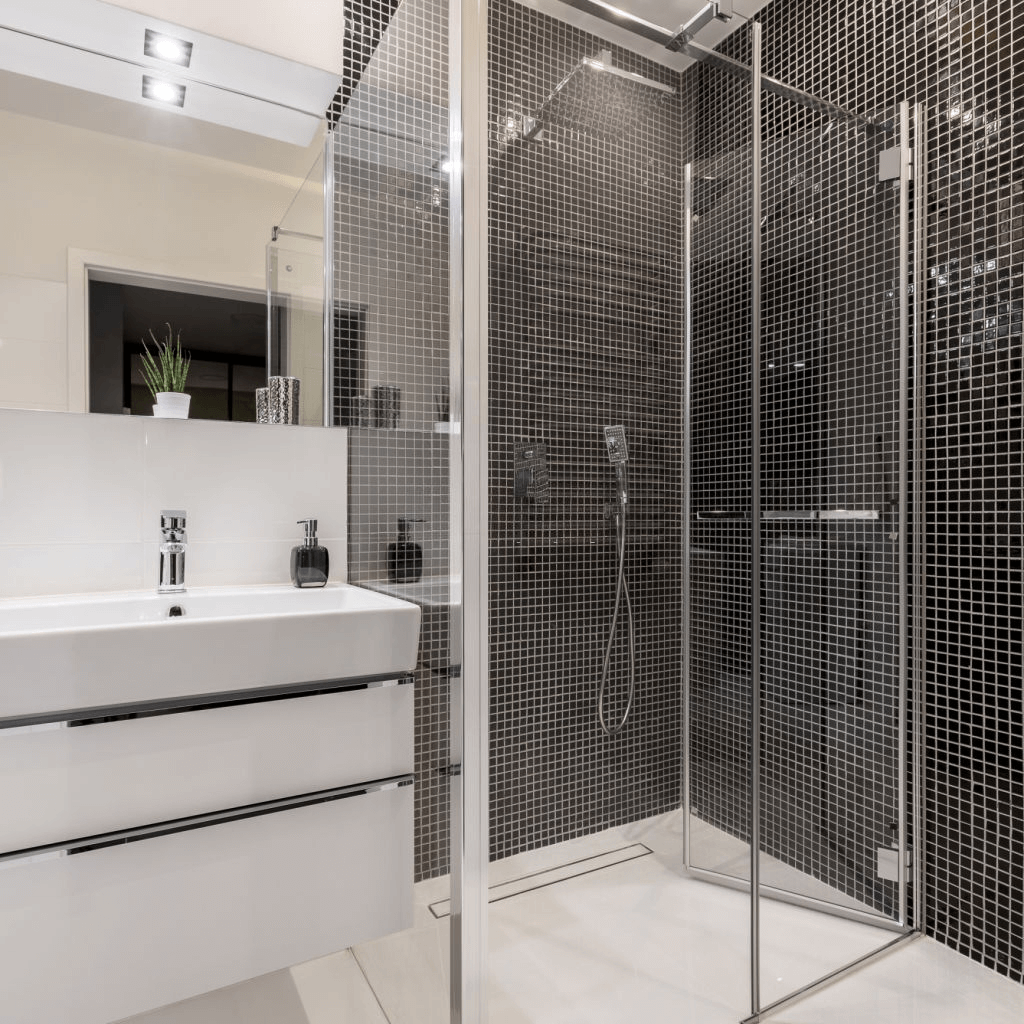 Estimated Installation cost
Inline shower doors are always on top of the list when it comes to remodeling or updating a bathroom. They normally charge $300 minimum. You can buy the best inline shower door from Glass Genius, as they have a lot of offers.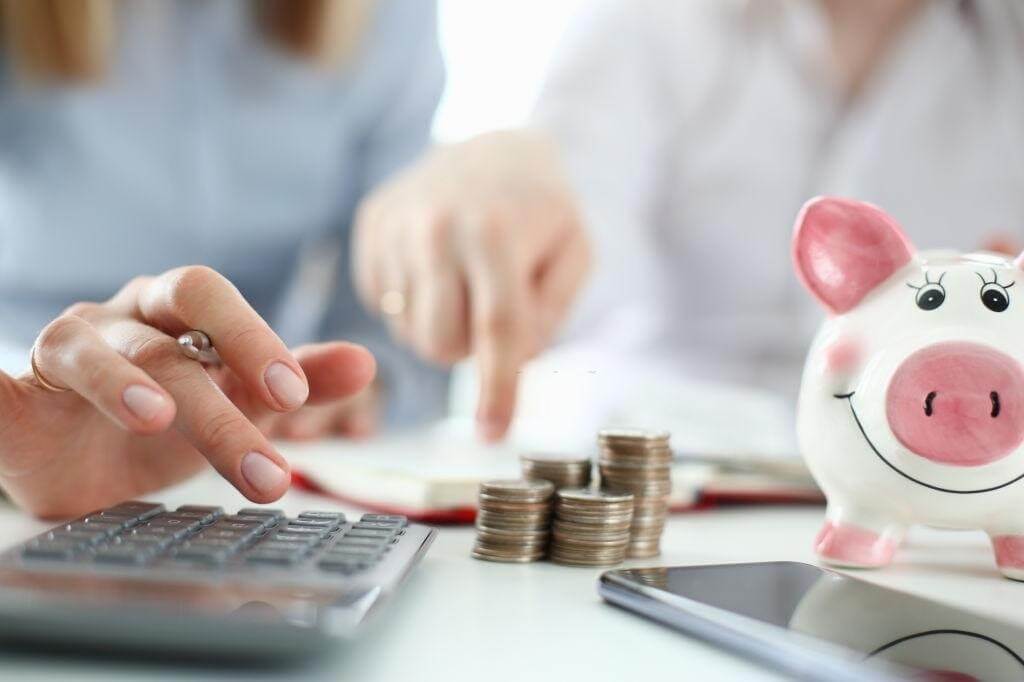 We have seen different types of glass and styles of shower doors. Each one comes in different price ranges. Shower door installation cost usually depends upon the glass type, frame, and shower door style. The labor cost also adds up to the total installation cost. So, it varies from company to company and project to project. The total estimated cost of installation of a standard-sized shower door is between $500-$2,500.
This isn't the fixed amount, it can be varied depending upon how difficult it is to install your shower door. There are some bathrooms where it's hard to install a shower door. Heavy hardware is required along with a great deal of time. For such cases, the cost can be varied and increased a little bit.
DIYing the project!
DIYing is always a handy project and fun. Although shower doors need some professional assistance for installation. There are some areas where labor services are not provided by the online stores. In such cases, you can DIY install a shower door with the help of basic equipment and a proper guide. Here, you have a complete and detailed guide to DIY install a shower door.
Final Words!
We all want to update our houses and make them look classy. A quick tip for a more modern approach is to prefer glass over wood, as it's trendier. Shower doors can perk up the bathroom interior instantly. That's the reason people are putting effort into remodeling their bathrooms. We have several options and each option costs differently from the other. Like frameless shower doors, which costs a little bit more rather than a framed shower door. Well, apart from these, we have calculated an estimated shower door installation cost that is $500-$2,500 approximately. Depending on the shower door size and style, calculate the cost and update your bathroom.