A glazier or glass fabricator is a necessity for a variety of different home or office construction projects. Narrowing down your search for a high-quality, reputable glazier in your local area can be occasionally overwhelming. How can you be sure that after a tough searching, the selected contractor is the right fit for your property?
Luckily, there are a variety of different methods that you can use to find a glazier or glass fabricator in your area for the completion of a home construction project. Find the way that's best for you and your home!

Specifications of the best Glazier/Glass Fabricator
All high-quality glaziers and glass fabricators share some common traits. Knowing what separates a professional fabricator from an unqualified company can help save you a headache down the road, as well as lots of money.
Firstly, experience and relevant qualifications are always a good indication of a reputable business. A company that actively maintains its relevant state-mandated qualifications ensures that it is up to date on all new techniques and regulations. Additionally, a glass fabricator that has operated successfully for several years must be doing something right to ensure the continuation of their business.
Personal affiliations and licenses are also important factors to consider when searching for a glass fabricator in your area for a construction project. Glaziers associated with different organizations must remain continuously trained and tested to guarantee high levels of expertise and professionalism. They also generally have to offer a standard warranty for their service and products.
Finally, market reputation and personal recommendations are always a preferred method of selecting a glazier or glass fabricator for your home construction project. References from a friend or family member are guaranteed to be unbiased and offer the verified truth about the glass fabricator company. When using online reviews from people, be sure to look over the information and credibility of the posting. Companies can occasionally artificially boost reviews, or one negative experience can unfairly taint an otherwise qualified glazier.
Four Ways to find the best Glazier or Glass Fabricator near You
Finding the right glass fabricator according to your construction and interior project could be a little trickier. Let's simplify the process and find one right option that suits your need.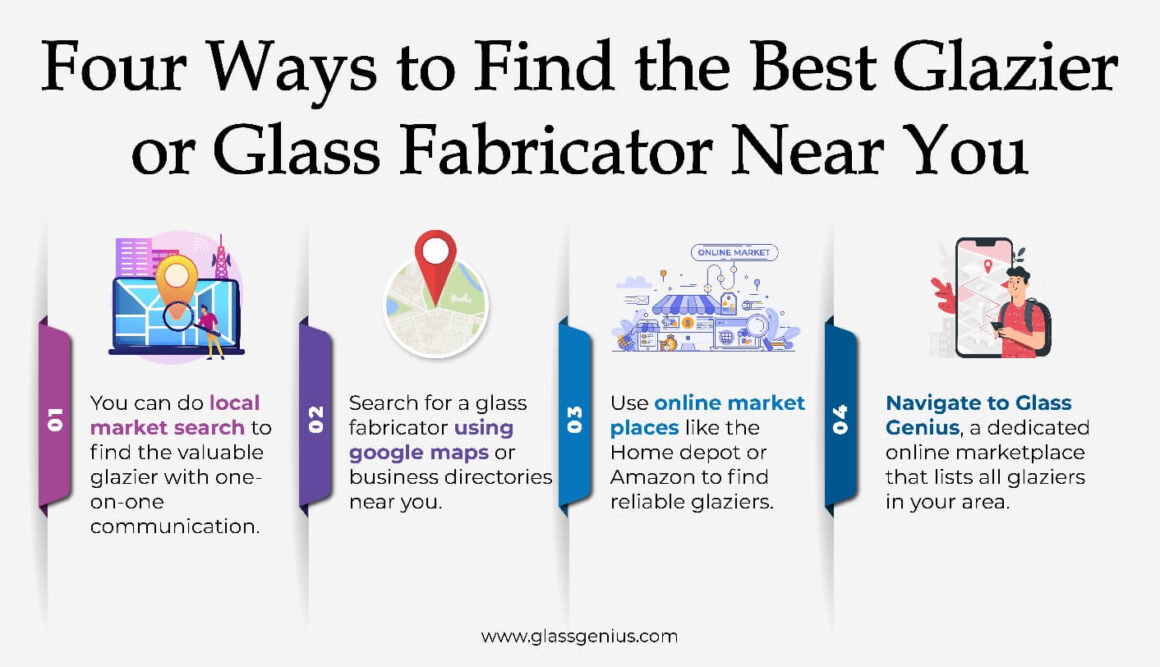 1. Local market search
While visiting your local area to search for glass fabricators physically can result in some valuable one-on-one communication with the employees of the business itself, the process is undoubtedly time-consuming. Most people do not have the time to explore all of the store options around them and compare all of the different rates and prices. For many homeowners, using an online method of searching for the best glazier is preferred.
2. Search for a Glass Fabricator using google maps/business directories near you
Using a business directory or online map to find glaziers or glass fabricators local to your area is simple to do; however, after getting a list of possible companies, you still have to contact each business one by one to receive a quote.
Applications such as Google Mapss are useful as they easily list ratings and reviews from past customers that help you to compare different glass fabricator companies before making your final decision. Using a map application can also easily showcase the best way to reach the business itself for consultations and ensure that the selected glass fabricator is easy to access.
3. Use one of the Multiple Online Marketplaces
There are a couple of easily accessible online marketplaces run by large corporations that offer glazier and glass fabricator services. Home Depot and Lowe's are home improvement companies that provide an online platform listing these services. Amazon also allows glaziers to list their products online. While using a large online marketplace can be easy, especially when searching for the specific products you desire for your construction project, they don't always offer the best price. Usually, it's best to directly contact glaziers and glass fabricators to negotiate for the best possible deal.
4. Glass Genius
Glass Genius; is an exclusive online marketplace that lists all glaziers and glass fabricators local to your area. Through our platform, you can contact easily with these reputable sellers and negotiate their prices and products to receive the best possible offer. At Glass Genius, it's easy for homeowners to get the best deals at the lowest price while still receiving high-quality products. Fares are low-priced due to high competition between the different glass fabricators, especially when compared to the current market price.
Warping Up!
Whether you use a map application, ask friends for recommendations, or search and negotiate online using Glass Genius, put in some careful research before selecting the glazier or glass fabricator that is right for your home construction project.
Hope you will find the right glazier that perfectly suits your home project.